About Time You Tried: Beautiful Brunch at the MondrianBy Angelica Malin
Brunch is the greatest gift to mankind. We all know it.
It's an expensive habit, it totally ruins your day (you end up having a really weird late lunch and a bowl of cereal for dinner at 11pm) but I don't care one little bit, because it's totally glorious. London's full of fancy new ways for brunching – from 36 floors up at Sky Garden to unlimited bubbly at One Canada Square – but, truth be told, I like it simple. Eggs, pancakes, lots of hollandaise, maybe a cheeky breakfast cocktail.
My boyfriend is the Litmus Test of concept. He tells me when something is a concept too far, when a place is trying too hard to be quirky, different and a bit off-piste, and subsequently, has totally ruined a glorious thing that wasn't broken in the first place. So I thought I'd inflict on him three-courses of 'American-inspired brunch with a healthy twist' and see if it could measure up to a Full English at our local Highgate hangout. Here's what happened:
The Mondrian is one of London's leading design-inspired hotels; it's all-day restaurant Sea Containers is beautiful – light, airy, super stylish – the kind of place perfect for everything from dates, to group dinners, and taking your mum. There's an open kitchen, wood-fire oven, central "diner" bar, floor-to-ceiling windows and outdoor seating for the summer months. Overlooking the river, the restaurant's windows are fully retractable – and I literally cannot imagine a situation that wouldn't suit the place. Just by the water, it's perfect for a Sunday stroll and exploring the weekend markets of the Southbank.
It's not your usual brunch. There's no Eggs Benedict, not a Chorizo Hash in sight, but, actually you don't miss them. In their place, there's fantastic salads, lots of great toast-based dishes and incredible pancakes. The winning healthy dish is the Kale Caesar with boquerones (a rather large anchovy), Manchego cheese, coddled egg, plus chilli, walnut and anchovy vinaigrette. It's like nothing I've tasted before; the kale is soft, full of flavour, bursting with fresh chilli and a great crunch with the nuts. With lots of lemon and the peppery cheese, it's not too fishy at all – and, for a salad, incredibly moreish. The beetroot salad is also delightful; chunks of golden, red and candy beetroot, in raw and pickled varieties, it's fresh and zingy.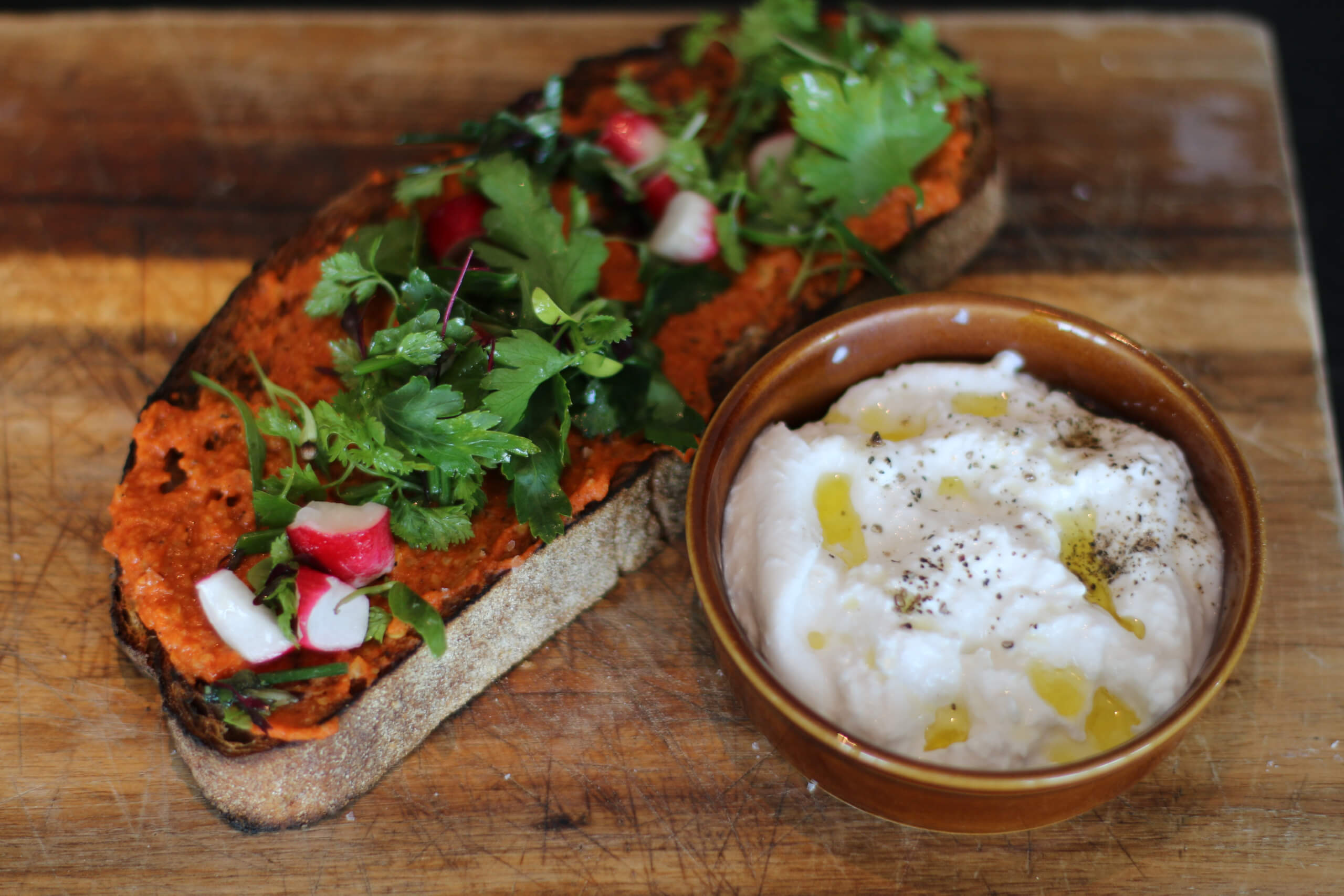 Because no brunch is complete without eggs, try the soft scrambled eggs with avocado, crab and cherry tomatoes, which is served on delicious sourdough. Or the smashed avocado on charred toast – it comes with a soft boiled egg (which it doesn't need) but is dreamy nonetheless. If you need something hearty, then I suggest you get stuck into the steak and eggs with eggplant and chimichurri.
The menu is designed in 3 courses – with bakery, mains, and dishes 'for the table' like sharing platters and Burrata cheese – but you don't have to eat this way. If you're OK with sharing your food (a challenging topic, sure) then get a few mains to share, and some salads on the side.
Don't leave without trying the blueberry pancakes. Seriously. Probably the best I've tried in London. They're simple – served with lemon butter, lots of fresh blueberries, and maple syrup – and proof that sometimes you don't have to mess around with a concept too much. Pancakes. Blueberries. Maple syrup. Everything you could want and need in a brunch spot.
I was once scared of hotel restaurants – they used to be where you go when you have no choice, but things are changing. Berners Tavern, the Sanderson, Sanctum Soho, the Ace Hotel – London is now brimming with fantastic restaurants within hotels, which are fab in a right all of their own. The Mondrian is no exception; a beautiful sunny spot by the water, it's the perfect place for a relaxed Sunday, and although the brunch comes with a high price tag, if you're looking for something extra special, it's worth every penny.
For more information and to book, see here. The brunch menu will be available every Saturday and Sunday from 12pm-5pm