There's ain't no party like an Eggs Royale party. Life's too short to eat sub-par brunch – here's 5 super fun, creative ways to eat brunch in the capital this weekend: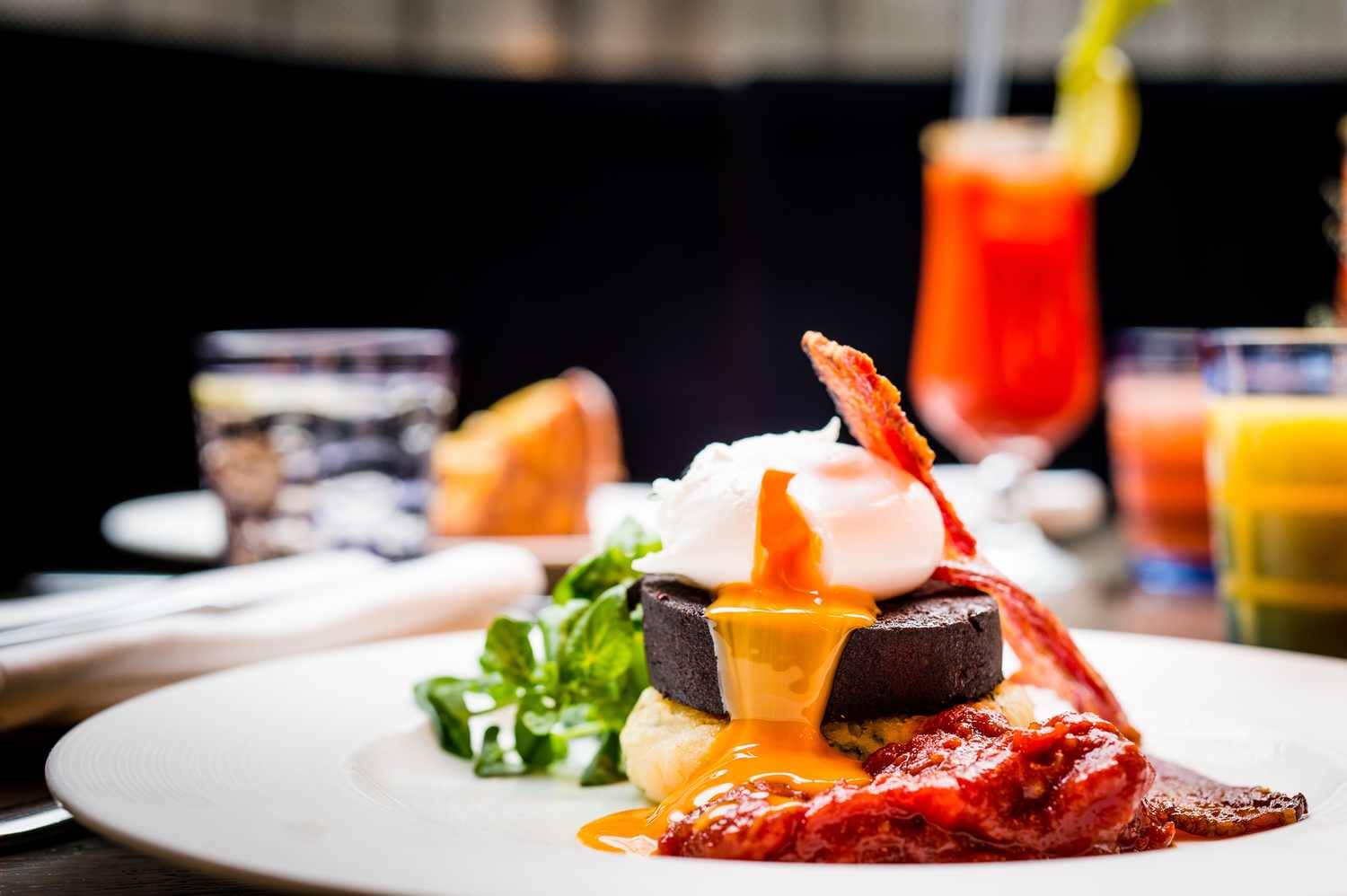 What: Refined and elegant, Pont Street is a great neighbourhood-feel restaurant in Mayfair – and their incredible brunch will keep you going all day. Executive Chef Sophie Mitchell creates stunning seasonal dishes which are crying out for an Instagram – there's great healthy options like dairy-free porridge and 'Liver Cleansing' beetroot juice. It's not all virtuous though, the take on a Snickers Bar with peanut butter mousse is a delicious weekend treat.
Eat: All the healthy options – dairy-free superfood porridge, amazing omelettes, fresh smoothies and great homemade granola. If you're bored of the classic Full English, try their Arabic Breakfast of Ful Medames, zatar and labneh which is a healthy delight full of spice and bursting with flavour. If you're in a naughty mood, the pancakes are top notch.
Why: At the helm of Pont St. is chef and author Sophie Michell – currently Britain's youngest female executive chef. Sophie's cooking is produce driven and her ethos is to create clean and vibrant dishes, with the provenance of the ingredients shining through. Make all your friends jealous with your super snazzy brunch photos and feel virtuous after a heavy night with their awesome mood-boosting freshly squeezed juices.
Where: 20 Chesham Place, London, SW1X 8HQ

Photos by Paul Winch-Furness
2. For Brunch Up High: Sky Garden 
What: Darwin – the cool brasserie 36 floors up at Sky Garden – is celebrating lighter, brighter days with the launch this month of its sky-high Sunday brunch menu by head chef Arnuad Delannay. Every Sunday the restaurant is resurrecting the most retro of restaurant trends: the buffet table.
Eat: Everything from the buffet. The buffet – divided into Breakfast and Dessert and priced at £38 per person together with a hot dish from the kitchen – comes on a table that positively groans under the weight of fabulous fare: choose from a revamped 'bloody mary' prawn cocktail to glazed, cooked or smoked ham with smoked salmon and a heritage loom tomato salad. There's also a Milkshake Bar with both sweet (vanilla bean, fresh berry, banana, caramel) and savoury (spicy tomato, blueberry, kale) delight. Hot food includes salted beef brisket and roast leg of lamb. Nom.
Why: Endless waffles with berry compote and ice-cream, doughnuts, roast peach sundae and pain d'epices and with sweeping views as day breaks over the city, this is one brunch spot not to be missed.
Where: 20 Fenchurch Street, London EC3M 3BY
3. For Almost Countryside Brunch: Eelbrook
What: A hidden gem of a restaurant with an airy space and heated terrace that offers Modern British cuisine and great cocktails, Eelbrook is a great option if you want a countryside feel without leaving the city. Eelbrook sits on New Kings Road, and its outside dining area spills out seamlessly onto the vast Eel Brook Common – it's a popular haunt for the Made in Chelsea crowd, but don't let that put you off – a dynamic menu by head chef Brett Barnes and great location, this makes for the perfect spot for a delicious al fresco brunch at the weekend.
Eat: Seasonal, delicious fresh food from the British Isles. Think: avocado and chilli on Sourdough bread with a poached egg, ricotta pancakes with blueberries and creme fraiche, and a great Full English with chorizo baked beans.
Why: Located in the south east corner of Eel Brook Common in the heart of Fulham, the restaurant boasts a stylish interior by Hakkasan Las Vegas designer Haruo Morishima and a unique heated terrace allowing for year-round al fresco dining. Open for breakfast, lunch and dinner, it's a great spot for getting away from the hustle and bustle of Central London.
Where: Eel Brook Common, New King's Road, Fulham, London SW6 4SE
4. For Healthy Brunch: Hally's 
What: With its front terrace and folding doors, Hally's is the popular brunch spot in Parson's Green which champions a relaxed vibe and brings the glow of Californian sunshine to London. With a beach-house style design this home from home, serves a weekend brunch menu all day, that encourages Londoners to indulge with food and friends over a weekly-changing collection of fresh, seasonal eats.
Eat: Californian-inspired food – everything from smashed avocado on sourdough toast with ricotta, feta, mint & lemon to Eggs Benedict with gypsy ham & hollandaise on sourdough toast and corn fritters with crispy bacon, avocado, poached egg & crème fraîche. For a sweet bite, try the great cake selection with a matcha latte.
Why: It's super trendy design – think reclaimed wood floors, pastel dipped chairs, white clapboarding and neon signage. Hally's gives a fresh, light vibe to London, perfect for indulging in a sunny, al fresco brunch. Healthy heaven.
Where: 60 New King's Road, London, SW6 4LS
5. For Brunch Meets Lunch: Launceston Place
What: Michelin-starred restaurant, Launceston Place, is on a quest to help Londoners relax and unwind launching the new Lazy London Sunday menu. A three course set menu has been devised by head chef Tim Allen to offer easy-going yet indulgent choices, perfect for long, leisurely lunches to be enjoyed with family and friends.
Eat: In keeping with Allen's ethos of cooking seasonally inspired British fare, the new Sunday lunch menu will centre around a refined take on the traditional Sunday Roast. Starters will be kept light with dishes such as deep fried crispy hens eggs with English asparagus. Main dishesinclude the classic roast: dry-aged Herefordshire beef, Yorkshire pudding, seasonal vegetables, roasted potatoes and red wine jus, and whole birds to share such as free-range black leg chicken with melted onions and aromatic stuffing.
Why: Launceston Place has extended its Sunday opening ours to encourage people to wile away the afternoon here, and the menu will be offered between 12pm-4pm. In reflection of this relaxed dining style, there's some great relaxed Sunday drinks too – the healing Launceston Place Bloody Mary is joined by four Gin & Tonics with creative flavour combinations such as Cherry & Kirsch (with a dash of cherry bitters and kirsch macerated cherries) and Rhubarb (with a dash of rhubarb bitters, grenadine poached rhubarb and juiced rhubarb).
Where: 1A Launceston Place, London W8 5RL
Header image by Paul Winch-Furness