You should know the drill by now. It's Thursday and we're in the midst of planning one thing: brunch. Here's where to get your brunch kicks in London this weekend:
1. For a New Brunch: Ember Yard 
What:  Salt Yard Group restaurant Ember Yard is launching their weekend breakfast menu for the first time this Saturday (12th March). The Soho based restaurant takes inspiration from Spanish and Italian methods of cooking over charcoal. Their seasonal breakfast cocktail will rock your world, we'll tell you that for free.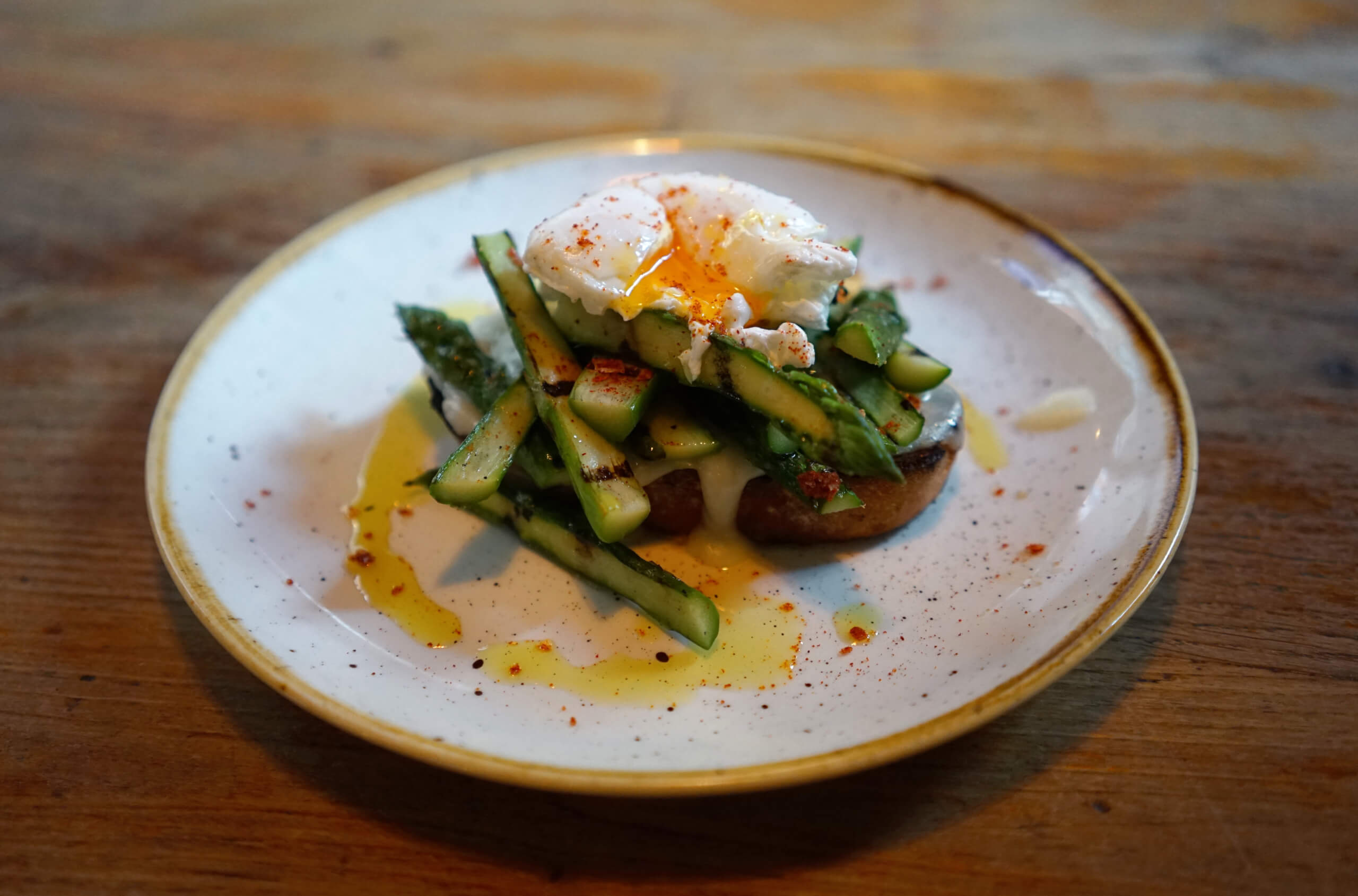 Eat: Dishes include; sobrasada toast with caramelised mahon, grilled sardines on toast with tomato and fresh basil, and avocado and grilled spring onions on flatbread with chilli, garlic and poached egg. The menus also features a range of freshly baked pastries and dishes such as poached pears, hazelnut crumble and yoghurt and fresh blood orange with toasted pistachio. Best washed down with either a Salt Yard blend coffee or a loose leaf tea. Seasonal cold-pressed juices are also available, as well as their sublime Bloody Marys.
Where: 60 Berwick Street, London W1F 8SU
2. For a Sky High Brunch: Urban Coterie 
What: Opened last year, Urban Coterie is the Shoreditch restaurant from Anthony Demetre and Searcys. They've boarded the brunch train and are rolling out their new bottomless brunch this Saturday (12th March). Designed by Anthony Demetre and Head Chef Killian Lynch, the new menu will feature a choice of any three brunch dishes and unlimited Mimosas for £32 per person. Eggs with a side of the best views in London? Go on, then.
Eat: The perfect way to begin the weekend, the menu includes classic brunch dishes such as scrambled duck eggs with smoked salmon, waffles, bacon and poached egg, and French toast with mascarpone and blueberries. For meat lovers there's the breakfast burger, steak and eggs with spiced green salsa, and duck confit with fried egg and lentils. Lighter options include sardines and avocado on toasted sourdough, and grilled mackerel with baby gem salad. For dessert there's a choice of warm chocolate mousse with almond sorbet, Waffles with maple syrup and pecan ice cream, and a classic custard tart.
Where: 151-157 City Rd, London EC1V 1JH
3. For a Meaty Brunch: Bodean's 
What: London's original BBQ joint has announced a brand new weekend Brunch-B-Que, bringing the hometown, smoky barbeque flavours of the Midwest to London's brunch scene. Served exclusively at Bodean's Old Street from 12th March, the Brunch-B-Que feast was inspired by an epic pilgrimage of BBQ heartland, Kansas City, undertaken by Boss Hog, Andre Blais and Executive Chef, Richard Coates.
Eat: Feast upon the unrivalled KC Brunch – a full Kansas City smoke-up featuring succulent chunks of Bodean's famous burnt ends topped with perfectly poached eggs and homemade Hollandaise sauce, alongside Texas-smoked beef sausage with just a subtle kick of chilli, oak-smoked bacon and seasoned home fries.  Fill your boots with limitless Kansas City Bloody Marys, a devilishly delicious concoction featuring KC's very own Gates extra hot sauce, New Amsterdam vodka and Clamato Juice. For those that can't handle the heat, bottomless Prosecco Bellinis will be available to keep the weekend ticking over nicely.
Where: 201 City Road, EC1V 1JN
4. For a Classic Brunch: Smiths of Smithfield 
What: Eat in the Ground Floor Cafe at 'SMITHS' of Smithfield on a Saturday or Sunday and the team will make sure that you are topped up with your choice of Bloody Mary or Mimosa throughout your meal. Order a meal from the main menu, pay £15 extra and your glass will never be empty.
Eat: If you're healing a sore head, go all out and order the lumberjack Stack – a carb-y combination of panakes, waffles, French toast and maple syrup, not for the faint hearted. There's loads of egg dishes up for grabs including the beef brisket hash with crispy onions and a fried egg, smoked salmon, scrambled egg on a toasted bagel, and the mighty tortilla topped with  spicy fried eggs, avocado and tomatoes. The waffles served with strawberry mascarpone and strawberry syrup is a fruity little number. For anyone wanting to stay slightly virtuous, there's fresh fruit,'SMITHS' granola and yoghurt, and porridge with honey to choose from.
Where: 67-77 Charterhouse St, London EC1M 6HJ
Photo Credit: Tom Griffiths
5. For a New Bottomless Brunch: Flight Club 
What: If you're after a brunch with a helping of darts – then look no further than Flight Club. In between the city and Shoreditch, Flight Club is one of London's latest social venues.  They've just introduced their newest food offering on the weekends – their bottomless brunch. Eat unlimited food for two hours for £30. Sounds good to us.
Eat: If you haven't heard of Flight Club before, it's one of London's newest social entertainment haunt that combines social darts, great cocktails and tasty treats to create the ultimate social playground. Every Saturday and Sunday, eat and drink endless pizza and Prosecco for two hours, with a few games of Social Darts, if you fancy, all for the bargain price of £30. The fizz, delicious sharing pizza paddles, and awesome atmosphere will make you want to stay for longer.
Where: 2 A Worship St, London EC2A 2AH