You know the excitement waking up to breakfast as a kid? The sight of Nutella on the breakfast table, the smell of pancakes cooking, the prospect of a perfectly runny yolk, ready for dipping soldiers in? Something happens as you get older. Things get less exciting. The world becomes smaller, less magical, and our meal-times become a thing of routine, not a thing of beauty, of wonderment.
But who says you can't be a big kid? Who says you need to grow up at all? We searched high and low for London's best nostalgic breakfasts, and the dream is still alive. I'm turning 25 in a few months, and if that isn't reason for diving straight into a vat of peanut butter and jam sandwiches, I don't know what is. Rise, shine and eat all the childhood-inspired treats, London:
1. For Egg & Soldiers: The Providores
What: Two soft-boiled eggs with vegemite soldiers (£7.00)
Why: Because you can't beat this classic combination. In true Peter Gordon style, The Providores give their own funky twist to the dish with the addition of vegemite. Come here for sensational, wacky brunch – expect everything from sweetcorn and blueberry fritters with avocado, pomegranate and rocket salad to the best Turkish Eggs – two poached eggs on whipped yoghurt with hot chilli butter and sourdough. Totally dreamy.
Where: 109 Marylebone High Street, London, W1U 4RX, UK
Photo Credit: Chow in the City
2. For Nutella Toast: Pont St.
What: Nutella stuffed French toast with sea salt caramel bananas (£8.50)
Why: Because Nutella is a childhood stable, and this breakfast is everything you could ever wish for. Bananas. Salted caramel. Nutella. Oh baby. Refined and elegant, Pont Street is a great neighbourhood-feel restaurant in Mayfair. Executive Chef of Pont St. Sophie Michell seriously knows her stuff; she creates stunning seasonal dishes which are crying out for an Instagram. Sophie is currently Britain's youngest female executive chef – her cooking is produce-driven and her ethos is to create clean and vibrant dishes, with the provenance of the ingredients shining through.
Where: 20 Chesham Place, London, SW1X 8HQ
Photo Credit: Paul Winch-Furness
3. For Strawberry Milkshakes: Fat Boys Diner
What: Strawberry milkshake (£4)
Why: Come here for all the American goodness. Your tummy will thank us, even if your waist line doesn't. For food, there's everything from kiddie-inspired banana and chocolate chip pancakes, to the Lumberjack Breakfast – a feast of pancakes with bacon, scrambled eggs, maple syrup and butter – and a side of chilli fries. Oh baby. If that's not enough, they also do a great range of nostalgic drinks – everything from peanut butter milkshakes to Coke Floats. Don't miss their Oreo milkshake – it's the stuff of genius.
Where: Trinity Buoy Wharf, 64 Orchard Pl, London E14 0JW
4. For Chocolate Waffles: The Phene
What: Waffles with banana, chocolate ice cream and salted caramel sauce (£7.00)
Why: It may be a regular haunt of the Made in Chelsea crowd, but don't let that put you off: the food at The Phene is top notch. With a heritage stretching back to 1853, The Phene has evolved into a Chelsea institution; a clubhouse-style venue housing a traditional saloon bar, conservatory restaurant and 1st-floor lounge. At their weekend brunch, you can expect everything from avocado on toast to seriously naughty waffles with chocolate ice cream – perfect for the big kid. Complete the Chelsea vision here with a glass of bubbly – the Mumm Rosé Brut is simply divine.
Where: 9 Phene St, London SW3 5NY
5. For Endless Toast: Parlour Kensal Rise
What: Home-style hash browns with eggs any style plus unlimited toast (£6.50)
Why: Parlour in Kensal Rise is perfect for the kid at heart. Not only are the breakfasts huge and delicious, but many come with unlimited toast. Remember those days when you would stuff yourself with toast, jam and Nutella before school? Well, now you can again. There's a toast-your-own station so you can eat bread to your heart's content. Try their hash browns – they remind us of school days in the best way possible. If you're coming for dinner, try their Chicken Kyiv – a retro classic.
Where: 5 Regent St, London NW10 5LG
6. For Cornflakes: Canto Corvino
What: Cornflake French toast with whipped crème fraîche and burnt plums (£7)
Why: Newly opened Canto Corvino is 140-cover modern Italian restaurant in the heart of Spitalfields and we think it's going to be big. Canto Corvino, meaning song of the raven, is the third restaurant from owners of the successful Manicomio restaurants. Come for the design; the main restaurant dining area features a commanding show kitchen with cut stone tiles in a bold triangular pattern to the front, allowing you to view the chefs at work. They have amazing Italian sharing plates – from cured meats sourced and imported in-house from small artisan Italian producers to Veal Spiedino with Roman artichokes, pancetta and Marsala, and, of course, great Italian desserts like salted chocolate delizia.
Where: 21 Artillery Lane, Spitalfields, London, E1 7HA
7. For All the Cereal: Cereal Killer Cafe
What: Everything from Honey Monster Puffs to Froot Loops and Golden Graham's (£3 for a small)
Why: It may have got a bit of a hard time of late, but we love Cereal Killer Cafe. It's the UK's first cereal-only cafe – they sell over 120 different types of cereal from around the world. You can choose from American cereals like Reese's and Lucky Charms, as well as special toppings, like marshmallows and mini cookies, as well as a variety of milk, like dairy-free almond milk and coconut milk, and even peanut butter milk. Don't miss their crazy drinks – Peanut Butter Jelly Time is with peanut butter Cap'n Crunch, Reese's chips and strawberry milk. Come here to re-discover your favourite childish cereals – it's kitsch, cute and totally fun.
Where: 139 Brick Ln, London E1 6SB
What: Caramelised banana eggy bread, bacon, maple syrup (£7)
Why: Who doesn't love eggy bread? It's so sweet and delicious. Tredwell's is a winner for brunch – literally everything here is amazing. If you're veggie, their veggie Full English is sensational and surprisingly healthy – full of avocado, grilled mushrooms, semi-dried tomatoes and fresh sourdough toast. The dairy-free coconut yogurt mousse with homemade granola and berry compote is also wonderful. For a flashback to your childhood, try their eggy bread with bacon and banana – it's that classic flavour combination which takes you right back to your backpack days.
Where: 4a Upper St Martin's Ln, London WC2H 9NY
9. For Beans on Toast: Bouillabaisse
What: BBQ baked beans on toast with griddled Australian Gulf prawns (£13.95)
Why: A more refined version of childhood treat, sure, but a cracking one. Recently opened Bouillabaisse is bringing coastal cuisine to Mayfair with some of the freshest and most sustainable fish and seafood around. The focus is on contemporary coastal cooking techniques – making fish and seafood the stars of the show.  Their breakfast menu certainly doesn't disappoint and if you find yourself bored of Eggs Benedict and sugar-laden pancakes, drop by for their snow crab scrambled eggs on sourdough toast and homemade BBQ baked beans with griddled Australian gulf prawns. It's zany, unique and outrageously good.
Where: 4 Mill Street, London W1S 2 AX
10. For Hot Chocolate: Fischer's
What: Schokoladengenuss – grand cru 'kalinga' chocolate served with a jug of hot full cream milk on the side (£6.00)
Why: Remember those days when it was so cold that only hot chocolate would do? You'd convince your parents that this was a necessity to get you off to school? Hot chocolate has a special place in my heart. Viennese cafe Fischer's is the place to come for a quirky breakfast – Fischer's is a local place to linger on your own at any time of day over a paper, cake and coffee. Expect an extensive choice of cured fish, salads, schnitzels, hot chocolates and coffees with traditional tortes mit schlag. At breakfast, there's everything from oatmeal pancakes with maple yoghurt to Austrian Gröstl. This Austrian hot chocolate is a real experience, with a treaty jug of hot cream, and will take you right back to those cold winter days.
Where: 50 Marylebone High St, London W1U 5HN
11. For Blueberry Pancakes: Mondrian London
What: Blueberry pancakes with preserved lemon butter, bukwud maple syrup (£8)
Why: The best blueberry pancakes I have ever, ever eaten. Hands down. The secret is in the butter – zesty, delicious and lots of it. For an absolutely sensational brunch, you simply have to try Sea Containers at the Mondrian – everything from scrambled eggs with crab to the kale salad is sublime. I've tried over 50 brunch spots in London this year, and this is still my absolute go-to. The beautiful restaurant features an open kitchen, visible wood-fire oven and a restaurant space designed by Tom Dixon with floor-to-ceiling windows to complement its location on the Thames. Heaven.
Where: 20 Upper Ground, London, SE1 9PD
12. For Peanut Butter Bagels: Delancey & Co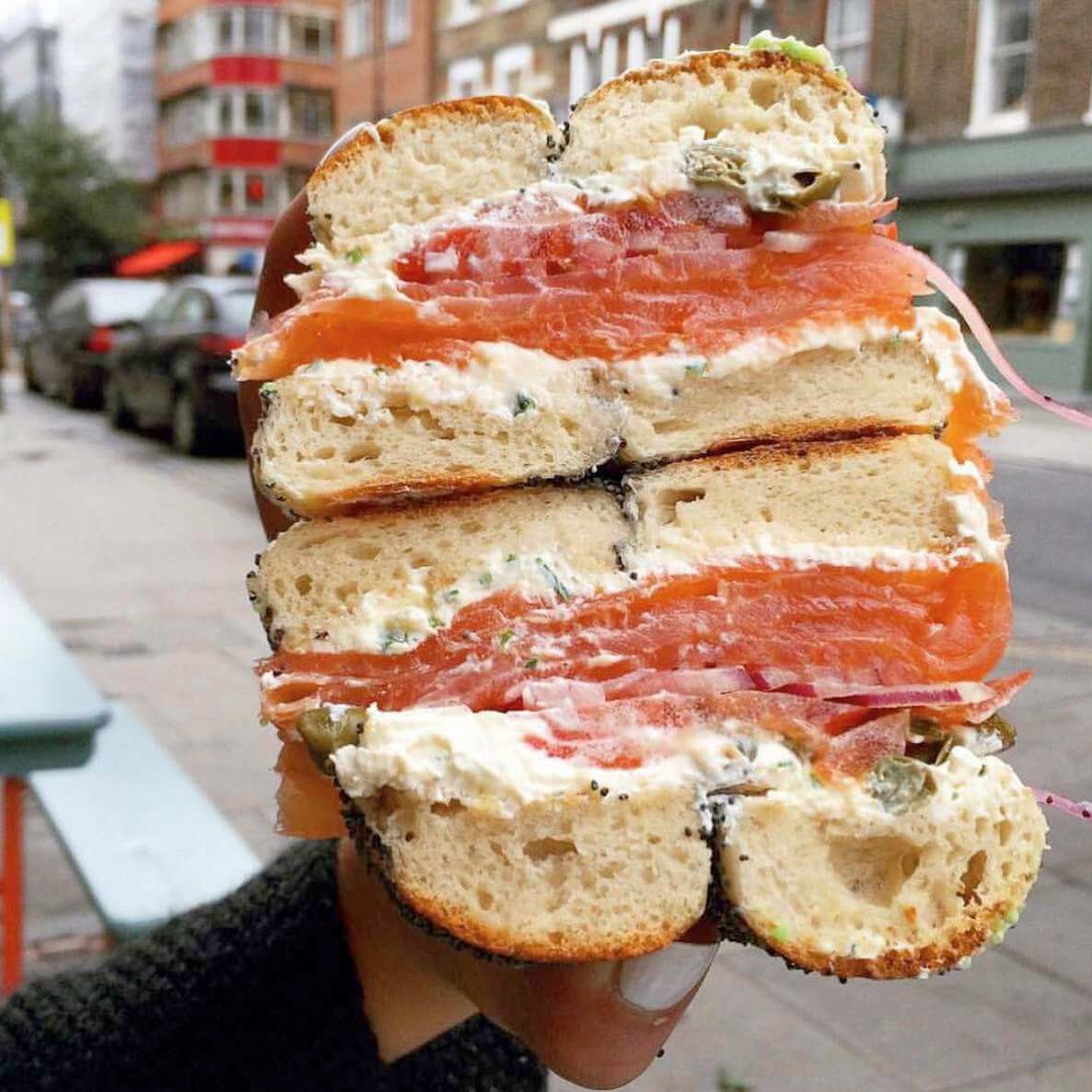 What: Cinnamon and raisin bagel with peanut butter (£2.25)
Why: Bagels were a stable of my childhood, and rightly so. They are just such a treat. And what's more delicious than peanut butter on bagels? Delaney & Co will give you everything your heart wants – from incredible, giant Reuben's sandwiches at lunch time, to USA cereal pots of Reese's cereal and coke floats. Come here for the Delancey Bird – marbled rye, smoked turkey, mashed avocado, sundried tomatoes, shredded iceberg, swiss cheese, English mustard, mayo, Delancey&Co special sauce. Just amazing.
Where: 34 Goodge St, London W1T 2QL
Photo Credit: London Food Babes
13. For Mini Pastries: Covent Garden Hotel
What: High Breakfast (£20) – spinach and Goat's cheese croissants, mini Eggs Benedict and mini Eggs Royale, bacon finger sandwiches, brown toast fingers with smoked salmon, mini Pain Au Chocolat, mini granola bar, mini muffin, mini fruit bowl.
Why: Mini pastries always featured in my childhood. Somehow a mini Pain Au Chocolat was, in my mother's opinion, a lot more sin-free. If you want a taste of mini heaven, try the deliciously unusual High Breakfast at the Covent Garden Hotel – think afternoon tea, at breakfast time. What's not to love? It features mini delights, such as mini muffins and pastries, as well as kid-sized version of classic brunch dishes such as Eggs Benedict, all for £20 per person. We love.
Where: 10 Monmouth Street, London, WC2H 9HB
14. For Banana Shakes: Percy & Founders
What: The Bench Press – banana, chocolate, walnut, maple syrup, soy milk & protein (£5)
Why: Who doesn't love a chocolate and banana milkshake? Especially one that's going to increase your abs definition. This shake is a grown-up version of milky banana goodness as a child – made for the gym bunny. At Percy & Founders, you can find all the health goodness, such as raspberry and blueberry smoothies, and steel cut oats with banana, ginger and honey. Don't leave without trying their great food offerings at breakfast; the crushed avocado on toast with cornish crab and  herbs is a great take on the classic brunch dish, and will keep you satisfied all morning.
Where: 1 Pearson Square, London, W1T 3BF
15. For Frosted Flakes: Hotel Chantelle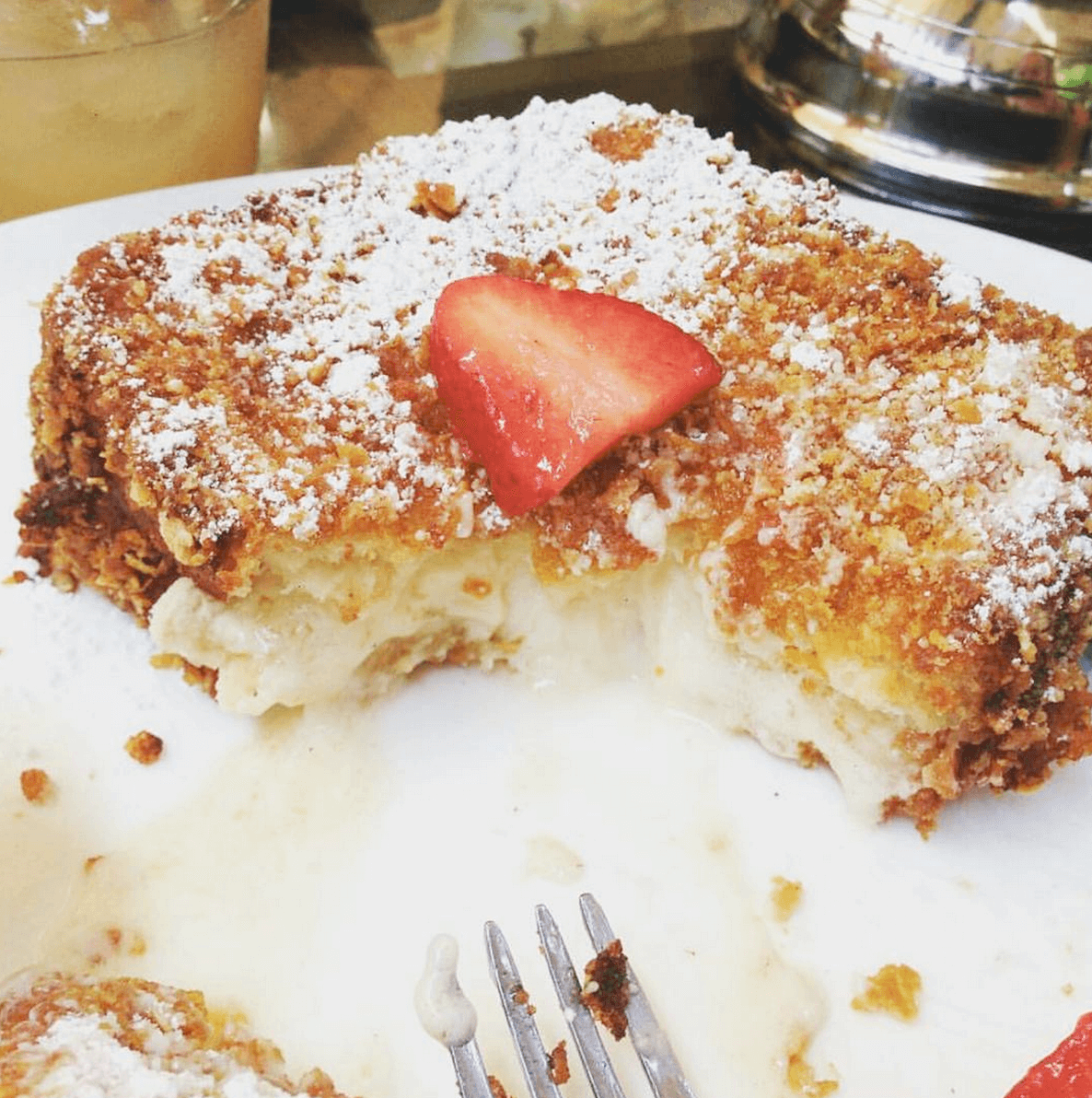 What: Stuffed French Toast (£16) – stuffed brioche with maple infused mascarpone and ricotta, crusted in frosted flakes, maple syrup.
Why: Did you read that description? Seriously. Frosted flakes and all the maple syrup goodness, inside delicious sweet brioche. Brioche rolls, studded with chocolate chips, featured heavily in my childhood and this dish has all the magic of them. Come to Hotel Chantelle for a seriously decadent brunch – you can find all the American-inspired goodness, such as Smore's Toast – marshmallow and chocolate stuffed brioche, crusted in graham cracker crumbs, maple chocolate drizzle – and even Breakfast Pizza – ultra thin crust pizza topped with scrambled eggs, cheddar cheese, crumbled bacon, chopped chives and spicy ketchup. Somebody stop us.
Where: 23 Orchard St, London W1H 6HL
And one for luck…
What: Banana Cacao – almond milk oats, coconut yogurt, cacao nibs, banana and maple (£5.60)
Why: Well, it's a bit fancier than Ready Brek, but when it tastes this good, we think that's allowed. Remember the days of chocolate Ready Brek? They were the dream. Come to 26 Grains for all your porridge needs. 26 Grains is the breakfast-loving creation of Alex Hely-Hutchinson. She combines her trusty secret porridge recipes and a big spoonful of love to create beautiful, fresh bowls of porridge goodness at her Covent Garden cafe. Think carrot cake inspired porridge with carrot juice on an oat and bye blend with spices, toasted nuts and ginger maple. Heaven.
Where: Neal's Yard, London, WC2H 9DP