Wondering where to find vegan doughnuts in London? In honour of National Doughnut Week we've done the hard work for you and have rounded up our favourite plant-based takes on everybody's favourite sweet treat:
Tell me more: All-pink, California inspired eatery Kalifornia Kitchen has gone all out, introducing five new plant-based doughnuts just in time for National Doughnut Week. The one we're most excited about is infused with the ingredient that seems to be on every health fanatic's lips right now: CBD. CBD is the non-psychoactive part of the cannabis plant, and among its advocates it is reputed to improve stress and anxiety levels as well as having a host of other health benefits. The science around it is still somewhat contestable, but what we do know is that it tastes delicious in a doughnut and, well, that's good enough for us!
Where Can I Find It? Kalifornia Kitchen have branches at 19 Percy St, Bloomsbury, London W1T 1DY and Market Hall Fulham, 472 Fulham Rd, Fulham, London SW6 1BY
Tell me more: We've been waxing lyrical about these vegan sourdough doughnuts on About Time ever since Crosstown introduced them, and they are still a firm favourite and oh so deserving of their place in the canon! So popular have they been, Crosstown have gone from serving a mere couple of vegan flavours on rotation, to a permanent range across all their stores, and a branch in Marylebone devoted purely to the sale of their vegan creations. Our favourite fixtures on their vegan menu include the classic Chocolate Truffle and Cinnamon Scroll, but we're also partial to the slightly less conventional PBJ, Rhubarb & Ginger and Strawberry with Sparkling Rosé. Basically we love them all and could sit here all day reeling off our favourites! Check out the entire range for yourself here.
Where Can I Find It? Various store & market locations across London, as well as select stockists. Find the full list here.
How Much? Prices start from £3.95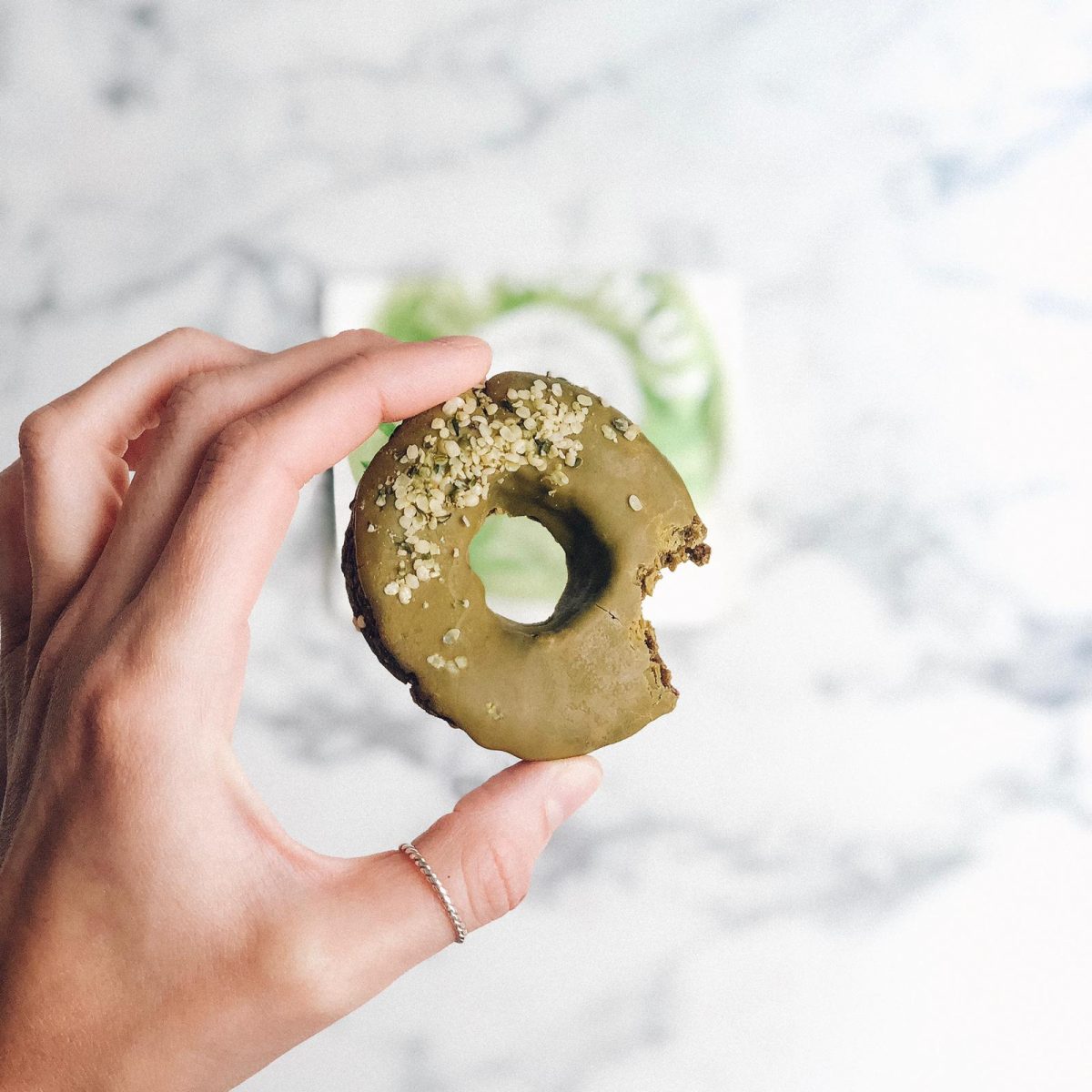 Tell me more: If you're eating plant-based for the health benefits then look no further than these raw vegan doughnuts from Raw Press. Their 'Pronuts' pack an almighty 15g plant-based protein punch, are 100% gluten free and contain zero refined sugar. If there were a halo up for grabs for the saintliest vegan doughnuts in London, these babies would surely bring it home. They're yummy too, and come in three dee-lish flavours: Raspberry & Rose, Matcha & CBD (there's that CBD again) and Cacao Crunch.
Where Can I Find It? Raw Press have branches at 3 Ellis St, Chelsea, SW1x 9AL and Wolf & Badger, Coal Drops Yard, Stable St, Kings Cross, London N1C 4DQ. Pronuts are also available from Daylesford Organic & Planet Organic and available to buy online here.
How Much? £3
Tell me more: Ruby's cake-y vegan doughnuts are a thing of beauty. Whilst they might be free from egg, dairy and any other animal products, they are in no way free from flavour. And flavours do they have! Ruby's offer everything from Cinnamon Dusted and Strawberry Coconut, to Lavender Sugar and Chocolate Hazelnut Crunch. They also sell a range of vegan cakes, cupcakes and patisserie and have gluten free options too.
Where Can I Find It? Ruby's have a stall every Saturday and Sunday at Greenwich Market. You can also order them online here, either by individual flavour or in the form of a selection box.
How Much? Doughnuts from £4
Tell me more: If you're looking for a playful take on vegan doughnuts in London, Doughnut Time is the place to go for whacky and far-out creations, and this newbie – introduced just in time for National Doughnut Week – is no exception. The 'Little Pick N Mix' is slathered in a coconut cream glaze and studded with vegan cola bottles, fruity bottles, fizzy strawberries and jelly tots. We're a little bit enamoured with this throwback to our childhood and with the memories it conjures of after school treats & trips to the cinema. It also has a marbled effect reminiscent of everyone's favourite kiddy snack – the Party Ring. Ah, the Party Ring. So if it's a hit of indulgence and nostalgia you're after, a wee throwback to endless rounds of pass the parcel and musical bumps, then look no further!
Where Can I Find It? Doughnut Time have twelve stores across London. Find your nearest branch here or order via Deliveroo straight to your door.
How Much? From £4