Let's all admit it. The best part about going on holiday is filling your boots with all the tasty grub on offer. If you're planning a trip to the Big Apple, be sure to hit up these foodie spots. Happy tums, guaranteed:
What: We'll sooner find evidence of extra-terrestrial life than find a definitive answer to 'who makes the best pizza in New York'. However, Paulie Gee's in Greenpoint, Brooklyn is certainly a contender and if you're a pizza pilgrim on the hunt for the ultimate slice then add this spot to your list.
Why: Paulie Gee's has decided that the world-famous Neapolitan Pie needed a new look and Hellboy (mozzarella, tomatoes, parmesan, pepperoni and spicy honey) is a prime example of the menu's creativie turn on classic flavours. There are also seven vegan pizzas on offer, as well a selection of tasty salads and soups.
Where: 60 Greenpoint Avenue, Brooklyn, NY
How much: Pizzas – $13-18
What: A contender for the best doughnut in all of New York, Dough is what your Instagram account was made for. A small café located in Bed Stuy, Brooklyn, everything on the menu is handcrafted and baked in small batches for ultimate freshness and fullness of flavour.
Why: Founder and chef Fany Gerson traversed the planet looking to perfect her doughnut recipe and it's hard to see how she could've made it any better. A total of 16 flavours on the menu are mainstays, as well as another 25 on rotation. The traditional favourites are ever present, but further down the menu things go from the creative – toasted coconut, passion fruit, cheesecake, pumpkin – to plain outrageous – mojito, gin and tonic, earl grey, chocolate chipotle. These doughnuts are large and messy so grab a napkin and indulge.
Where: 448 Lafayette Ave Brooklyn, NY 11205
How much: $2.75 a doughnut
Photo Credit: Dough
3. For Street Food: UrbanSpace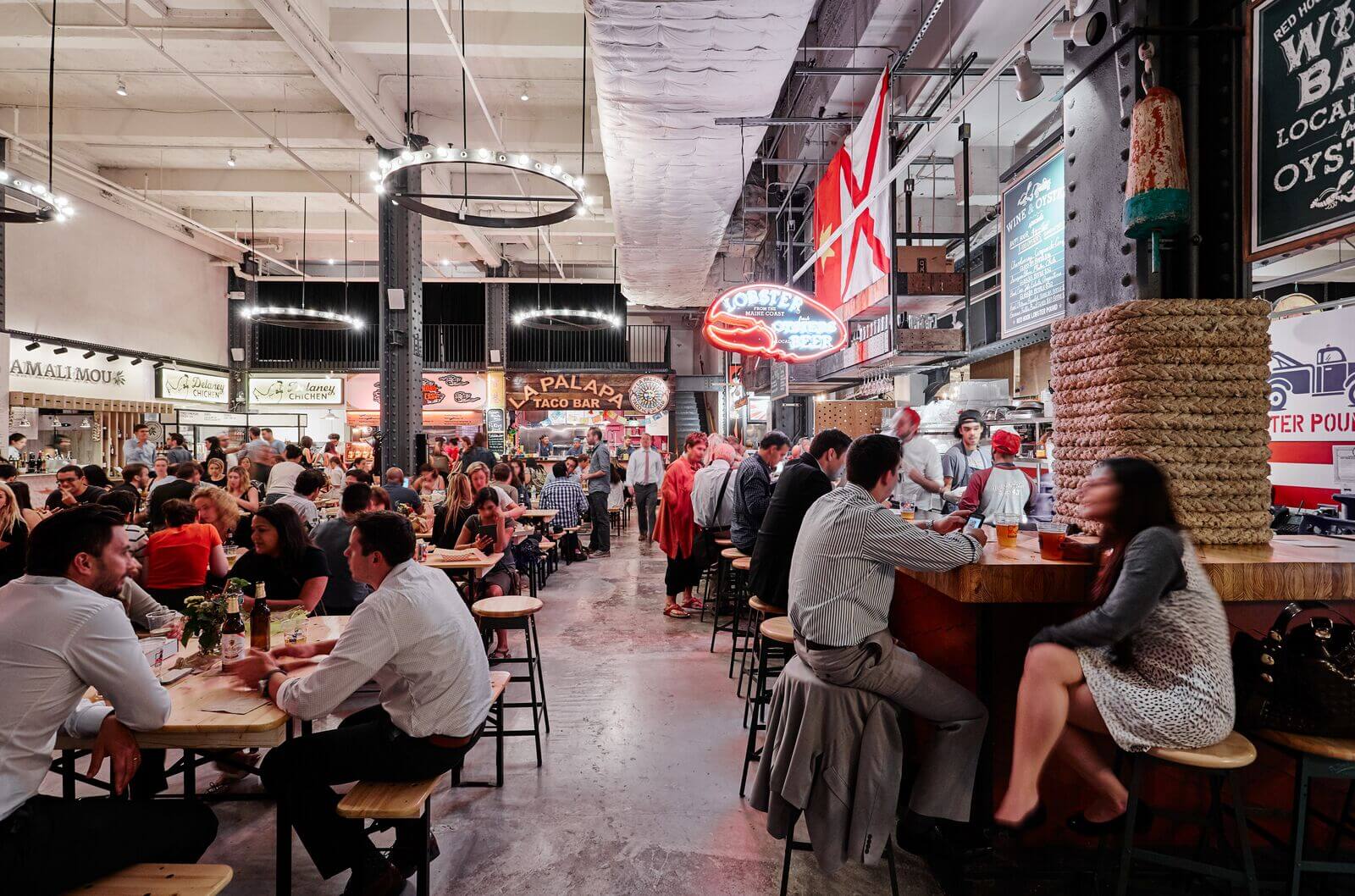 What: The street food concept that has taken London by storm is also booming in the Big Apple. UrbanSpace currently operates six food markets throughout New York, but it's latest concept, UrbanSpace Vanderbilt, is its most exciting experiment yet.
Why: The market has an ensemble of more than 20 daring and dynamic chefs hailing from Manhattan, Brooklyn and Queens that are on constant rotation to offer new and inventive dining experiences to hungry punters.The most popular bites on the circuit include Greek-inspired Amali Mou serving Greek gyros, mezes and salads with over 20 Mediterranean wines. Elsewhere, there's Bangkok B.A.R's Pad Thai and AsiaDog's Japanese curry and kimchi hot dogs.
Where: 45th Street & Vanderbilt Avenue, inside The Helmsley Building at 230 Park
How much: Varies
Photo Credit: Brian Tisza
4. For Chicken: Streetbird Rotisserie
What: Streetbird Rotisserie is the mouth-watering embodiment of what makes Harlem the most colourful and energetic of New York's five boroughs.
Why: It'll take you a lifetime to choose what to order thanks to the three cheese mac with chicken and broccoli, rotisserie chicken with mash and cornbread, and double patty burger with 'all the fixins' all up for grabs. The sublime 'big grip' turkey leg with cornbread stuffing and all-day green beans is also on offer during the holiday season.
Where: 2149 Frederick Douglass BLVD, 116th Street, NYC, NY 10026 – six blocks north of Central Park.
How much: Half a chicken with three sides, $21
Photo Credit: Katie Burton 
5. For Chinese Fast Food: Xi'an Famous Foods
What: New York has arguably the best Asian cuisine outside of the continent, but it's easy to miss one of the city's best Far East bites. Hidden amidst the chaos of Chinatown is Jason Wang's Xi'an Famous Foods, heralded a phenomenon by Forbes
Why: Xi'an Famous Foods first caught the eye for its dumpling soups – particularly the spicy and sour lamb, but it wasn't long until diners swarmed on the hand-ripped noodles and stewed pork burgers, too.
Where: 67 Bayard Street, New York, NY 10013
How much: Stewed pork burger – $3.50; spicy cumin lamb hand-ripped noodles – $8.75; spicy & sour lamb dumplings – $7
What: You've heard of tacos and you've heard of burritos, but what about taquitos? If not, then get yourselves down to Taquitoria in New York's Soho district for some serious education.
Why: The small rolled fajitas with the tasty crunch of a taco shell come loaded with beef, pork or chicken and a choice of guac, veg and cheese. Taquitoria's step-by-step make-it-yourself menu, amazing flavours, great beer and fun atmosphere will make your first bite of a taquito a memorable one.
Where: 168 Ludlow St. Manhattan, NY 10002
How much: $6 for three; $9 for five
What: For a boozy brunch or pre night-out nosh, the Mexican café and tequila bar promises a feast. While all your Mexican favourites are there, the likes of kale and zucchini quesadillas and shrimp and avocado burritos are an example of Caliente Cabs' creative menu.
Why: Burrito lovers should dive mouth first into the Enchilada de Chiapas Pollo where shredded chicken and three salsas are wrapped in a flour tortilla and covered with melted Chihuahua and Oaxaca cheese. Be bold and go for a taco, enchilada and burrito combo as you willfully pass into a food coma.Salsas and guacamole can be customised to your taste while being made in front of your very eyes at the Salsero Station. Also, make sure you don't leave without checking out one of New York's longest tequila menus. Just close your eyes and order whichever one your finger lands on!
Where: 61 7th Ave, West Village, by Christopher St Subway station
How much: Burritos $17-20; Quesadillas $9-11; Tacos $9; $18 for all three.
8. For Ice Cream: Holsten's Ice Cream Parlour
What: Any fans of The Sopranos will instantly recognise the ring of the bell on the door and the rows of booths to the back wall as the place where Tony Soprano nervously plays out that scene in the final episode of the HBO series. It's a little out of town, but Holsten's Ice Cream Parlour is well worth the trip.
Why: Holsten's Ice Cream Parlour doesn't just mean ice cream. It also means double bacon cheeseburgers, grilled cheese sandwiches, a candy counter measuring almost the length of the restaurant and, as Tony Soprano proclaims, the best onion rings in the state.
Where: 1063, Broad Street, Bloomfield, NJ 07003. The best way to get there is with On Location Tours, which will drop groups outside the front door for pictures and onion rings.
Photo Credit: Holsten's Instagram 
What: When Sakagura opened in 1996, it was one of the first places to introduce New Yorkers to the wonders of Sake. Fast-forward 20 years and the restaurant has quietly built itself a solid reputation among Asian cuisine enthusiasts, while amassing a sake menu with over 200 choices, in addition to a sumptuous Japanese tapas-style menu.
Why: The flavour-bursting soups pay homage to Tokyo's world-famous Ramen houses while the sashimi is a perfect choice for warm summer nights. Unless you know your rice wines, the sake menu is a bit of a brain buster. Each choice comes by the glass, carafe, half or full bottle alongside an assortment of prices. Pick one within your price range and trust your instinct – you can't go wrong.
Where: 211 E 43rd Street, Basement Level, NY 10017
How Much: An assortment of sashimi to share – $55; noodle dishes from $12-22
What: Although Central Perk, the famous coffee joint frequented by our favourite New Yorkers, is only a fictional place, Rocco's is the real life thing, located minutes away from the famous Friends apartment block.
Why: Rocco's is most famous for its cannolis. The sweet, crisp pastry treats spilling with thick ricotta and chocolate chips are beyond belief and the cheesecakes, cream pies and cookies are pretty good, too!
Where: 243 Bleecker Street, New York, NY 10014
How much: Cannolis – $4; coffee – $5.50
Photo Credit: Rocco's