Breakfasts in London: the winter warmer guide. There's a chill in the air that could only mean one thing: winter is on its way.
While it's sad to wave goodbye to the beautiful months of Pimms and endless barbecues, we Londoners are nothing if not stoic when it comes to the weather.
London has some of the best breakfast offerings in the world; and we should celebrate this time of steaming bowls of golden syrup and runny yolks with as much gusto as the ever-so-slightly more Instagrammable summer months.
So pull on that fluffy Topshop winter coat, grab a Starbucks Pumpkin Spice Latte (a celebration for winter, if nothing else) and indulge in London's best warming, wintery breakfasts. Here's our favourites in the About Time office:
What: Black rice, mango, banana and coconut milk (£8)
Why: There's one rule with getting porridge out in a restaurant: it has to be something you can't make in your own kitchen. Nopi, you win. This coconut-y, sweet black rice dish is both gluten-free and vegan, and will keep you going all day long. Also try their shakshuka (the trendiest of all brunch dishes, pictured above) as its one of the best in London.
Winter Winner: Because of the vibe. Nopi succeeds on so many levels; the atmosphere of the place is just so laid-back and casually cool. Come for the porridge, stay for the crowd.
Where: Nopi, Soho – here 
2. Best Winter Eggs: The Tapa Room 
What: Turkish eggs with chilli butter, whipped yoghurt and sourdough (£9.90)
Why: We talk about this place a lot. But it serves miso porridge, so do you blame us. Their Turkish eggs are one of the most Instgrammed dishes in London – look up and see why.
Winter Winner: Because Peter Gordon knows how to use unusual flavours to his advantage. Only a crazy man would serve grilled chorizo with a soft boiled egg and a star anise cashew nut praline for breakfast. Every item on his breakfast menu has a unique, quirky touch; try the french toast with banana and bacon. Creativity gone mad, in a good way.
Where: The Providores and Tapa Room, Marylebone – here
3. Best Winter Pancakes: The Modern Pantry
What: Raspberry & ricotta pancakes with berry compote and crème fraiche (£9.00)
Why: We love this dish because it's light and comforting at the same time – the ricotta makes the pancakes fluffy and rich, and the berry compote is sweet enough to brighten up any blustery morning.
Winter Winner: Because The Modern Pantry is as lovely in winter as summer; Anna Hansen's restaurant oozes class and sophistication, with a breakfast menu to die for. If you're in the mood for savoury, their Sugar cured prawn omelette is a personal favourite – and don't leave without trying a Matcha Latte. That's a green tea latte, if you're wondering. Which you were.
Where: The Modern Pantry, Clerkenwell – here
4. Best Winter French Toast: Riding House Cafe
What: Challah French Toast with natural yogurt and honey (£6.5)
Why: You can't help but fall in love with somewhere that serves Challah for breakfast. The traditional Jewish bread, made with eggs and sugar to give it a brioche-like sweetness, is perfect when fried in a little sugar, as they do in Riding House, and served with a dollop of tart natural yogurt. This is a Friday breakfast, not your mid-week affair – and reminds you of the Jewish grandmother you may or may not had.
Winter Winner: Because Riding House has the warm intimacy that you crave in winter; snuggle into one of their back room booths, or sit at the bar with a carafe of white wine, and watch the (trendy media) world go by.
Where: Riding House Cafe, Great Titchfield Street – here
5. Best Pudding for Breakfast: Caravan, Kings Cross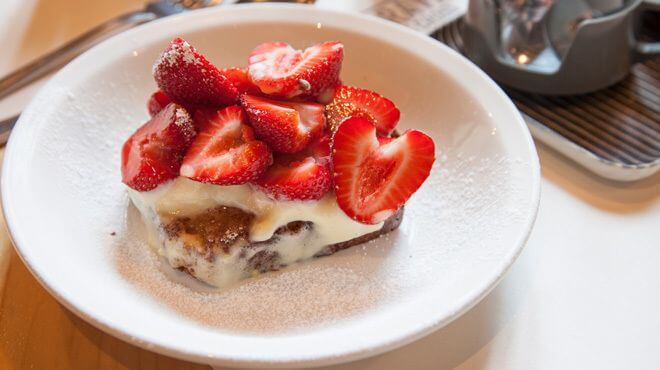 What: Coconut bread, lemon curd cream cheese and poached rhubarb (£7.5)
Why: Is it a pudding? Is it breakfast? I don't know and I don't care. Caravan's stunning breakfast offering includes this oh-so-treaty cake-like creation. The coconut bread resembles a lighter corn bread, with a new-found sweetness. The curd, the rhubarb, oh it's all too much. Apart from it's not. It's just right.
Winter Winner: Because Caravan serves you exactly what you want, on a plate, before you even knew you wanted it. We're talking savoury French toast with spinach and raclette (posh word for lots of melted cheese) and a rarebit with smoked haddock and leeks. It's comfort food gone crazy, and we love it.
Where: Caravan, Kings Cross – here 
6. Best Winter Drinkable Breakfast: The Delauney
What: A bowl of hot chocolate with toasted baguette (£5.75)
Why: This cuts right to the point. Rich, thick hot chocolate, in a bowl the size of your face, and warm French bread. Yes, yes, yes.
Winter Winner: Because any restaurant that serves drinks in bowls gets the winning vote from us. Don't miss the Oatmeal Souffle (£10.75) – we're not quite sure how they make it – but the effect is delicious. A mixture between a porridge and a sponge, the oatmeal souffle with fruit compote is a signature at The Delauney. Heavenly.
7. Best Winter Fry-Up: Dishoom
What: Smoked streaky bacon from The Ginger Pig, peppery Shropshire pork sausages, masala baked beans, grilled field mushroom, grilled tomato and buttered pau buns (£11.50)
Why: Because your going to need this going down the mines. Seriously though, Dishoom's breakfast is exactly what the cold winter months demands – hearty portions, warming spices and lots of naan.
Winter Winner: Because they serve unlimited porridge. Yes, really. If you order the House Porridge with dates and banana, the portion never stops – they will keep filling it up until you say stop. Plus, we all know that Chai is the ultimate winter drink – sweet, spicy and topped up as much as you like. Wintery heaven.
Where: Dishoom, Covent Garden and Shoreditch – here