Best Breakfast in London: The Ultimate Porridge GuideBy Angelica Malin
"Ahhh, this porridge is just right," she said happily and she ate it all up." Goldilocks
I've got a confession to make: I secretly love winter. The crisp mornings, the excuse to wear deeply unflattering cable knit jumpers, the legitimacy of drinking hot chocolate at any point during the day. Oh, it's all so glorious. Rather than lament the end of summer with its infinity pools and long, lazy evenings, instead celebrate the colder months with the best things about winter: things in bowls. Soup, winter stews, porridge – these are the things that make winter so damn great. Without further adieu, here's the best porridge bowls to try in London this:
1. For Pretty Porridge: 26 Grains
The Lowdown: 26 Grains is the breakfast-loving creation of Alex Hely-Hutchinson; she combines her trusty secret porridge recipes and a big spoonful of love to create beautiful, fresh bowls of porridge goodness at her Covent Garden cafe. Think carrot cake inspired porridge with carrot juice on an oat and bye blend with spices, toasted nuts and ginger maple. Healthy heaven.
Porridge Winner: Hazelnut and Butter – almond milk oats, butter, hazelnuts, cinnamon coconut palm sugar and apple (£4.50)
Where: Neal's Yard, London, WC2H 9DP
2. For Gluten-Free Porridge: Le Pain Quotidien
The Lowdown: Le Pain Quotidien means the daily bread. And they do that – and much more – so very well. As their loaves emerge from the ovens, warm and fragrant, friends gather around their communal tables to share in the time-honoured tradition of breaking bread. The breakfast here is top – from porridge to scrambled eggs, you really can't go wrong.
Porridge Winner: Gluten-free organic porridge – choose from: honey, honey & banana, omega boost, stewed fruit. Vegan option also available. (£4.25)
Where: Throughout London
3. For Fruity Porridge: Lundenwic
The Lowdown: The boys behind Scotchtails have just opened their first cafe and it is fabulous. A small, cute coffee shop off Aldwych with Scandi style, serving Workshop coffee, pastries, fantastic toasties and some pimped porridge. For lunch, try the salad of pickled peach, green beans, feta and hazelnut salad box or a roast broccoli, chilli, almond and cheddar toastie.
Porridge Winner: Porridge with fig, agave and chia seeds (£3.50)
Where: 45 Aldwych, London WC2B 4DW
4. For Savoury Porridge: Maple & Fitz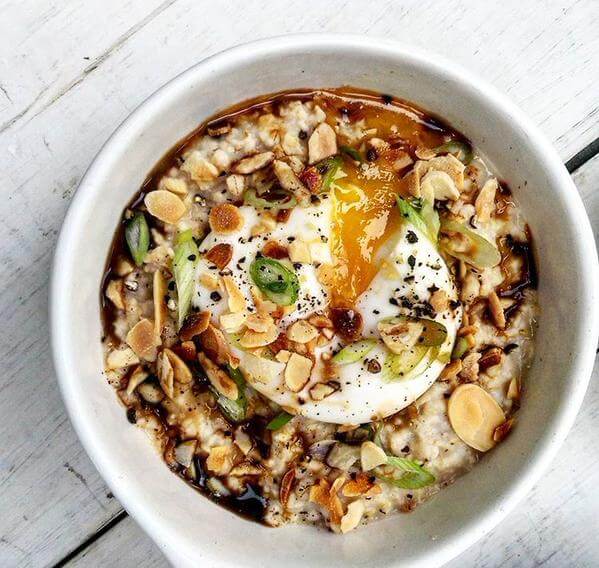 The Lowdown: Maple & Fitz is a healthy eatery and cold-pressed juice bar in Fitzrovia. They specialise in salads, smoothies and juices designed to leave you feeling energised and fulfilled. Come to Maple and Fitz for their great range of healthy breakfast options – everything from avocado and chilli on toast to homemade granola with creamy natural yogurt and Medjool date compote. Healthy heaven. The most popular lunch dish is the the Julius Caesar salad – they toss fresh ingredients including kale and mange tout in a natural yoghurt based dressing and garnish with fragrant toasted seeds for a taste of perfection.
Porridge Winner: Miso porridge, spring onions, almonds (£4.50)
Where: 36A Berners Street, London, Westminster W1T 3LY
5. For Date Porridge: Sesame Food
The Lowdown: The Ottolenghi team has searched across the Mediterranean – from beach shacks in Istanbul to the alleys of Jerusalem – for the best street food and brought it to London. Come to Ottolenghi's Sesame in Covent Garden for great food with a Middle Easten twist. They love date molasses here – date syrup is a natural sweetener with richness and treacly depth. It can be used in a dressing for salads and vegetables, to sweeten stews or just drizzle over yoghurt or porridge in the morning. Try their fresh lemonade while you're here, it's sensational.
Porridge Perfection: Porridge with date molasses and Medjool dates (£1.45)
Where: 23 Garrick St, London
6. For Omega Porridge: Farm Girl Cafe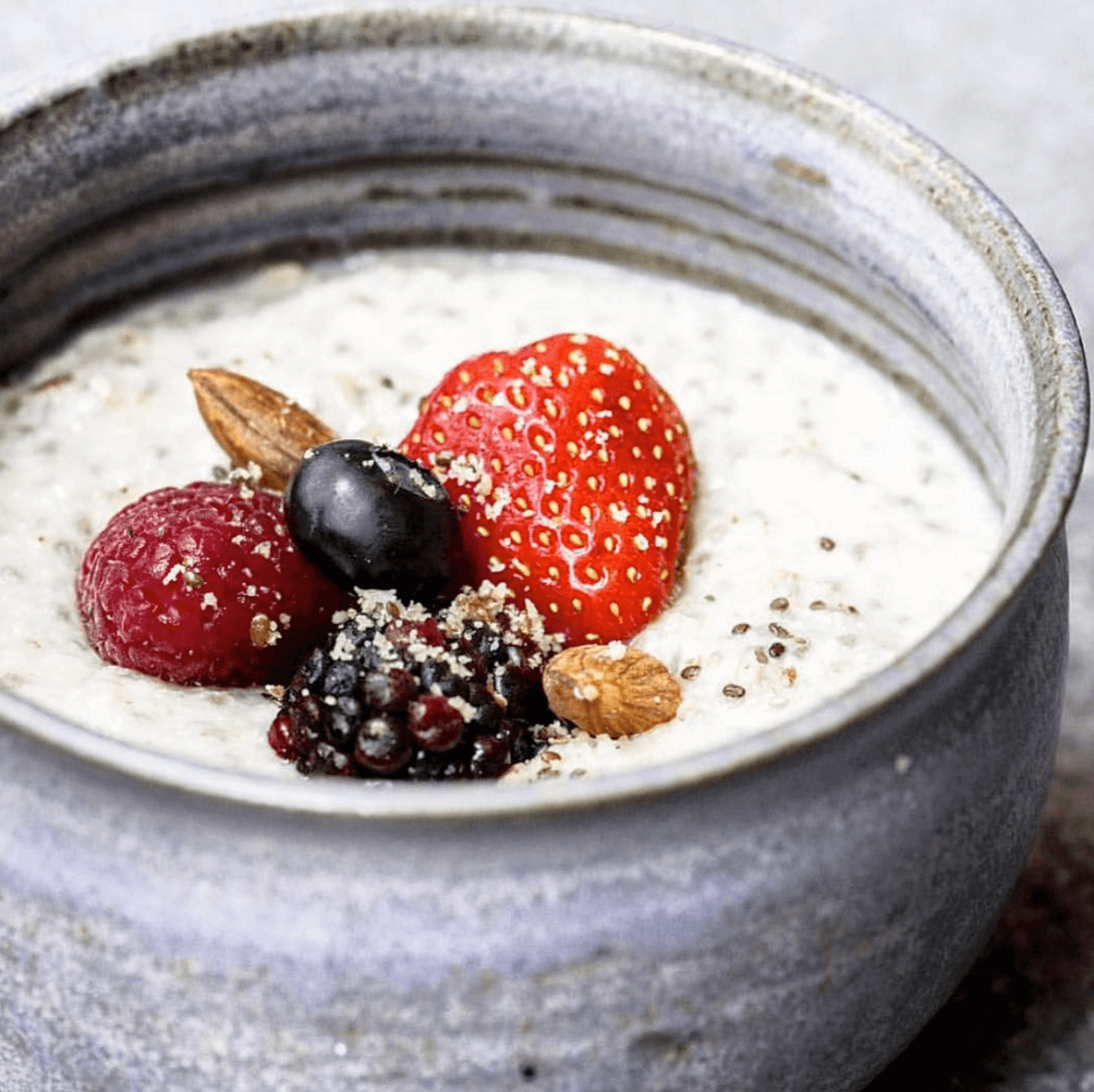 The Lowdown: Farm Girl in Notting Hill is the hip hangout for the yummy mummy and healthy crowd alike. This Aussie Cafe serve up smoothies, salads and all the brekkie dishes –  you'll be hard pressed to find something you don't like. Come here for homemade granola, porridge and excellent coffee – prepare to queue on the weekends, the secret is out about Farm Girl. You can add avocado onto your porridge – we're not sure if that's something you want to do, but give it a go.
Porridge Winner: Porridge with fresh berries, honey & their omega mix (£7.50) – add avocado for £1.50
Where: 59A Portobello Rd, London W11 3DB
7. For Vanilla Porridge: Jar Kitchen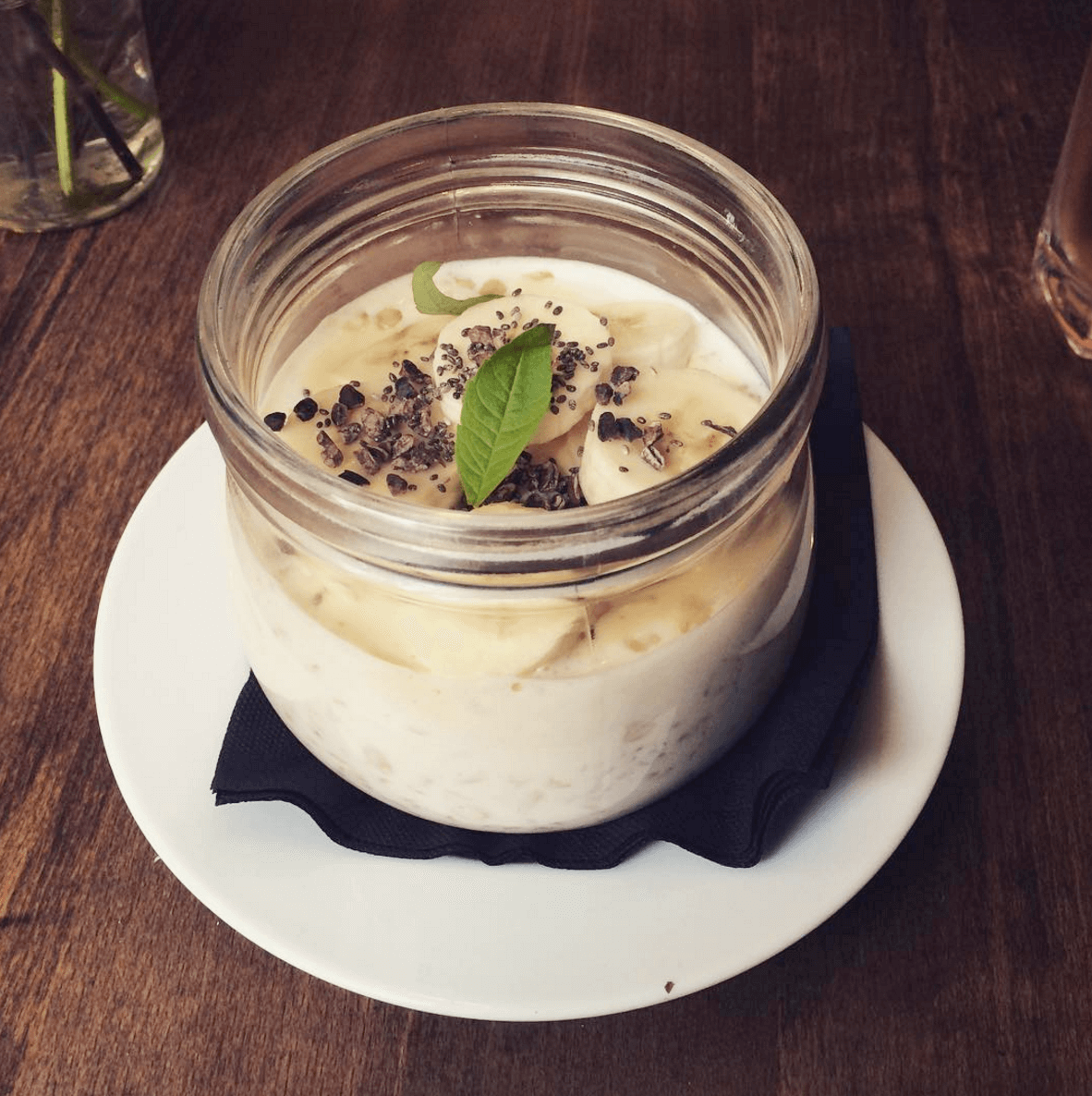 The Lowdown: Jar Kitchen is the brainchild of  Lucy Brown and Jenny Quintero, concentrating on seasonal menus and using quality ingredients. The breakfasts are all hand-made – they make their granola and coconut yogurt from scratch and it shows, this granola is up there with the best. They also do the most delicious porridge – it's sweet creamy and the perfect winter warmer, with the addition of vanilla cream, which is a welcome treat.
Porridge Winner: Oat porridge, vanilla cream, cocoa nibs, chia, banana (£4.50)
Where: 176 Drury Lane, London WC2B 5QF
8. For Black Rice Porridge: Nopi
The Lowdown: Come to Nopi for the best breakfasts in town; their shakshuka is a thing of beauty, as are the fresh juices. For porridge, this coconuty, sweet black rice dish is both gluten-free and vegan, and will keep you going all day long. Nopi succeeds on so many levels; the atmosphere of the place is just so laid-back and casually cool. We love.
Porridge Winner: Black rice, mango, banana and coconut milk (£8)
Where: Nopi, 21-22 Warwick St, London W1B 5NE
9. For Apple Porridge: Hally's
The Lowdown: With its front terrace and folding doors, Hally's is the popular brunch spot in Parson's Green which champions a relaxed vibe and brings the glow of Californian sunshine to London. With a beach-house style design this home from home serves a weekend brunch menu all day, that encourages Londoners to indulge with food and friends over a weekly-changing collection of fresh, seasonal eats. Stop it.
Porridge Winner: Porridge with Granny Smith apple, agave & toasted almonds (£6)
Where: 60 New King's Rd, London SW6 4LS
10. For Chai Porridge: Dishoom
The Lowdown: If you fancy brunch with a difference, you have to try Dishoom's fantastic food offering – the bacon and egg naan roll is an unapologetically flavoursome version of an old favourite, and the masala beans make Heinz's offering look like specks of cardboard. This brunch is everything you need and more. Don't miss their great juices – the strawberry and black pepper is a particular favourite. The porridge here is never-ending portion: if you wish for more, you need only ask.
Porridge Winner: Organic porridge oats cooked with milk, banana and sweet Medjool dates (£3.90)
Where: Covent Garden, Kings Cross and Carnaby Street
11. For Cinnamon Porridge: Nama
The Lowdown: Come to Nama for healthy, raw food perfection – raw food is one of the healthiest food options available. It's food as close to nature intended as possible. This cafe is 100% meat & dairy free and gluten-free friendly. Try their raw sprouted buckwheat gluten-free granola with home-made almond milk, goji berries and fresh fruit, which is great as a sweet gluten-free breakfast. For something deliciously different, try the walnut pancakes topped with banana 'ice cream' with frozen banana, maple syrup and star anise almond crumble. Yum.
Porridge Winner: Spiced coconut porridge with mature coconut, dates, almonds, apple, vanilla, cinnamon, nutmeg, hemp seeds, cacao and blueberries (£7.50)
Where: 110 Talbot Road, London W11 1JR
Photo Credit: Handbags and Cupcakes
12. For Coconut Porridge: Timberyard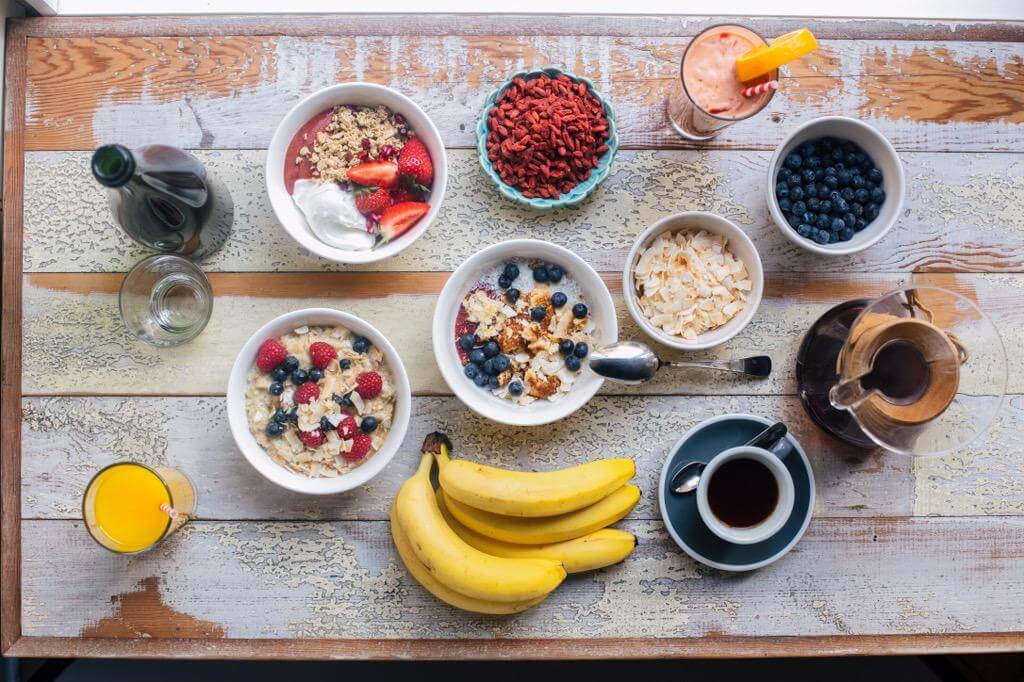 The Lowdown: Voted Europe's best independent coffee shop, Timberyard's a friendly and welcoming space open to all to kick back with a brew or to work from pressure free. They do great food – from open sandwiches, healthy soups to the best white chocolate blondies, there's something for every day. They also do pinhead porridge by Shipton Mill – which is totally delicious. They strive to provide a simple but high quality menu, working with local artisan producers for emphasis on quality and variety.
Porridge: Coconut porridge with honey & berries (£4.50)
Where: 61-67 Old St, London EC1V 9HW