August Special: 15 Things You Need to Eat in London This WeekBy Alicia Grimshaw
Hold onto your hats, people. We're not just bringing you 5 things to eat this week, we're bringing you a whopping 15. Clear your diary and cancel your plans – this week is all about eating. Burgers? We've got tons of them. Sushi? You betcha. Deep fried goodness? Oh hell yes. Without further adieu, here's the best things you need to eat in London this week:
1. For a New Charitable Dish: CAU x DJ BBQ 
What: CAU Restaurants has launched its 2nd annual #CAUnival festival across all 18 UK sites, in collaboration with barbecue sensation Christian Stevenson aka DJ BBQ. For this month only, CAU Head Chef James Garland and DJ BBQ have together created the best-tasting-burger this side of the pacific, with proceeds supporting international humanitarian organisation, Action Against Hunger.
Why: The latest edition is a unique South American-inspired 6oz cheese-topped beef burger, and comprises of tasty cuts of chuck, flank and brisket, supercharged with bone marrow, topped with a smooth slice of Monteray Jack, the#CAUnival burger is not for the faint-hearted. Feast your eyes on the special #CAUnival set menu including pollo de coxinha – classic Brazilian street food croquettes made with chicken and coriander; coconut monk fish – miso marinated fish cheeks in a coconut milk broth with ginger, lime and chilli, and bean feijoada – slowly braised squash, peppers, berlotti beans, kale, tomato and paprika, topped with Aji Amerillo infused yoghurt and grilled flat breads.
Where: Find your nearest CAU restaurant here 
2. For a New Site: Tongue & Brisket 
What: We've loved this guys from the beginning, so when the news broke about their new shop in Soho – we did a victory lap around the office. The founder, Bambos Georgiou of Tongue & Brisket is also behind the iconic B&K Salt Beef Bar and the Brass Rail in Selfridge's food hall. He knows everything when it comes to salt beef – we can't rave about these sarnies enough.
Why: Consistently rated as some of London's best salt beef, the house-cured, hand-carved meat at Tongue & Brisket is a tribute to salt beef sandwiches done simply and perfectly. This is the same ethos that fully extends to every other sandwich on their mouth-watering menu which features a selection of signature sandwiches including salt beef, ox tongue, chicken schnitzel, as well as takeaway salad boxes, soups and fresh juices.
Where: 199 Wardour Street, London, W1F 8JP
3. For a New Opening: Balans Soho Society, Seven Dials 
What: Balans Soho Society has been expanding across London at rapid pace – there's now branches at Westfield's White City and Stratford, Kensington, and now, Seven Dials near Covent Garden. You're never too far away from their famous Balans burger. Open early morning till late at night, Balans is a beacon of hope on the London high-street. From hangover busting brunches to a quick dinner with your pals – Balans has you covered.
Why: Their breakfast is more of a restorative feast. Favoured classics are brought to the fore Balans-style, including: a breakfast burrito with spiced scrambled eggs in a toasted flour tortilla with sour cream and salsa fresca; the luxurious High Society Eggs Benedict with lobster, avocado and bacon; and the signature Eggs in Hell – two eggs poached in a tomato chilli sauce. And their garlic chicken with shiitake mushrooms and spring greens is a proper hearty lunch that we can't get enough of. If you're in the mood for a wedge of cake and a good brew, their carrot cake is a mighty fine choice.
Where: 32-34 Monmouth St, Seven Dials, London WC2H 9HA
4. For a New Delivery Service: Benugo 
What: Lunchtime game changer alert: Benugo is now offering a delivery service to offices in Central London. Benugo has developed its new delivery menu to create sharing boxes and platters perfect for catering intimate breakfast meetings, or all-day conferences, with an interesting mix of menu options.
Why: For brekkie lovers who can't tear themselves away from their desk – order the yoghurt, granola and banana pot, or the very berry bircher – both are a ruddy delight. There's also sharing breakfast platters which include muffins, baked goods, juices and blueberry pots. And for lunch, there's the options of baguettes, sandwiches, snacks, and salads. The Lebanese chicken and cauliflower box is cracking, and the chermoula spiced couscous and beetroot falafel salad is a decent attempt at a hearty veggie lunch. Put the lemon drizzle half loaf cake on expenses, and order a couple for the whole office. If that doesn't help you make new work friends, we don't know what will.
Where: Order online 
5. For New Dishes: Joe's Southern Table & Bar x Jim Beam
What: Joe's Southern Table & Bar has partnered with Jim Beam to combine all the great flavours of Kentucky into one impressive bourbon-infused feast. The limited edition menu, Tastes of Kentucky, will be available for six weeks at the Southern American-style diner. Three dishes have been created by the talented chefs at Joe's Southern Table & Bar each infused with Jim Beam's popular flavours – Jim Beam Apple, Jim Beam Red Stag and Jim Beam Honey.
Why: For starter try the Southern fried wings, coated in a Tabasco and honey sauce, infused with Jim Beam Honey. For mains, there's the smokey pulled pork BBQ bun with Jim Beam Apple-infused BBQ sauce with fresh apple slaw and chicken salt fries, and the Joe's BBQ beef burger with Jim Beam Red Stag-glazed bacon, American cheese and pickles. For the true Southern experience each dish is paired with a refreshing cocktail serve curated by Maxxium UK's Mixxit Ambassador, Amanda Humphrey.
Where: 34 King St, London WC2E 8JD
6. For a New Branch: Patty & Bun 
What: More then just another "branch" on the Patty & Bun tree, Redchurch Street promises to take the P&B ethos and crank it up a level. Upstairs: counter top and bar seating, open kitchen and a hot little bar. Downstairs: proper old style speakeasy drinking den with plush banquette seating and a banging DJ set up for late nights. Burger, beats and beer; what a combo.
Why: Patty & Bun fans – listen up. Get yours hands on the P&B burger classics such as the Ari Gold and Smokey Robinson with their famously smokey mayo on the menu, alongside a new range of special sides including beer nuts, potato chips with shrimp and chilli salt, fried potato soft egg with roast chicken mayo, and chicken skin salt and bacon chop. Those cheeky P&B cocktails are back along with some new friends, including the brand new Dr Notley – Fernet Branca, Tequila Reposado, lime and ginger beer, and Patty Like It's 1999: Vodka, Blue Curacao, cranberry, and a violet syrup 'purple rim'.
Where: 36 Redchurch St, London E2 7DP
7. For a Another New Opening: Ginger Pig 
What: Now, if you've yet to try a Ginger Pig sausage roll, you haven't lived. Seriously. Good news though, if you're Wandstead way the team have just opened their new shop on Clock House Parade. The company, founded by Tim Wilson over 21 years ago, took over the site after the previous butcher of 90 years closed. The shop has seen a complete refit to achieve a contemporary take on the traditional British butcher's shop.
Why: Like all Ginger Pig shops, this new addition will concentrate on quality fresh meat from native breed animals reared naturally and slowly from their own North Yorkshire farm, as well as from other like-minded farmers across the UK. It will also sell Ginger Pig's famous sausage rolls, handmade pies, patés, readymade dishes such as lasagne and ratatouille, and homemade chutneys and jellies.
Where: 3 Clock House Parade, High Street Wanstead, London E11 2AG
8. For a New Foodie Deal: BIRD
What: There's no such thing as the Monday blues at BIRD. The fried chicken specialists are offering 50% off all chicken dishes every Monday from 5pm onwards throughout the month of August. The deal is available across all three sites: Shoreditch, Camden and Islington.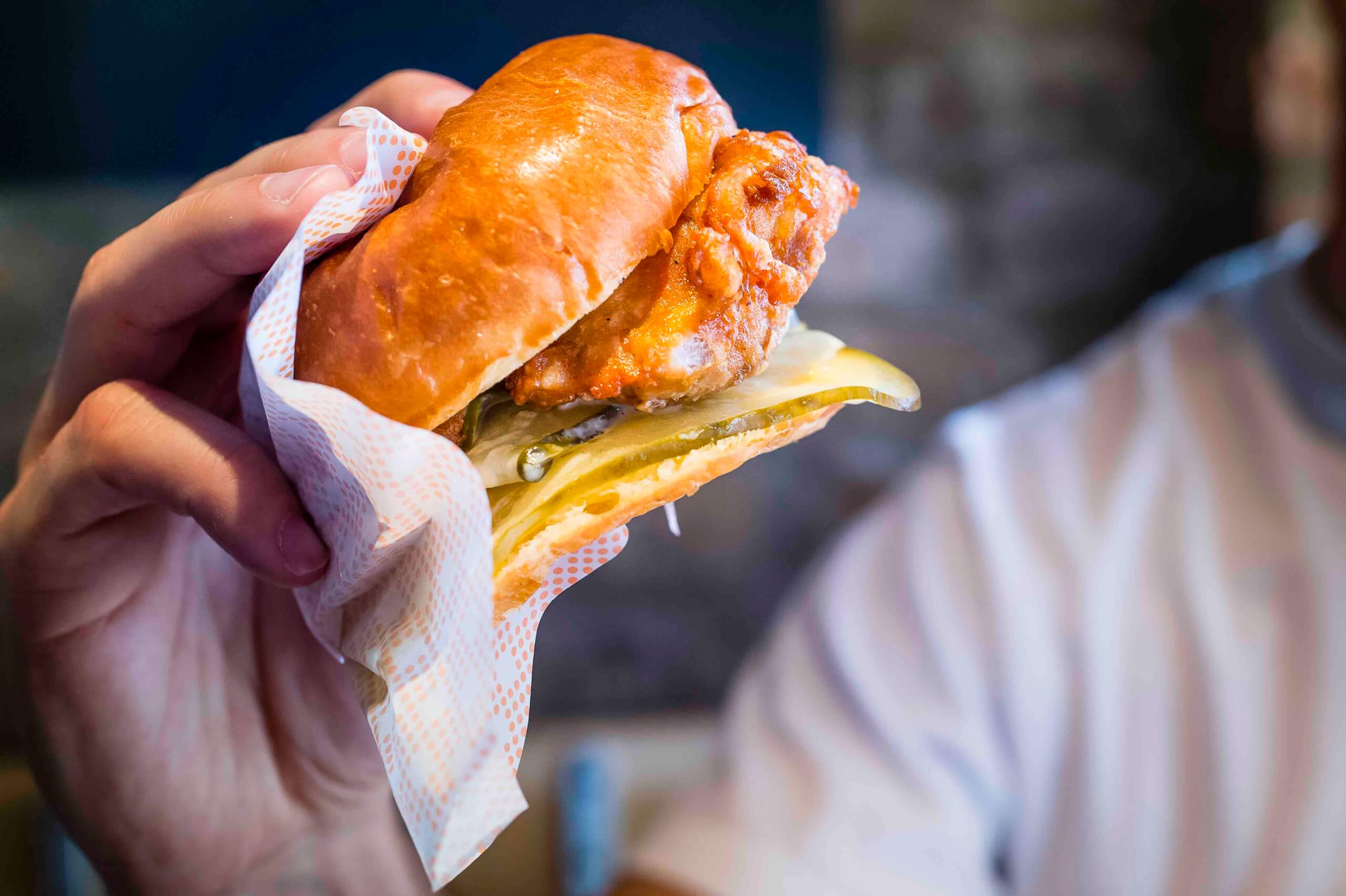 Why: Dishes on offer include BIRD's signature chicken and waffles – two pieces of fried chicken sandwiched between two waffles, their incredible fried chicken doughnut burger (we've tried it and it's very good), and an array of burgers. Try the cheese and bacon fried chicken burger, or for something on the spicier side, order the Nashville burger with extra hot cayenne sauce and melted American cheese. Also included in the deal is BIRD's fried chicken skillets, complete with homemade glazes and dips. The sticky soy garlic glaze and the house BBQ sauce dip is a match made in condiment heaven.
Where: Locations here 
What: This is the best thing to happen in North London since forever. Itsu have travelled on the sweet Northern Line all the way to Camden to set up their new shop. From warming bowls of miso soup to sushi and sashimi – now everyone in the Camden area can eat beautiful.
Why: Itsu serve some of the best grab and go sushi on the high-street. Their veggie sushi is heavenly, and their avocado baby rolls are just as good as their fishy cousins. There's loads of other sushi boxes available including; the tuna and salmon selection, the best of Itsu box, and the crab California maki rolls. Hot selection is also cracking; chicken noodle soups, brown rice potsu and miso soup with silken tofu. And their dairy and gluten-free brownies are super duper.
Where: 191 Camden High Street, London, NW1 7BT
10. For a New Burger Spot: The Diner on the Strand 
What: Forget booking your tickets to Nashville. You've got a front row for bespoke, hand-crafted Americana right along the Strand. With an interior that mixes Empire Records chic with London rock, and a kick-ass menu to match, The Diner have got exactly what you need for breakfast, lunch and dinner.
Why: The Diner is one of those rare (pfft, soz) places that actually cooks your burger to order. If you ask for it medium-rare, you can expect to chow down on a gorgeously pink patty, rather than the generic brown hockey-puck generally on offer elsewhere. The latest branch in the Strand is a cosy American dream – with booths to cocoon you and enough cholesterol to kill you, this place is one to rival any of the posh burger branches peppering the high-street right now.
Where: 397 Strand, London WC2R
11. For a New Item: Herman ze German 
What: Herman ze German have thrown another sausage into the mix with their new addition, Ze Bratmeisiter which   joins their meaty family. The Ze Bratmeister is now available across their three homes – Villiers Street, Old Compton Street and Charlotte Street. Pay an extra 50p for some sauerkraut. Totally worth it.
Why: Made with Herman's signature Black Forrest Bratwurst, the sausage is topped with freshly roasted vegetables, aged feta as well as their homemade veal gravy made on site, this beauty is a corker. Ze Bratmeister joins the menu filled with the tastiest gluten and lactose-free bratwurst, chilli beef and bockwurst straight from the Black Forrest in Germany. There's also a burger menu, schnitzel dishes and their monthly rotating guest wurst. Make sure you don't miss out on the free crispy onions.
Where: Locations here 
12. For New Dishes: Ichiryu Hakata Udon House
What: Ichiryu Hakata Udon House was launched earlier this year by Tak Tokumine, CEO of both Shoryu Ramen and Japan Centre. As the name suggests, this casual dining spot on New Oxford Street specialises in hot and cold udon dishes. To celebrate their new menu, they've also launched a range of summery cocktails.
Why: The menu is an absolute feast, and a must for any udon lover. Get your meat kicks with the Niku Beef Udon, a medley of sukiyaki beef, ontama egg, spring onion, kamaboko fishcake and wakame seaweed in tsuyu bonito soup. The menu also features Kimchi Jjigae Udon, a bowl of  kimchi, pork, ontama egg, tofu, enoki mushroom, leek, spring onion and wakame seaweed in spicy kochijan soup, and for fish fans order the Prawn Hiyashi Udon with prawn tempura, ontama egg, citrus fruit, spring onion, kamaboko fishcake, ginger, nori seaweed, salad and tomato in tsuyu bonito sauce
Where: 84 New Oxford St London WC1A 1HB
13. For a New Summer Range: Costa 
What: Costa knows the deal when it comes to making a soya latte. We're big fans. Good news kids, Costa has launched its brand new summer food and drink range – don't punish yourself by eating a cheese toastie on a baking hot day, grab one of their new protein pots (and a slice of flapjack, and some cake just to be safe).
Why: On the liquid front there's the Costa SuperDay Smoothies. The SuperDay Smoothies are made from 100% real fresh fruit, blended and prepared by their baristas, and are available in three refreshing flavours; Yellow SuperDay with pineapple, melon, mango and passion fruit, Red SuperDay with grapes, watermelon and strawberry and Green SuperDay with Melon, apple and kiwi. Representing the savoury section is the new salad wraps. The British Roast Chicken Rainbow Salad Wrap is packed with roast chicken, carrot, red cabbage, spinach, spring onion, coriander and herb yoghurt, whilst the Sweet Potato Falafel Rainbow Wrap contains sweet potato falafel with chickpeas, carrot, spinach, red cabbage and cumin yoghurt.
Where: Find your nearest Costa here 
14. For a New Doughnut: The Providores x Crosstown Doughnut
What: Why celebrate a birthday with a Colin the caterpillar cake, when you can celebrate with a limited edition doughnut. To mark The Providores and Tapa Room's 15th anniversary this year, the team have roped in their pals (and Executive Chef, Peter Gordon's other foodie venture) Crosstown Doughnuts, to create an exclusive Providores doughnut.
Why: Running for another two weeks, the doughnut is inspired by Peter's New Zealand roots. The doughnut features a homemade feijoa compote, manuka honey glaze and ANZAC biscuit crumb. Available in the Tapa Room (the ground floor all day cafe wine bar) they're offering one of these little doughy numbers with a freshly squeezed juice and a coffee or tea for £10, up until 4pm each day.
Where: 109 Marylebone High St, London W1U 4RX
15. For a New Site: Rum Kitchen 
What: Rum Kitchen has opened its highly anticipated third site in Brixton. Dishing up a modern approach to classic Island cooking, the restaurant also sells cocktails and a rare rum selection, including the exclusively bottled RK x 25-Year-Old Plantation Rum from Trinidad.
Why: Newcomers on the menu include grilled red snapper with mixed pepper escovitch and avocado salsa, and a jerk fried chicken burger with spicy lime salt, scotch bonnet mayo, swamp hot sauce and house pickles. House favourites such as the jerk chicken bowl – three pieces of Jerk boneless chicken with jerk gravy, coconut black eye pea rice and homemade slaw, and 18-hour slow cooked pork belly ribs with jerk bbq sauce and toasted coconut flakes remain firmly on the menu. Keeping true to its namesake, Brixton will have a drinks menu with over 200 types of Rum and 40 house cocktails, all developed by their award winning bar team. The venues imaginatively conceived £5 happy hour menu will also run from 4-7pm daily.
Where:  443-445 Coldharbour Ln, London SW9 8LN