Woah. Hold the phone. This week we've finally decided to run our festive content. Every week, we'll be bringing you a festive 5 things you need to eat this week. From Christmas pizzas to burgers – we've got your covered (in cranberry sauce). Let's get munching:
1. For a Christmas Hanukkah Mash Up: The Good Egg 
What: Don't get us wrong, the AT team all love a traditional plate of turkey and stuffing – but if you fancy the sound of duck kibbeh with smoked aubergine yoghurt and whole roasted cauliflower shawarma with Christmas pickles, then head on over to The Good Egg for their special Hanukkah x Christmas menu which will be on offer throughout December.
Why: The set dinner, costing £35 per person, is quite the banquet. The feast begins with house-made flatbreads and pita with tahini or thyme and honey – then a choice of starters including dak dak salad with pickled persimmon; kholrabi and pine nuts; and treacle and fennel seed cured salmon with rye and pickled radish. Mains come with a potato parsnip kugel on the side – and make sure you save room for dessert: apple fritters with ice cream and salted pretzel praline. Good grief. At lunchtime there's a £24 set menu available, kicking off with sourdough and date butter – with a main of slow roast hogget shawarma with preserved lemon labneh, or whole roasted cauliflower with green tahini and toasted almonds for veggies.
Where: 93 Church Street, Stoke Newington London N16 0AS
2. For a Festive Lunch: LEON x Gizzi Erksine
What: Christmas has arrived at LEON.  The Naturally Fast Food Chain has brough back its festive classic, The Christmas Wrap, and has unveiled its new Christmas dishes made in collaboration chef and food writer, Gizzi Erskine. The LEON Christmas Wrap is made using British turkey all wrapped up with pork, sage and onion stuffing balls, ham hock, fresh spinach, tarragon mayo, and cranberry and port sauce.
Why: On top of its classic Christmas Wrap, LEON has introduced three new Christmas dishes with Gizzi Erskine, using recipes adapted from her latest cookbook Season's Eatings. LEON and Gizzi have worked together to create:  LEON x Gizzi Turkey Curry– a traditional Boxing Day recipe in the Gizzi Erskine household. Turkey, carrots and parsnips in a creamy curry sauce, spiced with garam masala, cumin and coriander, and topped with a sprinkling of crispy onions. There's also the LEON x Gizzi Pomegranate and Pistachio Sprout Salad – the festive Brussels sprout, shredded for Christmas with mint and dill in a pomegranate dressing, topped with pomegranate seeds and pistachios. And lastly, LEON x Gizzi Earl Grey Mince Pie – a wheat-free pastry infused with orange zest and earl grey, filled with a cracking mixture of fruit and spices.
Where: Find your nearest LEON here 
3. For a Festive Menu: MEATLiquor
What: As the temperature continues to drop this winter, MEATliquor have revamped their dishes in the festive fryer, and have launched a specially crafted Christmas menu. And it's not just the food that has had an Xmas makeover – the team have shaken up the drinks menu too. Introducing a gin inspired Let It Sloe, the Santa Baby served in a flute, Five Gold Rings, served on the rocks and the fruit infused Willie Soak.
Why: The menu features the XXXmas Burger, a sausage and stuffing patty, topped with roasted turkey, crispy bacon, a drizzle of cranberry sauce and gravy as good as your nan's; the turkey cheesesteak, a combination of Herons Farm roast turkey, sausage stuffing patty and bacon with melted camembert; deep fried Xmac 'N' Cheesesier or Piggies In Blankets; and the ultimate in Christmas indulgence, the XXXmas Garbage Plate comprising a sausage and stuffing patty, roast turkey and crispy stuffing piled on a mound of fries, and served with gravy and cranberry sauce
Where: 74 Welbeck Street, London W1G 0BA
4. For a Festive Pizza: NY Fold
What: To help ease pain during the party season, NY Fold has created The Hangover Pizza – able to banish any sore head after one slice. This limited edition pizza has been specially designed for pre and post partying for those in need of rejuvenation and replenishment. And cheesy carbs.
Why: The topping combines the following: egg, containing B-vitamins and amino acids that destroy toxins and replace the levels of B-vitamins lost through drinking, sausage which is full of selenium essential for the normal functioning of the immune system, and pecorino, a cheese that is rich in probiotics and having fat before drinking slows the rate of alcohol absorption. Also on the pizza is oregano, fresh garlic and spinach. And if all that science jargon has gone over your head – take it from us, it's tasty and that's all you need to know. Make sure you remember to pick up your free packet of Alka Seltzer. Gotta get them electrolytes.
Where: 103 Charing Cross Rd, Soho, London WC2H 0DT
5. For a Festive Set Menu: Nobu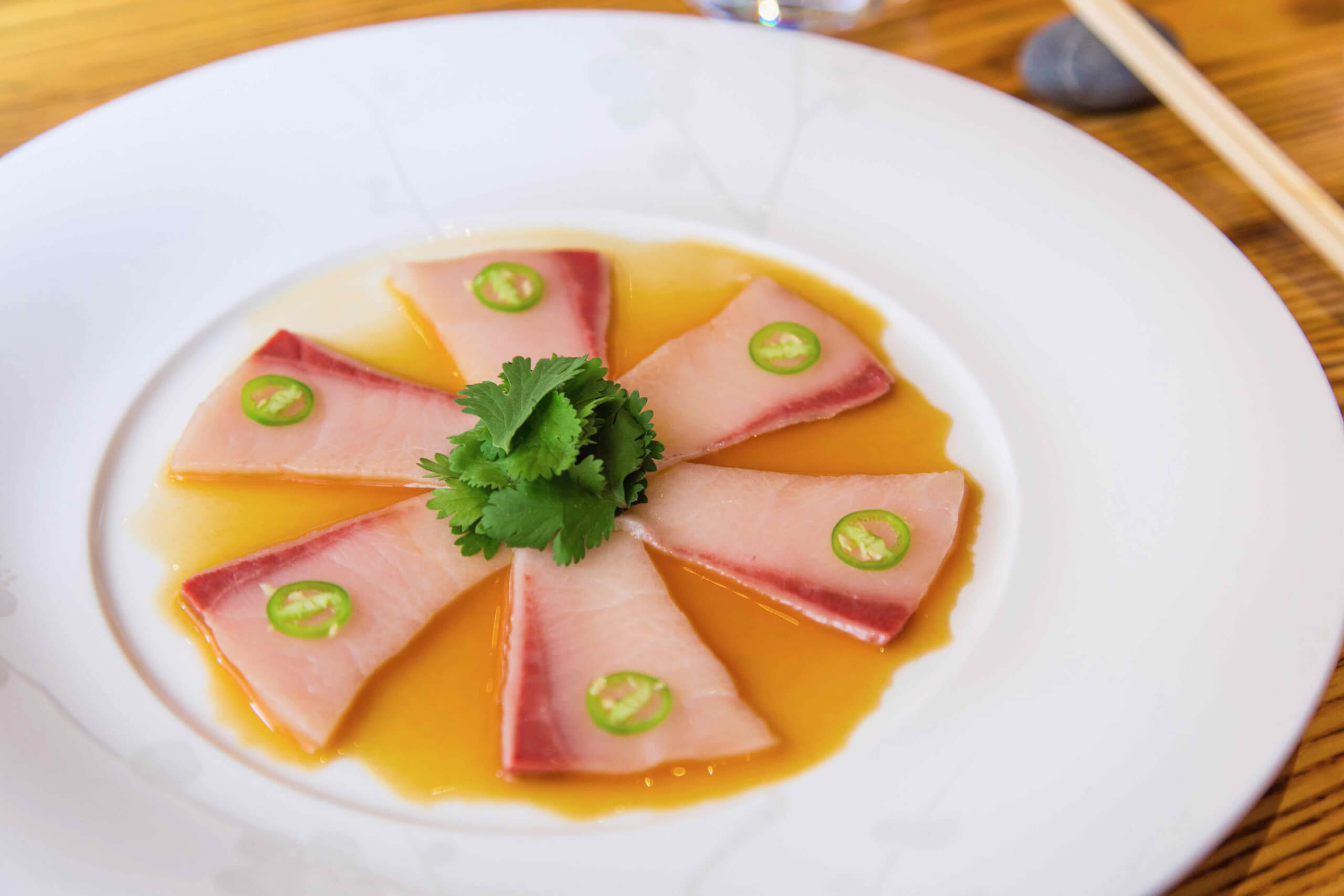 What: Offering a one of a kind festive experience, Nobu restaurants in London invite you to celebrate the season with their lunch and dinner set menus. Chef Nobu Matsuhisa's innovative cuisine has been delicately infused with the elements of a traditional British Christmas, with a touch of Nobu elegance.
Why: Get stuck into slow roast organic turkey served with cranberry teriyaki; baby tiger shrimp tempura with ponzu; and salmon sashimi salad with matsuhisa dressing. The classic Nobu chocolate bento box has been updated with cinnamon and nutmeg ice cream, and there's now warm chocolate harumaki with coconut sorbet on the menu. Other trademark dishes include, new style salmon sashimi and black cod with miso. It's a traditional festive feast with a contemporary twist. Created specifically with group diners in mind, the festive dining experience is available to groups of 14 people or more.
Where: Nobu Berkeley Street and Nobu Park Lane