About Time You Visited: The Best Cold-Pressed Juice Bars in LondonBy Alicia Grimshaw
London is fully embracing the cold-pressed juice movement and we couldn't be happier. Nothing quite beats a well made cold-pressed juice. We've drank our way around a hefty amount of juice bars in London to find the some of the tastiest cold-pressed juices on offer. Drink up, people.
The Lowdown: Ed and Georgie, the duo behind PRESS discovered cold-pressed juices whilst living in LA and loved them so much they decided to create their own across the pond. After running various taste tests and working on the menu in Ed's parents kitchen, PRESS was born. They are the only cold-pressed juice company in the UK  o have built a custom cold storage kitchen to make sure everything stays cold and the juices still taste as fresh as when they were first made.
Expect: A wide variety of juices packed full of veggies and fruit. The company works on a 'try before you buy' philosophy, if you don't like it – you don't buy it. Their green juices will rock your socks off; the Greenhouse 1 is a heavenly combination of kale, spinach, celery, romaine, cucumber, apple and lemon. As well as their juices, they also create different smoothies using the juices as a base. For a post-workout pick me up you can't go wrong with the Warrior Shake, using their vanilla leche (which is just as sensational on its own) they blend protein powder and banana. Heaven.
Where: Locations here 
The Lowdown: Juice Tonic are firm believers that with diet alone we can treat ourselves of almost any physical and non physical problem. When you step into Juice Tonic, you haven't just stepped into any old run of the mill juice bar, but a place where they want to share their health oriented ethos with you, a place where you can receive all the information about how to kick start a healthy lifestyle the right way. Don't think you're going to be preached to by the cold-pressed juice gods, these chaps are happy to share all about how to lead a healthy life.
Expect: All of their cold-pressed juices are organic and are made on the slowest machines that produce the best juice on the market. Usual rotary blade machines have been replaced with cold-pressed machines that were invented in 1930 – the machines produce maximum juice extraction from the least amount of ingredients. Chat to knowledgeable staff that know what they're talking about – these guys really are the cold-pressed kings and queens.
Where: 3 Winnett St, London W1D 6JY
The Lowdown: Walk into Lab Organic and you feel like you've already lost 2 pounds (in weight, not cash). They've fully embraced the healthy lifestyle by creating nutrient-rich organic cold-pressed fruit and vegetable juices. Their main goal is to inspire people to achieve and maintain a healthier lifestyle in a way that is sustainable for the environment while not being out of reach – a lifestyle that can be achieved for the busy Londoner.
Expect: No two juices are alike, with each recipe offering a wide range of health benefits and have been  designed by their in-house nutritionists using locally sourced ingredients. Every product created from their healthy snacks to their nut milks and acai bowls are gluten, dairy and refined sugar free. All of the juices are made in the on-site kitchen and all snacks are freshly made each morning. Their constantly working with chefs and health experts to create new flavours and nutritious recipes that make you wish you had a LabOrganic loyalty card.
Where: 58 Neal Street, London, WC2H 9PA 

The Lowdown: Mae + Harvy are new to the cold-pressed juice rat race. Owned by Natasha Mae, she began making her juices in her mother's kitchen before moving to Lundenwic's  kitchen in Aldwych (a really cool Nordic cafe dishes up rye sandwiches and some of the best porridge in town). Although Mae + Harvey don't have a premise of their own you can grab a bottle of their delicious juices from Eat17 Spar, Store Street Expresson and Lundenwic.
Expect: Not only do Mae + Harvey knock up some pretty dreamy seasonal cold-pressed juices, they're also a dab hand at making cold-pressed nut milks too. Order the almond milk with cacao and maple syrup for a sweet drink without the additives or the equally fantastic combination of cashew, date, sea salt and vanilla. All of the ingredients used are supplied by J D Harvey greengrocers in Wanstead (Mae + Harvey, get it?). The juices are created by using a hydraulic press, meaning no heat is used in the process – with the results being raw, unpastruised and fresh juices for all.
Where: Stockists here 
5. For Freshness: Roots & Bulbs
The Lowdown: Sarah Cadji is the founder of Roots & Bulbs – she decided to set up a cold-pressed juice bar last year after finding herself reading labels that didn't tell the truth, and food that tasted superficial and plastic. Roots & Bulbs is built on three main values; honesty, transparency and quality – they strive to create some of the best possible tasting juices, smoothies and food that contain no hidden ingredients, no nasties and certainly no tongue twisting additives.
Expect: The menu is small and refined – what it lacks in size, it makes up for with their fresh tasting, healthy and just generally yummy juices. All of their juices are 100% organic, with Roots & Bulbs choosing a juicing process who uses the pulp of the fruit with no added heat and favouring vegetables over fruit. They sell a great selection of green juices with the G2 a mixture of cucumber, spinach, romaine, apple and herbs – it's an absolute belter.  While their cold-pressed juices are killer, their smoothies are also worth a shout out. You can't go wrong with the smart smoothie – coconut water, banana, cocoa powder, dates, coffee and walnuts. A nutty delight.
Where: Locations here 
The Lowdown: Juice Baby is a jewel in Kings Road forever growing healthy food scene, using locally sourced ingredients, hand making all food and drink and staying away from dairy, eggs, gluten, chemical additives and preservatives – Juice Baby have nailed the art of healthy living. They follow a simple rule – 'little by little', the chaps at Juicebaby believe it's the little choices that make a big difference. Swapping fizzy drinks for juices and replacing sugary treats for desserts that are free of unrefined flours and sweeteners.
Expect: Cold-pressed juices with maximum nutrional value, think spicy immunity juice made from pineapple, ginger and cayenne pepper or the totally dreamy Candy Beets, a combination of beetroot, carrot, pineapple and lemon. Juicebaby never pasteurise, water down or add sugar to the juices, with all juices freshly made daily, using organic produce from small suppliers and supporting local farmers.
Where: 398 King's Road, London, SW10 0LJ
7. For Nutrition: The Juice Well
The Lowdown:  The Juice Well is a juice bar in Soho, creating organic cold pressed juices, superfood smoothies and cleanses. The Juice Well was set up by Joe Cross and Will Ricker, Joe was diagnosed with a debilitating illness and weighed more than 135kg, he revamped his lifestyle and introduced cold-pressed juices into his diet losing 35kg. At The Juice Well the chaps use a cold press system to extract the juice from the cellulose. This process enables them to get the most nutrients out of the raw vegetables and fruit without heat and pasteurisation.
Expect:  These chaps know their stuff when it comes to cold-pressed juices.They sell juices that are pure, and packed full of plant nutrition including all the healthy enzymes and micronutrients. If you're feeling tired, drained or under the weather, the guys will give you advice on the best juices to choose (in a non preachy way, may I add). They also create some pretty spectacular healthy treats from black bean brownies to granola and all sorts of other stuff. No one could possibly turn down a healthy spin on a peanut butter cup.
Where: 4 Peter St, Soho, London W1F 0DN
The Lowdown: Guy Robinson, the brains behind Crude Juice saw the rise of the cold-pressed juice movement stateside and decided to bring his own creative ideas to London. Crude Juice are big believers that quality and taste comes first making sure as much nutrition is crammed into each bottle as possible. They don't pack out their juices with 'fillers' (such as apples and cucumber) and instead favour leafy greens, spreading the healthy love in each bottle.
Expect: An abundance of delicious juices – they operate a delivery service as well as recently opening their pop-up store in Old Street Station. They have some of the best green juices around, but their nut milks are also a treat and are made using organic cashews as a base and jazz it up with South American super foods of the moment – maca, raw cacao and chia seeds. These lactose free high-protein little bottles of heaven are perfect for a grab and go brekkie.
Where: Old Street Station
The Lowdown: The guys down at Blend & Press are all about feeding your body from the inside. Founded in 2013 by Emma Wood, Blend & Press create cold-pressed juices with added heaps of nuturional value from aloe vera for digestion and beetroot for an extra boost of stamina. They use one of the best juicing machines around making sure it retains all of the good stuff – vitamins, minerals and fibre. Blend & Press regularly team up with  nutritionists and natural health experts to design juice and smoothie recipes to help cleanse the body and boost overall health.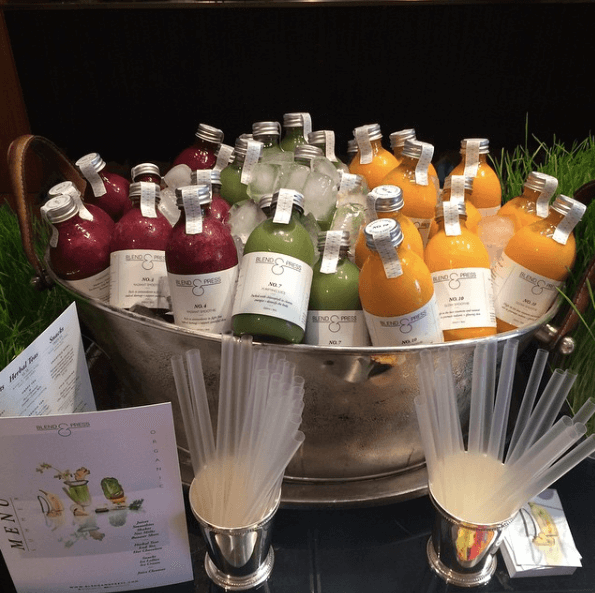 Expect: More cold-pressed juices that you can shake a stick at. At Blend & Press they've got a juice for everything. Their recovery juice supports improved stamina, performance and recovery and is a heavenly mixture of beetroot, carrot, apple, lime mint and aloe vera.Not only do they create fine cold-pressed juices, but super food smoothies are also their forte. The energise smoothie is for anyone who can't resist a chocolate bar, only this smoothie is super healthy, one sip and you'll probably sign up for the gym and a yoga retreat.
Where: 16a Neal's Yard, London WC2H 9DP
10. For Flavours: Good Life Eatery 
The Lowdown: The Good Life Eatery is a favourite pit stop for the healthy foodie crowd, who come here to lap up a bit of zen and delicious healthy food. You'll find The Good Life tucked away from the Kings Road, and they've also got a branch in Marylebone. Good Life Eatery favours juicing machines that uses a ton of pressure to extract all of the vitamins, enzymes and trace minerals to leave you with some outstanding juices.
Expect: The Good Life Eatery is all about the great tasting flavours and they certainly know what fruit and veggies work together. We can confirm that their green juice dubbed drink your salad surprisingly doesn't take like a big ol' bowl of salad and that's hard to get right. Come here for spectacular juices, cashew milks and if you've got time order the rise and shine bowl for brekkie, you can thank us later for that one.
Where: 59 Sloane Avenue, London SW3 3DH