Yes, it's the most wonderful time of the year – when you can justifiably munch your way through every festive treat going. And for me, that means non-stop mince pies from now until December 26th. I've been trying the full range from the High Street to posh bakeries, to bring you the best of the best.
1. Best All-Round Pie: Melrose and Morgan
Why: Melrose and Morgan get my vote for their melt-in-the-mouth vanilla pastry, generously stuffed with the perfect mincemeat – which has just the right balance of fragrant spice and plump dried fruit. Primrose Hill might boast about its view of the London skyline – but we prefer the towers of mince pies in the Melrose and Morgan shop.
Where: 42 Gloucester Avenue, London NW1 8JD and Oriel Hall, Oriel Place, London NW3 1QN
Why: The mince pies at Gail's Bakery are little parcels of delight. Not too big, excellent pastry, perfect with a big mug of coffee at any time of the day. If you're feeling virtuous you can have one of their beetroot and lentil salads for lunch first. Then a mince pie. It's all about balance.
Where: Locations here
[related_articles]
Why: Oh come on. I can't be the only one. If the idea of a mince pie breakfast rocks your boat too, I'd recommend the Pret Crimble Crumble – sweet pastry, a layer of appley mincemeat and a crunchy, cinnamony tumble of crumble on top. It's not THAT different from a bowl of raisin bran. Work with me here. It's Christmas.
Where: Locations here
4. Best For a Nifty Treat: Konditor and Cook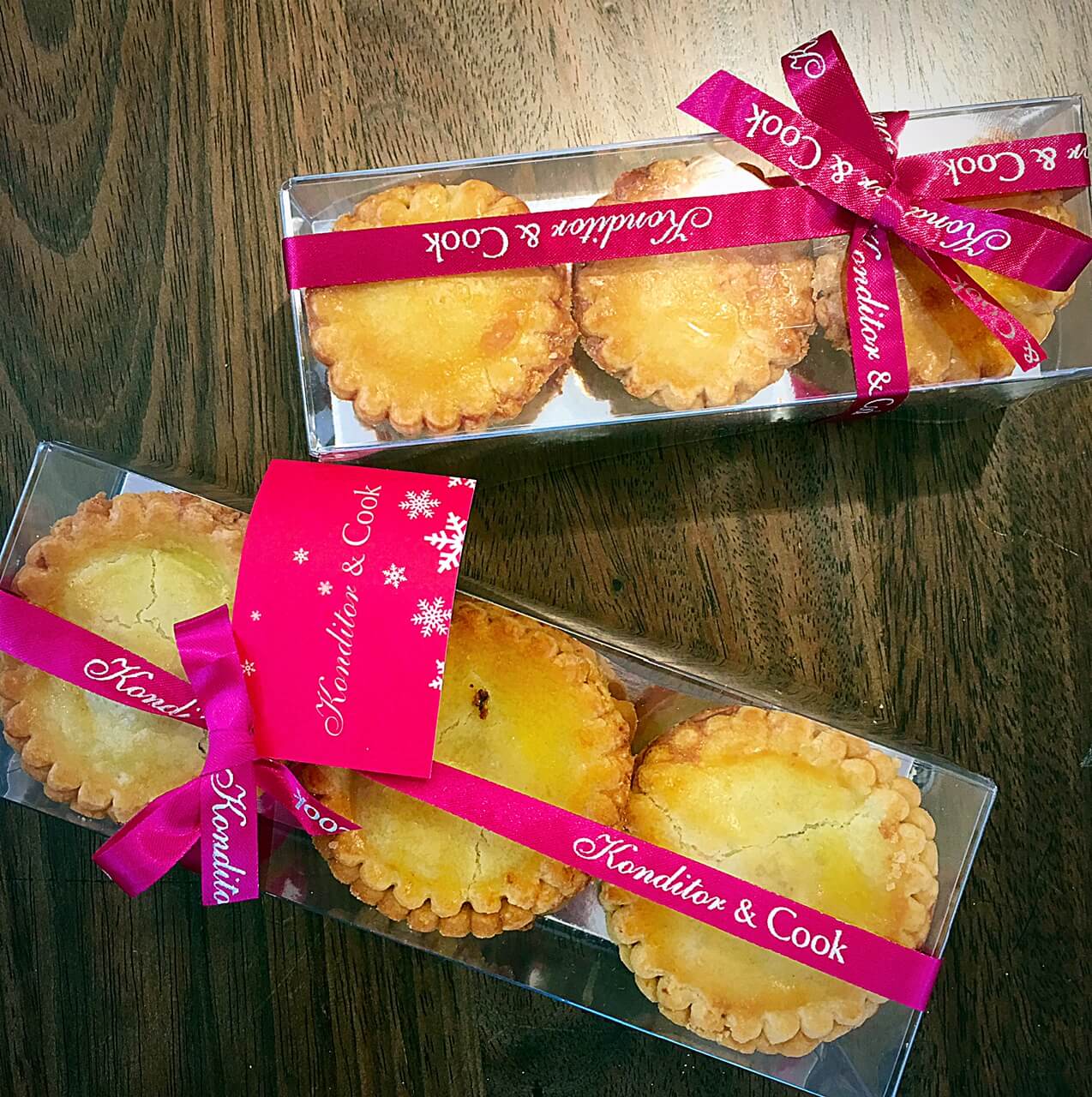 Why: No review of mince pies would be complete without Konditor and Cook – their pies are perfectly formed, with such thin pastry and such plump fruit, it's no wonder that they've had to press their crack baking team into service around the clock to keep up with demand. They work through the night so we can eat their pies: now that's the kind of Christmas spirit I really admire.
Where: Find your nearest branch here 
5. Best For Chocolate Lovers: Paul A Young
Why: It's got to be Paul A Young, who's brought his considerable patisserie skills out to play again with a festive brownie pie, combining his signature chocolate brownie with prune mincemean, brandy and brown muscovado – all layered up in a sweet pastry case. A modern classic.
Where: Locations here
[related_articles]
6. Best on the High Street: Waitrose
Why: It's a tie again this year between the Heston for Waitrose spiced shortcrust mince pies, with a hint of rosewater and added lemon curd and the Marks and Spencer handcrafted pies, which look like ones you'd buy from a posh shop, and taste pretty good too. Just add a dollop of their Somerset Apple Brandy Cream.
Where: Order online 
7. Best For a Twist: Brompton Market
Why: Luke Mackay, the chef behind Kensington's Brompton Market came up with some fabulous mince pies last year – and this year he's gone one better, creating a savoury veal and sage version, and a sweet one stuffed with amaretto figs. Brilliant.
Where: 33 Thurloe Place, London,  SW7 2HQ
8. Best For a Treat: Ottolenghi
Why: Ottolenghi wins again: the mince pies aren't cheap but they will certainly make you cheerful: fabulous pastry, and a mincemeat filling that's fresh and bursting with flavour. It's hard to walk past Ottolenghi at the best of times – at Christmas it's impossible to leave without a large box of cakes. I mean salad. And maybe cakes.
Where: Locations here
Why: Bread Ahead might be well known for their doughnuts, but I'm all over the mince pies, ever since I learned how to make them on one of Bread Ahead's excellent baking classes last year. They are so big they are practically a meal in themselves – not that it stopped me tucking into one after a large Christmas lunch. The pastry is especially good.
Where: Borough Market, Southwark, London
[related_articles]
10. Best For Pie-Dodgers: Yeast Bakery 
Why: Not a mince pie fan? Try Yeast Bakery in East London's Netil Market – I defy you not to love their mincemeat filled kouign-amann: layers of buttery, flaky croissant pastry baked with even more butter and sugar and mincemeat: all of the good things in one delicious sticky spiral.
Where: Arch 356, Westgate Street London, E8 3RL
11. Best Mince Pie Hybrid: Crosstown Doughnuts
Why: Crosstown have come up with a mincemeat doughnut: generously filled with a sweet, fruity mixture and topped with sugar icing and crunchy nuggets of crumble. This would be even better with a large jug of custard – and a long nap. And isn't that what Christmas is all about?
Where: Locations here 
12. Best Gluten-Free Mince Pie: Le Pain Quotidien
Why: The regular mince pies from Le Pain Quotidien are excellent – with crumbly, shortbready pastry and a well spiced, generous mincemeat filling. But a random taste test by a coeliac friend confirms their gluten free pies are just as good. No-one has to miss out!
Where: Find your nearest branch here