Brown's Hotel has been a historic staple on London's cultural scene for nearly two centuries. After opening its doors in 1837, the hotel has hosted the likes of Queen Victoria, Alexander Graham Bell and Theodore Roosevelt to name a few. Today it's the home of an afternoon tea experience a royal would be proud of. Whether you're in need of birthday inspiration or just want to treat yourself, Brown's Hotel has got it all from its exquisite food to its impeccable service. Here's why: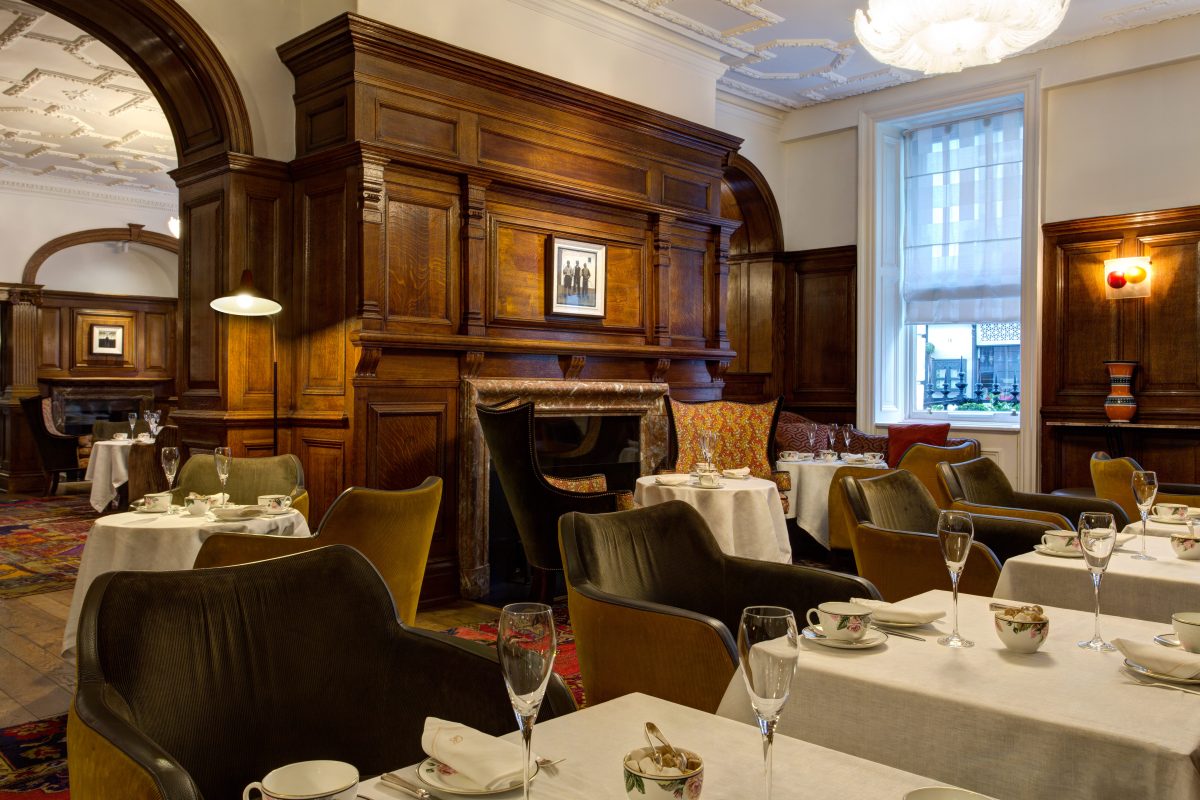 Brown's Hotel is located on the quiet but grand Albemarle Street just off the noisy bustle of Piccadilly Street. It's the oldest hotel in London but you wouldn't realise it from its exterior facade. Gleaming white, the hotel's contemporary architecture stretches above you edged with windows and hedge-strewn balconies that line the first and second floor. It's an awe-inspiring sight that only increases when you step inside and observe the opulence of its interior. 
The tea room is directly to the right of the entrance and upon entering you're greeted with a warm glow of cosy elegance. The space is large with comfy armchairs sprawled around white-clothed tables. Stylish Paul Smith lighting casts a soft glow over low backed monochrome green armchairs and elegant red Turkish-style carpets. A contemporary grand piano stands in the middle of the room, the pianist playing soft drowsy notes to families, couples and old friends tucking into afternoon tea. The high white ceiling is embellished with Jacobean-style detailing and original 19th-century wooden panelling encases the walls in a nod to the hotel's historic roots. 
Brown's Hotel has an impressive collection of teas to suit any preference. From traditional teas to seasonal herbal infusions, we were spoilt for choice. I settled on a pot of Silver Needle White Tea from Fujian in China to start with. Poured out from a silver teapot, the loose leaf tea had a delicate fruity aroma balanced by the slight zingy freshness of cucumber and melon. It was a gentle tea that teased the taste buds. Some might argue for a more robust flavour but I found it a perfect accompaniment to the afternoon tea as it cleansed the palate and harmonised with the delicate flavours of the food. However, if you prefer something more full-bodied then Brown's Hotel can easily supply you with a range of warm malty black teas, green teas and an Oolong tea bursting with notes of chocolate and nut. 
My second tea of the afternoon was Strawberry and Rooibos from the Fruit and Floral Premium Range. It was a dreamy summer concoction with natural strawberry pieces and hints of elderflower that gave way to a rich rooibos undercurrent. It was the sort of tea that wouldn't be misplaced at a summer garden party in floral teapots among heaped plates of scones, lashings of jam and clotted cream. Other premium summer infusions included a tropical Pineapple and Osmanthus, Raspberry and Rose and a zesty Green Apple and Hibiscus. 
Brown's Hotel offers two types of afternoon tea; the traditional, with all the trimmings and the tea-tox for those wanting a healthier alternative. We chose the traditional but for those interested in what the tea-tox had to offer, bites included Plum Tomato and Peppermint, Avocado Cream and Pickled Radish both served on gluten-free bread. A selection of seasonal fruits with raspberry compote and coconut yoghurt was on offer and the likes of Coconut and Mango Chia Seed Pudding with Lime Streusel and Chocolate and Hazelnut Roche Sphere for dessert. 
As to be expected, the traditional afternoon tea was every bit as creamy, decadent and rich as you would imagine. Beginning with the savoury platters, the silver three-tier curate stand descended on our table decked on every level with finger sandwiches and mini buns on pretty floral plates. The top and bottom tiers held a selection of sandwiches filled with Smoked Salmon and Lemon Butter, Burford Brown Egg Mayonnaise and Mustard Watercress and Sliced Cucumber and Cream Cheese. They were light, buttery and devilishly moreish. After devouring them perhaps a little too quickly, we soon had another plate come our way heaped with more.
The middle tier had a slightly richer taste. Served on potato buns and mini bagels, the toppings were a colourful display of Prawn Cocktail with Paprika, Coronation Chicken, Yoghurt, Onion Seeds and Dried Apricots, and Sliced Parma Ham and Cream Cheese with Fresh Herbs. Beautifully presented, they were rich and creamy but never to the point of overindulgence.
Now for the real pièce de resistance, the cakes. Similar to the savoury course, they arrived on a four-tier curate stand. A new tier was added to carry brimming pots of strawberry jam and clotted cream. It was a tower of colourful delights that reminded me of a patisserie window display in Paris. Sugary bundles of miniature desserts gleamed on the top and bottom tiers. Treats included a Lemon, Thyme, Yuzu and White Chocolate Cream, Yoghurt, Raspberry and Peach Slice, Strawberry, Lime and Mint Petit Gateau, and Pecan and Milk Chocolate Choux. The middle tier was heaped with scones neatly covered by a white cloth napkin to keep them warm. 
Afternoon tea at Brown's Hotel was not something you could rush. We languished for hours over the tower of food and endless tea refills until we summoned the motivation to leave, but not before securing a doggy bag to take the remaining desserts home. 
Londoners are spoilt for choice when it comes to afternoon tea; everywhere and anywhere does them. Brown's Hotel stands out from the crowds with its prestige, history and simply exquisite food. Perfect for special occasions, Sunday afternoons or a rainy day, afternoon tea at Brown's Hotel is a long, laidback affair that requires you to relax and enjoy the moment. The atmosphere is busy but mellow, soft piano notes float about the room and the service makes you feel like royalty. With two beautifully presented afternoon teas to choose from, it's a guaranteed hit for anyone. Pair it with a pot of seasonal tea or add a glass of champagne if you're in the mood to celebrate. Then sit back, relax and enjoy!
Traditional and tea-tox afternoon teas for two are priced at £55. Afternoon tea with a glass of champagne starts from £65 with an additional glass from £21.