There's nothing we love better than a good snack, here at About Time HQ. We have our rituals; after lunch, the kettle is popped on (brew for at least 3 minutes minimum), cuppas are made and the snack drawer is cracked open. We've eaten our fair share of gluten-free, sugar-free, vegan, raw and other health bars. Some have been a tasty revelation, others have been a sad, dry disappointment. But when we discovered Nākd, we were overjoyed; they're wholefood treats that you can't help but dive into. Snacks that contain no nasties, are suitable for vegans, and people who are gluten and dairy intolerant, but are not free-from flavour, and that's Nākd bars.
In the spirit of the new year, we've teamed up with Nākd to bring you a whole host of amazing recipes, healthy ideas and a very special competition giveaway throughout January. To get involved, like them on Facebook here, follow them on Twitter here and Instagram here. What we love, is that Nākd believe in one thing: minimal processing. All of their products don't contain any added sugar, syrups or mysterious additives. The results are that you get to eat food the way nature intended, keeping you happy and healthy in mind, body and spirit. If you're not familiar with Nākd, or only stick to one bar (make ours the Cocoa Orange), then here's the lowdown on the full range so you can join the Nākd Wholefood Revolution:
Nākd Range: Bars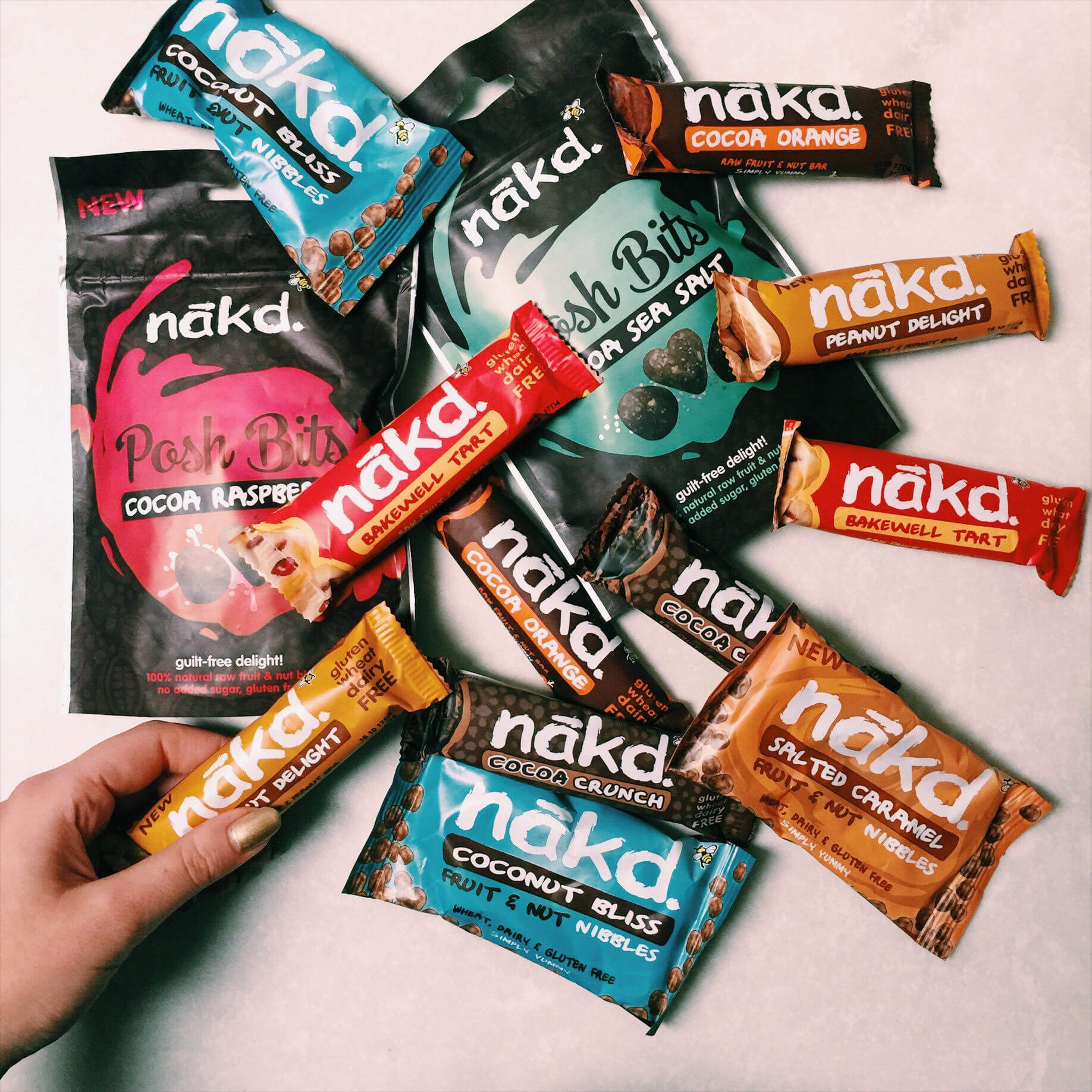 The bars are somewhat of a Nākd icon – these 100% raw fruits and nut bars are what put Nākd on the snacking map. Essentially, they're bars packed full of simple and honest ingredients, containing no added sugars or syrups. These bars are also wheat, dairy and gluten free, and bursting with yummy goodness. And what's best about these bars are they come in a range of dessert inspired flavours. We're talking about Pecan Pie, Bakewell Tart, Carrot Cake and Ginger Bread. And if that doesn't win you over, they sell a Peanut Delight bar packed full of chunky peanut pieces and delicious dates. Dreams.
Nākd Range: Protein Crunch Bars
Not as well known as the other bars, but Nākd Protein Crunch Bars are the ideal post-gym pick me up. Nākd Crunch Bars are fruity, tasty and irresistibly crunchy, crammed with nutritious ingredients for long lasting taste and satisfaction. Soya crunchies are added for extra protein to leave you feeling fuller for longer, and are completely vegan-friendly. The next time you've got a hankering for a afternoon nibble, try the Banana Protein Crunch; you can thank us later.
Stop the press. We know our oats. Flapjack, granola bars, porridge – we could go on. The Nākd Oat Bars are the best of both words, it's like a flapjack and granola bar hybrid. The Oat Bars contain, you've guessed it, oats, along with raw fruits, nuts and spices, which have all been mashed together. We love these with a cup of tea, or a mid morning coffee. The Apple Pie Bar is divine, and contains real apples, dates, raisins, and a nutty blend of peanuts, almonds and walnuts.
You've probably seen these little packets lying on the shelves near the supermarket tills, or loitering near the cereal bars. We know that you're thinking. Why stray from the bars? We feel your concern, but, we can report they're really good. In keeping with the Nākd ethos, the Nibbles only contain raw fruit and nuts, and are 'smooshed' together in sweet shop favourite flavours – and they also happen to be one of your five-a-day. The Humbug Nibble sounds so wrong, yet they taste so right. Other flavours in the range include Toffee Treat, Salted Caramel, Coconut Bliss and Strawberries and Cream.
Yes, you read that right 'Infused Raisins'. If you're not happy with the regular dried fruit on offer, Nākd have come to the rescue. The fruity raisins have been given a burst of flavour; from zingy lime to fizzy cola and sweet juicy cherry. They're great for lunchtime snacking, satisfying a sweet tooth, and even baking and sprinkling. A great alternative to cola bottles and cherries sweeties!
The last product. The final delicious hurrah. And boy, it's a good'un. Nākd have been busy in their test kitchen rustling up their latest snack, which recently hit the shelves. The new Nākd Posh Bits are mouthful bites of fruits and nuts mixed with rich, decadent dark cocoa for the ultimate chocolatey experience. What's more, they're suitable for vegans, and contain no gluten, wheat and dairy. And, want to know the best bit? One 35g bag counts towards your five-a-day. Boom.
Sponsored post in assocation with Nākd – for more information, see their website here, like them on Facebook here, follow them on Twitter here and Instagram here.