Hurrah, it's here! Taste of London, the foodie extravaganza in Regent's Park, is alive and kicking. Oh wait, it's the most overwhelming thing ever. Fear not hungry Londoners, we've sussed the place out and have found the things it's simply about time you tried at Taste. Get yourself a map, an empty stomach, and prepare to fill up on some of the city's finest fare. Don't forget you need to purchase Taste 'Crowns', their own currency, to buy food on site; each 1 Crown is equal to £1. And be warned: it's like monopoly money in there.
Look out for the 'Icon Dish' of each restaurant – a signature dish that made their menus famous – and the 'Taste Only' specials too. To save you time, here's our 3-minute guide to 3 of the best on offer at this year's festival. Happy eating, London:
3 of the Best… Starters
1. Plum + Spilt Milk's Wagyu Beef Dripping on Toast 
As good as it sounds, the Kings Cross restaurant is serving up the most fantastically eclectic British menu; expect classic Beef Wellington and Elderflower Jellies. This is a good starter for someone that wants to play it safe before moving onto the Thai curries and Asian delights; nothing like a spot of warm, buttery toast to get you going. The Kentish Tomatoes cut through the richness of the dish; spot on. Stand R18 – 4 Crowns
Photo Credit: Plum + Spilt Milk – Facebook
2. Chop Shop's Meatballs, Prosciutto, Mortadella in Tomato Sauce
A serious meat feast offering from the Haymarket 'casual butcher' inspired restaurant. The meatballs are rich, soft and full of flavour. This starter answers the all-important question: is three meats too many? No, no it's not. Stand R13 – 5 Crowns.
Photo Credit: Chop Chop – Twitter
3. Salt Yard's Courgette Flowers with Goats Cheese and Honey
One of our favourite tapas-inspired restaurant groups in London serving up a serious crowd pleaser for the veggies. This dish takes beautiful courgette flowers and stuff them with soft, warm, melty goats cheese and a squeeze of runny honey. In the mouth for a second, gone in a moment: heaven. Stand R37 – 5 Crowns.
Photo Credit: Emma Cullingford – Twitter
3 of the Best… Main Dishes
1. Action Against Hunger's 5* Haute Dog
A meat dish created by Anna Hanson of The Modern Pantry, James Knapett of Bubbledogs and Mark Hix… hot dawg indeed. It's 5* and all the money goes to the charity; a good cause never tasted so sweet. Stand R7 – 5 Crowns. 
Photo Credit: Action Against Hunger (ACF_UK) – Twitter
2. Blue Elephant's Scallop and Aubergine Salad with Truffle Oil

– *Icon Dish*

A strange, special flavour combination from this Thai restaurant; we love the combination of fresh fish, rich, oily aubergines and the earthy mushroom notes of truffle. It's bold. It's sexy. It's going to get eaten. Stand TR4 – 10 Crowns.
3. The House of Ho's Bún Bò
Think: thinly sliced filet steak, a lemongrass, coriander and chilli noodles in a delicious beef broth. It's somewhere between a soup and a salad and is light, filling and lovely. Ask for an extra sprinkle of spring onions to give it a kick. Stand R30 – 7 Crowns. 
Photo Credit: House of Ho – Twitter
3 of the Best… Veggie Options
Hey you veggies, we haven't forgotten about you. It might take a little bit of pre-planning as Taste is quite the 'grab a lamb chop on the go' kind of event, but it's nice to see some of London's best restaurants rolling out the (beetroot) red carpet for the veggie crowd. Stock up on veggie treats to take home at Stand PR12 where Ceeba Treats have lots on offer. Here's what to try:
1. Yautacha's Wild Mushroom Dumpling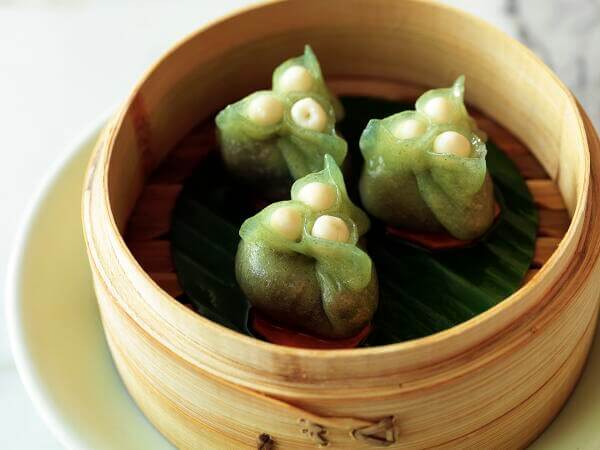 Something to start with. The Michelin-starred dim sum restaurant is well worth a try for their signature Venison Puff, but the mushroom dumpling is just as lovely. Light, fluffy, the perfect thing to get your appetite going. If you want something more substantial with your shrooms, try Shake Shack's Lil' Shroom Burger; the iconic American fast food chain's veggie option is surprisingly delicious. The mushroom is deep fried (obviously) served with melted cheese and their signature Shakesauce. Delish. Yautacha is Stand R14, Shake Shack is Stand R25 – Mushroom Dumpling is 4 Crowns, Lil' Shroom Burger is 5 Crowns.
Photo Credit: Yauatcha – Twitter
2. The Begging Bowl's Coconut Vegan Stir Fry 
Something for the vegans; forget your average Tescos affair, this stir fry is far from boring, with shitake mushrooms, wing beans, cashew nuts and lemongrass. We're still not quite sure what Wing Beans are, but they are tasty and filling; the stir fry is totally made by the coconut cream, giving it that rich, decadent taste without dairy. Get it with a cold Singha beer; that is an order. Thai Street Food – 5 Crowns.
3. Tartufo's Super Light Truffle Tortellini – *Icon Dish*
This pasta is only good news. One for the cheese lovers; the tortellini is made up of 'liquid parmesan' (the work of magical, surely), mascarpone cream, walnuts and summer truffles. In short, that means a feast of cheesy pasta. It's not too heavy though, not too heavy for say… Dessert. Stand R31 – 8 Crowns.
Photo Credit: Tartufo – Twitter
3 of the Best: Iced Treats
1. Flesh and Buns: Green Tea Ice Cream Sundae
We're matcha-mad and we're also crazy about Flesh and Buns' flavour combinations. If you fancy savoury, the steam bun with roasted pork comes with a sweet pickled green apple and is a total treat. This ice cream is one of the yummiest at Taste; guaranteed or someone somewhere will give you your money back. Stand R8 – 4 Crowns.
Photo Credit: Wilkes McDermid
2. Sushi Samba's Apricot Yogurt with Black Sesame and Mochi
We're secretly a bit obsessed with mochi; the sweet, gelatinious balls, filled with unusual ice cream flavours, are as much delicious as they are puzzling. They come with London's iconic sushi restaurants beautiful dessert; a soft serve dessert (read: no brain freeze) that is refreshing and summery. Not too sweet with the black sesame, too. A real winner. Stand R41 – 4 Crowns.
Photo Credit: Sushi Samba – Instagram
3. Andre Garrett at Cliveden House's Peanut Butter Parfait
A parfait parfait. It comes with salted caramel (good) and raspberries (better). You simply cannot beat peanut butter puddings; naughty but nice, full of that rich nutty flavour you crave, you need to try this one from Cliveden House's famous chef. Stand R24 – 4 Crowns.
Photo Credit: Twitter – NOW Magazine
And one for luck…
Yog's Taste London Fig, Lavender and Honey Special
We love Yog. Any which way – and this flavour combination in toppings is one we'd like to see on their regular menu. Fresh figs, all soft and gooey, a sprinkling of lavender and the sweetness of the honey against the tartness of the natural yogurt. Oh it's all so good. Stand SO1B – £3.50.
Photo Credit: Rose Langley – Twitter – Yog
3 of the Best… Ways to Get Merry

1. Kamm and Sons' Kammshed
You'll recognise the stand instantly; the brand's yellow and white bow-tie clad dashing staff can't be missed. Head to down to Kammshed for a beautiful aperitif made with Kamm and Sons, rose, ginger and Chapel Down. Stand SO1D.
Photo Credit: Kamm and Sons – Instagram
2. Copa de Cava's Flight
London's only dedicated cava bar in Blackfriars is serving up a treaty flight of reserva, grand reserva and brut for you to enjoy. Check it out at Stand F1. If you're looking for wine, try Chapel Down Wine at Stand S6, who have a fantastic range of reds, whites and more.
3. Mortimer Orchard's Cider Bar
This crisp cider made in the heart of Herfordshire is serving up their delicious drink alongside silent disco vans this year. Yes, really. We saw lots of trendy 30-somethings silently dancing last night and couldn't understand what was occurring. Catch the action at Stand S7.
Photo Credit: Twitter – Mortimers Orchard
3 of the Best… Free Taster Stands
Of course, when you go to Taste, you also want to know where all the good tasters are at. Some stalls are more generous than others, here's where to head:
1. Green and Blacks for Free Chocolate
They are exhibiting a new Lemon and Dark Chocolate flavour at the show, but also have taster bowls of the entire range on offer. Be warned: hungry women after work with big handbags are likely to barge you to get to those tasters first. Stand J5.
Photo Credit: Green & Black's – Twitter
2. Yum Yum Tree for Free Fudge
Yum Yum Tree do an interesting range of fudges; we love the Salted Butterscotch flavour, and the Mango one, as odd as it sounds. They've got bowls and sticks for each flavour for you to sample. Be warned: you could be here a while. Stand PR15A.
Photo Credit: Yum Yum Tree – Facebook
3. The Coconut Collaborative for Free Coconut Yogurt
The Coconut Collaborative are handing out samples of their amazing coconut milk yogurt throughout Taste; with a little squeeze of mango passion fruit syrup on top, it's a heavenly mouthful. Stand C4.
3 of the Best… Taste Talking Points
We're not sure if these foods are fads or here to stay, but you can stock up on all the trendy dinner party talking points in one go at Taste this year:
1. Biscuit Butter
Yes, it's a spread, made out of biscuits. Like peanut butter, it comes in both smooth and crunchy. We're not sure if its genius or a terrible idea… Decide for yourself at Stand PE6. 
Photo Credit: Twitter – Biscuit Butter UK
2. Joe & Seph's Cocktail-Flavoured Popcorn
Exhibiting for the first time at Taste, experimental popcorneers Joe & Seph's cocktail popcorn is inspired by the nation's favourite tipples. There's 3 flavours to try; Margarita with 5% Tequila, Cosmopolitan with 5% Vodka and Mojito with 5% rum. Can you get drunk off it? Report back to us, please. Stand PR34. Also try Smith and Sinclair's cocktail confectionary, which are only for adults!
Photo Credit: Joe & Seph – Facebook
3. Skinny Champagne
No sugar champagne. Interesting. Very interesting. Served at top London restaurant Nobu, the idea behind the booze is create something amazing tasting which is healthier for you, too. It's created by a former BBC correspondent Amanda Thomson, get down to Stand E5 to try the fruits of her labour. 
Photo Credit: Skinny Champagne – Instagram
3 Things… To Stock Up On for Home
And lastly, don't leave without stocking up on some kitchen essentials. And by that we mean things to get you drunk and things to fix the 3am sweet cravings…
1. Bloodshot Bloody Marys: The Bloody Mary Vodka
It's a vodka. Designed for Bloody Marys. It's the best invention ever. Mark Douglas Hill's product first was made in his Notting Hill kitchen in 2009 and is now stocked in 3 continents, including Selfridges in London. The vodka is red in colour; the mix of hot peppers and exotic spices make it rather savoury – perfect for making the ultimate Bloody Mary at home. Stand C2. Also great is Pinkster gin, which is naturally pink in colour, from the raspberry infusion.
2. Manomasa: Chipotle & Lime Tortillas
These aren't crisps like you've tried before; and they are launching 3 new flavours at Taste. Our favourite is with a crushed black bean base, which gives it a lovely, nutty texture. It's all about the hands-on eating here; grab some before you go at Stand L6. 
3. Pots & Co: Blood Orange and Passion Fruit Cheesecake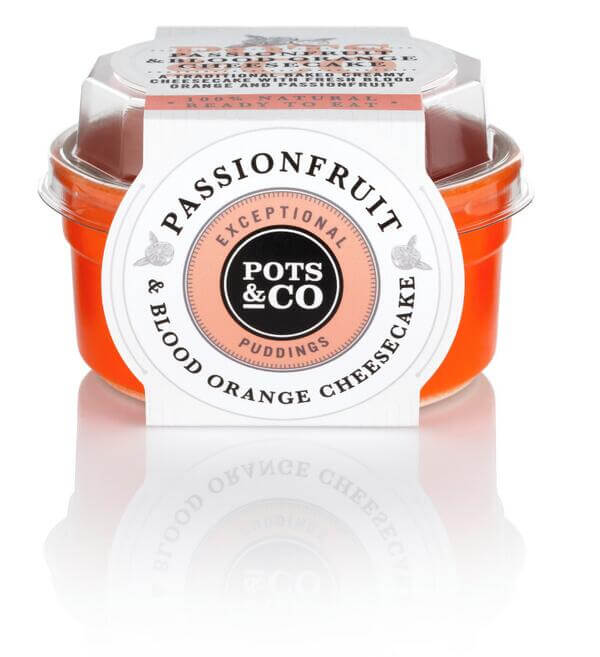 You'll recognise Pots & Co's cute packaging in an instant; their iconic pastel-coloured ceramic pots have graced the shelves of Waitrose since last year and they're about to go onto Ocado. We predict big things for these proper pud pioneers this year; stock up on a few cheeky puds to savour at home and pretend you made them yourself; your guests will never know. Don't leave without talking to the charming co-owner about the vision behind the behind the brand; it will make your pudding taste even sweeter. Stand J2.