I know at first glance this salad may seem a little Summery, but the pomegranate and the walnuts give it a lovely Wintery edge, and I think the jewel like nature of the pomegranate seeds bring a little brightness into what is usually the dreariest month of the year. Serve alongside some kind of protein such as my Moroccan Chicken Goujons with Yogurt and Mint Dip.
1 tbsp White Wine Vinegar
1/2 Red Onion, very thinly sliced
30g (1oz) Unsalted Butter
2 tbsp Extra Virgin Olive Oil
2 Small or 1 Large Wholemeal Pitta Bread, torn into small-ish pieces
50g (2oz) Walnut Halves
25g (1oz) Walnut Pieces
2 tsp Sumac
1/2 tsp Dried Chilli (Red Pepper) Flakes
150g (5.5oz) Baby Spinach Leaves
2 tbsp Freshly Squeezed Lemon Juice (Roughly 1/2 a lemon)
Seeds of 1/2 Pomegranate
Sea Salt (I use French Breton Fleur de Sel)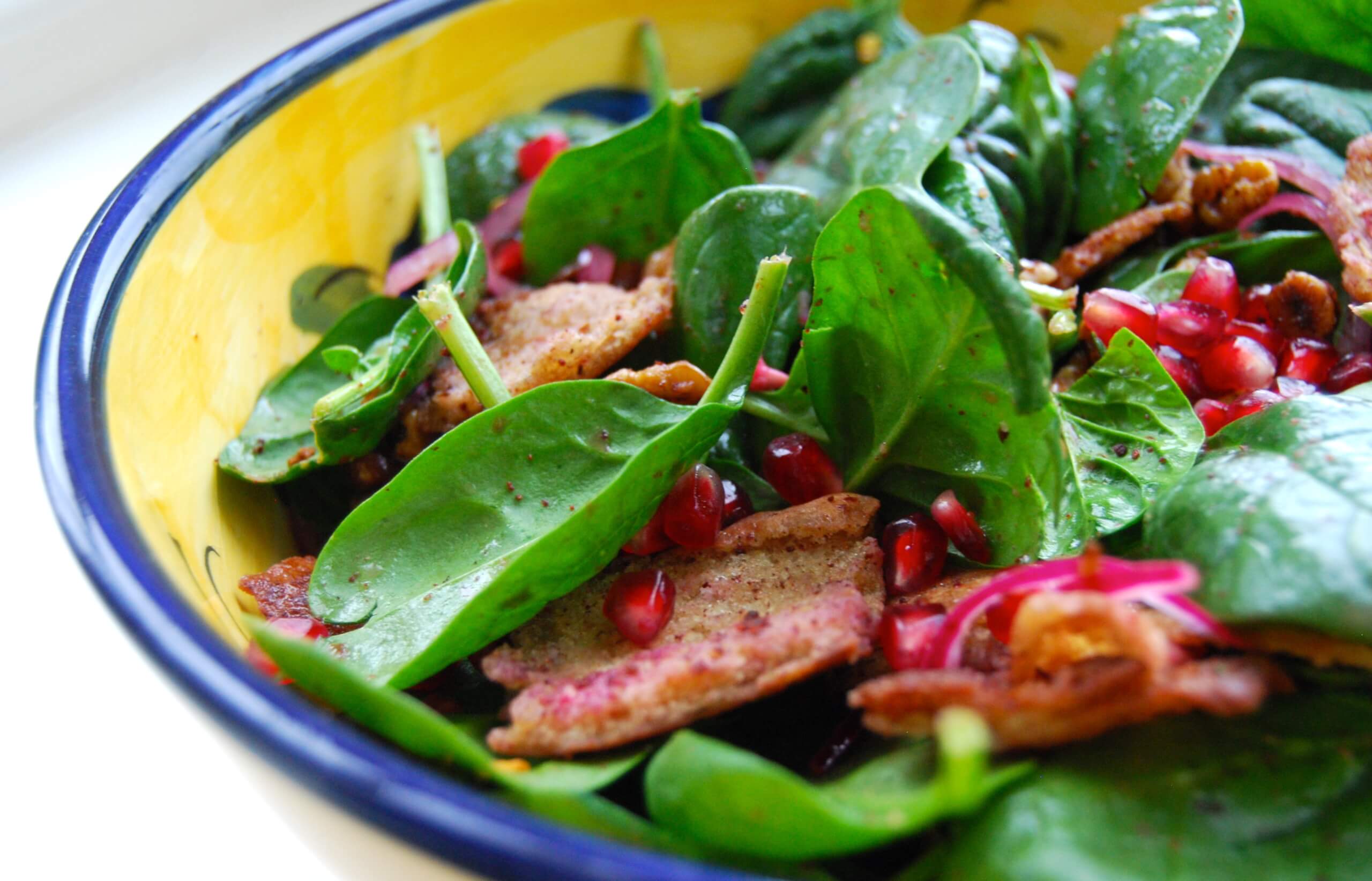 Heat the butter and half of the olive oil in a large frying pan and add the torn pitta and the walnuts. Fry over a medium to high heat for about five to six minutes until the pitta pieces are golden brown at the edges and crunchy, and the walnuts are toasted but not burnt. Remove from the heat, and toss through 1/4 teaspoon of sea salt, chilli flakes and the sumac. Set aside to cool. Place the onion slices in a small bowl with the vinegar and another 1/4 teaspoon of salt and set aside for 20 minutes. Drain away the excess vinegar, and set aside.
When you are ready to serve, mix together the remaining tablespoon of olive oil the lemon juice and and a large pinch of the salt in the bottom of a large serving bowl. Toss through the spinach so all of the leaves are well coated then add the onions, pitta and nut mix, and most of the pomegranate seeds, setting aside a small handful. Toss everything together again and sprinkle the remaining pomegranate seeds across the top of the salad. Serve immediately.
Recipe from Rachel Phipps