Dating in London: 5 Weird + Wonderful Places to EatBy Josie Ayre
Dating in London can be tricky – if you've got a date coming up, a friend you want to impress or just want to stray away from the norm… We've scoured London to find the most interesting and quirky places to eat and drink in the city so you can step outside of your comfort zone and experience something different while staying within reach of the circle. Here's 5 spots for the pickiest of daters:
#1 Go Bold 

Dating in London
Dans Le Noir, Farringdon
The Instagram age has allowed us to let everyone see our fancy dinners, but what happens when we turn off the lights, put our phones away and are only left with our sense of smell and taste when we eat?  Head to Dans Le Noir; you'll be served by blind waiters and eat in the dark. A night without taking a photo, whatever next.
Our favourite bit about Dans Le Noir?  It was featured in the film, About Time, which we just happen to share a name with.
Dans Le Noir is at 30-31 Clerkenwell Green, EC1R 0DU
#2 Embrace the Unknown
Dating in London
Gingerline, London Tubes
The Gingerline combines food, themed art and just the right amount of spontaneity and wackiness to spice up any jaded Londoner's life.
Once you sign up on their website, it's a waiting game to find out where you will be eating with all venues along the East London Overground (aka the gingerline). Previous themes have been the navy, fairytales and the most recent, out of this world, Planet Gingerline.
#3 Get Wild
Dating in London
Circus, Soho
With Pan Asian fare created by Executive Chef Andrew Lassetter on offer, cocktails aplenty and a glamorous cabaret to entertain you later, Circus is one of the most immersive, innovative and interesting dining experiences in London.
The night moves from dinner, to drinks and dancing seamlessly with DJs and some weird and wonderful entertainment on hand to take the night into the early hours.  Our advice?  Ditch the date and take a group of friends along.
Circus is at 27-29 Endell St, London, WC2H 9BA
#4 It's All About the Setting
Dating in London
Les Trois Garcons, Shoreditch
Located in a converted Victorian pub in Shoreditch, Les Trois Garcons is a beacon of eccentricity. The decadent interior features hanging vintage handbags, crystal chandeliers, stuffed animals and sparkling costume jewellery which complement the modern French cuisine on offer.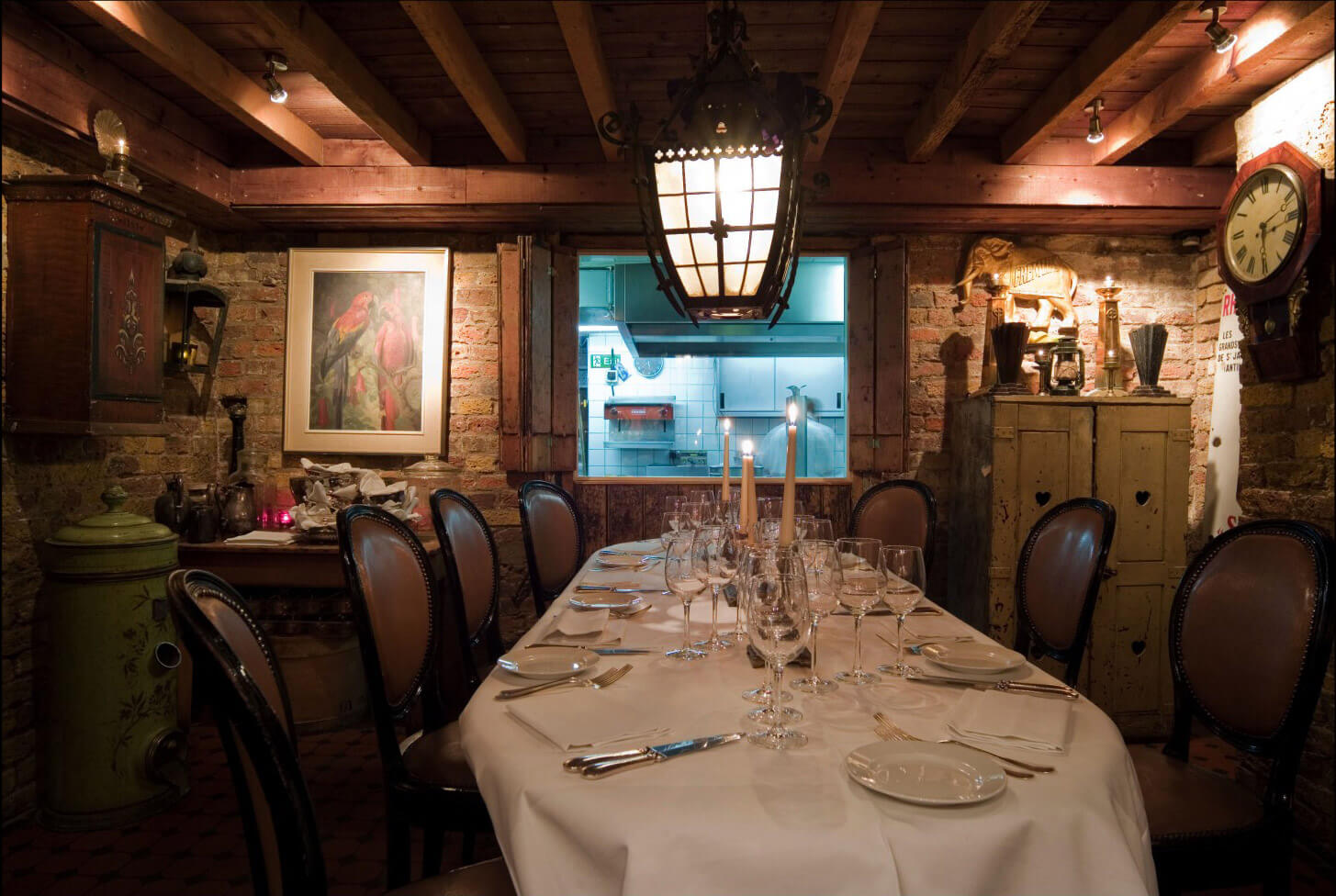 If you've got a special occasion coming up book the chef's table where up to 10 people can dine in a private room with a view of the kitchen through a one-way window.
Les Trois Garcons is at 1 Club Row, London E1 6JX
#5 Be Playful
Dating in London
Sketch, Soho
Nestled away on Conduit Street in a converted 18th century townhouse sits London's triple crown of weird and wonderful dining. Sketch marries nouveau French cuisine, high impact art and music to create a fully immersive dining experience with more than a few playful surprises.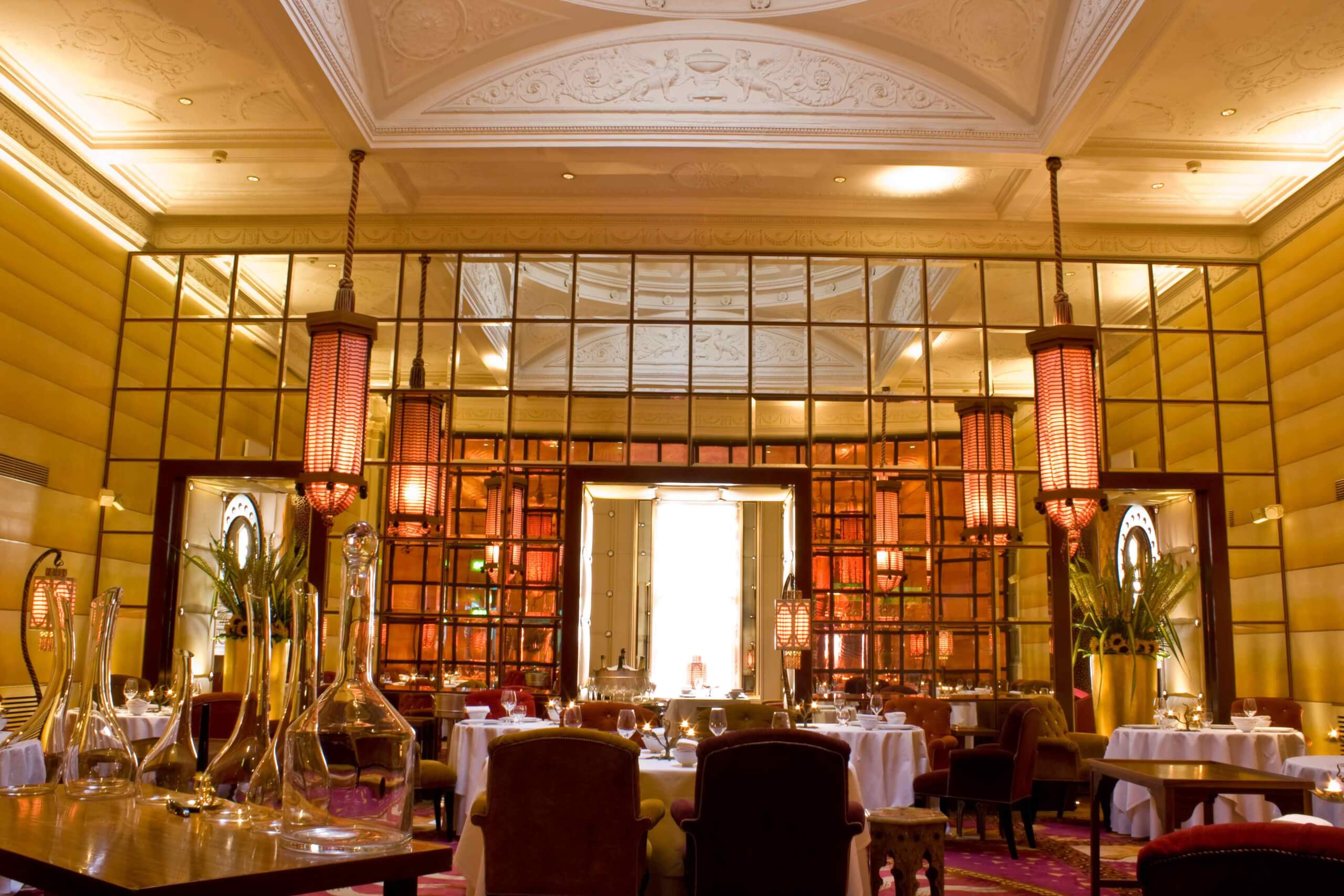 Probably best known for its extravagant afternoon teas held in the Gallery room which features work by David Shrigley and work number 1347, a marbled floor designed by Turner Prize winning artist Martin Creed; Sketch also plays host to Chef Pierre Gagnaire's double-Michelin starred restaurant, the Lecture room and Library.
Sample the tasting menu in the Lecture Room and Library for fantastical amuse bouche, artfully presented gourmet mains and a plethora of petit fours in the opulent surroundings of the lavishly decorated dining room, complete with a glass ceiling dome for a truly wonderful dining experience with a side of weird.
sketch is at 9 conduit street. London W1S 2XG