Think dates are only a mid-afternoon snack? Think again. Dates can be a fantastic addition to your breakfast routine, perfect in smoothies, with eggs and to whip into yogurt. If you want to get creative with dates, we've teamed up with date friends for BeLOVeD Date Week to bring you the best of date-y London – here's 3 great ways to use dates in your breakfast recipes:
1. Date, Almond and Kale Smoothie
This super-smoothie is packed full of vitamins and nutrients from the raw ingredients. It naturally boosts your system and gives you energy for the day.
Ingredients
1 packed cup kale leaves, torn (don't use any stalk)
3 pitted dates 1 tbsp date nectar
1 tbsp coconut oil
1 cup unsweetened almond milk
1 tbsp almond butter
1 tbsp soaked raw almonds
Method: Blend everything together in a powerful blender until completely smooth, add some ice cubes and drink straight away. Easy as 1 2 3! Datelicious.
2. Yogurt with Toasted Quinoa, Dates, and Almonds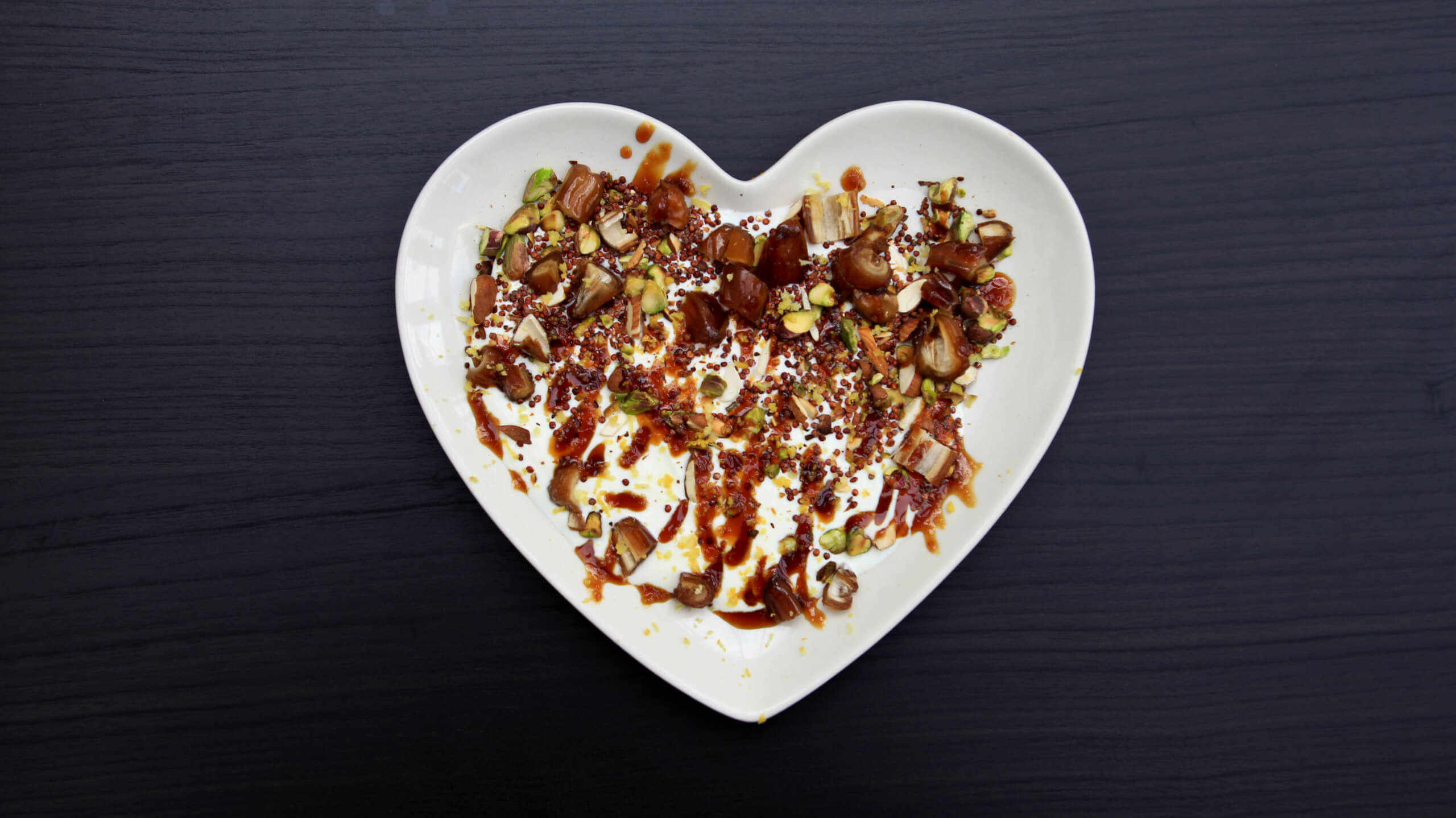 The ingredients may sound straight from a squirrel's cupboard but do not be put off!! We promise you'll be super-surprised how sweet, tasty and delicious this healthy breakfast bowl is. We're so confident we reckon you'll have it twice!
Ingredients
Serves 1 (can easily be doubled, tripled for extra breakfast guests)
• 1/2 tablespoon red quinoa
• 6 ounces whole milk Greek yogurt
• 5 shelled pistachios (raw or salted), chopped
• 5 almonds, chopped
• 2 medjool dates, pitted and chopped or 4 non-medjool dates, pitted & chopped
• Pinch of freshly grated lemon zest
• Flaky sea salt
• 1 tbsp Date nectar Directions Pre Heat the oven to 180 degrees C.
Method: Pour the quinoa into a small saute pan and place over medium heat to toast. It will begin popping when it's done – immediately pour it into a bowl to cool.
Spread the pistachios and almonds in a small baking dish and toast in the oven for 5 minutes to activate all their natural goodness. Remove and let cool.
Dollop the yogurt onto a small plate or shallow bowl. Sprinkle on the quinoa, pistachios, almonds, and dates.Grate over the lemon zest and sprinkle the sea salt. Finish with a drizzle of date nectar to naturally sweeten and set you up for the day. Datelicious
3. Spicy and Datelicious, Eastern-Inspired Eggs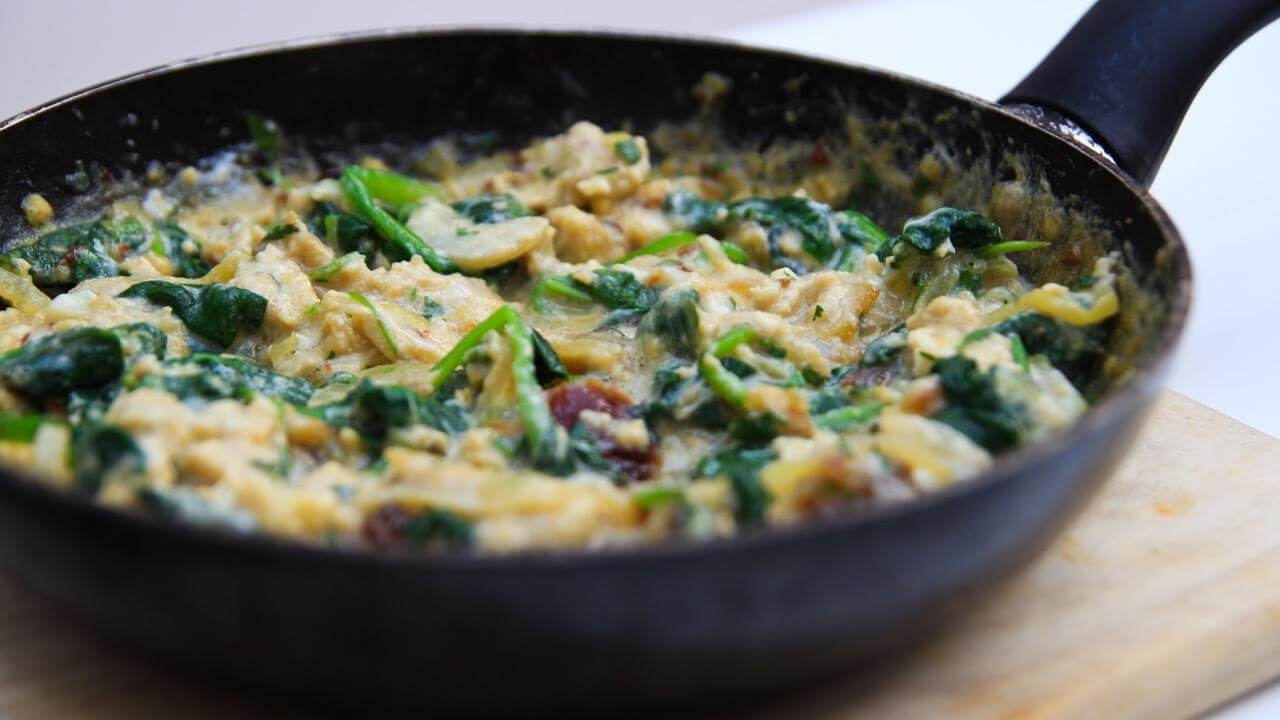 Never resort to boring scrambled eggs again! For a breakfast treat with an exotic twist, try these Persian-inspired eggs. They are super easy to make yet will leave your family wondering where you concocted such a delicious and unique recipe from!
Ingredients
2 large eggs, lightly beaten ½ onion, finely sliced
Good squirt of date nectar – added in once eggs have started to cook
½ tsp cumin seeds
¼ tsp dried chilli flakes
handful of baby spinach leaves
½ tbsp olive oil 3 soft dates (such as medjool), pitted and quartered
1 tbsp roughly chopped coriander Greek yogurt to serve (optional)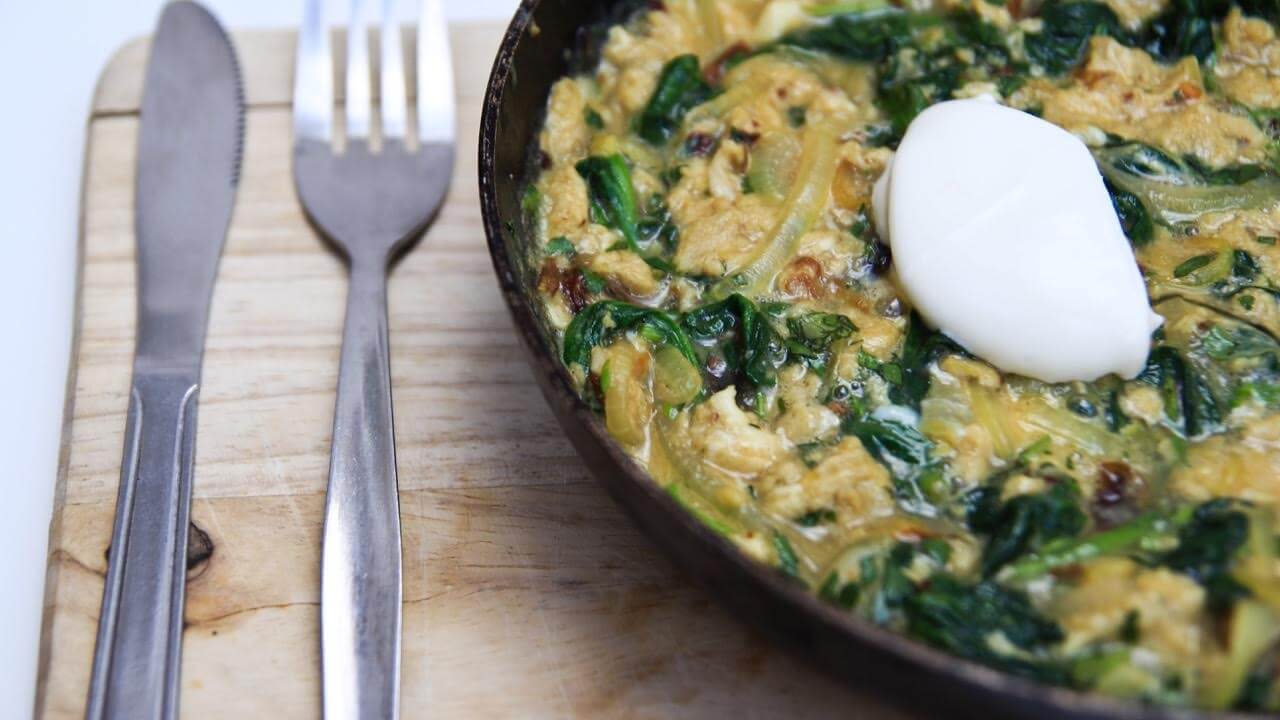 Method: Heat the olive oil in a small frying pan and add the onion. Cook over a medium heat until the onion is golden and soft. Add the chilli flakes & cumin seeds and cook for a further 30 seconds or so.
Toss in the spinach leaves and turn the ingredients over in the heat so that they wilt. Turn down the heat and add the eggs, chopped dates and some seasoning.
Cook all over a gentle heat, stirring slowly as if you were making creamy scrambled eggs.
The mixture should be soft-set. Scatter on the coriander and serve immediately, with a little yogurt on the side if desired (especially if you have been quite liberal with the chilli!) You'll never want boring scrambled eggs again!
Post in association with BeLOVeD as part of BeLOVeD Date Week – follow them on Twitter here and like them on Facebook here. For more information, see BeLOVeD's website here.