I am the Brunch Queen of London. Please don't take my tiara away.
1. For Seasonal Brunch: The Potting Shed
What: Dorset Square Hotel is a beautiful Regency townhouse with 38 individually designed bedrooms many of which look onto the leafy private garden square which was originally the site of Thomas Lord's first cricket ground. The Potting Shed bar & restaurant is open all day long – they are now doing brunch and I can report it's very good news.
Eat: All the brunch classics. Everything from smoked salmon and free range scrambled eggs to Canadian pancakes with bacon and maple syrup. For a total treat, try the French toast with honeyed figs and Greek yoghurt, and don't miss their great daily smoothie – a little healthy kick to your weekend.
Price: £18.50 per person for a brunch dish including a Bloody Mary, Mimosa or a glass of Prosecco
Where: 39-40 Dorset Square, Marylebone, London, NW1 6QN
2. For Jazz Brunch: CUT at 45 Park Lane
What: CUT at 45 Park Lane is a feast for all the senses. A modern American steak restaurant featuring great food in a contemporary and dynamic environment, they also do a killer brunch. Their Sunday brunch features live music with a sultry jazz singer and, of course, includes American pancakes, French toast, beef hash cakes and the requisite Sunday cocktails. Make a lazy Sunday out of it and go for a stroll in Hyde Park after your delicious brunch.
Eat: The best of brunch, designed by Wolfgang Puck. Start with something light, such as their seven-grain granola with Wild Flower honey and natural Greek yogurt. Move onto the serious stuff – the omelettes here are world-famous, for good reason. Try the omelette with wild mushrooms, bacon and onions for an absolute treat. Don't miss the pancakes, too, the Buttermilk pancakes come with whipped maple butter and seasonal berries, and are totally amazing.
Price: Dishes from £10
Where: 45 Park Lane, 45 Park Lane, London W1K 1PN
3. For Meaty Brunch: The Bowler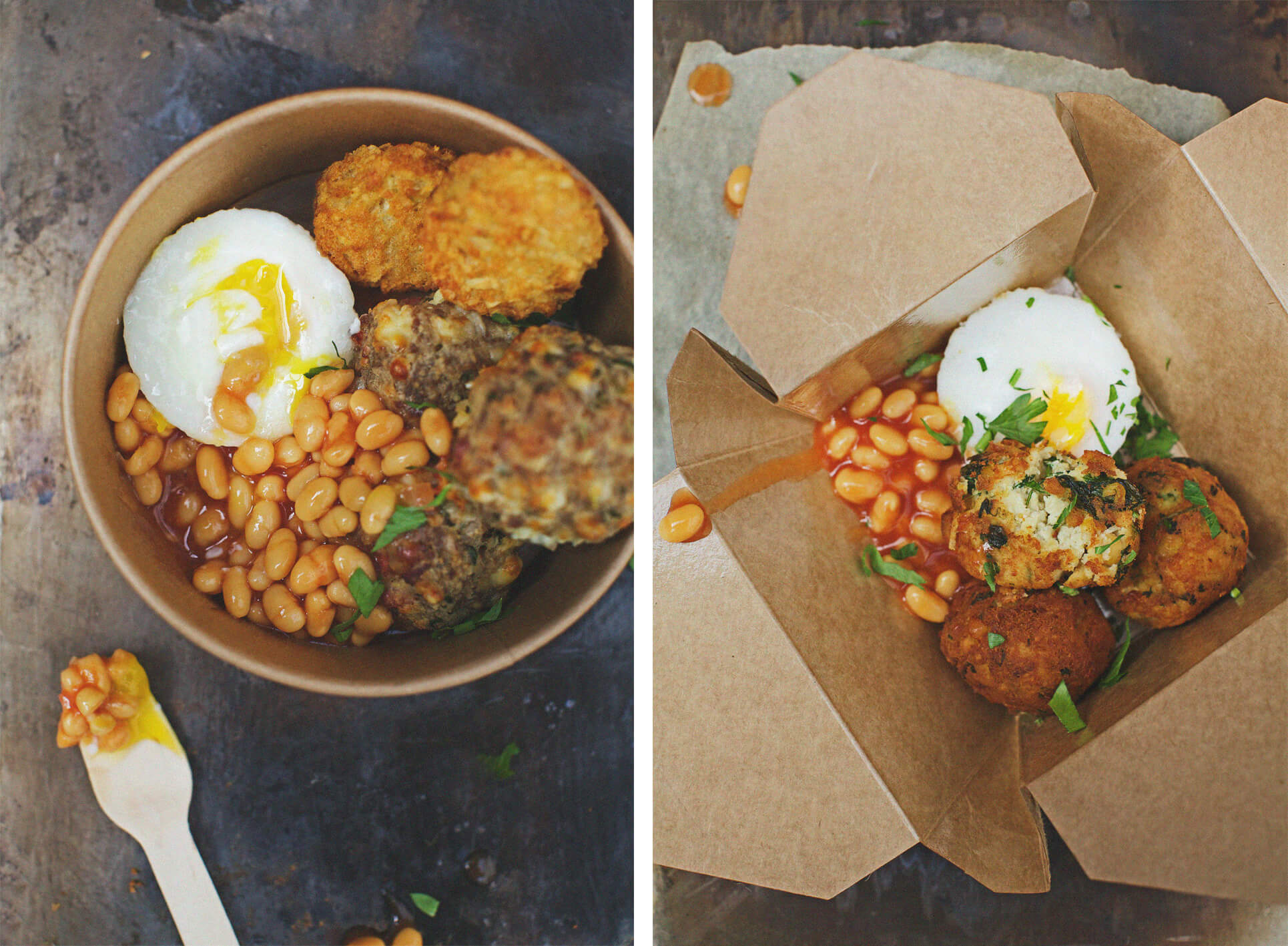 What: Street food entrepreneur Jez Felwick has just opened meatball shop, The Bowler, on Monmouth Street in Seven Dials. The ballsy new takeout will serve breakfast, lunch and dinner and includes a lunchtime fast-track service available from The Fast Bowler hatch. The Bowler is the brainchild of Jez Felwick, Russell Norman and Richard Beatty, and we think it's going to be big. Interiors will reflect Jez's street food philosophy using reclaimed and reused materials while retaining pre-existing elements of the building. Generous sash windows will open out on to the street, where wooden bench seating and tables will offer outdoor dining.
Eat: Serving breakfast from 9am, The Bowler will offer coffee and pastries alongside early morning heart-starters like the Brunch Bowler, Smokin' Bacon Balls, Baked Rosti & Beans. For veggies, there's also the veggie option of Chickpea, Spinach, Ricotta Balls, Baked Beans and egg.
Price: Dishes from £5
Where: 1 Monmouth Street, London, WC2H 6DA
4. For Cultural Brunch: The Exhibit
What: The Exhibit is an all day drinking and eating hub with a revolving programme of events and flexible spaces for hire. Inspired by their roots in SW London, they created a informal creative space with carefully curated drinks, food, art, comedy and cinema – so come let your hair down over a wicked brunch.
Eat: Their food is designed to be shared, eaten alone or fought over. All scratch-cooked, with the best ingredients they can source. From breakfast and brunch, to sociable sharing plates and Sunday roasts, they have it covered. For brunch, expect dishes such as The Exhibit Big Breakfast – two fried eggs, roast tomatoes, field mushrooms and smoked bacon and sweetcorn Fritters with poached eggs and tomato salad. The homemade granola with yoghurt is also damn good.
Price: Dishes from £5.50
Where: 12 Balham Station Road, London, SW12 9SG
5. For Italian-Inspired Brunch: Canto Corvino
What: Newly opened Canto Corvino is 140-cover modern Italian restaurant in the heart of Spitalfields and we think it's going to be big. Canto Corvino, meaning song of the raven, is the third restaurant from owners of the successful Manicomio restaurants. Come for the design; the main restaurant dining area features a commanding show kitchen with cut stone tiles in a bold triangular pattern to the front, allowing you to view the chefs at work.
Eat: They have amazing Italian sharing plates – from cured meats sourced and imported in-house from small artisan Italian producers to Veal Spiedino with Roman artichokes, pancetta and Marsala, and, of course, great Italian desserts like salted chocolate delizia. For brunch, there's some seriously beautiful, indulgent dishes – try the cornflake French toast with whipped crème fraîche and burnt plums.
Price: Dishes from £7
Where: 21 Artillery Lane, Spitalfields, London, E1 7HA