Veganuary grew by 183% in 2018 and doesn't show signs of slowing down in 2019. January aka Veganuary is a month-long lifestyle change which helps shine a light on the power of plants and doing good for mother earth. If you're taking part in Veganuary, or are looking to up your veggie intake, here's 5 new plant-based menus you need to try in London this week:
1. For Comfort Food: Yard Sale Pizza x The Vurger Co 
The Run-Down: Dough gods, Yard Sale Pizza and vegan burger joint, The Vurger Co, have partnered to create a limited edition pizza specially for Veganuary. The 'Auburizza' is a take on The Vurger Co's famous Auburger and sees Yard Sale's signature double-fermented dough topped with Vurger's TABASCO Chipotle Sauce-braised aubergines, caramelised red onions, chargrilled peppers, rocket and a drizzle of housemade cumin mayo. Veganuary will be a breeze with this beauty on the menu.
Where: Locations here 
2. For a Vegan Collab: All Star Lanes x Biff's Jack Shack
The Run-Down: All Star Lanes has collaborated with Biff's Jack Shack to devise a one-off menu showcasing Biff's 'Filthy AF' vegan junk food. Dishes include Biff's Wingz – formed of jackfruit and an ingenious sugar cane 'bone', topped with sauces like sticky maple, soy and ginger garlic glaze, and bourbon infused BBQ sauce with beer cheeze. And the one-off burger special, 'El Jackitan' combines a jackfruit patty with zesty guacamole, tortilla chips, nacho cheeze, beef tomato, red onion, maple chipotle hot sauce and torn coriander. Order with a side of 'Dirtbag Melt' – skinny fries covered in beer cheeze, topped with seitan 'bacun' and sweet pickle sprinkles.
Where: Locations here 
3. For Greek Wraps: The Athenian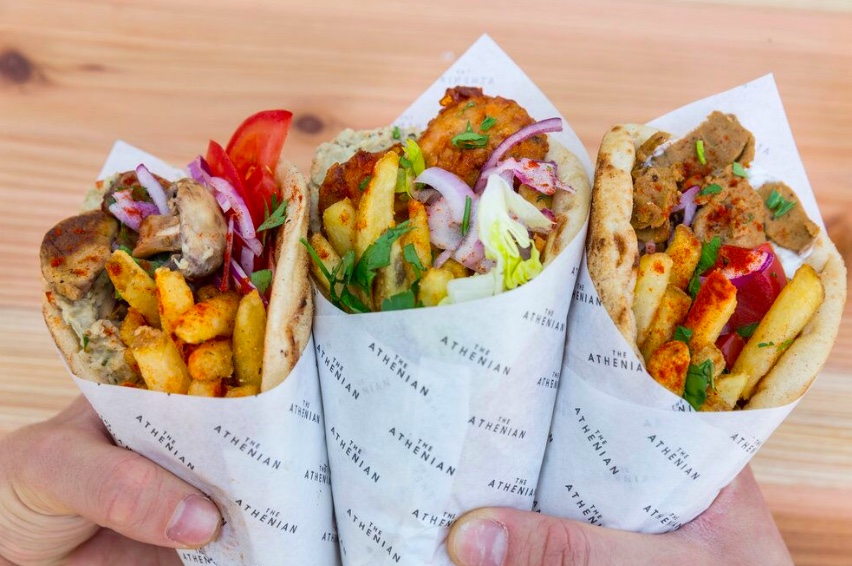 The Run-Down: Street food heroes The Athenian draws on Greece's abundant fresh produce to create fresh vegan  souvlaki and more. Hot off the grill are the plant-based gyros featuring shavings of seitan marinated in herbs and lemon juice served with vegan mayonnaise. And for hand-held delights, there's two options: tomato croquette souvlaki – made using Santorini tomatoes and fresh herbs, and the grilled mushroom souvlaki – made with gyros marinade, and wrapped in a warm, fluffy pitta.
Where: Locations here 
The Run-Down: Dishoom now offers an entirely separate vegan menu brimming with early morning wonders, wholesome curries and side dishes. Think vegan Bombay breakfast (a plant-powered spin on the full English) featuring vegan sausages, vegan black pudding, grilled field mushrooms, masala baked beans, grilled tomato, home-made buns and avocado with chilli and lime dressing along with vegan house granola, and fire toast buttered with dairy-free spread and home-made preserves. Small plates and all-day options are in abundance such as the Chloe puri (a medley of spiced chickpea curry and dessert of sweet halwa), veggie samosas, gunpowder potatoes and chana chaat.
Where: Locations here 
The Run-Down: This is what your January needs: warming bowls of pho and a buffet of fresh veggies. Pho have put together a new menu featuring health-led dishes, suitable for vegans and coeliacs. Knock out bites include the Enoki hand rolls with crunchy veg, enoki mushrooms, fine vermicelli noodles and perilla, and the spicy green pho pimped up with tofu, morning glory, green beans, pak choi, fresh lime and Thai basil. For more virtuous fare, try the likes of the cauliflower rice bowls starring wok-fried Chinese leaf, radish, cucumber, pickles, peanuts, herbs and fresh chillies, tofu and mushrooms.
Where: Locations here