There's so many foodie treats on offer this time of year in London; Wimbledon-themed cocktails, a thousand different kinds of dairy-free ice cream and all those fun summer pop-ups. But let's be honest for a second: does anyone actually want to drink a strawberries and cream cocktail – an entire days worth of calories through a straw, really? I'd rather oozing Eggs Benedict any day.
Look out for the seasonal and fresh. We love the summery menu at The Shed (read the full feature here) and their new brunch party that's just launched. If you're looking for something fun, try 5 unusual ways to eat brunch. And if you fancy making your own al fresco brunch spread, why not head to the new Tottenham Green Market and help a new community project in the process. Enough with the creamy cocktails, here's 5 things you really do need to eat this week:

What: Nothing says easy like a Sunday morning like eggs and mimosas. And there's a whole host of new brunch menus around London, including our favourite The Shed. See here for 5 of the best unusual places to eat brunch this week.
Where: The Shed, Netil 360 Rooftop, The Admiral Coddington, The Andaz, Love Brunch
#2 Great Summer Pop-Ups
Summer is a great time to experiment with new cuisines. Spanish tapas and Italian are great summer cuisines, here's where to try them:
1. Andalusian Feast at The Jam Tree, Clapham
What: The Jam Tree in Clapham is hosting an Andalusian Supper Club with Masterchef Winner Dhruv Baker this July. Guests will be treated to four courses at Jam Tree's light and airy Bookcase Bar at the back of the venue with wholesome regional dishes bursting with complex flavours from Spain.
Eat: Andalusian Shrimp & Spring Onion Fritters, Breaded Aubergine & Truffle Honey, Braised Iberico Pork with Cumin and Lemon, Seville Orange and Almond Syrup Cake.
Drink: White Sangria, of course.
Price: £35 per head
Wednesday 16th July and Thursday 17th July
2. Brazilian Beach Pop-Up in Covent Garden
What: The creative people behind Cabana, the award-winning Brasilian barbecue restaurant, along with their friends from Covent Garden are recreating a corner of Rio in London.  The Grill from Ipanema, a Brasilian beach grill complete with golden sand from Brasil's shores will transform Covent Garden's Piazza. During the day, The Grill from Ipanema will play host to Brasil's iconic beach game, frescobol as beach goers are invited to spectate with a jelly nut in hand.  As with any Brasilian beach, expect a string of one off events throughout the days, from cooking masterclasses to samba workshops, with the full line-up appearing soon. 
Eat: Cabana's famous flame grilled skewers, chicken coxinhas and cassava chips
Drink: Rio-inspired caipirinhas and batidas
The Grill from Ipanema will take place June 28th – July 13th
3. Boisdale's Healthy Summer Juice Bar 
What: If you say Boisdale restaurant, an evening of traditional indulgence springs to mind – fine wines, incredible steaks and rare whiskies, finished off on the terrace with an immaculate cigar. However, this summer, Boisdale of Canary Wharf is injecting a dose of health into their menu with the launch of their fresh juice bar and summer terrace. You will be able to get fresh juices made to order and enjoy them in the sunshine on the transformed 'English Garden' terrace.
Eat: Dressed Devonshire crab, chilled gazpacho, Marcona almonds and pickled cucumber from their new summer menu.
Drink: The Boisdale 5-a-day with apple, carrot, beetroot, kale and celery and Cocoberry.
Website | Twitter | Map
#3 Jazzy Al Desko 
1. Sunday Roast Pop-Up at Harvey Nichols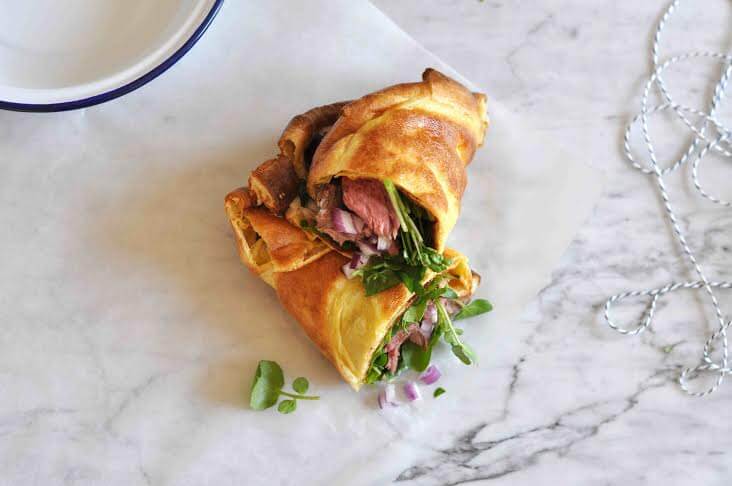 What: Hereford+York, a trio of cooks who love traditional British food, are hosting the world's first fast food Sunday Roast concept at Harvey Nichols Fifth Floor Foodmarket until August. The pop up restaurant sees the humble Yorkshire pudding being up-scaled and resurrected as a lunchtime-friendly wrap available every day of the week. The pop-up restaurant features a traditional butchery counter where customers are invited to worship the pudding, eat at the kitchen altar or take-away from the bar. Forget the dry sandwich, we'll make this our lunch any day.
Eat: Succulent rare roast beef and Yorkshire puddings served with watercress, caramelised onions and horseradish cream and Salmon Yorkshire filled with kiln roasted salmon, watercress and horseradish dressing.
Hereford+York is open 7 days a week, 10am-6pm until August 1, 2014 at Harvey Nichols
Price: From £6.50
What: This month sees the launch of a new foodie hotspot – kicking off on Saturday 28 June for six Saturdays, Tottenham Green Market will bring local street food, produce and craft beer as part of the Tottenham Green Regeneration Programme. Read more about it here.
Eat: Pastries from Tottenham's own Flourish Craft Bakery, meat from Marsh Produce and cheeses from urban cheesemaker Wildes Cheese.
Drink: Craft beer from Beavertown Brewery
Every Saturday for six weeks at Tottenham Green, High Road, London, N15 4RX
Photo: Tottenham Market – Twitter
#5 Concepts Gone Wild
1. Chicken Shop & Dirty Burger, Whitechapel
What: Two of London's favourite restaurants together in one place. At Chicken Shop & Dirty Burger, the Soho House group have finally brought these two beauties together under one roof, at long last.
Eat: A quarter of rotisserie chicken, a side of slaw and some garlic-butter corn on the cob. Do not, I repeat DO NOT, leave this place without trying a giant slice of their deep filled apple pie. That's an order.
Drink: Draught Camden Lager