Time is precious, London, don't waste it. Here's 5 things you need to eat this week in the capital: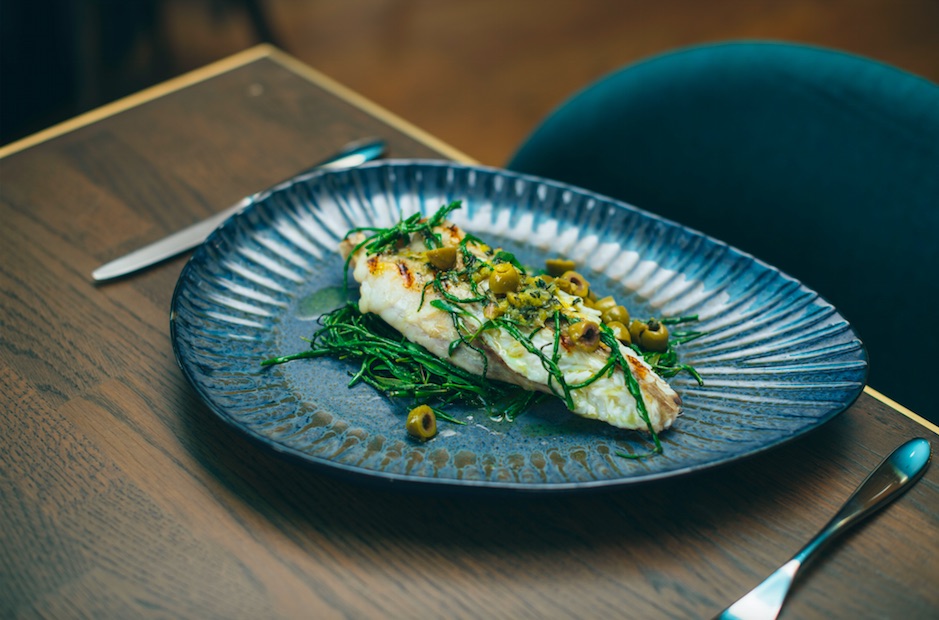 What: Following a late summer closure and a classy refurbishment and re-jig, Rotunda Bar and Restaurant at Kings Place has just opened with a sharp new look, new menus, drinks lists and a dynamic kitchen and front of house team.
Why: The new menus emphasise the close relationship with the farm, as well as using the ideal cooking techniques and the latest equipment, including Big Green Eggs and a robata grill. The meat dishes features steaks (cuts include rump, sirloin, ribeye), Côte de boeuf to share, Texel rack of lamb to share, as well as short rib, burgers, pastrami, steak and kidney pie, and beef jerky snacks. Meat-free? Other dishes available include grilled Cornish monkfish with foraged sea greens, and grilled Cornish crab claws with crispy seaweed and aioli. Impressive desserts on the bill range from coconut and pistachio tart, to blueberry Eccles cake with espresso coffee choc pot, and not forgetting the flaming blackberry Alaska for two.
Where: Kings Place, 90 York Way, London N1 9AG
What: Award-winning New York restaurant RedFarm has now opened its doors in Covent Garden – bringing playful contemporary Chinese cuisine and supercharged dim-sum. With dim-sum extraordinaire Chef Joe Ng and Chinese culinary expert and highly respected restaurateur Ed Schoenfeld at the helm, this is RedFarm's first venture outside of NY. 
Why: Joe's menu takes a clean, fresh approach to Chinese food and offers clever dim-sum preparations, small plates, and his succulent grilled and marinated meats. Small plates include spicy crispy beef, vegetable spring rolls in the shape of a flower, and their famous pastrami egg roll. There's a wide selection of handmade dumplings which include Pac Man shrimp dumplings – a parade of colourful dumplings that look just like the iconic game, and classic pork and crab soup dumplings – each of which has its own candy coloured straw for sipping the deeply flavoured broth inside. Mains include marinated and grilled Dingley Dell pork chop with basil and lemongrass, shrimp-stuffed crispy chicken, and Chinese Broccoli and fresh shiitake mushrooms.
Where: 9 Russell Street, Covent Garden, London WC2B 5HZ
What: Their biggest restaurant to date (a handsome 100 covers), Kricket are moving into the former Television centre on Wednesday 25th September. Known for its modern, seasonal twists on Indian dishes, Kricket's newest project showcases chef Will Bowlby's flair with Indian spices, learned from his years in Mumbai kitchens and his passion for quality, locally sourced ingredients. The result is a thoroughly modern Indian-inspired menu that draws on tastes and foraged ingredients from the British countryside.
Why: Expect dishes like grouse kebab, lardo and greengage chutney, and cobnutsor Tandoori wood pigeon with smoked raita, garlic achhar, salli potatoes and pickled blackberries. The leek and potato bread further demonstrates influences from Britain, as does the game keema naan, topped with black vinegar and watercress. Signature dishes include the samphire pakoras, bhel puriand Keralan fried chicken, which have become cult favourites on the London food scene.
Where: Television Centre, 101 Wood Lane, London, W12 7FR
Photo Credit: Katya De Grunwald and Run For The Hills
What: Former River Cottage Chef, forager and presenter, Mark Lloyd, has taken the reins at Notting Hill spot, Pomona's restaurant and bar. Bringing a wealth of experience, Mark's menu has sustainability at its core with new dishes boasting the very best in local, seasonal produce, promising rustic, simple cooking with a refined finish.
Why: Perfect as a starter, small plates include venison carpaccio with truffle, pickled roots and sourdough; crispy octopus with hazelnut mole, fennel, mint and apple; and yellowfin crudo with ponzu, burnt scallion and puffed wasabi rice. Reflecting Mark's interest in butchery and fishing, star mains from the wood-fired Bertha oven include whole grilled fish of the day; spiced guinea fowl with smoked aubergine, dates and fregola; and ox cheek, celeriac, smoked apple and truffle with a beer sauce. Mark has elevated the humble burger with a marbled Yorkshire wagyu patty served with truffle mayo and smoked gruyere in a brioche bun; and veggies can tuck into a pumpkin and lentil dhal served with charred onions and tandoori cauliflower.
Where: 47 Hereford Road, London W2 5AH
5. For a New Pre-Dinner Menu: MARTINI x Luca 
What: MARTINI are celebrating the quintessential Italian aperitivo at Luca Bar and Restaurant in Clerkenwell with their all-new pre-dinner menu. Luca Head Chef Robert Chambers has worked with Michelin-starred Chef from Del Cambio Turin, Matteo Baronetto to develop four exquisite dishes that will re-set your perceptions of aperitivo. And there's cocktails too. 
Why: The aperitivo menu includes four dishes including: veal marinated in chestnut honey, served with English pickled radishes; tomato tart, with salted green peach and gentlemen's relish; lettuce leaf with citrus mayonnaise and dried green olives; and the Scotch olive, green olives, encased in succulent rabbit sausage meat, seasoned with summer savory and Calabrian chilli and coated in breadcrumbs. The specially created cocktails include the Piedmonte Fizz, made with MARTINI Riserva Speciale Ambrato, Bombay Sapphire gin, lemon juice gomme syrup and absinthe, topped with soda and a sprinkled olive/salt rim.
Where: 88 St John St, Clerkenwell, London EC1M 4EH