We've searched high and low for the best food you should be eating this week. We'll tell you this now: you will not be disappointed. Happy eating, London:
1. For Chicken: Billy & The Chicks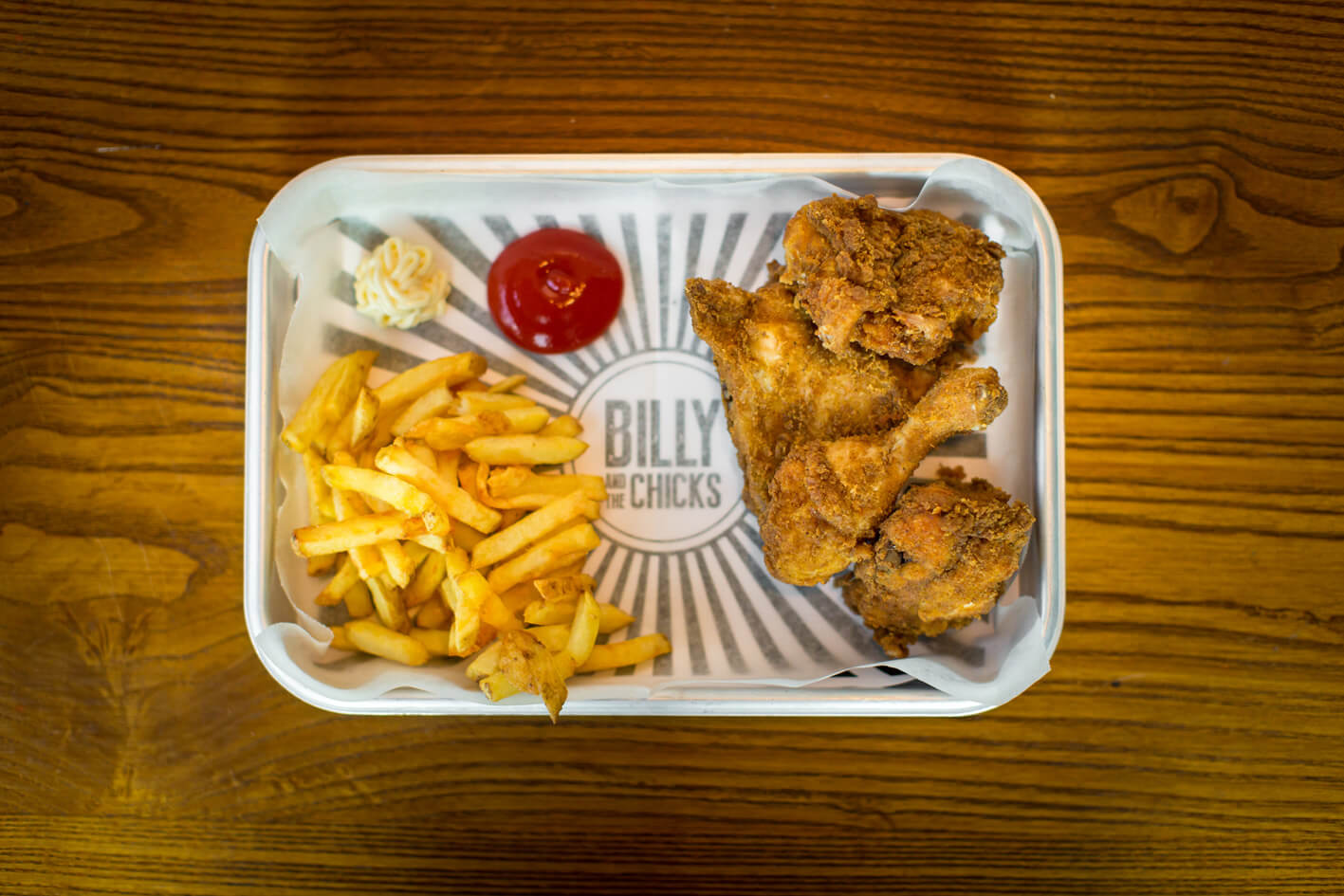 What: Billy Stock is the man behind new Soho fried chicken haunt, Billy & The Chicks. A talented young chef who learnt his trade in some of London's favourite restaurants including St Johns, Salt Yard and a few pop ups along the way. Billy's chicken is British born and London inspired, a totally different bucket from its beginnings in America.
Why: Billy and the Chicks use the finest British ingredients from suppliers like Bread Ahead, Neal's Yard Dairy, Walter Rose & Son and Spice Mountain for Billy's very own secret herbs and spice mix. But really its all about the British birds, and these are some beauties. The chicken speaks for itself – simple, delicious and real. The sides and extras on the menu is where Billy gets to show off his talents. Billy's is all about; fun, friendship, nostalgia but with some top quality nosh.
Where: 27-28 St Anne's Court, off Dean Street, Soho, London W1F 0BN
2. For a New Opening: Choconut
What: A family-owned business and the only chocolate shop in London to use 100% Valrhona to create unique recipes made in-store, Choconut is London's luxury boutique for bespoke, handmade chocolate, exceptional nuts and gourmet coffee, and has just arrived on Great Portland Street. 
Why: Explore a delicious myriad of chocolates with sensational toppings, sumptuous centres and flavour profiles from the classic hazelnut and salted caramel to the quirkier crystalised ginger and sea salt, pistachio cherry cardamom, and coconut Malibu, to name a few. Muffins are baked daily and include gluten-free orange with raspberry, dairy and egg-free lemon blueberry, as well as apple and blackberry, chocolate cherry and many more. Kosher and halal products are also available. Stop by for a coffee – Choconut's house blend uses only 100% Arabica beans from Central and South America. Perfection.
Where: 161 Great Portland Street, London W1W 5PB
3. For a New Breakfast Spot: Pullman London St Pancras
What: The Intelligent Breakfast is a new healthy menu made from specially sourced, rare ingredients that has just launched at Pullman London St Pancras this month. The menu has been created in partnership with Natasha Corrett, founder of Honestly Healthy and Head Chef, Michael Penn.
Why: Natasha has created a breakfast menu that caters for the cosmopolitan Pullman guests and non-residents to fuel brain activity and function. Dishes include; a chia and turmeric omelette, plum and kuzu compote breakfast pots, banana and coconut muffins, and a series of brain-boosting smoothies are available. The menu is the perfect combination of wholesome ingredients to get creative-juices flowing and keeping the mind sharp.
Where: 100 – 110 Euston Rd, London NW1 2AJ
4. For a New Doughnut Flavour: Crosstown Doughnuts
What: To celebrate Waitangi Day (the New Zealand public holiday) on 6th Feb, Crosstown is launching a limited edition flavour in collaboration with New Zealand chocolate producer, Whittaker's, using their popular Peanut Slab bar.
Why: Crosstown's signature sourdough will be filled with a Whittaker's Peanut Slab custard, covered in a Belgian chocolate ganache and finished with a generous sprinkling of hand-chopped Peanut Slab. The Waitangi Day doughnuts will be available on Friday 5th and Saturday 6th February at their Broadwick Street store in Soho, the doughnut van at Spitalfelds and their Broadway Market stall. A limited number of boxes are also available to pre-order on their online shop.
Where: Locations here 
Photo Credit: Maz McEwan
5. For a New Lunch: Amy's Mobile Kitchen
What : Amy's Mobile Kitchen is the brainchild of Amy's Kitchen – a family owned business that makes vegetarian convenience food that is full of organic ingredients and home cooked flavour. For the month of February, the team will be driving a vintage food truck around the streets of London, Manchester, and Glasgow offering their delicious and warming soups and chillis, accompanied by a hearty chunk of sourdough provided by a local bakery for a small donation.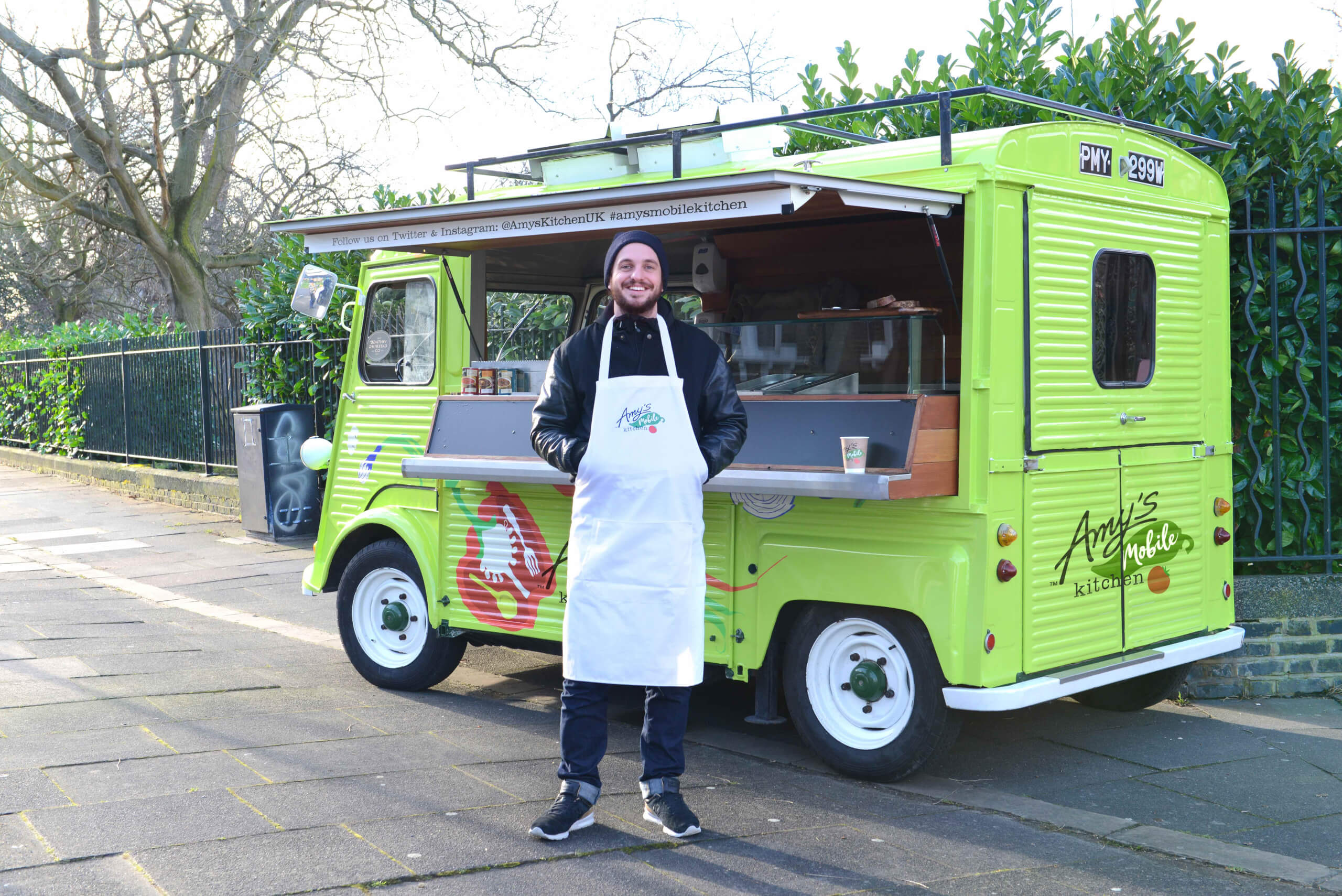 Why: Not only are you able to enjoy a mouthwatering bowl of Amy's Kitchen, you'll also be donating to a great cause. Each portion will be offered in return for a suggested small donation (although this isn't necessary, and you could just have your lunch for free) which will then be donated to a charity in each city. In London they are working with Cafe From Crisis, helping to rehabilitate the homeless and get them back into work.
Where: Every day they'll be posting from Amy's social media channels to reveal the location of the van for you to find. The van will be in London 1st-14th February.
One for luck..
What: This Tuesday (2nd), Tom Aikens and the Typing Room's Lee Westcott are hosting a collaborative, one-off dinner at Tom's Kitchen Chelsea. The evening will begin with Tom and Lee introducing the five course tasting menu, and talking through the produce and skills involved in creating the Modern European dishes that combine the best of their experiences and creativity.
Why: The menu will include, scallops with fermented grains and lardo; foie gras mousse with ham hock jelly and lentils, smoked and braised beef cheek with baked beets and beet mash, sea trout with kohlrabi, sprouting broccoli and pear, and a dessert of chocolate and blood orange.  The dinner will take place at 7pm, priced at £80pp including matching wines throughout.  For reservation email: chelsea@tomskitchen.co.uk or call: 0207 349 0202.
Where: 27 Cale St, London SW3 3QP
 Photo Credit: Tom Campbell