London restaurants are always buzzing with new ideas, new menus and new concepts. From a special sushi box, to the best salt beef sandwiches in town – here's 5 things you need to eat this week in London and why. Time to tuck in, kids:
1. For a New Pop-Up: Abel & Cole 
What: Abel & Cole will open a four-week pop-up restaurant at the Truman Brewery, East London from Friday (9th September). The Abel & Cole pop-up will be opening its doors for dining every day from 12 noon to 10pm, apart from Thursday evenings, until Saturday (1st October). Enjoy casual and relaxed dining from a coffee and cake, to a 3 course meal.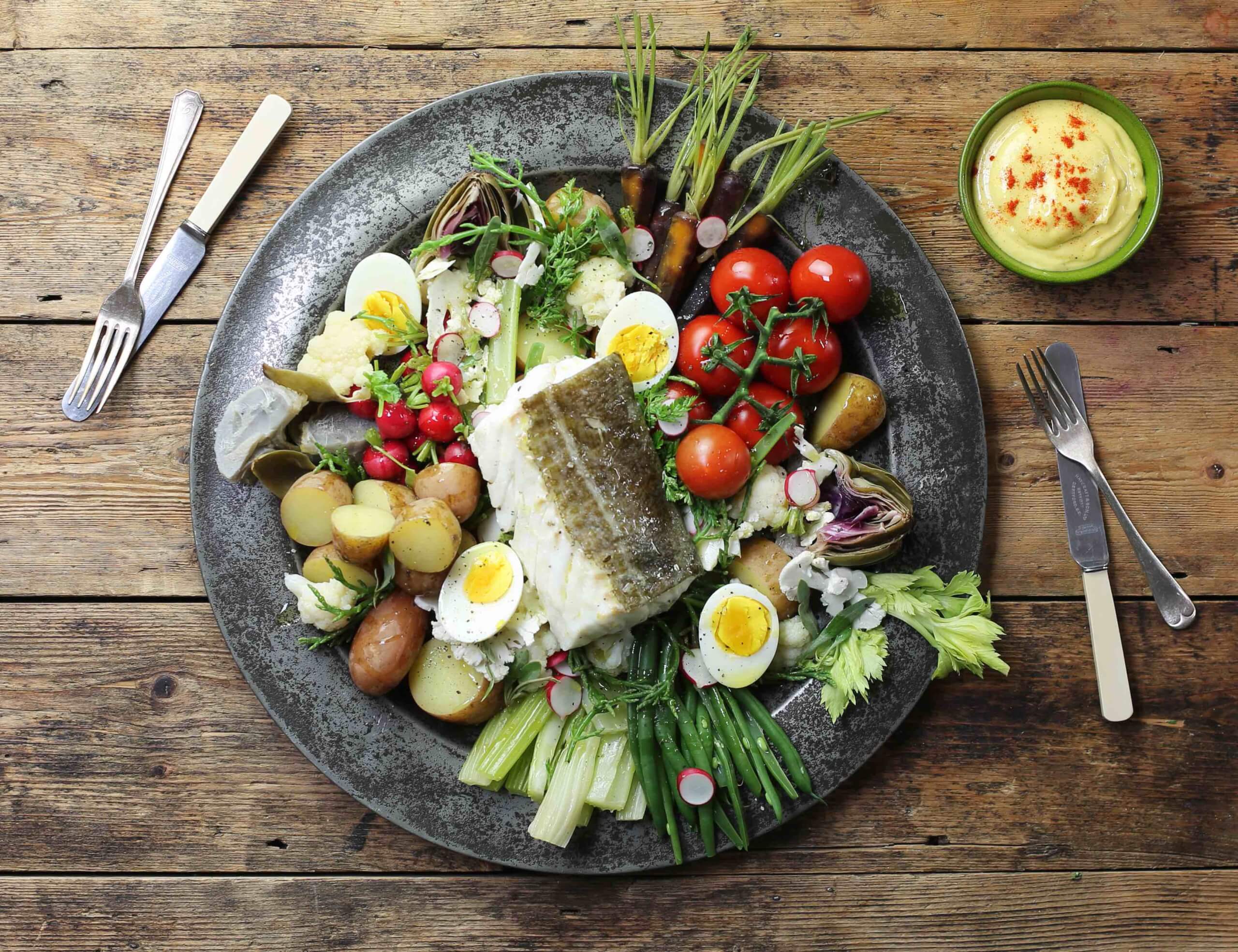 Why: The restaurant will serve up an incredible and inspiring menu devised by Head Chef, Leon Aarts using Abel & Cole's organic, seasonal produce and ingredients. Expect dishes such as; panzanella salad, roast squash with gorgonzola and almonds, and mushroom gnocchi with garlic confit. Larger plates include whole roasted spicy cauliflower with couscous, and poached cod with vegetables and aioli garni. And, for dessert, opt for either panna cotta with poached fruits or french toast with honey roast figs.
Where: Truman Building, Brick Lane, London E1
2. For a New Healthy Breakfast: Sanderson x Qnola 
What: Running for the month of September, the Wake Up Well breakfast menu at Sanderson, curated by Qnola founder and model Danielle Copperman features a selection of dishes that are a healthy alternative for people on the go. Using Qnola – the only cereal alternative in the world made primarily from quinoa – in a number of the dishes alongside other nutrient packed ingredients everything on the menu comes with a number of health benefits, and is packed with numerous vitamins, minerals and anti-oxidants.
Why: Danielle has created four exclusive flavoursome and healthy dishes as part of the Wake Up Well breakfast menu. Pick from the following energy packed dishes: seasonal berry and watermelon smoothie bowl – seasonal berries, watermelon acerola powder, vanilla and avocado, or banana and cashew smoothie bowl topped with almond and vanilla Qnola. For something savoury, try the Hijiki poke bowl featuring Hijiki seaweed, avocado, pickled cucumber slices, raw salmon sashimi and savoury Qnola with miso dressing, or the poached eggs and beetroot sauerkraut with mixed pickles, avocado mashed quinoa and a green salad. Finally, there's the sunshine salad – a fruity combination of passion fruit, mango, pineapple, apricot, nectarine, peach and orange with a white bean or cashew mousse served with gluten-free shortbread.
Where: 50 Berners Street, London W1T 3NG
3. For a New Lunchtime Option: Sushi Shop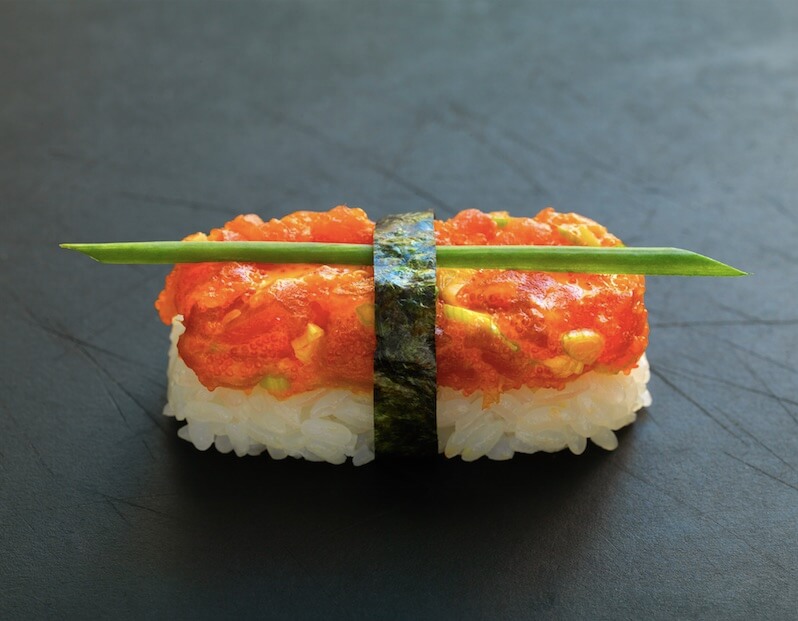 What: For its new limited edition box, Sushi Shop takes you back to your childhood with a collaboration with the Mr Men and Little Miss series. Sushi Shop is celebrating the 45th anniversary of the Mr Men and Little Miss brand, by serving the limited edition Sushi Shop Mr Men and Little Miss box from Wednesday (7th September).
Why: The Mr Men and Little Miss box contains 42 pieces, with some recipes that are favourites of Sushi Shop customers, and 3 unique recipes created specifically for this new collaboration. Wrap your chopsticks around the veggie California roll featuring quinoa, cucumber, beetroot and avocado in a creamy tarragon sauce, and the salmon tataki spring roll with chives, radicchio and sesame sauce. For devout fish lovers, the spicy tuna sushi is a must – tuna, nori and spicy saucy. Yum. 

Where: Locations here 
4. For a New Menu: Eneko at One Aldwych
What: Three Michelin-starred chef Eneko Atxa has arrived in London, bringing a fresh, informal and innovative take on Basque cuisine into the heart of Covent Garden. Eneko at One Aldwych transforms carefully-sourced ingredients into beautifully presented plates that appeal to all the senses.
Why: Innovative, exciting yet always with authenticity at its heart, Eneko at One Aldwych's menu takes a previously unexplored journey through Basque Country cuisine with a few twists along the way. Colourful morsels of oyster, crab and wild prawn tartare completed by a sea-scented mist makes up Eneko's Memories of the Bay of Biscay. Meanwhile, the Txerri Boda Pork Festival brings together Iberico ham with basil emulsion, chorizo and black pudding atop soft, pillowy milk bread. Moving onto main courses, roasted Iberico presa is served pink and tender with chickpea sauce and garlic cream and cod bizkaina, a rich cod tripe stew in an authentic spicy bizkaina sauce, topped with deep fried cod bites. Meanwhile, hake arrives in light crispy tempura on top of confit vegetables with red pepper sauce and a delicate parsley emulsion. Save space for the caramelised rice pudding. Divine.
Where: Eneko at One Aldwych, One Aldwych, London, WC2B 4BZ
5. For a New Opening: New Delis 
What: New Delis is here to offer a brand new and unique Indian dining experience, with healthy, modern and fully customisable dishes that don't sacrifice the passion, authenticity and taste of traditional, home-cooked food. Having travelled across India to taste and hand-pick the most authentic, age-old family recipes and spices, and scoured the world for the very latest trends in street food, New Delis has married the two concepts together, and wants to take you on the same culinary journey.
Why: The menu is a simple one: pick your protein, add you sauce and spice level, and choose your carbs. Eat in the restaurant, or get take it back to the office with you, to eat your curry aldesko. We recommend the lamb in the cashew royal sauce, it's similar to a korma sauce – thick and creamy, with a big nutty hit. If you're making a meal out of it, order a few starters like the Delidi Papdi Chaat, a blend of papdi, chickpeas, potatoes and chutneys. Fresh, light and full of flavour. The Indian stir fry bowl is another great lunchtime option, the beans and soya with brown rice, topped with mint, chopped onions and nuts is a fantastic veggie addition.
Where: 35 Grays Inn Road, London WC1X8PG
One for luck… 
6. For a New Limited Dish: Hawksmoon Seven Dials 
What: Hawksmoor Executive Chef Richard H Turner has spent the last week weaving his way through the vibrant and bustling streets of Manila and the charming neighbouring City of Tagaytay, in search of his latest carnivorous inspiration. The acclaimed restaurateur feasted his way through the Filipino capital and the stunning surrounding provinces in order to create a very special, limited-run dish, only available at Hawksmoor Seven Dials and Spitalfields Bar throughout September and early October.
Why: The resulting Filipino Burger consists of a grilled pork pattie, topped with Richard's very own take on traditional pork Adobo and Buffalo Mozzarella, in a brioche bun with onions, little gem, mayonnaise and banana ketchup. Served with pork chicharrones and coconut vinegar. Adobo, considered the unofficial national dish of the Philippines, is a rich and succulent pork dish originating from indigenous cooking methods. Traditionally the pork is marinated in cane vinegar, soy sauce and garlic which is then browned in oil and simmered in the marinade.
Where: 11 Langley St, London WC2H 9JG
We're feeling pretty lucky… 
7. For a New Food Outlet: Bell & Brisket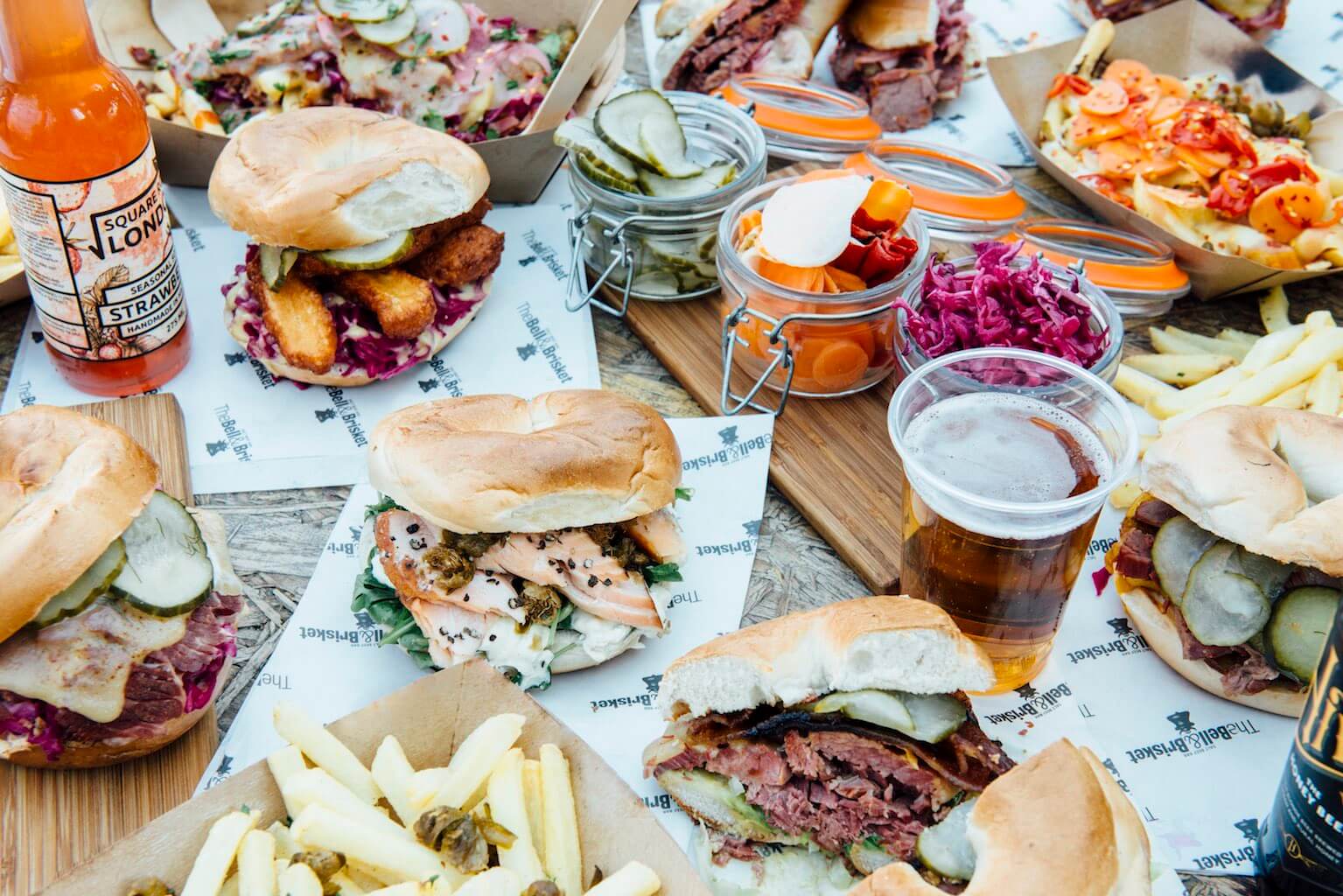 What: Street food heroes The Bell & Brisket have a new home at South London food hub, Pop Brixton, where owner Bel Shapiro will be serving up her mouth-watering salt beef bagels to a new Brixton audience. British brisket is the star of the show, hand-brined in Northern Ireland using a seaweed and honey cure that ensures the meat is very low in salt. The beef is then slow-cooked until soft and juicy and partnered with The Bell & Brisket's crunchy homemade pickles, Gherkins from the legendary Vadasz Deli, tangy mustard and blow- torched cheeses, all served in traditional boiled bagels from independent bakers the Spence Bakery.
Why: The menu includes a couple of new Brixton specials, including The King, a burger-inspired sandwich of salt beef, house sauce, chopped salad, maple-cured bacon, melted cheddar and gherkins, and The Queen – hot smoked salmon with rocket, fresh horseradish cream, crispy capers and gherkins. These newcomers line up alongside old favourites such as The Duke (brisket, tomato chipotle sauce, pickled onions, melted Monterey Jack, jalapeno sour cream and spicy roots) and The Lord Rupert – the signature combination of brisket, pickled cabbage, Dijon mayonnaise, melted Cheddar and dill pickles.
Where: Pop Brixton, 49 Brixton Station Rd, London, SW9 8PQ