We like big hunk of meat and we cannot lie. From a new chicken opening to a summer barbecue menu – here's the best things you need to be eating in London this week. Don't panic, there's plenty of veggie lovin' too. Happy munching, kids:
1. For the Most Millennial Thing to Happen in London: The Little Yellow Door 
What: We love emojis just as much as we like cured meats – but not as much as The Little Yellow Door does. The restaurant has gone so 2016 on those little faces, we can't quite believe it. They've translated their menu into an emoji only menu, and will run the summer special menu, offering two courses and a cocktail for £15, every Wednesday and Thursday throughout July and August.
Why:  The menu includes dishes such as; seared steak roll with truffle mayo, caramelized onions and rocket,  buffalo wings with crudities and blue cheese dip and The Little Yellow Door's house punch. And how do you order your food I hear you cry? Via WhatsApp, obviously. There's also waiters on hand if you're hankering for the classic pen and pad method. On Thursday night after you've eaten your way through all the emojis on offer, TLYD brings you Boogie Jukebox. You'll find playlists on tables, and you can select your favourite party bangers – soul, funk and 90s classics. Every taste is catered for.
Where: 68 Notting Hill Gate, W11 3HT, London
What: Like chicken? Like good quality chicken? There's a new restaurant in Islington and it has answered all your white meat dreams. Just opened, H.en is an ethical chicken restaurant brought to you by Masterchef finalists Billy Wright and Jack Layer. Roosting on Upper Street for six months, H.en will offer Londoners a fresh outlook on the humble chicken, with a 'beak to feet' menu using high welfare chickens raised on Caldecott Farm.
Why: Because the menu is out of this world. One of H.en's signature sides is their chicken wings coated in sweet spicy hot sauce, and exclusive to London will be their crispy chicken feet, which everyone will receive on the house on arrival. Elsewhere on the menu, chicken is available grilled by the quarter or half. All chicken has a spiced buttermilk marinade and from there choose one of the three marinades: a classic sweet and tangy BBQ; a rich and savoury South American-style Red Eye; and a hot chilli with plenty of fiery kick. The H.en Burger can be served with pulled, fried or grilled chicken and is then topped with chicken skin mayo, charred gem lettuce, tomato and pickled cucumber.
Where: 154-155 Upper St, London N1 1RA
3. For a Taste of America: Heliot Steak House 
What: Whatever turn the English weather may take this summer, Heliot Steak House is bringing the barbecue indoors with their new menu. Served on the restaurant's brand new charcoal-hued plates and wooden boards, enjoy tastes of summer barbecues inside The Hippodrome Casino's award-winning restaurant, which serves only the best USDA Prime Steaks.
Why: Executive Chef Ioannis Grammenos has created light and fresh dishes for the summer months, serving sea bass ceviche with chilli, ginger and pickled pearl onions, and smoked salmon combined with crisp green apple, chargrilled sourdough toast and sour cream mousse. For mains, try the grilled spatchcock chicken, served with sticky homemade BBQ sauce for dipping, or herby lamb cutlets, served with roasted aubergine and a rich jus gras. Round the meal off on a sweet note with the chocolate sphere, filled with a rich and decadent chocolate mousse, or a lemon crème brulee tart with crumbly, flaky pastry and a lemon curd ice cream. Dreamy.
Where: Heliot Steak House, Cranbourn Street, Leicester Square, WC2H 7JH
4. For a New Collaboration: Hungry Donkey x Maltby Street Market
What: This July, Hungry Donkey are branching out from their digs at Aldgate East, and will be taking up residency at the Maltby Street Market in collaboration with Maltby&Greek, the UK's leading Greek food and drinks supplier. The pop-up will run across this weekend (30th/31st July) and 6th/7th August. Hungry Donkey will be serving up a selection of their favourite dishes from the restaurant together with Greek craft beers and a selection of Greek wines.
Why: The menu feels like an Athens party in your mouth. Feast on Greek sausage or halloumi pita wraps with graviera cheese and caramelised onion, with a choice of toppings: either a Greek slaw – carrot and cabbage salad with a pomegranate molasses dressing, or Dakos salad a winning combo of tomato, onion and feta cheese, along with a choice of two sauces, melitzanosalata, a roasted aubergine dip or tzatziki. There will also be a Greek salad, and Galaktoboureko, a traditional Greek custard pastry up for grabs.
Where: Railway arches in the Ropewalk, Bermondsey, South London.
5. For a Dinner Game Changer: Berber & Q Shawarma Bar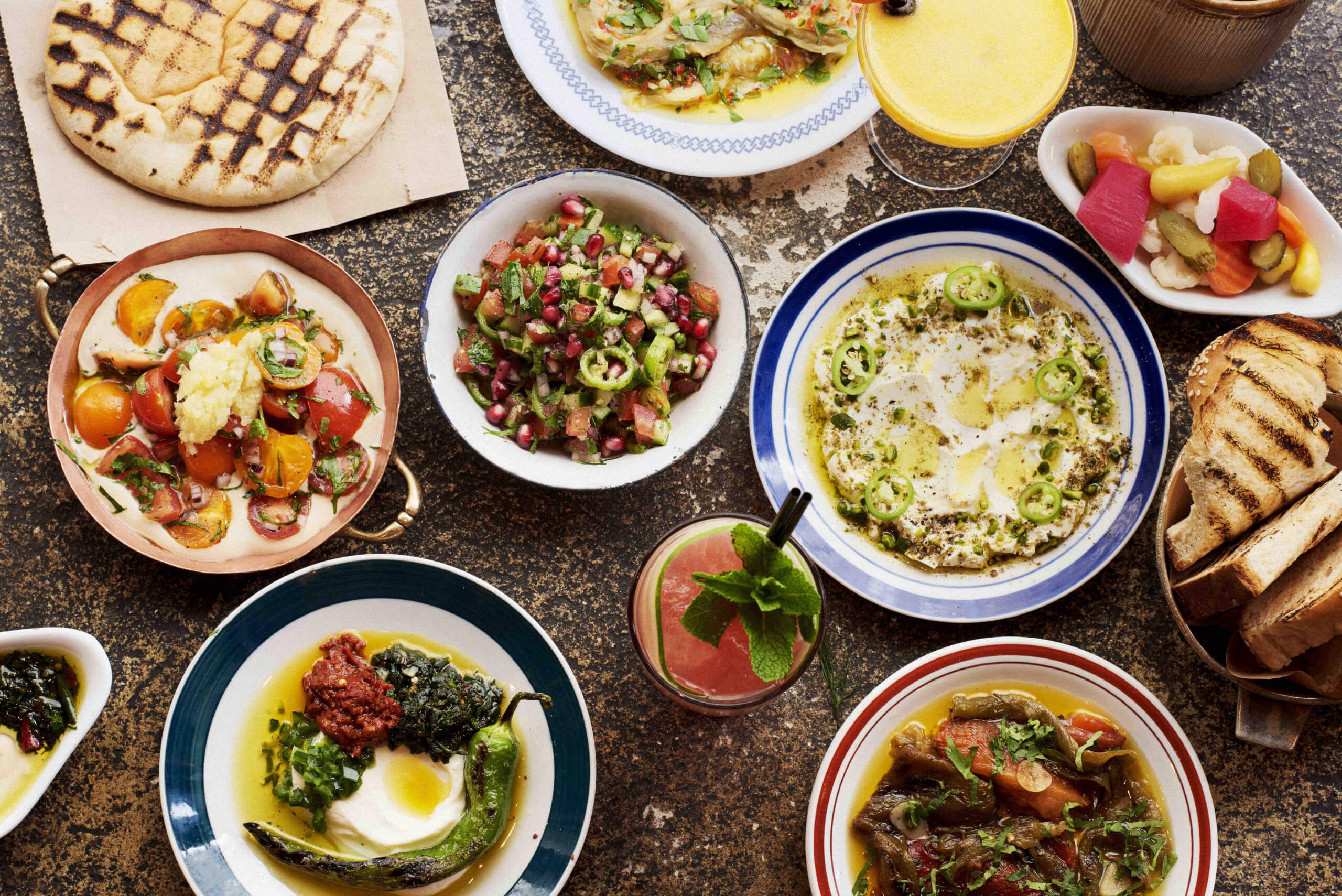 What: This is the best news since the invention of the World Wide Web. Berber and Q, the place where we go to feast on meat and mezze is opening their new shawarma bar, today! Party hats and cake at the ready. The new restaurant will specialise in shawarma, slow-cooked on a rotating spit over hot coals alongside Middle Eastern cocktails, wine and beer.
Why: All the shawarma. Like, so much shawarma. Lamb shawarma is the star attraction, with Middle Eastern style rotisserie chicken also central to the offering. Sold as plates, both are served with herb salad, gem leaves, green chilli, grated tomato, tahini and sumac onions. Mix it up with their wraps – you can choose your meat, condiments and eat as you please. Optional extras include fresh grilled pita, confit potatoes or individual pickle jars. Veggies can enjoy  cauliflower shawarma with golden sultana, rose and pine nuts, and a selection of killer sides include blackened aubergine, mesabaha and coal-baked sweet potato. There's an ice cream pita sandwiches, with tahini soft-serve and caramelised banana for dessert. So, yeah.
Where: 46 Exmouth Market, EC1R 4QE
One for luck.. 
6. For a Summer Party: Estrella Galicia x Tapas Revolution
What: Estrella Galicia has just announced a brand new Galician experience to be held this summer at Tapas Revolution in Shoreditch. Launching on Tuesday (26th July), this Galician experience, known as Little Galicia, will bring together the culture, history and quality of Estrella Galicia beer together with fantastic food and incredible live artists.
Why: Little Galicia will be held over 6 weeks this Summer, taking place every Tuesday evening with a respective theme to the evening. Ranging from beer and food pairing to Galician steak nights, the evenings will encompass the beer culture, gastronomy and quality associated with Estrella Galicia. On Tuesday, the party gets underway with a series of live performances with a special tapas menu and Estrella Galicia beer. The evenings will kick off at 6:30pm with a welcome beer, with dinners to commence at 7:30pm and will include Estrella Galicia beer with each course, live music performances and DJs spinning downright filthy beats until 10pm.
Where: 58 Bethnal Green Road, Shoreditch, E1 6JW
7. For a New Menu: Las Iguanas 
What:  Las Iguanas have launched a limited edition 'Carioca Menu' to celebrate 25 years of bringing Brazilian cuisine to the UK. Even if the whole world will be putting on their trainers and sprinting down to Rio this August, you can join in the party nearer to home without even getting on a plane. And it'll be a whole lot cheaper.
Why: Sink your teeth into mini picanha churasco, marinated steak strips skewered and char-grilled, and the Xinxim – creamy lime chicken and crayfish medley. For something sweet and damn delicious, there's the brigadeiro, a rich chocolate ganache inspired by their friends at Zazá Bistrô in Rio. For all the gluten and dairy-free queens, there's the tembleque, a coconut pudding served with mixed berries and zingy mango purée. Las Iguanas' Carioca platter (serves 2) also has your name on it. This selection of Brazilian nibbles includes Pão de Queijo– cheesy dough balls with chipotle butter; sweet plantain chunks topped with cheese and pink pickled onions, crispy crab and prawn croquettes with lime aioli, and crispy cheesy cubes served with sticky chilli jam.
Where: Locations here