London is brimming with endless foodie possibilities. From a new roof terrace, to a burger which is a downright taste sensation – we've handpicked the best things you should be eating in the capital this week. Don't go wasting your sparkles on mediocre grub. Happy munching, London:
1. For a New Opening: The Gardening Society x John Lewis 
What: Summer only means on thing: the arrival of rooftop terraces. John Lewis has collaborated with pop-up experts Night Tales to bring three of London's hottest food offerings to the rooftop of its flagship Oxford Street shop this summer. The open space has been transformed into a vibrant and verdant rooftop garden, The Gardening Society and opens this Friday (27th May), with the first residency from celebrated modern British restaurant, The Dairy.
Why: Robin Gill will bring The Dairy to central London for the very first time. Open daily for lunch and dinner, the restaurant will showcase the best from the critically acclaimed Clapham restaurant's menu, alongside a brand new Counter Culture menu exclusive to The Gardening Society. Dishes will include Lady Hamilton Cod, smoked roe, BBQ peppers and Isle of Wight tomatoes; Summer courgettes, fresh cheese, sweet basil and The Dairy's rooftop honey; and sour potato flatbread, nduja and cultured cream.
Where: The Gardening Society, The Rooftop, 300 Oxford Street, London W1C 1DX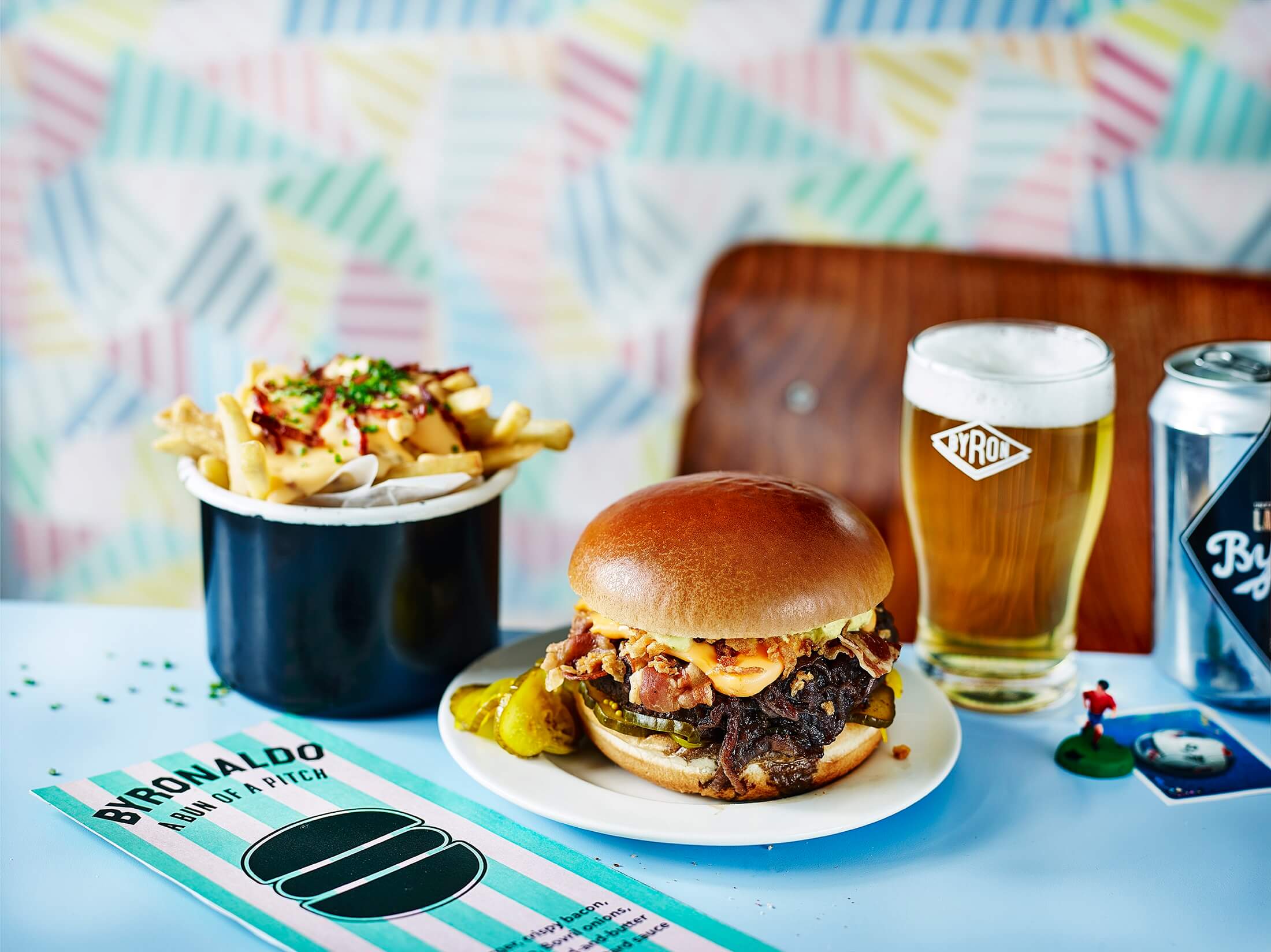 What: Here at About Time, we're not just the queens of brunch, we also know a good burger when we try one. Byron's latest beefy delight is an absolute stonker and was inspired by Head Chef Fred Smith's love of football as a child, tucking into a half time hamburger, the latest special captures those comforting flavours of a day out watching the beautiful game.
Why: This blows other Byron's specials out of the water, no seriously, it really does. We're talking about Byron's classic 6oz patty (made from four cuts of properly sourced British beef, cooked medium), topped with crispy bacon for added crunch, Freddar™ cheese, Bovril onions for a proper nostalgic kick, crispy onions, bread-and-butter pickles and good old-fashion mustard burger sauce, all put together in a tasty glazed bun.  A very British tribute to the nation's favourite game.
Where: Locations here
3. For a New Residency: SpiceBox x Kerb 
What: Vegan hunnies, if you haven't already tried SpiceBox's Indian curries – you really, really need to. SpiceBox is all about the plant power life, with their tasty tandoori cauli steaks now being served at the Southbank Centre as part of the Kerb Does Alchemy takeover, running until next Monday (30th). Get down there pronto and fill your boots with all the spices.
Why: It's a build a box situtation. Choose one main, either the jackfruit jalfrezi, summer veg korma, tandoori cauli steak, or spiced crispy chickpeas, throw in a portion of rice (we say, the spiced cauli rice and bulgar wheat is the winner), and one of their salads – kachumber salad or the classic, spring green salad. And, if you're after something a little extra, there's sides of sprouted roti (using Ruse Health sprouted wholewheat flour), and spiced corn on the cob. That's lunch sorted, then.
Where: Southbank Centre, Belvedere Rd, London SE1 8XX
4. For a New Menu: Ben's Canteen 
What: What matches well with burgers? Wine, that's what. Relaxed South London restaurants Ben's Canteen (with a venue in both Earlsfield and Battersea) are launching an exciting and innovative menu of new burgers, each matched to a perfect wine partner. Get down there this week for all the vino and beef action.
Why: The menu sees Ben's signature internationally inspired, playful menu of burgers receive an overhaul with new additions such as the posh fried chicken, served with Champagne; the Hawaiian with a French Gamay, and the mighty salad dodger with a New Zealand Pinot Noir. Burgers are 8oz aged beef patties from local butcher HG Walter, and the glazed buns are from Wimbledon's Millers Bakery (also available bunless on request with slaw thrown in) and served with salad and either regular or sweet potato fries. 
Where: 422 Garatt Lane, SW18 4HW and 140 St John's Hill, SW11 1SL
5. For a New Summer Option: Carluccio's 
What: You know it's the start of summer when Carluccio's picnics make an appearance. Full of fresh, delicious dishes and priced at £45, each adult picnic serves two with generous portions of summery food, prepared that morning.
Why: Choose between the Classic and Vegetarian option, both featuring an antipasti selection, classic Ligurian focaccia and bruschettine with fresh ricotta, mint and pea shoots. Larger dishes of citrus poached chicken breasts and soft goat's cheese salad with beetroot, asparagus, walnuts, radish and baby spinach shout that summer is here. The Vegetarian features meat-free alternatives of chargrilled vegetable antipasti and stuffed peppers with aubergine, olives, breadcrumbs and capers and a crisp side salad.
Where: Order online 
One for luck… 
6. For a New Offer: Randall & Aubin 
What: Another week, another chance to celebrate something else. This week, it's the turn of wine with London wine week happening today (23rd), running for one week only.  To celebrate this joyous (and probably nicely tipsy) seven days, Randall & Aubin are going to be pairing some of their favourite varieties with the daily-changing specials menu.
Why: Enjoy a glass of carefully selected wine for only £5, picked especially to match whatever Head Chef Ed Baines has concocted for the day. So you might be quaffing a  gulpable Sauvignon Malvasia from Catine San Marzano while nibbling on fillet of Brixham bream with asparagus, peas, broad beans, Jersey Royals and a beurre blanc sauce (the buttery flavour of bream cuts beautifully with this wine), or perhaps sipping a muscular Berton Vineyard Black Shiraz, chowing down on pan roast Brixham hake fillet with warm chorizo, new potatoes, green beans and salsa verde
Where: 14- 16 Brewer St, London W1F 0SG