Bumper Edition: 5 Things You Need to Eat in London This WeekBy Alicia Grimshaw
We're back from sunning ourselves in the Caribbean, to bring you a special 5 things to eat this week. The past two weeks in London has been a busy one, with an array of new openings, collaborations and pop-ups. Why have 5 things, when you can have 10. Don't say we don't spoil you. Happy eating, London:
1. For a New Menu: The Bootlegger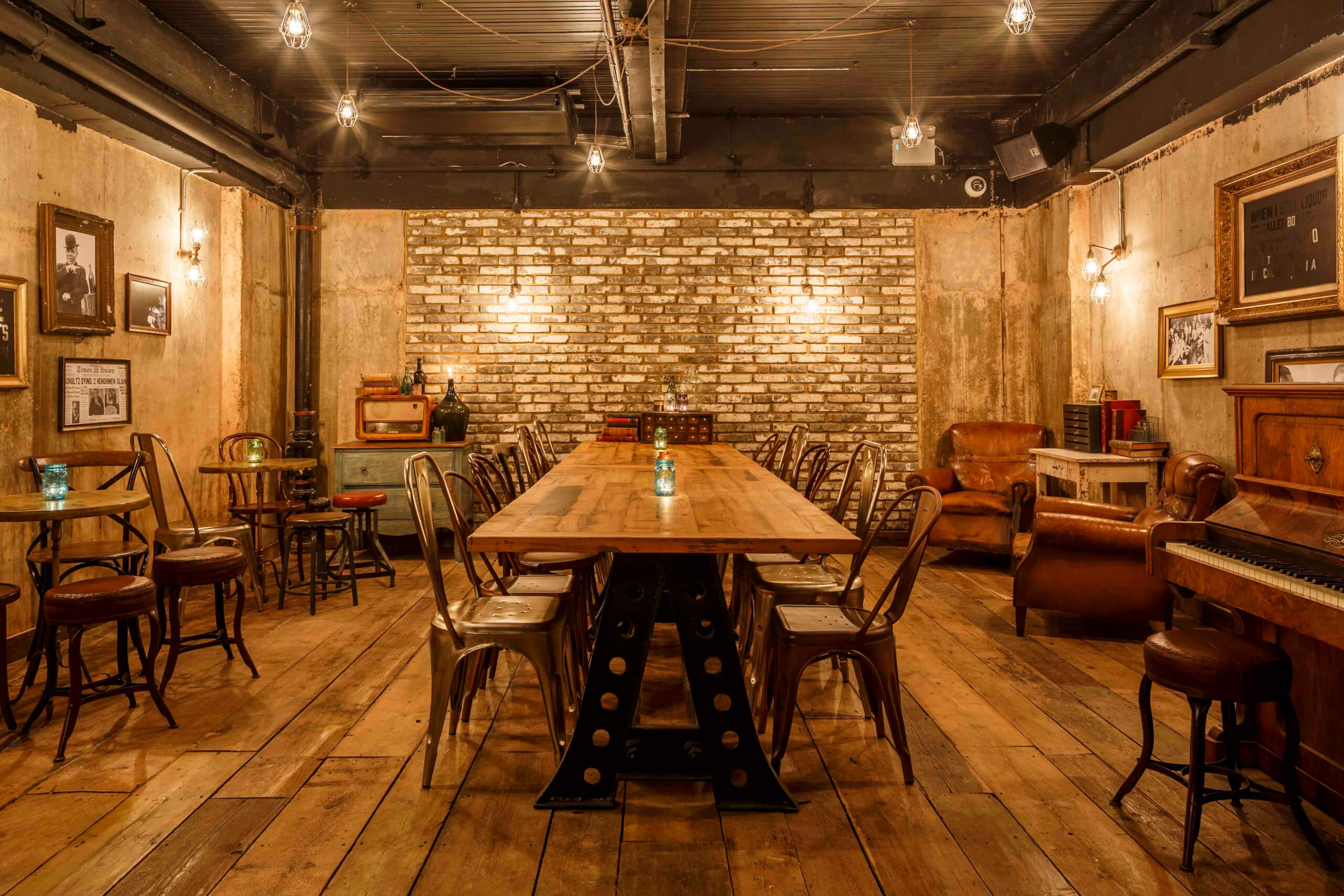 What: Basement bar, The Bootlegger has just launched their new food menu with hotdogs as the signature dishes. Celebrating the glamour of the Prohibition era, The Bootlegger brings alive America's roaring twenties in its speakeasy digs. In keeping with the 1920's gangster era, enjoy a selection of Chicago style dogs fit for Capone.
Why: The new menu is brimming with personality with robust and quirky flavours. Leading the way is the pork and beef dogs. The pork dogs are made from 100% pork Frankfurter with a natural casing, and the 100% beef frankfurter is brimming full of flavour and goes hand in hand with a glass of The Bootlegger's finest hooch. If you're after a bit of variety, the new menu also offers brisket chilli cheese fries, chilli cheese fries, grilled cheese and The Bootlegger fries. The brisket chilli includes slow cooked, melt in your mouth beef brisket with a unique blend of spices and ingredients that puts this chilli in a different league.
Where: Basement Bar, 25-26 Lime Street, London, EC3M 7HR
2. For a New Residency: Le Bun x Leicester House Hotel
What: Opened last week, Le Bun have taken over the restaurant and bar at the recently refurbished Leicester House hotel in China Town for a five-week residency 'Le Bun Vivant', re-imagining classic American and French dishes and giving them their signature luxurious diner treatment. Pop down to see the neon-filled fine diner in all its glory.
Why: The menu is an exciting mixture of French and American indulgence. Think, shrimp and scallop po bun – inspired by Po Boy sandwiches found in New Orleans, Le Bun's Po Bun includes shrimp and scallops basted with an indulgent shellfish bisque. The suckling pig bun nods to the offal heavy, classic, Lyonnaise style of cooking with pulled pig shin, charcuterie jam and trotter Hollandaise served in a brioche bun. The hot chicken takes inspiration from a recipe from renowned American chef Thomas Keller, Le Bun's Hot Chicken also pays homage to the famous Hattie B's, the legendary Nashville Hot Chicken shop with fried chipotle chicken thigh doused in Nashville hot butter. Continuing the French American theme, the new cocktail list features drinks such as: Smoked Noisette Old Fashioned, Tarte Tatin Moonshine and Calvados Jell-O Shots.
Where: Leicester House, 1 Leicester Street London WC2H 7BL
Photo Credit: Justin De Souza 
3. For a New Opening: Mister Lasagna 
What: Stop the press. Mister Lasagna, a dedicated lasagne bar in Soho has opened its doors. And we'll tell you this for free, it's carb madness. The new eatery serves authentic Italian fast food and is open for breakfast, lunch and dinner – 7 days a week.
Why: Why not. Mister Lasagna serves 21 lasagna varieties with eight staple dishes of classic bolognese, ham and cheese, mushroom, pesto, carbonara, vegetable, four cheese and Napoletana (meatballs, egg, bolognese, ricotta and béchamel). You can also customise your lasagna with a choice of five complementary sauces which are served on top of the lasagna; bolognese, béchamel, mushroom, four cheese or tomato. Open daily from 7am, Mister Lasagna serves the breakfast crowd with its fresh Italian coffee, traditional savoury tarts and sweet pastries. Also on offer is their homemade desserts of tiramisu, caramel panna cotta and white chocolate soufflé, as well as their Italian wine list, including a selection of beers and spirits.
Where: 53 Rupert Street, Soho, London, W1D 7PG
4. For a New Menu: 108 Brasserie
What: As spring makes its long-awaited appearance, 108 Brasserie and Executive Chef Russell Ford have just unveiled a new menu full of classic British dishes, combining the finest locally-sourced ingredients and the best seasonal produce. Executive Chef Russell Ford has presented an additional 14 seasonal dishes to the menu which will be served in addition to firm favourites.
Why: Starters and salads include; octopus carpaccio with tomato and chilli dressing, and pea shoot salad, consisting of sugar snap peas, radish, mint and ricotta. Main dishes include: fillet of sea trout with artichokes served alongside samphire and broad bean pesto; spelt risotto with white asparagus, wild garlic and morels, and Merrifield Farm free-range duck with radicchio, endive, honey and five spices. For anyone wishing to indulge in a more traditional springtime dish, the roast rack of new season lamb with spring vegetables, green garlic and Bosworth Ash gratin is sure to hit the spot.
Where: 108 Marylebone Lane, London, W1U 2QE
5. For a New Sunshine Spot: Boundary
What: The sun is out, the rays are shining, and what better way to celebrate the start of the warmer months than with Boundary's new Provençal-style summer rooftop offering. Inspired by the spirit and flavours of the sun-drenched Mediterranean, the rooftop will serve a light and fresh all-day menu, alongside a new, carefully curated coastal wine list and range of specialist gin and tonic cups.
Why: Running until the end of October, the menu is a celebration of the vibrant ingredients of la Méditerranée. The all-day menu includes a combination of lovely Provençal salads, items from the robata grill, such as native lobster with garlic and parsley butter and 28-days dry aged Aberdeen Angus rib-eye with béarnaise, and, a selection of sharing dishes, including France's renowned plateau de fruits de mer (tiger prawns, mussels, clams, rock oysters and crab). For something a little lighter, and perfect to be enjoyed alongside an early evening aperitif, a selection of small plates such as ortiz anchovies and ricotta, octopus and chorizo skewers, and burrata with vine tomatoes are also available. To accompany the Provençal-inspired menu, a selection of 15 natural wines have been picked from coastal vineyards dotted along the Mediterranean.
Where: 2-4 Boundary St, London, E2 7DD
Photo Credit: Paul Raeside
6. For a New Bar: POLPO's Franciacorta and Prosecco Bar
What: The recently opened POLPO Knightsbridge, located on the Fifth Floor of Harvey Nichols, is to launch a Franciacorta and Prosecco Bar on Sunday (1st May). Showcasing beautiful new antique stem glassware, and neon 'Prosecco' sign, the bar will celebrate the very best of Italian sparkling wines.
Why: Included on the new menu will be one of the all time great Italian sparkling wines, the Ca' del Bosco's Franciacorta Cuvee Prestige, which is made in the metodo classic style and has notes of apricots and toasted nuts. Franciacorta differs from sparkling wines such as prosecco; produced from grapes grown in Lombardy it is Italy's first wine to be created with the classic Champagne method. Other highlights include Pojer e Sandri's "Zero Infinito" a straw yellow, cloudy wine made in the Col Fondo style which tastes just like a Harry's Bar bellini, but straight from the bottle; and the Extra Brut "Celeber" Prosecco from Dal Bello imported exclusively for POLPO Harvey Nichols Knightsbridge. Its extreme dryness makes for an excellent aperitivo and a perfect accompaniment for POLPO's fried olives. 

Where: Harvey Nichols Fifth Floor, 109 – 125 Knightsbridge, London, SW1X 7RJ
7. For a New Flavour: Crosstown Doughnuts 
What: The chaps at Crosstown Doughnuts can do no wrong. In the past they've paired together granola and yogurt, whisky and shortbread, and matcha. They're all a taste sensation. Their latest doughy offering will have you putting down your shoddy pain au chocolat in an instant. Ladies and gents, may we present to you their new chocolate doughnut – now available in all stores from Thursday to Sunday.
Why: The chilli chocolate doughnut is a dreamy combination of a chocolate sourdough ball filled with a chilli-infused dark chocolate custard, topped with a white chocolate icing, candied red chilli pieces and a dusting of cocoa powder. In case you missed the memo, Crosstown also released another new flavour earlier this month; the Dulce de Leche doughnut. The sweet treat is  Crosstown's signature sourdough filled with a Dulce de Leche custard, hand-dipped in a banana glaze and topped with cinnamon crumble.
Where: Locations here 
Photo Credit: Maz McEwan
8. For a New Mayor Special: Wedge Issue Pizza and Beer
What: The time to cast your vote for the London Mayor is fast approaching and Wedge Issue Pizza and Beer have a specially tailored menu so people can vote through the art of pizza. The 'Wedge Issue' is a term to describe a political issue that divides or causes conflict within a population. And, this is why political pizza parlour Wedge Issue is spicing things up during the London elections this year. 
Why: Choose from Zak Goldsmith, Conservative – ground beef, rosemary, potatoes, sea salt and asparagus. There's also the Labour pizza representing Sadiq Khan – chicken with diabola hot sauce, a great divide of pesto sauce, then diabola hot sauce with chicken. Keep it veggie with Sian Berry from the Green party – kale, spinach, and rocket on pesto sauce. Finally Liberal Democrat, Caroline Pidgeon: a promise of rare, grass-fed kobe beef with unpasteurised cheese from a rediscovered Iron-age buffalo.
 Where: 91-95 Clerkenwell Road, London, EC1R 5BX
9. For a New Single Item Menu: Avenue 
What: Available from this Sunday (1st May), modern American restaurant, Avenue, is going back to its roots with the launch of a menu entirely dedicated to London's favourite stateside export. To be available until the end of June, the new menu will comprise five dishes all celebrating juicy, buttery and crisp fried chicken.
Why: With a range of flavour and ingredient combinations to satisfy a variety of tastes and preferences, the menu spans the decidedly savoury spiced chicken wings with blue cheese sauce to buttermilk chicken with waffles and maple syrup for those with a sweet tooth. For an option with a spicy kick, opt for the crispy chicken skin and hot sauce whilst burnt scallion and barbeque sauce delivers a smoky accompaniment to a dish of popcorn chicken. Finally, Avenue will also be serving up the Southern classic of fried chicken pieces and gravy for the diehard fried chicken traditionalists.
Where: 7-9 St James's Street, London SW1 1EE
10. For a New Tasting Menu: Theo Randall at The InterContinental
What: If you ever find yourself wanted to try all the dishes on the menu, it's about time you popped into Theo Randall at The InterContinental for the newly launched regional tasting menus. At the heart of the menus is local Italian cooking and a fine array of European wines.
Why: Focusing on a different area of the country each month, the four-course menus have been carefully created to showcase the specialities of each region and are priced at £50 per person. Starting with a focus on Campania from 25th-30th April, each month will see a different area of the country's cuisine being explored. And, if you want to plan ahead, the menu changes to focus on Sicilia on 9th-12th May and Liguria on 1st-2nd June.
Where: InterContinental London, 1 Hamilton Pl, London W1J 7QY, United Kingdom