Another week, another chance to get your hands on some incredible food. We love eating out in London – we can't deny it. From a new vegan restaurant opening to exciting European inspired menus, we've found the best things to eat in the city this week. Happy munching, London:
1. For Meaty Delights: Cocotte 
What: Cocotte, a new rotisserie chicken restaurant based in Notting Hill, is your one stop chicken shop. Opened a few months ago, Cocotte serves succulent roast chicken to eat in or takeaway with classic side dishes and healthy salads. The restaurant is inspired by the chicken takeaway sites popular in Paris and offers a healthy alternative, perfect for working lunches, dinners or easy takeaway options for tea in front of the box at home.
Why: Ensuring every dish is prepared with juicy, flavourful meat, Cocotte's chickens are marinated for 24 hours in their secret recipe of herbs and spices before being slow cooked for 3 hours at 93oC and then finished on the spit to crisp up the skin.  Chickens are served whole, half or by the quarter, alongside a range of sauces that are made in small batches for absolute freshness and include; garlic mayo, home-made barbeque, Cocotte mustard, chicken gravy, spicy and a fresh pesto made with parsley, coriander, basil and mint. There's also super fresh salads with quinoa, millet, yellow pepper and cherry tomatoes alongside smaller dishes of truffle mac 'n cheese, greens and baby roast potatoes. Nandos, who?
Where: 95 Westbourne Grove, London W2 4UW
2. For a New Opening: Farmacy
What: Vegans, rejoice – there's a new plant based restaurant opening later this month and it's set to be a winner. Farmacy's mission is to provide a nourishing and delicious menu that supports well-being and healthy eating. The team, led by entrepreneur Camilla Al Fayed, is a passionate and experienced group that has a vested interest in every aspect of the philosophy from the kitchen to the dining and bar experience.
Why: Open for breakfast, lunch and dinner, the menu is inspired by dishes from around the globe and supports both a vegan and vegetarian diet, free from dairy, refined sugars, additives and chemicals. Featuring healthy choice comfort foods such as the signature Farmacy burger and plant-based ice cream sundaes. All of the ingredients have been carefully considered both for their taste as well as their nutritional benefit and sourced from local organic UK farms. The Alchemy Bar concocts artisanal drinks made from market-fresh ingredients. Think, alcoholic and non-alcoholic drinks to excite and revive, and an extensive range of juices and tonics.
Where: 74-76 Westbourne Grove, London, W2
Photo Credit: Thomas Bowles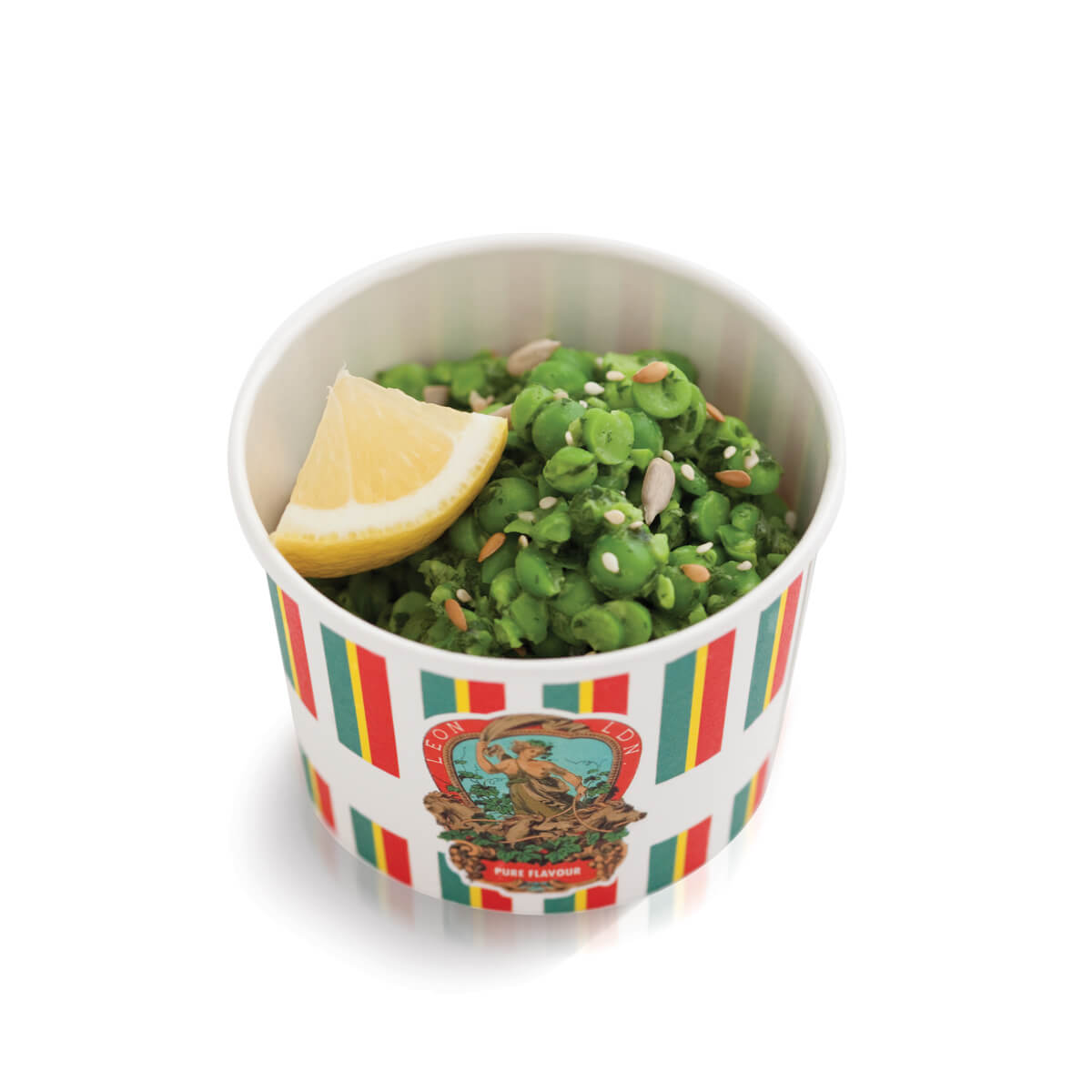 What: The kitchen beavers at Leon have been working on something very special. They've just launched their brand spanking new plant based menu, with two dishes making their debut appearance. May we introduce the new, courgetti and kale and keen bean quinoa, both recipes are found in the soon to be released Leon Cookbook titled, Happy Salads.
Why: On top of this, they've packed chicken meatballs with plants, and then covered them with plants. Sicilian style. They have, after many pleads for the peas, brought back their crushed pea salad. What can we say, Leon love those sweet plants. The courgetti and kale features spiralised courgettes and shredded kale, sprinkled with Greek-style cheese. Tossed in their Sicilian pesto, made with fresh basil, cashew nuts and tomatoes. The keen bean quinoa is a medley of British toasted quinoa, with broad beans, mange tout, edamame and peas. Dressed with a punchy basil and tarragon vinaigrette. Almost half the energy in this salad is from the protein in the greens. Choose the vegan version, or enjoy with chicken. Get one of their chocolate shakes down your neck and you're laughing.
Where: Locations here 
4. For a New Soft Launch: Bodean's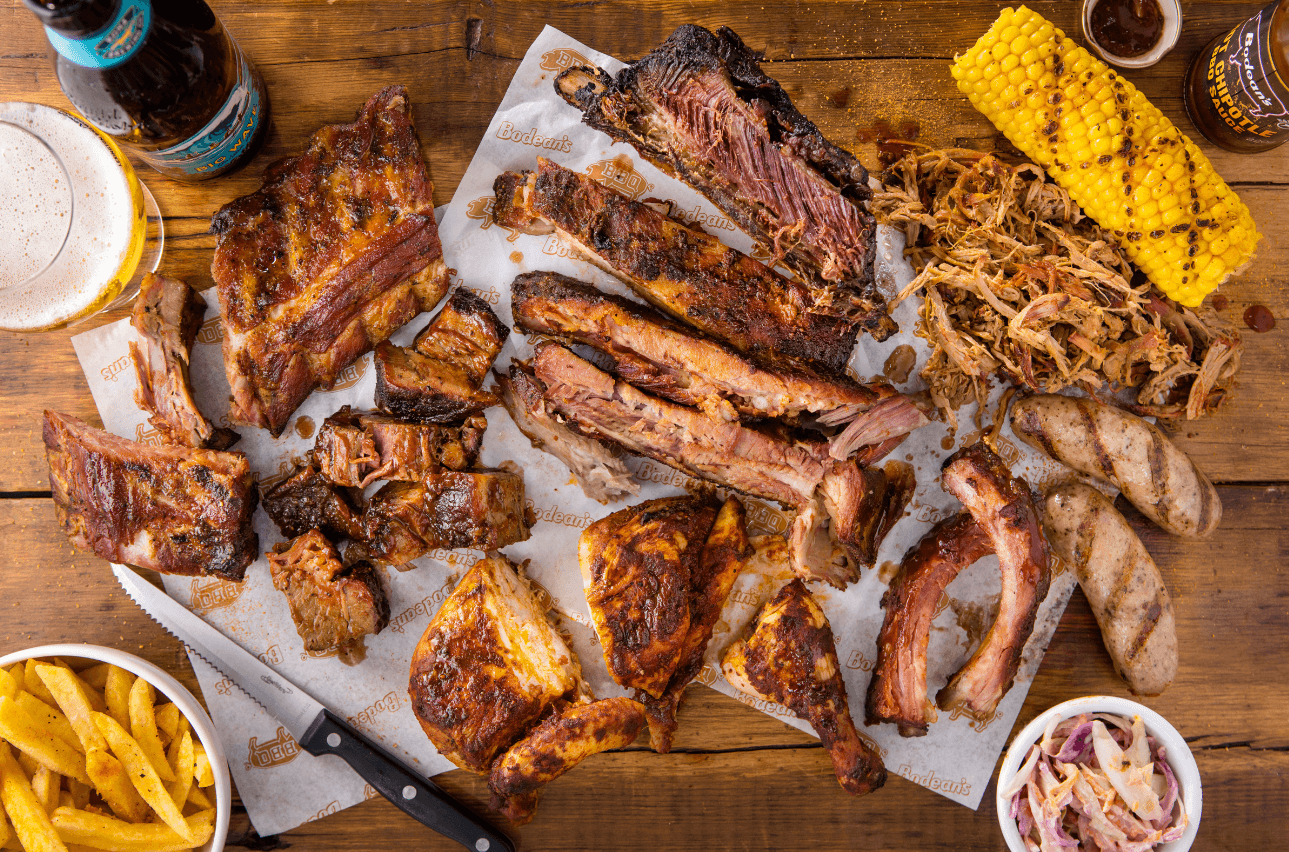 What: Bodean's, London's original barbecue restaurant, is coming to Covent Garden and will be offering 50% off food during its soft launch to celebrate the opening.  Tables will be available for lunch and dinner on Tuesday 12th April until Thursday 14th April inclusive. The soft launch offer is available for direct bookings here .
Why: Sometimes, April showers call for one thing and one thing only. Finding a sort-of dark booth, grabbing the one mate you don't mind squawking at while your entire face is covered in BBQ sauce, and holing up with a stack of sticky, delectable ribs. Bodean's BBQ brings the taste of Kansas City BBQ to the streets of London – their famous BBQ burnt ends are legendary.
Where: 25 Catherine Street, Covent Garden, London
What: Modern Asian restaurant Bó Drake has just rolled out a brand new menu, with Italian Head Chef Matteo Frugone introducing a host of European influences to the restaurant's signature modern Asian dishes. Don't panic, you can still chow down on their famous Korean fried chicken, 35 day aged sirloin tataki with ponzu, and truffled shiitake with tofu cream.
Why: Highlights from new menu include the following dishes: miso cured salmon sashimi, with beetroot and chamomile, and unagi japchae, smoked eel, served with sweet potato noodles, pesto and garlic cream. There's also the veggie friendly edamame pancake with kimchi and mozzarella, and for fish fans – roasted monkfish with swiss chard and kimchi butter. Don't miss the pork belly bao with pickled cucumber and soy glazed peanuts. Head Barman Darren Farmer has also created a range of brand new cocktails for the new menu. The Dillinger's Escape is our favourite; Bourbon, Aperol, dill, sage, Lilley Rouge and absinthe.
Where: 6 Greek Street Soho, London W1D 4DE
One for luck… 
What: Sushi restaurants are ten a penny now in London. Conveyer belt style of eating is nothing new, but one restaurant that constantly delivers on quality and price, is K10, a modern Japanese restaurant that is an ideal place for a grab and go lunch, or a sit down meal with pals. There's three branches across the city, but our favourite is the outlet on Appold Street, a stones throw from Liverpool Street Station. Drop in for slick service, sensational sushi and a vast selection of sashimi.
Why: Already a hit with the corporate crowd in the city, K10 has firmly established itself as a dining destination. Pick your sushi from the belt that winds through the restaurant. There's classic California rolls which are super fresh, handmade maki rolls and a wide variety of fish-free rolls (the avocado ones are the real winners, here). There's also a hot menu – the veggie gyozas are a must, and if you have any room left, the kastu curries are bursting with flavour and their chilli baby squid is epic. K10 is not just a place to grab a quick sushi platter, but a place you can kick back and eat fine Japanese cuisine in modern surroundings.
Where: 3 Appold Street, London EC2A 2AF
We're feeling pretty lucky…
7. For a New Delivery Service: Itsu (to you) 
What: Itsu, the people that make us all eat beautiful have started a new delivery service called itsu (to you). The new service delivers hot and cold food both at lunchtimes and now evenings to lucky people in key postcodes – currently SW1, SW8, SE11, SE17 and parts of SE1. They're planning to roll out to other postcodes in due course.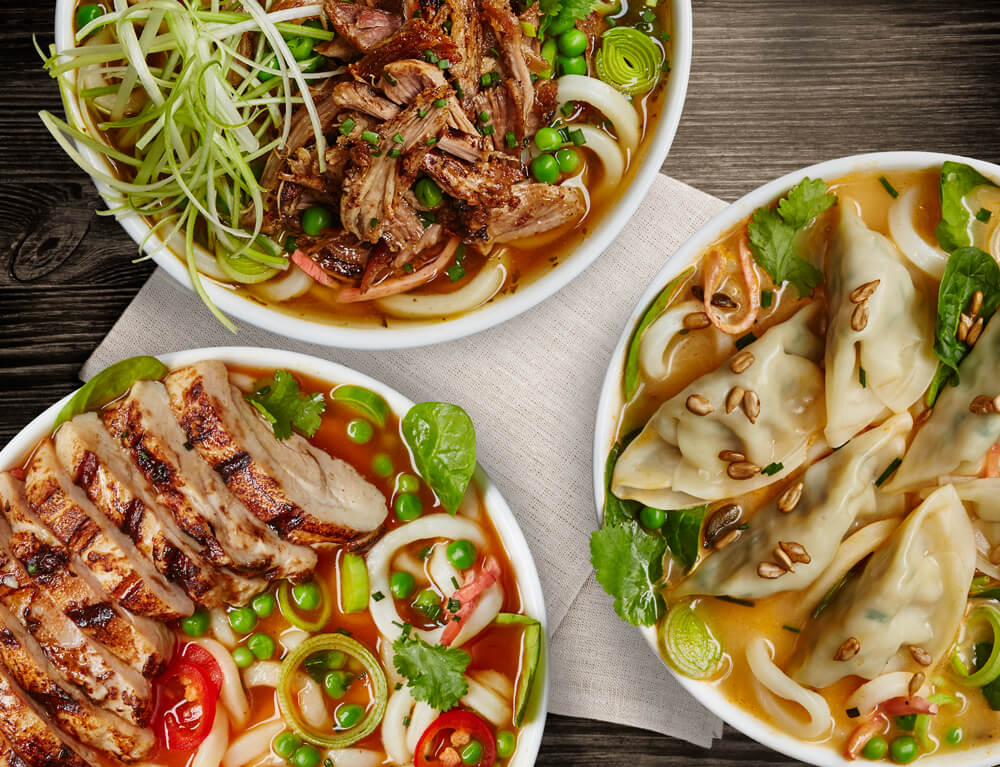 Why: Everything is cooked fresh and to order and delivered via itsu (to you)'s fleet of "Ninja" delivery bikes. It's perfect for group lunches or dinners because you order via the free itsu app  and you can share the food, pay separately or together using your smartphone and even track your delivery. Eating udon noodles in bed is a legit Friday night activity. 
Where: Order here