Forget your gingerbread spiced lattes, and your stollen cakes – we're interested in Brussel sprout pizzas. Here's where you should be eating in London this week:
1. For a New Collaboration: Yard Sale Pizza x DJ BBQ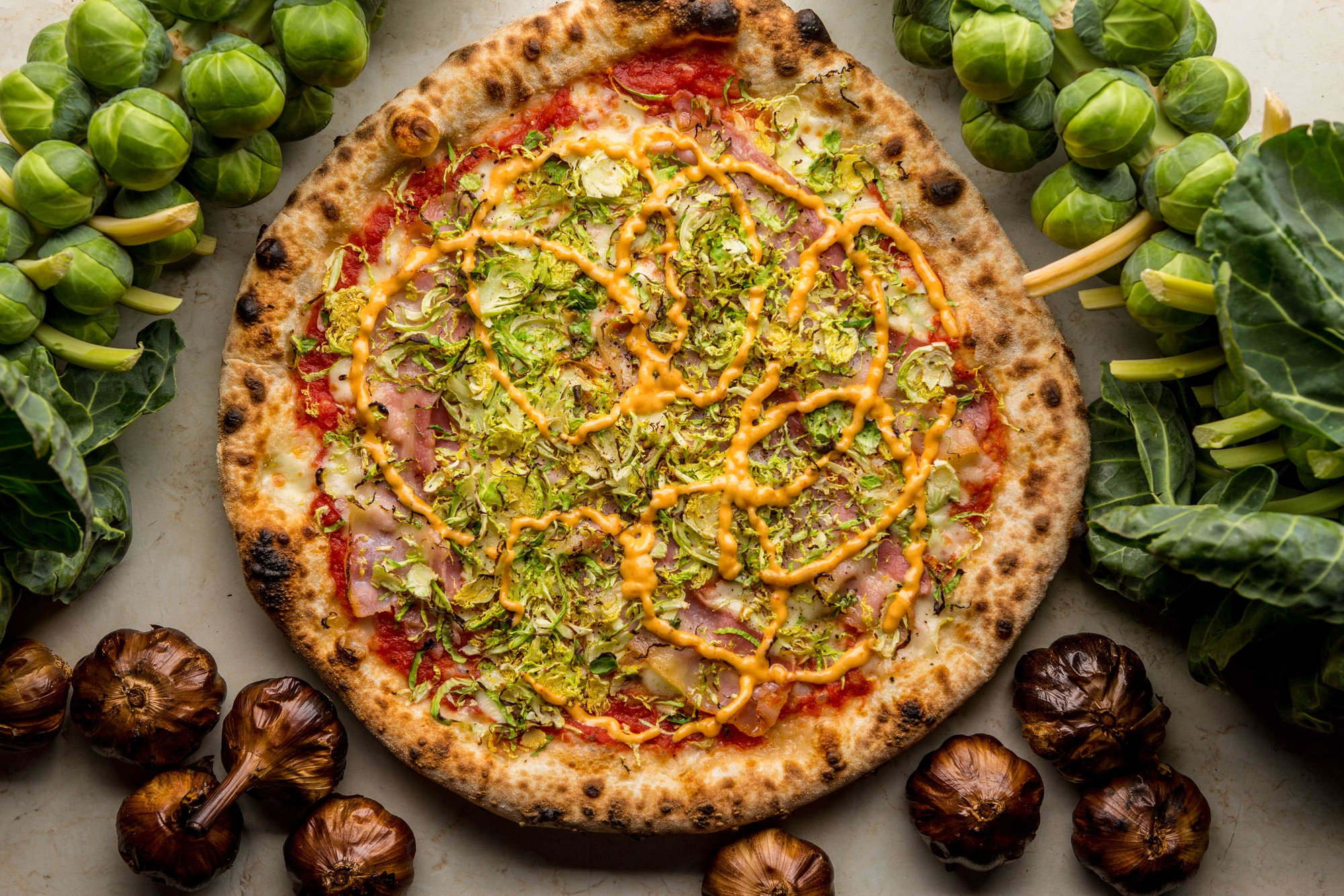 What: Hot, hot dang! The Yard Sale gang have teamed up with DJ BBQ to create a special Christmas in support of Streetsmart, a charity helping homeless and vulnerable people across the UK. Up for grabs now until the end of December, the Damn Don is available at Yard Sale Pizza's three locations (Clapton, Finsbury Park, and Walthamstow).
Why: The limited edition pizza features Yard Sale's double fermented dough with signature slow cooked tomato sauce topped with shredded Brussel sprouts, pancetta, Fior Di Latte Mozzarella, black pepper plus DJ BBQ's double smoked garlic and Sriracha mayo.
Where: Locations here 
2. For a New Opening: The Good Egg
What: After successfully crowd-funding £500,000 for the new opening, chefs Joel Braham, Alex Coppard and Oded Mizrachi will bring The Good Egg to Soho on Friday (1st December). Drawing on the distinctive Jewish café-culture of Montreal combined with Tel-Aviv's vibrant street-food scene, The Good Egg will open an all-day restaurant, bakery and bar in Kingly Court, Carnaby.
Why: The menu will reflect seasonal, British produce, influenced by the cooking of exilic Jews all over the world. Much-loved for their brunch in Stoke Newington, the new all-day menu will include a slow braised Hanukah-style brisket hash packed with caramelized onions, home-fries, Russian dressing and pickles, topped with a fried egg; the Challah French toast sandwich with white peach jam, candied pecans and crème fraiche; and Sabih – an Iraqi aubergine pita with tahini, mango amba, dak dak, pickles and zhoug.
Where: Ground Floor, Kingly Court, Carnaby Street, Soho, London W1B 5PW
3. For a New Pop-Up: Brown's Hotel x Salvatore Calabrese x Heinz Beck
What: To celebrate his love of all things Italian, Sir Rocco Forte and Brown's Hotel in Mayfair have staged a festive 'Italian takeover' of the hotel's restaurant and neighbouring Donovan Bar by two masters of Italy – celebrated chef Heinz Beck and drinks maestro Salvatore Calabrese. Heinz Beck of three Michelin starred La Pergola in Rome has created Ora, an Italian inspired pop-up in the hotel's restaurant, and drinks legend Salvatore Calabrese has taken residency in the Donovan bar celebrating the art of the aperitivo with a specially curated Martini and Negroni menu.
Why: Signature dishes brought by Heinz Beck from La Pergola that exemplify his approach to Italian cooking include: tagliolini with black salsifies, chives and white truffle from Alba, and John Dory with curry, red beetroots on a light pesto sauce. Salvatore Calabrese's special Martini and Negroni menu features some of his finest creations; the now famous Martini he created whilst in residency at The Dukes Hotel in the 1980s, exciting twists such as the Negroni Svegliato and a very special Vintage Negroni.
Where: Albemarle St, Mayfair, London W1S 4BP
What: Wahaca are shaking up the taco party with the launch of their new Test Kitchen in east London. Opening Monday (27th November), the new Shoreditch restaurant will act as an innovation platform to develop new ideas and recipes – with the ambition of taking many of the dishes created to the group's restaurants around the UK.
Why: As well as continuing to feature Wahaca classics such as the iconic pork pibil tacos, founder Tommi Myers and the team have developed a whole host of new dishes, including blackened cauliflower tacos with cashew nut mole, and market boards for sharing including whole roast sea bream with al ajillo butter and kohlrabi slaw. To complement the food, a vibrant drinks list will include Basil Mezcalitas and Jalapeño Margaritas, as well as a selection of low-sugar Agua Frescas and mojitos – the drink of choice in the bars of Mexico City. There will also be a range of 21 tequilas and mezcals to discover, as part of Wahaca's continued mission to champion these incredible Mexican spirts.
Where: 140 Tabernacle Street, London EC2A 4SD
Photo Credit: Cat Byers 
5. For a Another New Opening: DEL 74
What: London's rockin'est taco bar, Del 74, have just opened their second site on Kingsland Road. Del74 is all about honest Mexican food made with love and the tam have continued to bring traditional recipes handed down from founder Enrique's Aunt Patty, custodian of the family kitchen secrets, to their new Del74 joint in Dalston.
Why: The site nestled in the heart of Dalston features new dishes such as tortas (the Mexican sandwich), and an array of tacos, tostadas and awesome bar snacks such as the new kick ass Del 74 tamarind and Chile Morita chicken wings along with tacos including the fan favourite cochinita pibil, comprising braised leg of pork with guacamole and red pickled onions. True to the outlaw nature of Del74, expect mezcal sharing bottles – pay as you pour pre-marked bottles with shot glasses so friends can sit down, pull up a bottle and sip mezcal (or take a shot) and natter.
Where: 129 Kingsland High Street, Dalston, E8 2PB