Life's too short to eat bad food. Forget your local Indian, here's 5 things you need to eat this week in London – tuck in, foodies:
1. For Korean Food: On the Bab Express 
What: If you're a fan of On the Bab and let's be honest, who isn't, you're in for a real treat. They've recently launched a take-away restaurant in Marylebone with an additional branch opening in St Paul's later on this year.
Why: On the Bab is home to Korean Street food in London and after great success of its two sites in Old Street and Covent Garden, On the Bab have jumped on the fast food wagon by offering their delicious dishes as a takeaway concept. Expect well-loved classics including Yangyum chicken (Korean fried chicken) in two flavours – sweet soy coating and sweet spicy coating and their equally yummy steamed buns, filled with bulgogi beef, spicy Korean chicken, spicy pork, or fried chicken. Expect new dishes with their On The Bab's noodle soup, topped with prawn dumpling, spicy chicken or bulgogi beef and served in a bed of rice noodles – sensational.
Where: 39 Marylebone Lane, W1U 2NP, opening Monday-Saturday, 11:30am-5pm
2. For Prosecco: Cucina Asellina
What: Italian bar and restaurant, Cucina Asellina have launched a unique bottomless Prosecco and unlimited pizzette this summer. Drink all the bubbles, eat all the carbs – sounds ideal.
Why: There is no greater gift than bottomless Prosecco and to accompany your tipple, Head Chef Stefano Lorenzini and Chef Director Barry Vera have created a specially paired pizzette menu (small pizzas to you and I).  The menu consists of five unique pizzette including: Proscuitto di San Daniele, fontina, and rocket, to the cheesy buffalo mozzarella, tomato and basil. For the fish fans dig into confit tuna, onions, capers. Veggies can tuck into gaeta olives, burrata, rocket, fresh tomato and basil pesto. For the meat lovers the calzone with roast ham, mozzarella and artichokes is dreamy. Each table is allocated 90 minutes to enjoy the unlimited Prosecco and Pizzette menu. Bottoms up.
Where:  336-337 The Strand, London, WC2R 1HA
What: Enjoy the taste of the seaside in the city with street-food favourite Hix's Fishdog who have taken up a temporary residency  in The Hat & Tun for a three-week run.
Why: Hix's Fishdog has become a firm favourite at street food markets found across London with people venturing far and wide to get their mitts on their holy f****d fish balls – croquettes served with spicy mayonnaise made using fellow street food favourite The Rib Man's Holy F**k Hot Sauce, as absolute taste sensation. Hix's Fishdog is founded by celebrated chef and restaurateur Mark Hix serving up seriously good seafood, sourced daily from the South West – with a comfort food twist. Dig into the fish dog – Panko-breadcrumbed pollock in a hot dog-style bun with minted mushy peas and tartare sauce and remember to order their spicy crab chips for the ultimate side dish.
Where: Wednesday to Friday evenings from 29th July – 14th August.  3 Hatton Wall, London EC1N 8HX
4. For Dessert:  No. 11 Pimlico Road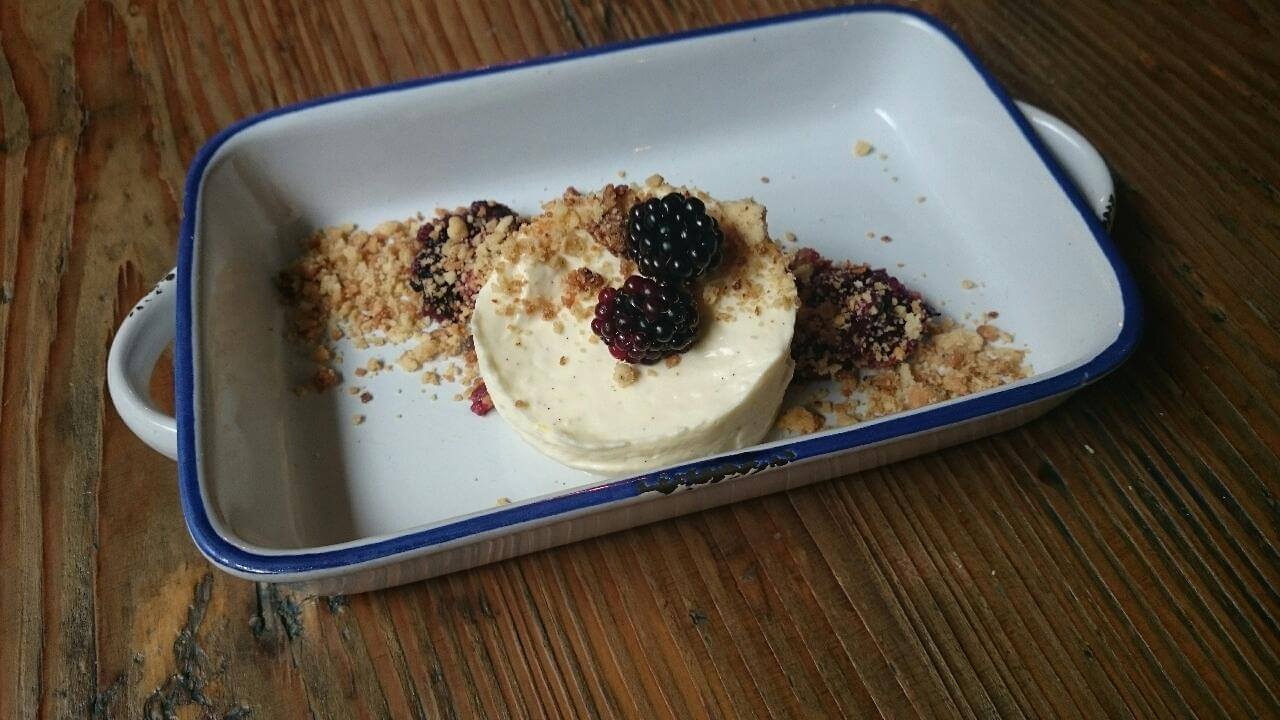 What: Independent neighbourhood bar No. 11 Pimlico Road have added two additional desserts to their menu and they're both absolute belters.
Why: The two desserts on offer are a deconstructed crumble cheesecake offering a lighter, creamier taste to its namesake with a slight sharpness from the seasonal berries compote balancing out the sweetness of the mousse. The second dessert is a gluten-free, dairy-free and  vegan meringue dessert with poached apricots and fresh seasonal fruit – people with allergies and vegans this one is for you guys. They're big fans of using seasonal food all cooked from scratch and made fresh everyday.
Where: 11 Pimlico Rd, London SW1W 8NA
5. For Comfort Food: Jack and Alice
What: Pop-in is the new pop-up thanks to Jack and Alice –  a new dining experience where the decor is reminiscent of your mum's pantry.
Why: Unlike a deli, the pantry approach concentrates on freshly prepared fare from the kitchen table – cereals, freshly made smoothies and pastries for breakfast, toasties and salads for lunch and cheese boards and meat boards for the evening. It really is the stuff of dreams, people. Jack and Alice is all about home from home food cooking up serious comfort grub. Someone pass us a cheese toastie. They have a regularly changing menu and they locally source chutneys and homemade cakes.
Where: Open until the 21st August. 21 Foley Street, London W1W 6DR
One for luck.. 
What: Forget burger buns, the chaps down at Yeah! Burger have decided to ditch the bread and have opted to use gigantic scotch eggs as buns with their latest Scotch egg burger menu. This is not a burger for the fainted hearted.
Why: From the 7th-22nd August Yeah! Burger have created a special fringe menu including their mighty scotch egg burger – aged beef, pickled onions, cheddar, Yeah sauce, white pepper and a sage Scotch egg. Come hungry and take advantage of the napkins – you're going to need them. There is also three new burgers to appear on the menu including The Marco Polo, a burger incased in a chorizo scotch egg and The Dragon a lamb patty slapped in between a haggis and kedgeree Scotch egg. Yeah! Burger is taking burgers to the next level. 
Where: 120-124 Curtain Road, Shoreditch, London, EC2A 3SQ and The Star Of Kings, King's Cross, 126 York Way, London N1 OAX.