If you're in the mood to bang out some plant-based creations in your kitchen during lockdown 2.0 – we've got just the feature. From burgers to brunch – here's 5 vegan meal kits in London we're loving right now:
The Lowdown: Each Rudy's box is packed with the best quality homemade products, using the original recipes created by Chef Matthew Foster. The classic 'you won't believe it's vegan' Rudy's Reuben comes complete with a whole loaf of rye bread, ample vegan pastrami, sliced cheeze, pickles, sauerkraut, grilled and crispy onion and Russian and creamy 'cheese' dressings. If a larger than life dirty burger is more your thing – try the two-patty strong kits including the signature Dirty Burger DIY box.  As well as all the ingredients, there's a full recipe card plus a QR code which takes you straight to Rudy's YouTube channel where you can cook along with Chef Matthew. All the kits make two generous portions and priced at £18, with £1 from each box sold donated to Friend Farm Animal Sanctuary.
Ideal for: A hearty lunch.
Where: Order online 
The Lowdown: Lockdown got you hankering for a plant-powered burger? Dirty Bones' vegan DIY kit will curb your fast food cravings. Pulling out all the stops for their vegan burger feast, their box of tricks (which feeds four) is crammed with vegan burger patties, vegan American cheese slices, buns, relish, pickled jalapenos, jalapeno dressing, red onion, and gherkin. Wack some chips into the oven to complete your meal. 
Ideal For: A slap-up dinner.
Where: Order online. £32 per kit.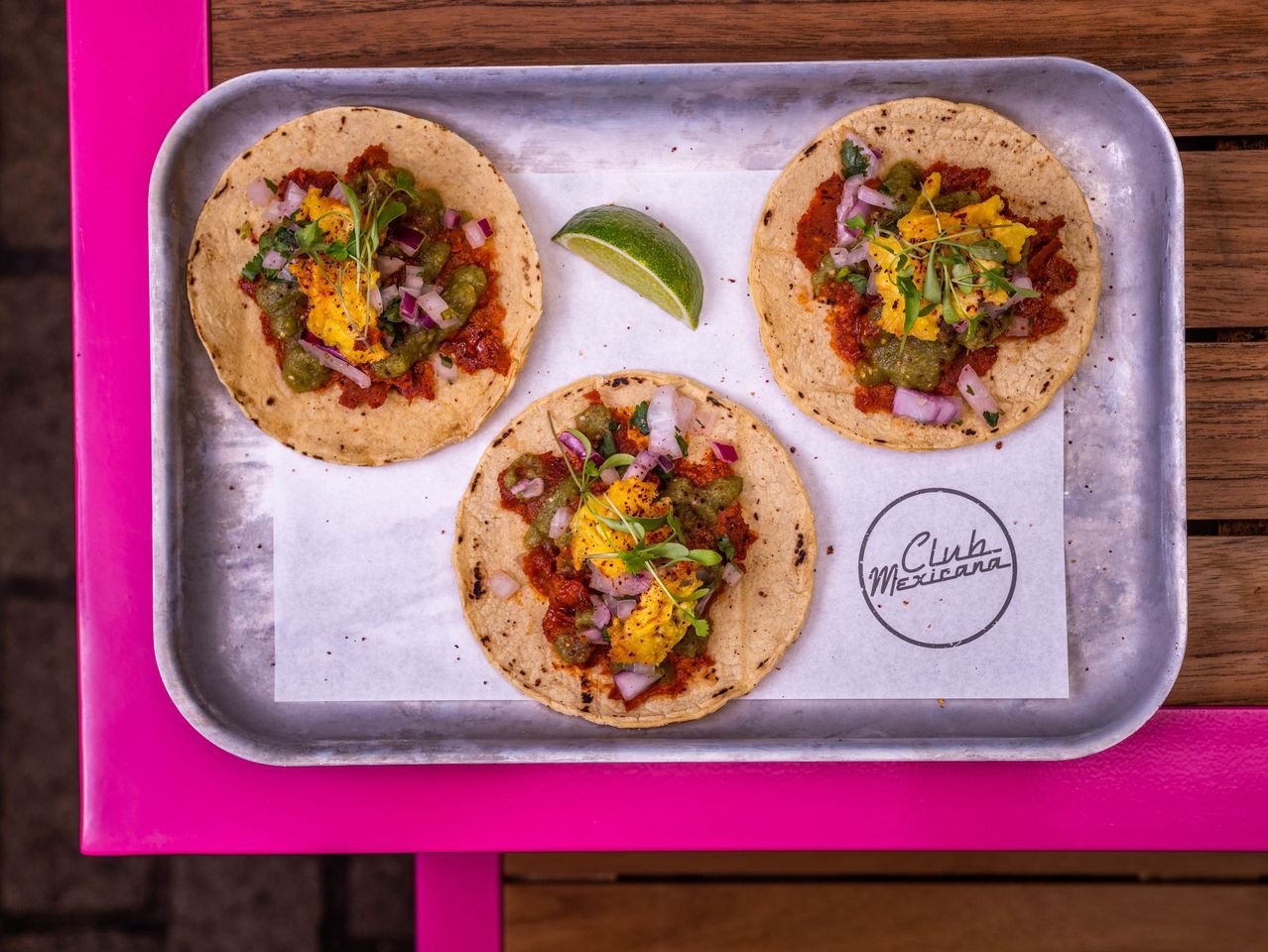 The Lowdown: One of our favourite vegan meal kits in London, Club Mexicana has come through with a vegan offering that's a lockdown must-buy. There's a number of taco kits to choose from (cheezeburger, BBQ short rib, fully loaded nachos), but our favourite is the Al Pastor kit paying homage to Mexico City's favourite bite. The box comes fully loaded with 16 corn tortillas, Al Pastor shawarma,  charred pineapple, salsa verde, red onion, and chilli lime salt. Best washed down with a couple of Margaritas. And to get you in the festive spirit, founder Meriel Armitage has devised an epic Christmas DIY kit complete with mouthwatering 'turkey' tacos and boozy desserts to ensure no one misses out.
Ideal For: A Mexican fiesta.
Where: Order online. £22.50.
Photo Credit: Nic Crilly-Hargrave
The Lowdown: Alongside Honest Burgers DIY kit for carnivores, the team have also created a vegan option featuring patties from Beyond Meat (a plant-based burger that looks, cooks, and satisfies like beef). Adding toppings to your plant-powered creation, the kit also includes: vegan smoked Gouda, Rubies in the Rubble chipotle 'mayo', Honest kitchen pickles, red onions, burger buns from The Bread Factory (gluten-free options available), and rosemary salt so you can make your own chips at home. 
Ideal For: A date night feast.
Where: Order online. 2 burgers: £17 + £6 nationwide delivery.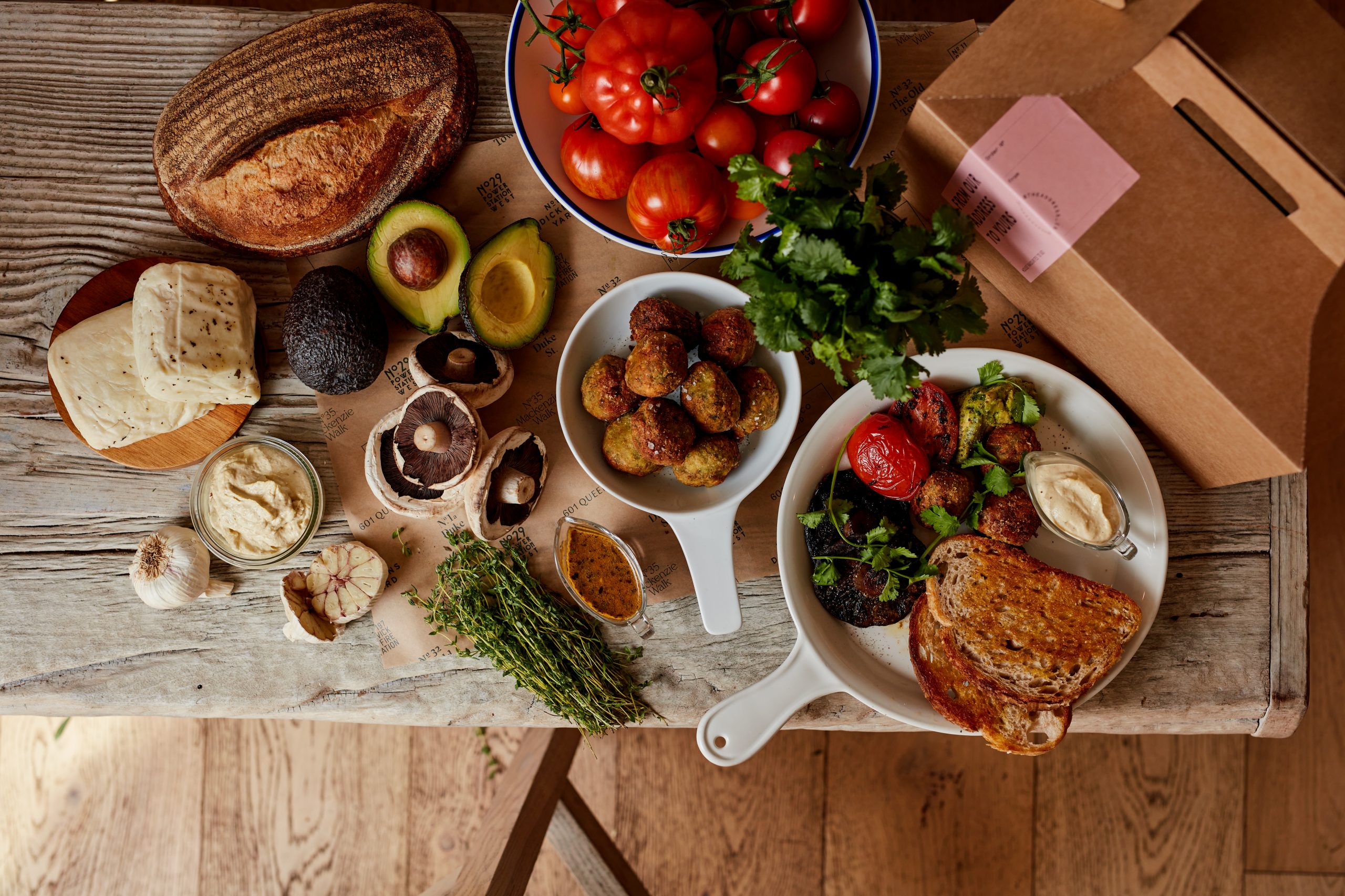 The Lowdown: New for lockdown 2.0, The Address collection of local neighbourhood bars have launched The Address at Home – meal kits for two that are perfect for making the most of any weekend. The Vegan Feast House Breakfast for two includes everything you need for a hearty plant-based brunch: house-made spinach and butternut squash falafels, avocado, Portobello mushrooms, tomatoes, house-made lemon tahini, house-made soy and balsamic marinade for tomatoes and mushrooms, Crazy Baker artisan organic sourdough and fresh herbs. 
Ideal For: A lazy weekend brunch.
Where: The Address at Home meal kits start at £25 and are available to order here.