When the tough gets going, we turn to cake. If you're taking part in Veganuary, fancy sending something delicious to a pal you've only spoken to via  Zoom, or simply want to indulge in some plant-based sweet treats, here's five vegan letterbox brownies we can't get enough of:
The Lowdown: EK Bakery known a thing or two about producing the perfect brownie. Spearheaded by Elizabeth Kerr, the independent bakery is known for their letterbox brownies – thick, fudgey, and chewy, they are ultra-moist without feeling heavy and underbaked. The vegan brownies are made with olive oil and Guittard dark chocolate for maximum flavour and texture.
Price: £8
Where: Order online
The Lowdown: South West based bakery The Exploding Bakery deliver their banging bakes across the UK with the launch of their nationwide Letterbox Brownies. Available for the month of January with just 200 boxes up for grabs, each Vegan Selection Box offers you the full selection of their vegan brownie range, with 20 chunks of brownies in total. Flavours include: Killer Vegan Brownie, Peanut Butter, Hazelnut, Halva and Fruit and Nut.
Price: £23.96 with code VEGANUARY
Where: Order online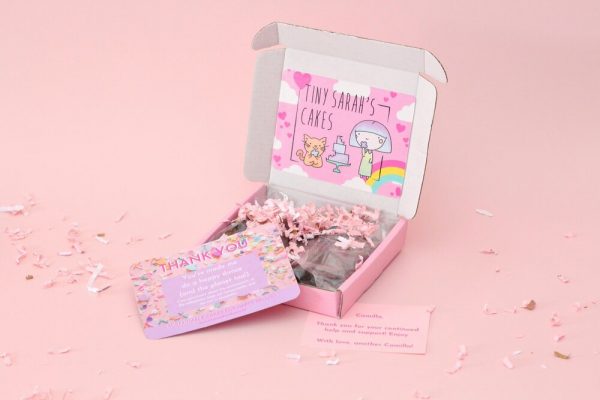 The Lowdown: Tiny Sarah's Cakes was founded by a pocket-sized powerhouse with a passion for all vegan, all delicious bakes. The mini box features either two brownies, two mini chocolate bars or two sugar sprinkled cookies – and yes, everything is plant-based and gluten-free. All packaging is eco-friendly as well as Sarah's signature pink confetti.
Price: £7.50
Where: Buy online 
The Lowdown: Ruby The Cake Artist is a master baker of contemporary cakes for all occasions, including her gloriously indulgent vegan letterbox brownies. Made from plant-based flour, vegan milk chocolate, and banana, these divine plant-powered brownies are adorned with a selection of dried edible flower for extra ooh la la.

Price: £12.99
Where: Online here 
The Lowdown: Cake or Death bakery in East London knocks out some unbelievable vegan brownies. This box contains three flavours; Sea Salt, recipe rich dark chocolate brownie sprinkled with Maldon Sea Salt just before it goes in the oven; Peanut Butter, swirled with Pip & Nut crunchy peanut butter, topped with roasted peanuts and a little sea salt; and Biscoff laden with Lotus Biscoff spread and topped with Lotus Biscuit. Full of caramel with a hint of spice. Highly addictive.
Price: £19
Where: Buy online