Afternoon tea is a widely celebrated British tradition that normally follows a pattern of tea, dainty sandwiches and scones. It's the perfect foodie activity to participate in between lunch and dinner, however not all people like scones (and we aren't here to judge). With Afternoon Tea Week in full swing, we've compiled a list of quirky and alternative afternoon teas that you can enjoy in London this week.
1. For a Middle Eastern Feast: High Palms High Tea at The Landmark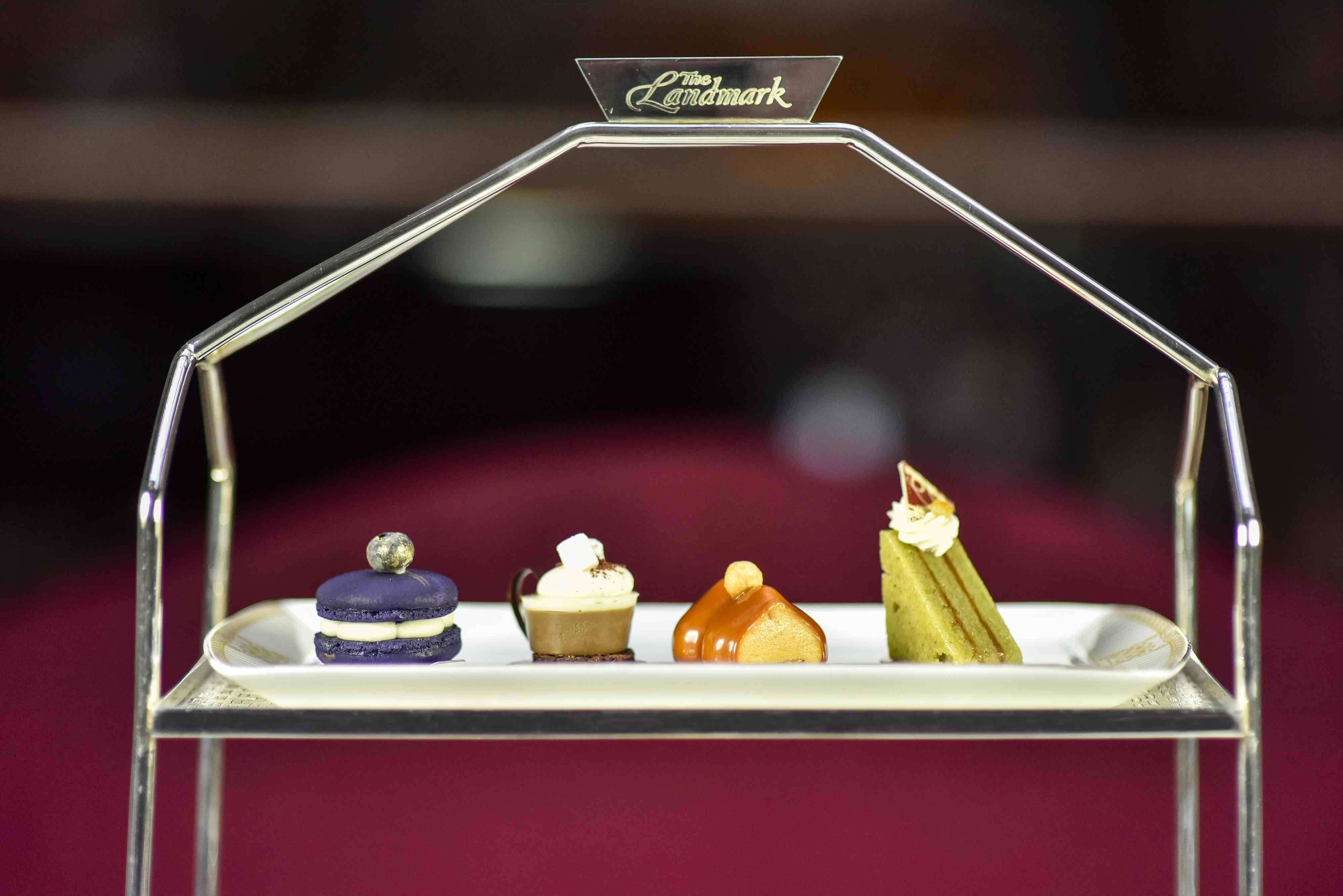 The Run-Down: Opting for a more meal-like experience, the Landmark London have just introduced their new High Palms High Tea which serves up a three course menu of Middle Eastern inspired dishes. Guests can enjoy their tea in the beautiful setting of the Winter Garden which welcomes diners to sit under a roof of palm trees in their bright conservatory. Inspired by their classic afternoon tea, the High Palms High Tea starts with finger sandwiches before a warm mezze and finishing with dessert.
Eat and Drink: The iced tea menu is comprehensive making it the perfect choice in these warmer summer months. With fruity flavours of pomegranate and lime and and peach verbena on the menu, these teas compliment the savoury dishes and also work well as a substitute to alcohol. The tender lamb kibbeh with cous cous is a great choice for an afternoon treat, and quiche and falafel make for great vegetarian options. In the spirit of afternoon tea, the desserts celebrate all things sweet with the passionfruit, mango and ginger cheesecake easily stealing the show.
Where: 222 Marylebone Rd, Marylebone, London NW1 6JQ
2. For a Whimsical Afternoon Tea: Mary Poppins Tea at The Shard 
The Run-Down: Celebrating all things Mary Poppins, this magical themed afternoon tea throws you into the famous fictional novel from PL Travers. With staff dressed in character and quaint decorations accompanying the experience; from the menu printed on a gold framed mirror to the funky china, this tea will make you feel nostalgic. Clever references to the story come to life with cake tiers hiding in the shadow of Mary Poppins' famous umbrella and scones served out of her famous carpet bag. And, not forgetting, the view from aqua shard.
Eat and Drink: Finger sandwiches are an essential part of afternoon tea, however they can be repetitive. This selection exceeds standards with cackleberry farm egg and truffle, Dingley Dell honey roast ham and Devon crab as fillings. To top the savoury section off,  Mary Poppins' favourite thing – miniature crumpets – are served warm with smoked salmon and cream cheese. The cakes are colourful and quaint with names like 'Strike Me Pink Sponge', a nod to famous quotes from the book.
Where: Level 31, The Shard, 31 St Thomas St, London SE1 9RY
3. For a Boozy Afternoon Tea: Crafternoon Beer Tea at Porterhouse Brewing Company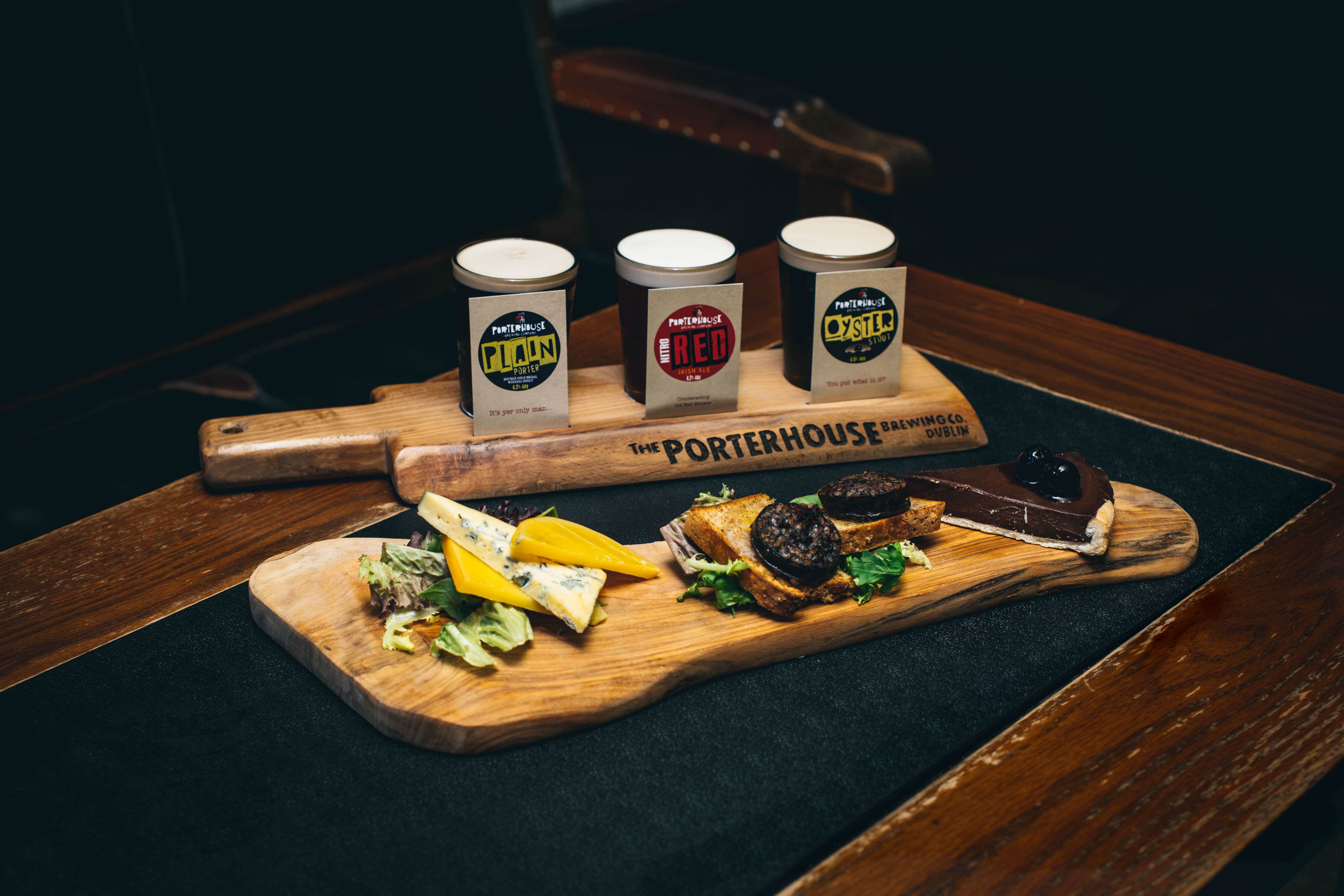 The Run-Down: Not everyone likes tea and cake, so Porterhouse Brewing Company have taken this British tradition and given it a beer-y adaptation. Instead of tea there's a selection of three beers in the style of a tasting paddle accompanied by a selection of sliders instead of sandwiches and cake. With the option of light or dark beer, guests have the option to choose between two seperate teas – both of which are paired carefully with savoury and sweet fare.
Eat and Drink: The 'light' tea features the Porterhouse pilsner with fish and chips. The flavours compliment each other well with the fish battered in the same beer it's served with. Other choices on the light menu are the pale ale and and their IPA which are paired with a pork pie and a burger. For those with a more powerful palette the 'dark' menu is perfect with a stout and black pudding pairing, and a porter with a dark chocolate tart for a dessert to finish.
Where: 21-22, Maiden Ln, London WC2E 7NA
4. For a Mexican Fiesta: Frida Kahlo Afternoon Tea at The Franklin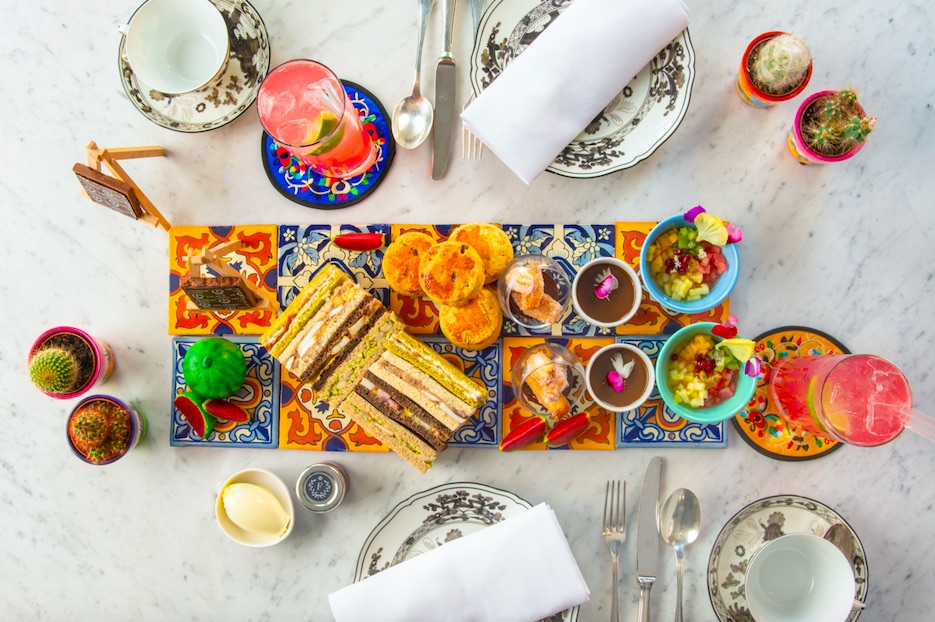 The Run-Down: In collaboration with the Frida Kahlo exhibition at the V&A museum, The Franklin have launched a special Kahlo themed afternoon tea which also includes a ticket to the Frida Kahlo: Making Her Self Up exhibition. Inspired by Kahlo's homeland, guests can sample food and drink inspired by the flavours of Mexico such as tequila based cocktails and everyone's favourite: guacamole.
Eat and Drink: The tea selection boasts an international and fruity selection with all the classics along with Darjeeling, Jasmin and Tie Guan Yin all featured on the menu. As for the food, sweet choices of churros and exotic fruits are on the menu in addition to some unusual scone flavours of lime, banana and chocolate. As for sandwiches, mixed beans, guacamole and octopus fillings push cucumber and cheese aside.
Where: 24 Egerton Gardens, Chelsea, London SW3 2DB
5. For an Indian Inspired Afternoon Tea: The LaLiT High Chai 
The Run-Down: There's nothing more British than afternoon tea however, there's nothing more Indian than tea. The LaLit High Chai puts an Indian twist to a traditional afternoon tea; ditching the sandwiches for samosas. This experience is great for lovers of chai and masala flavours as the menu explores traditional Indian finger foods.
Eat and Drink: The food on offer is authentic and mimics snacks had at tea time with chai in India. From chicken kathi rolls to paneer tikkis, the high chai is perfect for meat eaters and vegetarians with plenty of options of both. Guests can try some Bombay bhel which is a famous street food enjoyed in the city along with chooza pakoda also commonly known as an 'onion bhaji'. If chai isn't your thing, the mango lassi is a must have and also works well as a cooler after some spicy food.
Where: The LaLiT London, 181, Tooley Street, London SE12JR