Top 5: Brunch Spots You Need to Visit in Crouch End This WeekendBy Alicia Grimshaw
Well look at us heading to the deep, dark depths of North London. We've been hitting up Crouch End these past couple of weekends to discover some top brunch places. It's not just the yummy mummy brigade and lycra loving yogis trampling the streets of Crouch End – there's also us, harderned brunch voyagers on a mission to find the best avo on toast around. Here's our favourite brunch spots you should be visiting in Crouch End this weekend. Happy munching:
1. For a Crowd Pleasing Brunch: Cafe Beam
What: Cafe Beam is always packed for good reason; great coffee, amazing eggs and smashing veggie options. You may have to dodge running children and a sea of pushchairs to get to your table, but don't let the kids club vibe turn you off. This place is great for maxing and chillaxing on a Saturday afternoon, and if you can, make a dash for a table by the window. Great for people watching and a good gossip.
Eat and Drink: Let's be real here. When are we ever ones to shy away from avocado on toast? Answer: never. And great news, Beam's crushed avocado on artisan bread with poached egg and grilled chorizo is a banger. Just the right about of chunk, without turning the avvy into a paste-like consistency. Veggie queens, try the goat's cheese and beetroot Benedict with  poached eggs, mixed seeds and homemade hollandaise sauce served on a toasted muffin, or the mushroom, grilled pepper and spinach omelette with cheddar cheese and grilled red onions, served with fries and a salad garnish. Beam's baristas also whip up a mean soya latte, and their hot chocolates are pretty damn legendary.
Where: 40 – 41 Topsfield Parade, Crouch End, London N8 8PT
2. For a Quirky Brunch: Banners
What: Banners has got it so right when it comes to brunch. It's taken elements of the well-loved British caff, sprinkled over some Jamaican flavours, and hung up some questionable decorations to turn this joint into one poppin' brunch hangout. There's kids drawings on the menu, there's movie posters, and there's fluorescent coloured furnishings. It's downright fantastic.
Eat and Drink: Sack off the pastries, and the granola. You didn't come to Banners for something you could pick up in Pret. Oh no. We're talking about the Jamaican breakfast with ackee, bacon, boiled eggs, spicy beans, hash browns and warm traditional roti. The veggie Jamaican breakfast with crispy, fried plantain, beans and other meat-free wonders is another great shout. We also love the thick and crispy hash browns served with yolky fried eggs and bacon. If you enjoy life on the sweet and savoury side, the buttermilk pancakes with two fried eggs and bacon with maple syrup on the side will sure to satisfy those cravings.
Where: 21 Park Rd, London N8 8TE
3. For a Classic Brunch: Haberdashery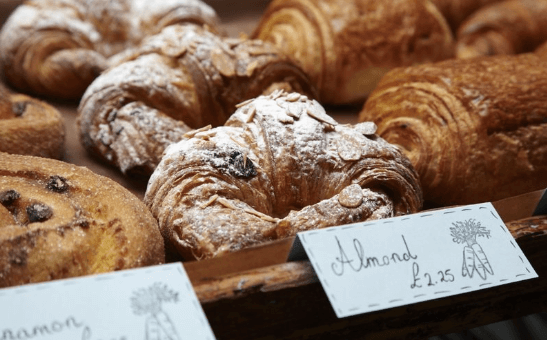 What: Haberdashery is a place that pleases all. Take your nan, mum or your best mate, and they'd be thrilled with the food offering and the vintage crockery and bunting. They're passionate about coffee, and their caffeine creations do not disappoint. Some of the friendliest staff around, and great food to boot.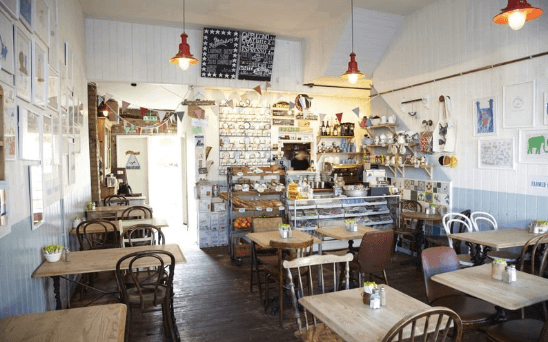 Eat and Drink: The menu reads like a dream – there's just so many glorious dishes to choose from. We say, if you like sweet brunch dishes, opt for the French toast with grilled banana and maple syrup. If you're in need of an extra protein hit, you can add on bacon or sausage if you wish. The veggie breakfast with thick slabs of halloumi, a generous helping of wilted spinach and hash browns is easily our favourite pick of the menu. We do also have a lot of time for the vegan breakfast, with spiced tofu, polenta, avocado and tomatoes. If you can stomach it after your brunch, make some room for their hot chocolate. It's silky smooth, and oh-so-rich. But totally worth the chocolate sweats.
Where: 22 Middle Ln, Crouch End, London N8 8PL
4. For a Vegan Brunch: Hot Pepper Jelly Cafe
What: Hot Pepper Jelly looks like it was involved in an episode of Changing Rooms back in 2003, and  hasn't really recovered. While the decor may have you donning your sunglasses (think garnish yellow painting and ikea canvases), the food and accommodating staff will have you bolting for a table.
Eat and Drink: There's tons of vegan, veggie and gluten-free eats going on. There's cakes galore including brownies, walnut loaves and traybakes. But save a slice for afters with a cuppa, and head straight in with the large English breakfast. A plateful of 2 sausages, 2 rashers of bacon, black pudding, mushroom, 2 eggs (fried or scrambled) home-made hash-brown, home-made mixed beans, grilled tomato, 2 halloumi slices and 2 slices of buttered white toast. It will heal your hangover better than 2 paracetamols. If that's too much, there's the granary brown toast topped with homemade guacamole, scrambled eggs, smoked salmon and sour cream, and the Canadian style pancakes served with blueberries, freshly chopped strawberries, maple syrup and crème fraîche. And they also bang out a vegan and veggie breakfasts too.
Where: 11 Broadway Parade, Tottenham, London N8 9DE
5. For a Mediterranean Brunch: The Blue Legume
What: The Blue Legume is at hotbed for hungry brunchers at the weekends. They've thrown together British flavours fused with some Mediterranean pizzaz to offer a treasure trove of fantastic munch. When the weather picks up, The Blue Legume is a great place for al fresco brunching.
Eat and Drink: Eggs Mediterranean need to be more of a thing. Who knew toasted muffins, topped with spinach, spicy garlic sausage, poached eggs and hollandaise sauce could work so well together? Well now you know. And dessert for brunch is totally legit, especially when it's their Spanish churros served with thick hot chocolate sauce. So delicious. So decadent. The Welsh rarebit is bite after bite of molten cheesy goodness – we love the ciabatta bread, cheese and poached egg combo. If you're on the health train, there's plenty of virtuous options to go round including the granola sundae with homemade organic rolled oats with dried fruits served with yoghurt and maple syrup (and there's a vegan version using soya milk). Get your 5-a-day with the simple, but light fruit salad or the egg white omelette with spinach.
Where: 130 Crouch Hill, London N8 9DY