Sassy September: 30 Things You Need to Eat This Month + WhyBy Angelica Malin
In association with our friends at Leo Newman, the West End's premier sales, lettings and management specialist, we searched the streets of London for the best things you need to be eating this September. From perfect carrot cake to a salmon sushi feast, we've got it covered. Aren't we kind? About Time Magazine: doing the hard work for you since March 2014. Stretchy jeans at the ready, here's 30 things you need to eat in the next 30 days and why:
What to Eat: For Breakfast
Order: Housemade Crumpets (£7.90) with hay-smoked Goat's curd, Wandsworth Honey & lavender
Why: Because it's just the most beautiful, delicate dish ever. As is their Kurdish Eggs with butternut squash, feta and crispy sage. Milk, the all-day destination café by duo Julian Porter and Lauren Johns, located on Hildreth Street Market in the heart of Balham, has recently re-opened and boy is it amazing. The refurbishment has seen the café double in size, with Julian and Lauren, who also own Fields all-day café on Clapham Common, acquiring the shop space next door and knocking through the adjoining shop wall. Come for some of the best brunch (and cornbread) in South London.
Where: 20 Bedford Hill, London SW12 9RG
2. Pancakes at CUT at 45 Park Lane
Order: Buttermilk Pancakes (£16) with whipped maple butter and seasonal berries
Why: Because you haven't lived until you've tried the brunch here. From London's best omelette, to incredible pancakes, the brunch here is simply top. The secret to the pancakes is the maple butter they cook them in, and the freshness of the berries. Don't miss their French toast with candied almonds, made with brioche bread, it's perfectly soft, and melts in the mouth.
Where: 45 Park Lane, 45 Park Ln, London W1K 1PN
3. Scrambled Eggs at One Aldwych Hotel, Covent Garden
Order: Scrambled, poached or fried eggs (£6.50) served with your choice of toast
Why: 5* luxury in the heart of Covent Garden, you can't get much better than this. Two blocks from Covent Garden, this upscale hotel is a 6-minute walk from the banks of the River Thames. It's a fantastic spot for exploring some of the city's best attractions and, what's more, their brunch is sensational. Come here for the creamiest scrambled eggs, great smoked salmon and freshly squeezed juices, it's worth every penny. To taste it all, opt for the Number One (£22) which includes juice, coffee, two free-range eggs cooked to your liking, cold meats, freshly baked croissants, Danish pastries, muffins and toast.
Where: 1 Aldwych, London WC2B 4BZ
4. Turkish Eggs at Kopapa Cafe, Covent Garden
Order: Turkish Eggs (£7.50) with whipped yogurt, hot chilli butter and Sourdough
Why: You can't beat the wonderful and wacky fusion cooking here – this cafe, located near Seven Dials, Covent Garden, is the perfect place to meet, eat and drink in the West End. They do fantastic coffee and fresh juices, energising and hearty breakfasts with seasonal ingredients and weekend specials. Eat all the brunch. Spiced banana French toast, grilled bacon, orange blossom labne, tamarind raisin relish, orange vanilla syrup (£10) and Kopapa's hot-smoked salmon, toast, spinach, 2 poached eggs, yuzu hollandaise (£12.50).
Where: 32-34 Monmouth Street, Seven Dials, Covent Garden, London, UK WC2H 9HA
5. Granola at Dishoom, Kings Cross
Order: House Granola (£5.20) – oats, seeds, cashews, almonds, pistachios and cinnamon, toasted in butter and honey. Served with fresh fruits, Kerala-vanilla yoghurt and Buckinghamshire honey.
Why: A noisy slice of Bombay, scooped up and transported to Shoreditch and Kings Cross. Dishoom is a gorgeous homage to the faded elegance and enthusiastic hospitality found in traditional 1960s Bombay cafes. The porridge here is never-ending portion: if you wish for more, you need only ask. If you fancy brunch with a difference, you have to try Dishoom's fantastic food offering – the bacon and egg naan roll is an unapologetically flavoursome version of an old favourite, and the masala beans are to die-for.
Where: Kings Cross, Shoreditch and Covent Garden
6. Waffles at Core Collective, Kensington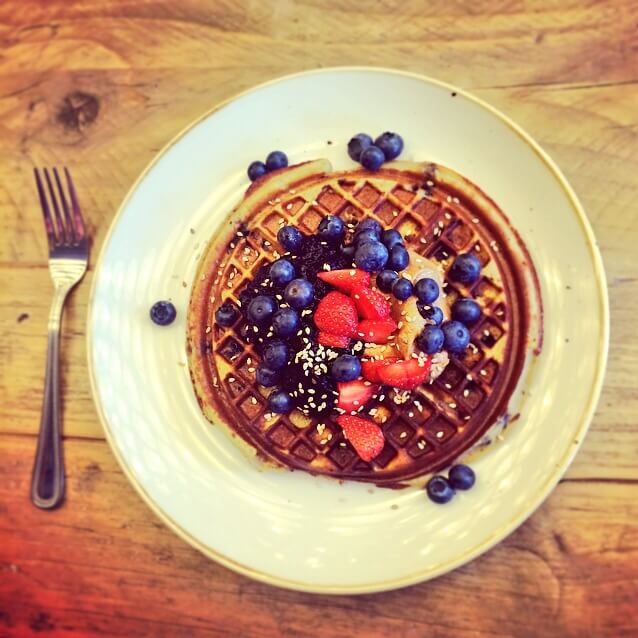 Order: Protein waffles with berry jam and peanut butter (£8)
Why: After the gym, you need to get your protein hit in. And how better to do it than one of London's most Instgrammable waffles – the vanilla protein waffles at trendy new luxury gym, Core Collective, in Kensington. These waffles are totally dreamy – the berry jam is perfectly sweet, and the use of Meridian almond butter is everything you need for a post-workout treat. Check in for one of their great TRX classes and reward yourself here afterwards.
Where: 45 Phillimore Walk, Holland Park, London W8 7RZ
7. Prettiest Porridge at 26 Grains
Order: Hazelnut and Butter – almond milk oats, butter, hazelnuts, cinnamon coconut palm sugar and apple (£4.50)
Why: 26 Grains is the breakfast-loving creation of Alex Hely-Hutchinson. She combines her trusty secret porridge recipes and a big spoonful of love to create beautiful, fresh bowls of porridge goodness at her Covent Garden cafe. Think carrot cake inspired porridge with carrot juice on an oat and bye blend with spices, toasted nuts and ginger maple (£4.50). Come here for vibe. The company is inspired by Scandinavian influences; they find their inspiration from Scandinavian cooking traditions and spices and the menu features a selection of healthy dishes based on grains, spices, and fresh ingredients. With many dairy-free options, it's a great spot for the health-conscious breakfast in London. Just look at that beauty.
Where: Neal's Yard, London, WC2H 9DP
8. Super Porridge at Lundenwic, Aldwych
Order: Porridge with fig, agave and Chia seeds (£3.50)
Why: The boys behind luxury Scotch egg company Scotchtails have just opened their first cafe, and it is fabulous. Think: a small, cute coffee shop off Aldwych with Scandi style, serving Workshop coffee, pastries, fantastic toasties and some perked-up porridge, by Oliver Hiam and Dominic Hamdy. The menu features salads, porridges and toasties, it's small, but what there is they're doing well. For lunch, try the salad of pickled peach, green beans, feta and hazelnut salad box or a roast broccoli, chilli, almond and cheddar toastie. Their porridge comes with fig, agave and chia seeds, and it is the absolute perfect texture.
Where: 45 Aldwych, London WC2B 4DW
What to Eat: For Lunch
9. Chicken Pot Pie at EAT, London
Order: Chicken Pot Pie (£4.50) on Wednesdays only
Why: You didn't think we were just all fancy, did you? This soup is one of our favourite things in London ever. No doubt about it, this is an EAT classic….this is what comfort food is all about. Creamy chicken with loads of fresh vegetables. Garnished with a puff pastry lid. What more could you want, really?
Where: Throughout London
10. Bagels at Delancey & Co, Fitzrovia
Order: Delancey's Bird –  Marbled rye, smoked turkey, mashed avocado, sundried tomatoes, shredded iceberg, swiss cheese, English mustard, mayo and Delancey & Co special sauce (£7.95)
Why: At Delancey and Co, stepping into their sandwich bar is like stepping into a New York deli. They have a huge menu full of sandwiches, salads, chicken noodle soup and sugary treats that will make you feel like a tourist in M&M's World. Hello, cinnamon and raisin bagel with peanut butter and marshmallow fluff. At Delancey and Co, it's all about build your own and we've got a lot of time for that. Pick your bread and filling with the option of making it carbless if you wish. Their salt beef is outrageous, with it being cooked on the premises fresh, every day – tender and full of flavour. Load up with extras from their salad bar and wack on a sauce of your choice. Their sandwiches will make you weep with joy and will no doubt make an appearance on your Instagram.
Where: No.34 Goodge Street, London, W1T 2QL
11. Healthy Salads at Maple & Fitz, Fitzrovia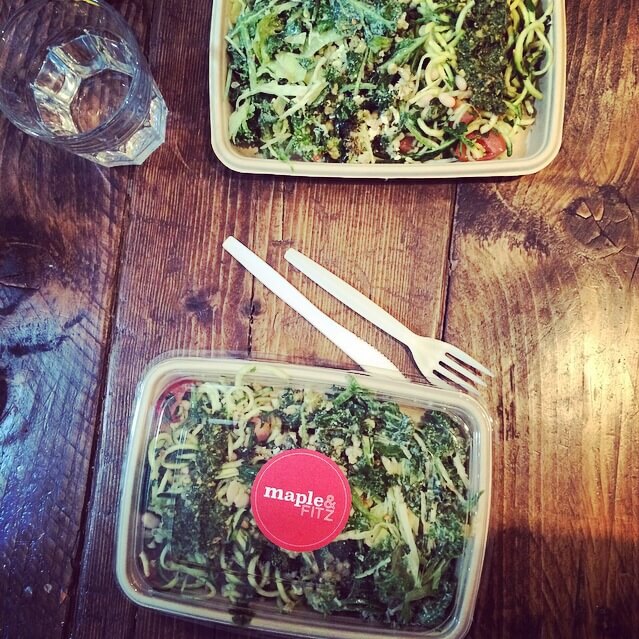 Order: All the salads (£7.50)
Why: Maple & Fitz has become the new favourite in London for their great healthy lunches, amazing juices and beautiful breakfast bowls. It's a great healthy eatery and cold-pressed juice bar in Fitzrovia, specialising in salads, smoothies and juices designed to leave you feeling energised and fulfilled. Come here for The Julius Caesar salad – they toss fresh ingredients including kale and mangetout in a natural yoghurt based dressing and garnish with fragrant toasted seeds. Simply perfection, and their gluten-free banana bread is pretty special too.
Where: 36A Berners Street, London, Westminster W1T 3LY
12. Everything at Busaba Eathai, London
Order: Everything.
Why: Conceived by Alan Yau with the first branch opening on Soho's Wardour Street in 1999, Busaba Eathai is a modern Thai eatery that does simple, and casual, so very well. Differing from formal dining establishments, Eathai represents a Thai casual dining venue, offering a one-course dining experience devised to feed you with minimal fuss. Fifteen years on, Busaba still offers a much coveted, flavoursome selection of freshly prepared salads, stir fries and curries. The menu also features Asian-inspired juices and smoothies, as well as a simple yet selective wine list. Their Thai Calamari is worth crossing London for, as is the Thai Basil Lychee Martini – we'll tell you that for free.
Where: Throughout London
13. Lamb Koftas at The Black Penny, Holborn
Order: Large salad with protein (£7.50)
Why: The Black Penny is a brand new coffee house located on Great Queen Street in Covent Garden, providing a dedicated space for dining, drinking and debate in the centre of the capital. Head Chef George Notley has created a menu which offers a range of traditional breakfast items including bircher muesli and pastries, together with delicious fresh fruit compotes in innovative flavour combinations such as grilled pineapple, chilli and lime. The menu also includes a selection of larger dishes such as Crispy Duck Hash with a poached duck egg, sweet potato, baby spinach and spring onion and slow braised black Penny beans on sourdough with goat's curd and chives.
Where: 34 Greet Queen Street, Covent Garden, WX2B 5AA
What to Eat: For Veggies
14. Vegan Goodness at inSpiral Lounge, Camden
Order: Large salad plate (£7.50)
Why: inSpiral Lounge is a award-winning eco-café, organic bar and events venue, and makes inSpiral Visionary products. It overlooks the Camden Lock waterside, and the perfect place to spend a lazy Sunday morning drinking almond milk lattes. They've got a fantastic range of food, from vegan nut roasts, pancakes, homemade raw granola and stunning Full English breakfasts. The fresh salads are particularly delicious, and the dressings, using activated nutritional yeast and nuts, makes them super tasty.
Where: 250 Camden High Street, Camden, London NW1 8QS
15. Veggie Lunch at Foodilic, Kings Cross
Order: Vegetable Quiche (£6.50) with a choice of 2 salads
Why: Foodilic restaurant and takeaway near King's Cross station and St Pancras International is ideal for busy people wanting to eat healthy on the go. The salads are simply sensational – Foodilic serves a range of salads, organic salads, raw salads and hot vegetarian and of vegan dishes – making it ideal for vegetarians and vegans alike. Some of the best salads we've ever tried in London, we'll tell you that for free.
Where: 260 Pentonville Road, London N1 9JY
What to Eat: For Dinner
16. Sweet Potato Ceviche at Ceviche, Old Street
Order: Don Ceviche (£9) – Seabass, amarillo chilli tigers milk, sweet potato, red onion, limo chilli
Why: The latest branch of Ceviche has all the charm of its Soho sister, in a larger space – the former Alexander Trust Dining Rooms, a London restaurant landmark steeped in history. It's all about the quality at Ceviche. They invest time and money sourcing their ingredients carefully, aiming to use sustainable and local produce as much as possible. All their meat is traceable and sourced from high welfare and Red Tractor affiliated farms, and you can really taste the difference. Come here for the best ceviche and Pisco Sours in town, hands down.
Where: 2 Baldwin St, London EC1V 9NU
17. Meatballs + Almond Sour at Balls & Co, Soho
Order: Almond Sour – almond butter, cherry, amaretto, whisky and bitters (£10)
Why: This drink is just the best thing ever. A combination of Meridian almond butter, amaretto and cherry, it has notes of a Bakewell Tart in a cocktail. You could have it for pudding. You could have it for breakfast. This cocktail could probably create World Peace. Meatballs go gourmet at new Balls & Company in Soho. They do the simple stuff well – the food they cook is honest, with the best possible quality meat, fresh greens from around the countryside and salt-of-the-earth chefs. The concept is simple – order either beef, pork, chicken or quinoa balls, and then choose from 5 different sauces to accompany the balls, and a fantastic selection of sides, such as polenta chips with rosemary, spaghetti and fantastic Heirloom tomato salad. The quality is absolute top, and, actually, the concept just works. 
Where: 58 Greek St, Soho, London W1D 3DY
18. French Fancy at Jean-Jacques, Soho
Order: Salad of baby vegetables and preserved lemon (£9) and Bream with cauliflower puree, capers and almonds (£16)
Why: For really, really good French fare. Jean-Jacques is doing something right – it has 12 branches in Moscow and St Petersburg, and was founded by the Table Talk Group, a highly successful Russian hospitality company, which launched the first Jean-Jacques site in Moscow in 2004. The group was founded by Igor Galkin, a prominent entrepreneur; Mitya Borisov, founder of popular bars, nightclubs and a renowned figure on the Moscow social scene and Dmitry Yampolskiy, a lawyer, entrepreneur and managing partner of Table Talk. All the Gallic classics are in attendance at the 100-cover restaurant (think steak tartare, salad nicouse, grilled poussin, Provencal puff pastry tart and chocolate fondant for pudding), while a cozy terrace on the first floor will be open year round. They've done something really marvellous with the French-inspired restaurant, come and find out for yourself.
Where: 45 Frith St, London
19. Deli Board at The Trading House, St Paul's
What: Homemade Deli Board (£9.95) select four items, including houmous, pomegranate and minted pearl couscous, Coronation chicken and Lancashire Blue
Why: Recently opened, The Trading House is a pub serving spiced cocktails and great sharing boards, with British G&T list longer than my arm and an impressive selection of craft beers, ales and ciders. It's got a fantastic atmosphere, and live music most nights. Come here for surprisingly brilliant food – their Scotch egg is a classic, with a traditional sausage meat shell served with a generous portion of piccalilli. You can't miss their sticky toffee pudding with vanilla ice cream – it's total perfection.
Where: 91 Gresham Street, London, EC2V 7NQ
20. Cornbread at Jones Family Project, Shoreditch
Order: Cornbread (£3) with smokey chipotle butter, onion and herb salad
Why: It's really very, very good cornbread. The restaurant is well worth checking out – for delicious meat & fish dishes in a cool, secret basement restaurant, and great cocktails in their funky upstairs bar, look no further than Shoreditch's Jones Family Project. The restaurant is a family affair (hence the name) and serves up brilliant weekly specials – on our visit, the sea bream with pea puree, red pepper reduction and purple potato was absolute heaven. For meat lovers, you can't beat their steaks – they're perfectly cooked and you can order truffle mac 'n cheese as a side. Win.
Where: 78 Great Eastern St, London EC2A 3JL
21. Brilliant Pub Grub at The Truscott Arms, Maida Vale
Order: Sunday Roast (£18) – 35 day aged beef rump cap with red wine gravy with Yorkshire pudding, roast potatoes and vegetables
Why: The Truscott Arms is a gastropub based in Maida Vale providing a fantastic drinking and dining experience in a relaxed and welcoming environment. It's a local favourite and, what's more, this September sees the launch of The Truscott Cellar, an exciting new 60 cover contemporary wine bar with incredible food from Chef of the moment Aidan McGee, in Belsize Park. This is the second venture from Andrew and Mary Jane Fishwick, owners of The Truscott Arms – who stormed the London Gastropub Awards 2015 and hold the title for Best Roast in Great Britain. The meat and wine at the new venue are set to be utterly exceptional. Come here for The Truscott Beef Chips, The Pig Board, Mushroom Welsh rarebit and Roast root vegetable with Jersey Royal fondue. For something sweet, think: chocolate mousse with Regents Park honeycomb and Gooseberry fool with dried rosehip shortbread. Dreams.
Where: 55 Shirland Rd, London W9 2JD
22. World Class Lebanese at Randa Restaurant, Kensington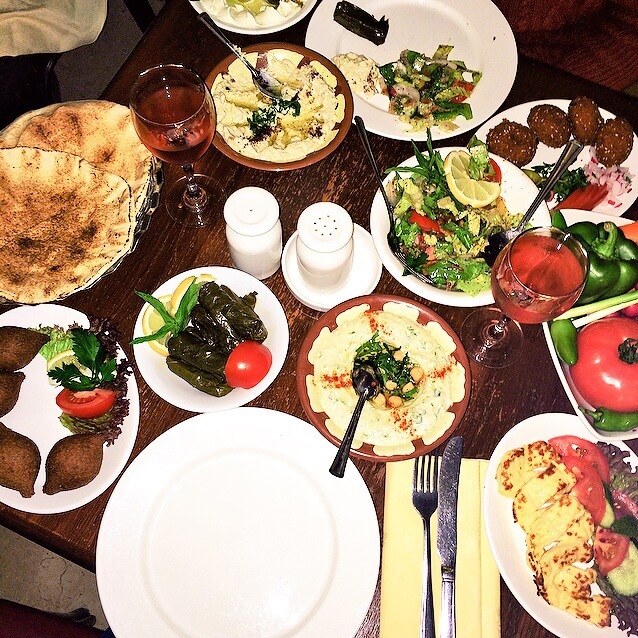 Order: All the mezze
Why: Part of the Maroush Group, London's most celebrated and renowned Lebanese restaurant collection, Randa Restaurant offers sensational traditional 'home from home' ambience and authentic cuisine,  just a stone's throw away from the hustle and bustle of Kensington High Street. From the open-plan kitchen the team of chefs prepare favourite dishes that include a huge array of hot and cold mezzas, grilled meats and fish, mixed shawarma, fresh salads and delicious fresh fruit juices, all made from the finest seasonal ingredients. Seriously, this is the best falafel you'll find in London.
Where: 23 Kensington Church St, London W8 4LF
Where to Eat: For Sushi
23. Fancy Sushi at Salmontini, Mayfair
Order: Salmon Koru Maki (£8), Salmon Skin Futomaki (£8) and Wild Chilean Sea bass (£28) with lemongrass sauce, samphire
Why: Belgravia's new cool kid Salmontini is taking Japanese to the next level, alongside really impressive Mediterranean food – it's hard to do both well at the same time. Come here for their legendary Salmontini Miso marinated Black Cod with grilled Eryngii Mushroom, signature sushi dishes and delicious cuts of meat. There's also fantastic Japanese-inspired cocktails for you to enjoy, and bottomless champagne on weekends with their special, musical brunch. The food is expensive, but it is damn delicious. Trust us.
Where: 1 Pont St, Belgravia, London SW1X 9EJ
24. Tuna Sushi at Maze Grill Park Walk, South Kensington
Order: Tuna Tartar Roll (£8) with avocado, chilli, garlic, sesame oil and crispy rice
Why: Inspired by the grill rooms of Manhattan, the vibrant restaurant offers signature rare breed steaks, fish and poultry prepared on the Montagu grill alongside an extensive selection of sushi and sashimi from a dedicated raw bar. Steaks are aged onsite in the special Himalayan salt lockers and an array of daily specials can be found on the menu. Drop in for a selection of small plates or enjoy a more leisurely meal washed down by a selection of wines and sakes. The sushi is really, really food.
Where: 11 Park Walk, Chelsea, London, SW10 0AJ
25. Salmon Sushi at OKA, Kingly Court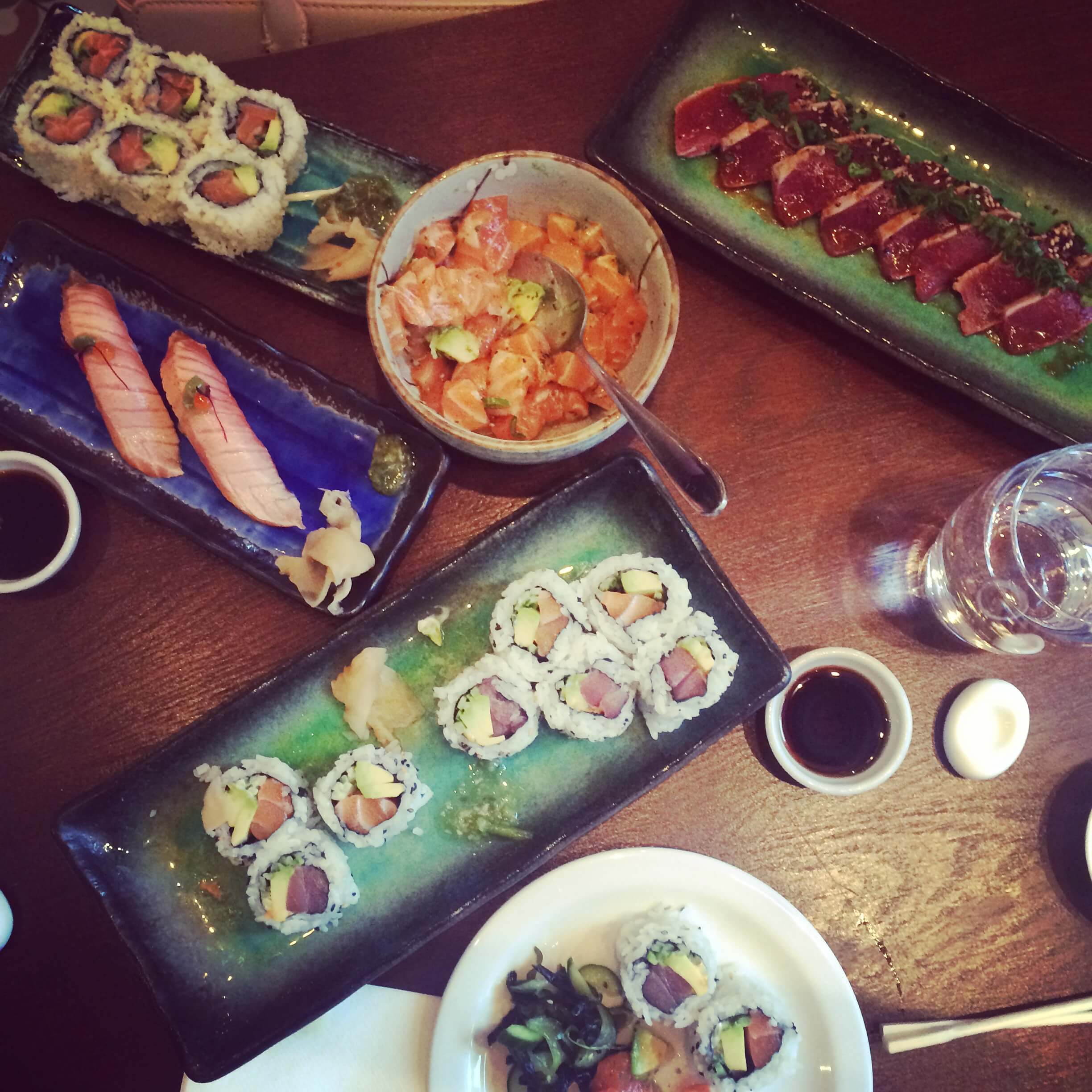 Order: Jalapeno Rolls (£7) with salmon and spice
Why: Located on Kingly Court's first floor, Oka Robata Grill and Sushi is a new Asian restaurant serving traditional Asian food with a modern twist. Oka guarantees fresh, seasonal healthy food made to order, traditional mains cooked on their robata grill and daily specials available for lunch takeaways. The menu showcases the best of pan-Asian and sushi cuisine serving a selection of homemade hosomaki, uramaki, nigiri, sashimi and takai sushi. The drinks are great, too – think Dewazakura 'Oka' Sake, Japanese 'Yamazaki' whisky and Sapporo premium beer. Sushi heaven.
Where: 1, Kingly Court, Carnaby St
What to Eat: For a Sweet Fix
26. Raspberry Souffle at The Grill at The Dorchester, Park Lane
Order: Raspberry Soufflé (£14) with mascarpone sorbet
Why: The Dorchester is a 5* luxury hotel on Park Lane and Deanery Street – it is one of the world's most prestigious and expensive hotels, a place where dreams can come true. First established in 1931, The Grill at The Dorchester quickly gained a reputation as the place to be for the finest grill food in London. In keeping with this original concept, Alain Ducasse's protégé Christophe Marleix has created new seasonal menus. Come here for dishes ranging from grill favourites alongside the restaurant's signature blue lobster chowder and an extensive sweet soufflé menu – the first of its kind in London. The raspberry soufflé is literally the best dessert in London.
Where: 53 Park Lane, Mayfair, London W1K 1QA
27. Afternoon Tea at Coworth Park, Ascot
Order: Traditional Afternoon Tea (£29) with scones, raspberry choux, sandwiches and more
Why: This luxurious country house hotel on the borders of Windsor Great Park is high-end style without the stuffiness – an idyllic place for a romantic retreat. Their afternoon tea is some of the best we have ever tried – The Drawing Room is located in the main Mansion House and enjoys stunning views over the hotel's terraces and the countryside. A quintessentially English afternoon tea is served twice a day with sandwiches, scones and classic pastries with a twist, freshly-prepared by the pastry team at Coworth Park. The tea menu includes over 20 varieties, including Coworth Park's own Meadow Blend, which contains lavender picked from the hotel's grounds. A special gluten-free afternoon tea is also available. Heaven.
Where: Coworth Park, Blacknest Rd, Ascot SL5 7SE
28. Carrot Cake at Peyton and Byrne, Covent Garden
Order: Carrot Cake (£4.50)
Why: You will find over 40 exclusive blends of teas and ground on-site coffee as well as Dalston Cola, and incredible cakes. Their carrot cake is a thing of dreams, and is regularly voted one of the best in London. Try it at the Covent Garden branch and go for a wander around the Piazza… Heaven. The master bakers at Peyton and Byrne serve oven fresh, home-made artisan bread, cakes, pastries and other baked goods daily, as well as sandwiches using bread baked that day with the motto – 'when they're gone, they're gone'. The recipes for their classic bakes have been in development for years – think exciting flavours like the West Country apple cake and chocolate, caramel explosion cake.
Where: Throughout London – here
29. Chocolate Mousse at Olroyd, Islington
Order: Chocolate mousse, salted pistachio praline & raspberries (£6)
Why: For weekend chilled breakfast, you can't get much better. Oldroyd is a relaxed 40-cover neighbourhood restaurant, in Islington, just a few minutes' walk from Angel tube station. Split across two floors, the restaurant offers a café-style vibe downstairs available for walk-ins only, and a bistro-style first floor dining room where bookings will be taken, as well as a small al fresco seating area at the front. With a focus on using locally sourced and seasonal British produce wherever possible, Tom's menu at Oldroyd reflects his 15 years' experience working in restaurants as well as his travels through the food markets of Europe and the US. The food menu is complimented by great cocktails – Tom has worked with renowned mixologist Ryan Chetiyawardana to create a bespoke collection of cocktails unique to Oldroyd, including the brilliant Oldroyd Bloody Mary.
Where: 344 Upper St, London N1 0PD
Photo Credit: Samphire & Salsify
What to Eat: For a Cheese Course
30. Cheese Board at MI + ME, Kings Cross
Order: 3 British farmhouse cheeses (£9)
Why: MI + ME has just opened in Kings Cross – it's an urban deli on the upper concourse of St Pancras International Station, which sources ingredients from the UK's best cheesemakers and farmers, and specializes in meat and cheese boards. The neighborhoods latest foodie hotspot is named in homage to the MIlk and MEat carriages that were first used by railways in the Victorian era to transport fresh produce speedily to the city. In the same way this revolutionized and hugely improved the diet of city dwellers, MI + ME is enhancing the food options available to Londoners. It's all about the cheese here – come for one of the best cheese courses in the country.
Where: The Grand Terrace, St Pancras International, The Grand Terrace, King's Cross N1C 4QP
Feature in association with Leo Newman – see their website here.