Hungry? Thought so. From a limited edition burger to vegan burritos – here's what you should be eating in the capital this week. Let's get munching:
1. For a New Opening: Lao Cafe 
What: Craving come Lao food in your life? Well, it's your lucky day. The team behind Rosa's Thai Cafe is opening Lao Cafe in Covent Garden on Monday (16th). Focusing on one of the last great undiscovered cuisines, Lao Café is a personal project for Rosa's Head Chef and co-founder, Saiphin Moore. For this new venture, Saiphin draws on her upbringing to serve a range of zingy salads, spicy curries and chargrilled fish and meat that are staples of Lao cuisine.
Why: The menu is designed for sharing, and features a wide array of flavourful dishes accompanied by white or brown sticky rice in banana leaf or noodles. Try the Tom Zaap Gai, a spicy and sour chicken soup with toasted black sesame hot pot, or the Nham Khao Tod, a plateful of fermented sausages with crispy rice salad, and the Pla Pao Gluer, a salt-grilled whole fish served with aubergine chilli dip, vermicelli noodles and fresh herbs. If you're seeking more adventurous thrills, order the Ohr He'd, a mixed mushrooms soup with fresh herbs and ants' eggs.
Where: Lao Café, 60 Chandos Place, London, WC2N 4HG
2. For a New Permanent Residency: Club Mexicana x Pamela 
What: If you've never eaten Club Mexicana's jackfruit burrito – you haven't lived. Usually found whipping up their mean vegan grub at Kerb and Street Feast, Club Mexicana are setting up shop at Pamela for their permanent residency. Drop in from Tuesday (17th Thursday) to feast on their vibrant Mexican eats.
Why: The menu takes a twist on Mexican 'meaty' classics, re-incarnated as vegan dishes, such as such as the Al Pastor Taco with pineapple and chilli marinated 'pork'; Baja To-fish Taco, with pickled red cabbage, salsa verde and chipotle chilli oil; Buffalo Cauliflower Taco with blue 'cheese', celery leaves and chilli threads; and the 'Chorizo' and Potato Taco, with pico de gallo. Meriel and her team make fresh tacos every day, working around the clock, milling and hand pressing their own from masa flour dough. Also featured are the Club Mexicana signatures; BBQ Pulled Jackfruit Tacos; Jalepeno Poppers stuffed with chipotle cashew 'cheese'; and Sikil Pak Hurache – a crispy masa pancake topped with pumkpin seeds puree and jackfruit tinga.
Where: 428 Kingsland Road, London E8 4AA
3. For a New Afternoon Tea: Bronte
What: We've always got time for tea, especially when there's scones involved. And Bronte's new afternoon tea is what Saturday afternoon dreams are made of.  Taking inspiration from the 'collectors house' theme of the restaurant, which displays several cabinets of curiosities, the sandwiches and cakes are served in a glass and gold trinket box.
Why: The afternoon tea menu echoes Bronte's British focus with modern Asian influences. Finger sandwich fillings feature flavours from the Far East with jasmine smoked ham and miso mustard, smoked salmon and yuzu, and pickled cucumber and shiso. Traditional scones follow, topped with clotted cream and wild strawberry jam. The highlight is the selection of patisserie and cakes, with vivid flavour combinations; a rich chocolate orange and cardamom éclair, and spicy ginger and rhubarb baked cheesecake sit alongside a tropical baby pineapple and mango tartlet, and yuzu and white chocolate mousse. Also choose from a spicy chilli salted caramel macaron or a warm pistachio and lemon cake. 
Where: Bronte, Grand Buildings, 1-3 Strand, London WC2N 5EJ
4. For a New Collaboration: Shake Shack x Berber and Q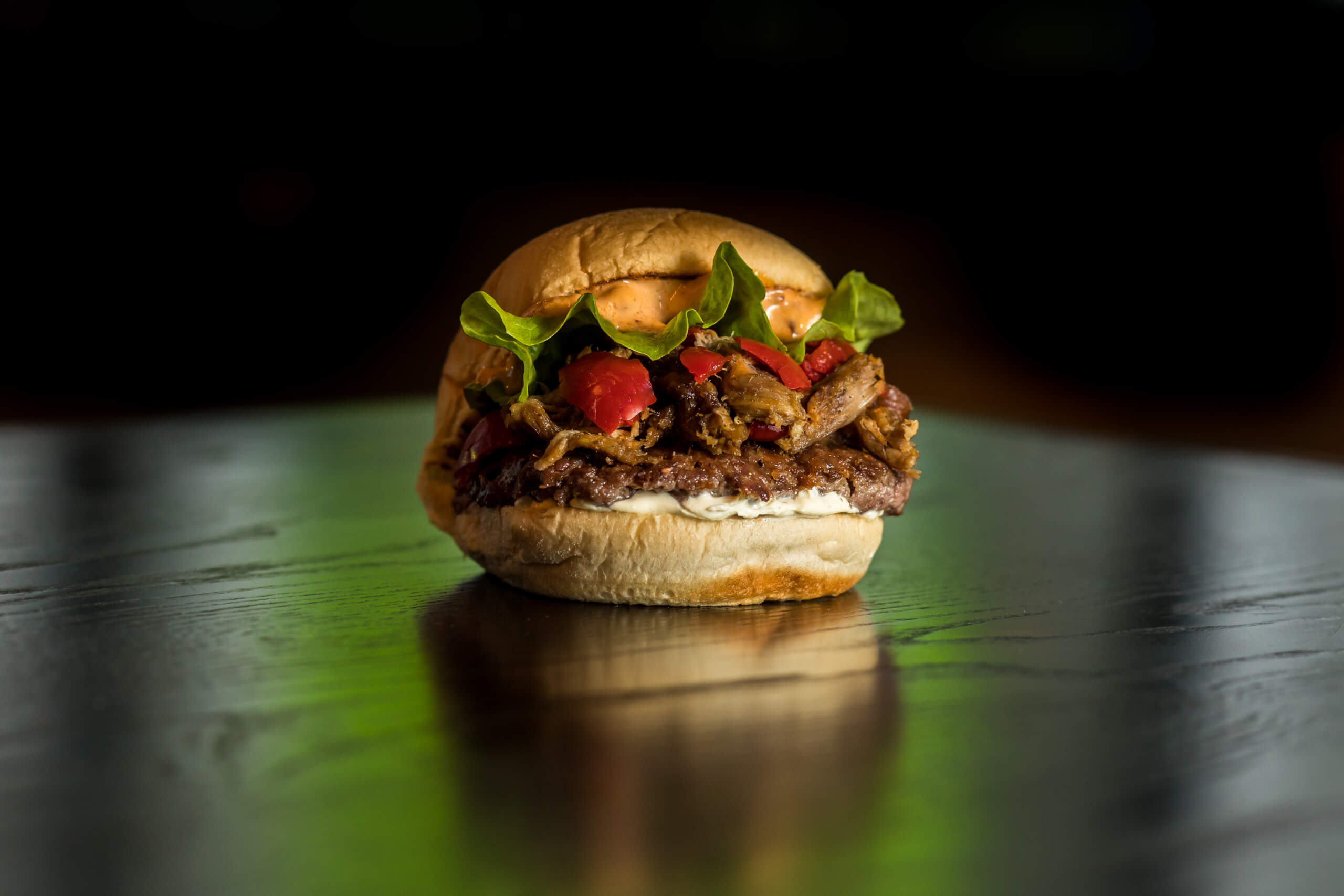 What: Burger maestros Shake Shack have teamed with Middle Eastern and North African Grill House, Berber & Q to create the ShackBerber burger, a limited-edition burger to celebrate the opening of the new Canary Wharf Shack.
Why: The ShackBerber burger has been created by Head Chef and Co-founder of Berber & Q, Josh Katz and Shake Shack's Culinary Director Mark Rosati. The new burger features Shake Shack's custom-blend Angus beef patty topped with Berber & Q hand pulled lamb shawarma, whipped feta, cherry peppers and harissa ShackSauce. The new Canary Wharf Shack will open its doors on Thursday (12th January) at 12 noon. 300 limited-edition burgers will be available on opening day only, and 50% of sales will be donated to Action Against Hunger.
Where: Park Pavilion on Canada Square, London
5. For Another New Opening: Jan
What: The paint has dried, and the grill has been fired up; Jan on Northcote Road has officially opened. The restaurant celebrates flavours that border the Eastern Water, taking influence from the likes of Iran and Turkey. Middle Eastern flavours combined with innovative cocktails all set in a flamboyant surrounding that give a firm nod to its heritage – Jan is about to become your new foodie friend.
Why: Signature items from the menu include; charred miso and tahini spiced cauliflower; sticky sumac chicken wings; lamb kofta skewers with pomegranate molasses; and rare beef salad with charred leeks, yoghurt and garlic dressing – all best eaten with Jan's flatbread, warm from the oven with za'atar spiced oil. The drinks menu at Jan offer refreshing and zingy cocktails incorporating delicate teas, lots of Middle Eastern spices and plenty of fresh fruit like pomegranate and melon. The Satisfied Mule combines Chairman's Reserve Spiced Rum with carrot caramel, citrus, ginger beer, Angostura Bitters, all topped off with a frozen yogurt float.
Where: 78 Northcote Rd, London SW11 6QL
6. For a New Site: Patty & Bun 
What: Patty & Bun strikes again, opening a new burger joint on Richmond Road on Monday (16th). Expect P&B's signature mix of burgers, beats, and booze plus an epic outdoor seating area. Richmond Road promises to continue delivering Patty & Bun's well-loved charm in a space tailored to the character of its neighbourhood.
Why: Expect all the classics on the menu such as the 'Smokey Robinson' Burger, a beautiful stack of beef patty, cheese, tomato, lettuce, mounds of caramelised onions, bacon, ketchup, smokey P&B mayo all encased in a brioche brunch. And the Lambshank Redemption' Burger, a lamb patty with coriander and chilli, lettuce, buttermilk baby courgettes, pickled aubergine, cumin aioli and feta in a brioche bun. Look out for some new additions to the menu such as chicken platter and a few other naughty numbers. On Monday 16th – Wednesday 18th January they'll also be running an opening offer of any burger for a fiver.
Where: 2 Arthaus Build, 205 Richmond Road, London
7. For a New Drinking Den: Bobby Fitzpatrick
What: Bobby Fitzpatrick is a new characterful and unapologetically retro venue in West Hampstead, opening its doors on Wednesday (16th). Fully inspired by the 70s, this new party pad features original wallpaper, furniture and lighting, autographed photographs of celebrities such as Kate Bush, Leo Sayer and Olivia Newton John, and board games including Happy Days and other 70s memorabilia.
Why: The menu will include classic deep crust American pizzas with both classic and exotic toppings such as chicken tikka and lamb doner. The pizza menu will be accompanied by dishes such as Bobby's signature hamburger with a Red Leicester middle and deep fried pickles, and chicken nuggets with dunking sauces. The dessert menu will include mini doughnuts as well as a show-stopping banana pie.
Where: 273 West End Lane, London NW6 1QS
8. For a New Guest Collaboration: Berber & Q Shawarma Bar
What: What's the best way to beat the post-festive blues? With pita, and lots of it. Throughout January, Berber & Q Shawarma Bar are welcoming four of London's hottest chefs to their Exmouth Market kitchen to create a pita that will run as a special on the Shawarma Bar menu for a week.
Why: This week sees Tom Browne of Decatur step up to the plate with his Kibbeh spiced pork belly boudin-blanc, 'white trash' hummus made with crawfish boil spiced peanuts, and sumac salad, salgam and zereshk, a Persian barberry jam. Pitas in the third week of the collaboration are courtesy of Miles Kirby, with his roast lamb, kimchi slaw, gochujang ketchup and mint yoghurt pita. Last but by no means least, Sam Clark of Moro will be serving lamb shish pita with tomato and cinnamon, yoghurt and chilli butter, burnt aubergines, pomegranate, coriander and pine nut salsa.
Where: 46 Exmouth Market, London EC1R 4QE
9. For a New Ramen Pop-Up: Yamagoya
What: 47 years ago Masatoshi Ogata, a lorry driver, had a dream of opening his own ramen shop. He built his first ramen school in 1969, and over time, the restaurant evolved into a well-loved Japanese chain. Fast forward to today, and Mastoshi has brought his famed tonkotsu ramen to London for the first time.
Why: This is the first time Yamayoga has been available in the UK and it's excitingly authentic. Slurp on their signature Yamayoga ramen, which features handmade noodles, either soft, medium or hard drenched in a salty tonkotsu broth and topped with pork belly, marinated bamboo shoots and beautiful burford eggs. Compliment the ramen with chicken karaage and the freshest of seaweed salads. If spice gets you hot under the collar, the Tobanjan ramen, a fiery tobanjan spiced broth known to locals as 'the fire of food' is just the ticket.
 Where: 1st floor of Shuang Shuang, 64 Shaftesbury Avenue, London W1D 6LU
10. For a New Menu: Harvey Nichols 
What: The Harvey Nichols Winter Dining menu is back for 2017, which offers everyone three tasty courses and a complimentary cocktail for £22 – available instores until Friday 10th February. Comprised of elegant starters, delectable mains and tasty desserts, each store sources ingredients regionally to create a menu unique to each of its locations.
Why: At Harvey Nichols Knightsbridge in the Fifth Floor Café, the menu includes three starters, mains and desserts. Enjoy a complimentary cocktail on arrival and choose the creamy butternut squash and chestnut soup to start, followed by the roasted Atlantic cod fillet, celeriac purée, wilted kale, braised celery and red wine jus for main. To finish, choose from a sticky date pudding with butterscotch sauce and refreshing orange sorbet or an apple tart with warming cinnamon and ginger cream served with vanilla ice cream.
Where: Fifth Floor Café at Knightsbridge, 109-125 Knightsbridge, London SW1X 7RJ