Looking for the best chocolate advent calendars 2020? Look no further.
Let's be honest, we've all been counting down to the end of 2020 for quite a few months now. And, as the Christmas countdown begins, it's nice to add some sweet treats into the mix. Here's 10 of the best chocolate advent calendars we're loving this year:
The Run-Down: Love Cocoa, the ethical, luxury British chocolate brand created by James Cadbury, has launched its first-ever advent calendar: an indulgent, grown-up chocolate affair for the committed chocoholics amongst us. And if that wasn't reason enough to ruffle your truffles, the eco-savvy brand has committed to planting three trees for every calendar sold as part of its 'Plant A Tree' project. You'll be able to sink your teeth into a selection of delicious mini chocolates (with not one but two chocolates behind every door) featuring Love Cocoa's best-selling signature flavours.
Price: £19.95
Where: Available from Amazon, Ocado and Love Cocoa
The Run-Down: Enjoy five different flavours of bite-size chocolates from the famed Organic range, including; rich organic chocolate with soft ginger pieces that burst with flavour, to decadent dark chocolate made up of 70% cocoa, prized for its wonderful complexity and great depth of cocoa flavour.
Price: £12.99
Where: Order online
The Run-Down: Chococo's iconic Advent Box is back (and a dairy-free option is also available). Included in this selection are such delights as 3 Star Gold Great Taste award-winning blackcurrant; Devon's Salcombe gin with pink grapefruit; crunchy roasted Madagascar origin cocoa nibs in golden caramelised white chocolate; sea salt caramel with smoked sea salt from the Dorset Sea Salt Company; Venezuela origin milk chocolate truffle with vanilla-infused fresh Dorset cream ganache; crunchy honeycomb handmade with Dorset's Field Honey; and triple award-winning Sussex's Cabin Pressure Gin and fresh rosemary.
Price: £25
Where: Buy online
The Run-Down: Making the countdown to Christmas tastier this year, Reese's Peanut Butter Miniatures Advent is the perfect mix of chocolate and peanut butter. Made with 23 foil-wrapped Peanut Butter Cup Miniatures in white, milk and dark chocolate flavours and two full-size white Peanut Butter Cups behind window number 24, the Reese's advent Calendar promises to give you a daily treat throughout December.
Price: £5
Where: Amazon, Tesco, Sainsbury's, Asda, and Morrison's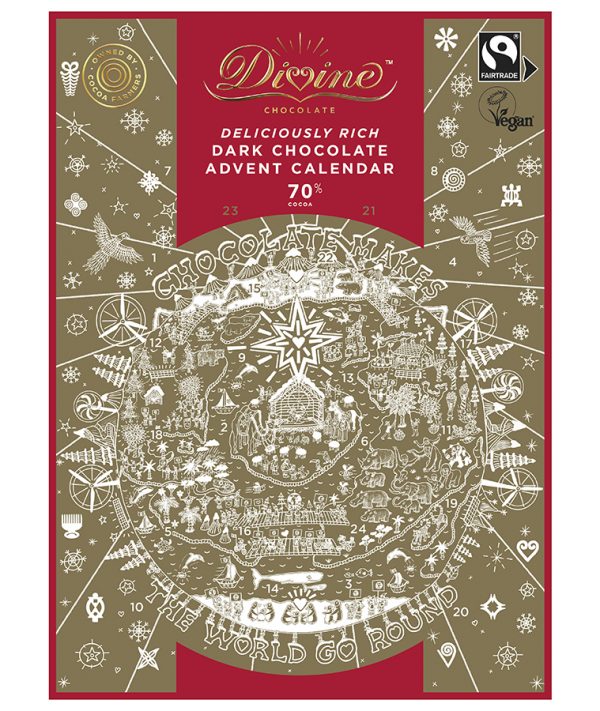 The Run-Down: Count down the days to Christmas with a delectable piece of 70% Divine dark chocolate each day. Each mini chocolate shape is made with the finest quality cocoa beans from Kuapa Kokoo who also own a stake in Divine Chocolate and share in the profits. With all the Divine range, the irresistibly tasty chocolate is palm oil free, totally natural and of course – Fairtrade.
Price: £4.99
Where: Order online
The Run-Down: The multi-award winning PLAYin CHOC calendar is allergen-free, vegan and plastic-free. Each drawer contains a mini choc, a fun puzzle toy to build and a fact card. Once each drawer is removed, replace back to front to form a new picture which will be completed on Christmas Eve. The outer sleeve of the advent can also be opened up into a landscape to play with all 24 toys.
Price: £55
Where: John Lewis
The Run-Down: This beautifully designed Cadbury Dairy Milk Advent Calendar is perfect for those who want a classic treat to enjoy as they countdown to Christmas. Filled with creamy Cadbury Dairy Milk wrapped around chunks of your favourite ingredients: walnut, dairy milk and caramel.
Price: £5.99
Where: Buy online
The Run-Down: Hospices across the UK are set to benefit from sales of The Hospice Advent Calendar. Produced by The Meaningful Chocolate Company, this calendar has 25 Fairtrade milk chocolates which means it also supports farmers across the globe. It will benefit hospices in London, Oxford, Merseyside, Bristol, Wakefield and Newcastle, and for every sale, £1 is donated to farmers receive a Fairtrade Premium.
Price: £5
Where: Order online
The Run-Down: Both tasteful and playful, Pierre Marcolini's advent calendar captures and enhances the spirit of Christmas. Styled as a children's fairy tale, the calendar features 24 praline creations – all handmade in Pierre Marcolini's workshop in Brussels. 
Price: £49
Where: Buy online
The Run-Down: Hotel Chocolat's advent calendar features 24 40% milk chocolate sculptures nestled inside. Hotel Chocolat's 40% milk chocolate is our signature milk blend, as it captures a satisfying creaminess without sacrificing the decadent hit of cocoa. And each chocolate is accompanied by an uplifting message to keep your spirits high during this festive season.
Price: £12.50
Where: Buy online