As a food trend, new ramen bars have been popping up in London lately faster than you can say "bubble tea". Aside from the comfort-food favourite, Vietnamese pho, Japanese ramen is the other soup noodle that Londoners love to slurp – literally. While I wouldn't recommend going into full-slurp mode on a first date, noisily slurping your ramen is the equivalent to a standing ovation – a diner's seal of approval and appreciation. You might have seen the word tonkotsu bandied around in your ramen-hunting adventures: tonkotsu refers to the rich pork bone broth that is boiled over many hours, resulting in a fragrant, milky white soup that's lip-smackingly good. Aside from tender slices of roast pork, the ramen is also usually topped with goodies that vary from ramen bar to ramen bar but include delicious items like marinated eggs (with a salty, sticky orange yolk), pickled ginger and vegetables.
It's no secret that Bone Daddies is probably the most popular joint on the London ramen scene. When I told friends that I'd be writing this article, their first reaction was, "Ooh! Are you going to Bone Daddies?" But I like a challenge, so I've decided to find a few places that are a little different from the oversubscribed ramen mecca. Here are my top 5:
1. Best for Authentic

Ramen: 

Kanada-Ya, St Giles
Commanding a steady queue of diners patiently waiting outside its steamed-up windows despite its fairly recent opening, Kanada-Ya is a favourite for Japanese Londoners. In fact, during my last visit, we were unwittingly taped for a Japanese television programme (sidenote: ramen is one of the most inelegant dishes to be filmed eating). The tonkotsu broth is rich and flavourful and you're presented with a checklist as soon as you sit down, making it easy for you to order whatever goodies you'd like to have in your ramen. For me? An extra marinated egg, always. Plus, you can custom-order your noodles to the consistency you'd like: soft, original, firm, or extra-firm.
2. Best for Homemade

Ramen: 

Tonkotsu East, Haggerston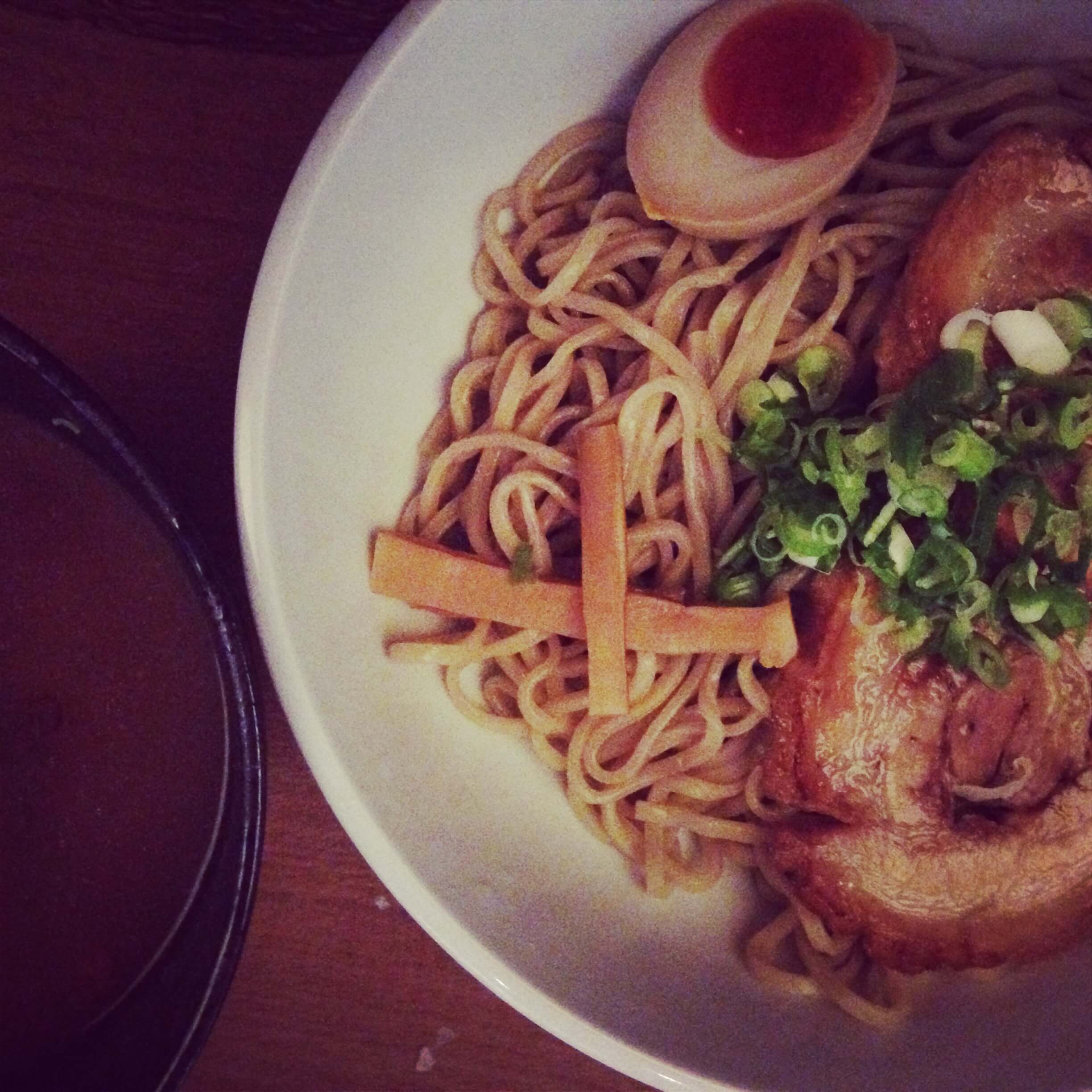 Located under a railway arch in Haggerston, the ramen noodles at Tonkotsu East are made on the premises, as evidenced by the rather large ramen noodle-making machine displayed at the end of the restaurant. The noodles are a slightly thicker than the ramen you might try at other ramen bars and the consistency has a slight elasticity to it, which I personally loved. Aside from the tonkotsu ramen, the tsukemen noodles, which are meant to be separately dipped into a dark, rich broth, are a must-order (pictured here). The delicately wrapped gyoza are not to be missed either, and it's a fantastic place to dine with friends as trains rumble past overhead. Oh yeah, they make and bottle their own chilli oil. Badass.
3. Best for No Frills

Ramen: 

Taro, Soho

Forget the enthusiastic greetings and fancy interiors. Taro does away with all of this and offers a simple tonkotsu ramen with beansprouts, seaweed, pickled ginger, roast pork slices, and a boiled egg sliced in half – no boasts about how long they've marinated the eggs here. The menu is extensive. If, for some strange reason, you're in the mood for something other than ramen, they have plenty of bento box combinations and sashimi to tickle your tastebuds. Sometimes you don't want fancy – you just want comfort. And at £9.50 for a bowl of tonkotsu ramen, it's the cheapest of the lot (p.s. they also deliver).
4. Best for Variety: Shoryu

Ramen

, Regent Street
You might not want to eat it right before that very-important-business-meeting you've got after lunch, but the aptly named Dracula Ramen at Shoryu is full of garlicky goodness. The tonkotsu broth itself is infused with caramelised black garlic mayu (a type of oil) and balsamic vinegar, with slivers of garlic carefully placed on top of the noodles. Two words: dragon breath. But oh-so-good. Or, you could opt for the Kotteri Hakata Tonkotsu, which features an even thicker, richer, and meatier broth than the original ganso tonkotsu ramen and is served with two eggs, rather than one. For a spicy kick, there's the Karaka Tantan Tonkotsu, which includes chilli oil, spicy fried minced pork in white miso and garlic.
5. Best for Refills: Ippudo, St Giles 
Not sure whose bright idea it was to open two opposing ramen bars directly across from each other, but it is quite amusing to watch the restaurant goers at Ippudo and Kanada-Ya eye each other warily from across the road. While Kanada-Ya is all about walking into a ramen bar that looked like it stumbled out of a Studio Ghibli creation, Ippudo is its hip, cosmopolitan older sister who holidays in the Maldives. You know the sort. Ippudo offers the system ofkae-dama, where you can request a refill of noodles for a small fee – you just have to make sure you've left enough broth in your bowl to cover the noodles. The basic tonkotsu ramen, whilst simple and devoid of my beloved egg, hits the spot. The gyoza is delicious and well worth a try.
Photos except for first image and header by Jaime Tung