The concept of the pre-mixed cocktail reminds me of a substance called 'Journey Juice': a potent mix (crafted with great skill after one or three gin and tonics) which is the fuel that keeps you chipper on your merry way to the pub. A while ago at a pub in Bristol, we discovered that cheap plonk was being sold on tap and now everyone is at it. Cocktails come out of taps at the Soho Bar and Kitchen and batch cocktails are bottled ready to be popped all over London.
Batch cocktails, or pre-bottled cocktails allow mixologists the time to preen and perfect their mixes away from the bright lights, long queues and high pressure of the bar. Leading the charge is cocktail guru Ryan Chetiyawardana and the team at White Lyan Bar, Hoxton. Here, cocktails are magically mixed and then stored at optimum temperature until they are served.
Sceptics may stick their noses up at the fad, opting instead to save their pennies and sip a gin and tonic in a can. We say, think about it, if the bar man doesn't like the look of you, or their cat just died, you can relax in the company of a  pre-tasted and utterly exquisite tipple.
We are enthralled by the constant investigation of the bartending elite. The edible spreads painted on glasses by mixologist Rich Woods, the homemade syrups, tonics, bitters and infusions that are the tirelessly crafted. Like Heston Blumenthal's gastronomy before it, mixology is now smashing the boundaries.
Here is a round-up of a few non-conventional cocktail establishments to try whether they be on-tap, pre-made, or left to mellow in bottles and barrels that you should try:
1. For Special Cocktails: The White Lyan
The White Lyan is a must-try ministry of bottling. It is hard to know where to start with the menu, whisky lovers should punt for the 'Beeswax Old Fashioned', (Mr Lyan Scotch, Sugar, Bitters, Beeswax Egg) hardened gin sippers the 'Spotless Martini' (Mr Lyan Gin, Vermouths, Distilled Lemon and Olive) and skinnies the 'Rich Ro$ie' (Mr Lyan Vodka, 'lime' and dry soda).
So head east, absorb the spirits, absorb the fridge clad bar and minimalist feel.
153-155 Hoxton Street, N1 6PJ
2. For Watching the Action: The Craft Cocktail Co.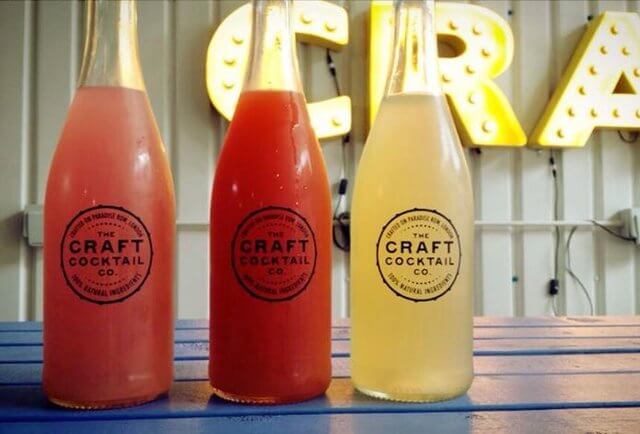 If you crave experiencing bottled cocktails, but miss some of the theatre of the creation, head to The Craft Cocktail Co. Describing itself as a 'bar' and a 'factory'. Here, in the arches of Paradise Row, you can 'Live Clean, Drink Dirty', whilst  you oversee the production of bottled and kegged cocktails from the mezzanine. If the excitement gets too much, head to the bar. Huge fridges behind the bar are packed with cocktails to speedily quench your thirst. The Porn Star (Vodka, Passoa Liqueur, Vanilla, Passion Fruit and Lemon) hits the spot after a busy day.
If you can't quite sip through the entire menu, pop down to the adjoining off-licence and take some bottles home!
Arch 253 Paradise Row, Bethnal Green, E2 9LE
3. For Barrel-Aged Cocktails: Worship Street Whistling Shop
The Worship Street Whistling Shop is more like a chemistry lab, than a bar. Taking inspiration from the past, WSWS  are striding forward, using rotary evaporators (whatever those are), sous vide, vacuum technology and enzymes to name a few in their concoctions. Every element of the cocktail is considered, soft drinks are made and bitters infused. There is a wide range of barrel and a personalised bottle aged cocktails and a barrel ageing service is offered.
Okay, so the establishment is not you everyday drinking venue, but it is definitely worth the trip. Here the menu is short and decisions, whilst not being easy, are unlikely to leave you with hideous cocktail envy. Plump for 'The Changling' (Lapsing Tea, Chase Marmalade Vodka, Aperol, Sugar, Peychard Bitters, Lemonade Ice, Orange Blossom Hot Towel). As the lemonade ice cube melts, the aromatic cocktail mellows and sweetens- masterful wizardry.
63 Worship Street, London EC2A 2DU
4. For the Original Stuff: 69 Colebrooke Row
The God Father of all things bottled, a man of science and multi-sensory blow outs is Tony Conigliaro. Upping the stakes in the race to satiate Londoners potty for negronis is its gorgeous younger brother Bar Termini.
But I implore you to pop back up to Colebrooke Row and have a few masterful mouthfuls of their moreish bottlings. The Spring menu will blow your taste buds out of the park. Try RAIN (Distiller Kaolin Clay, Ambrette Seed and Vetiver) served straight from the bottle.
69 Colebrooke Row, N1 8AB
5. For Making Your Own: 214 Bermondsey
214 Bermondsey should be on the bucket list of every gin lover in London. These guys are bottling in their own unique way. After deciding that their 80 odd gins deserved better, they sacked their safe, sickly sweet relationship with tonic water for a new flame. Specifically made to marry with the bountiful botanicals of gin is their homebrew BTW tonic water.
Take a gin flight, three mini G&T's, made with three different mystery junipery gins and BTW tonic water. Alternatively plump for Rose-Hips Hops an exquisite mix of Moonshine Kid Dog's Nose Hop Gin, Belsazar Dry Vermouth, Lemon and 214's own Hop Syrup.
214 Bermondsey Street, SE1 3TJ