We're kicking off  Afternoon Tea Week by giving you the run down on London's top teas with a view to enjoy between 10th and 16th August. Not that you ever need an excuse to eat cake..
1. For a Central London View: Shangri-La Hotel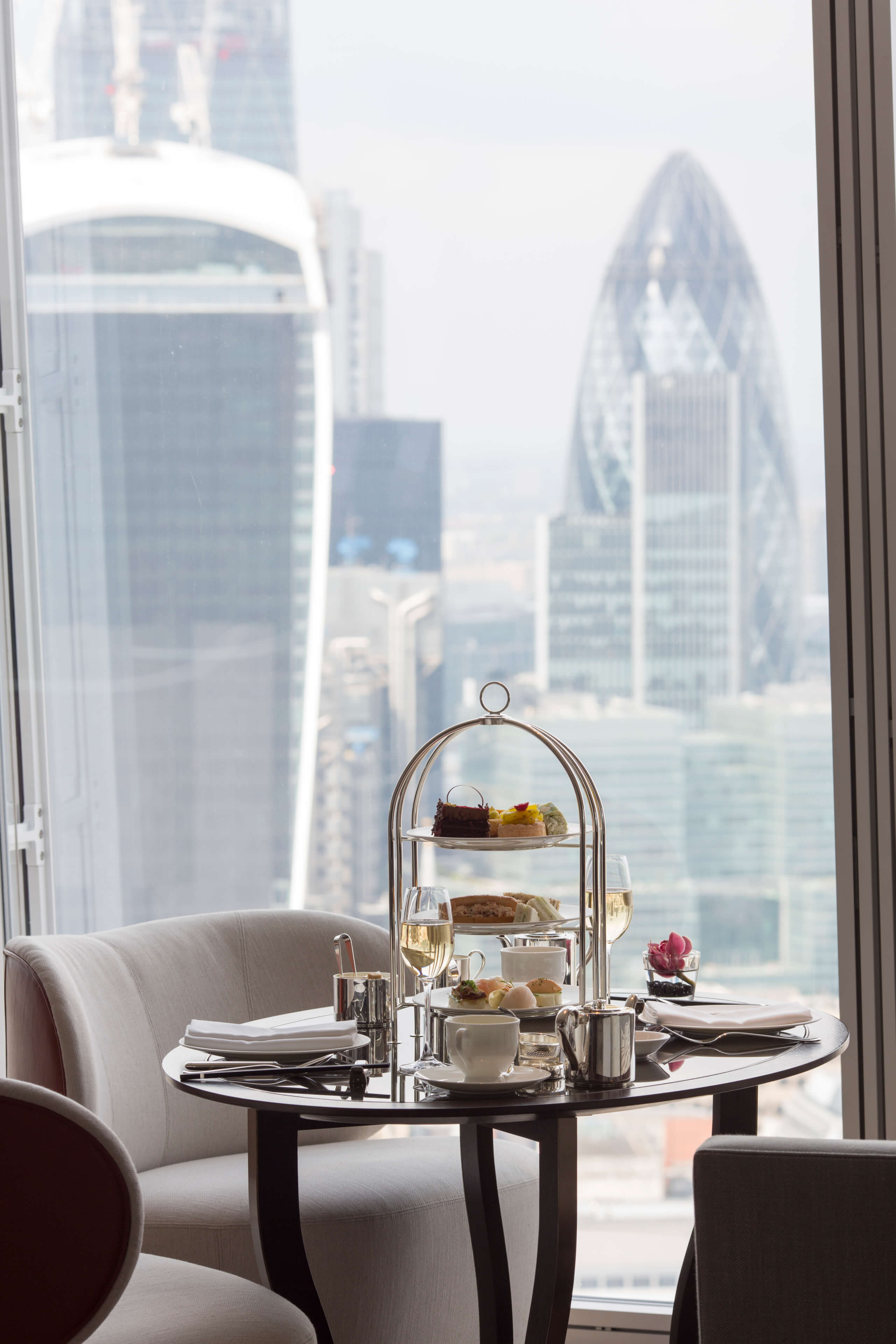 What: Top of the list for the best view is a no-brainer. Hop in an elevator to the Shard's 35th floor and you'll find yourself in the elegant Shangri-La Hotel. Take afternoon tea to a whole new height in the hotel's TING Lounge and order the Asian-inspired offering with delicious savoury dim sum (hello, free range chicken and apple spring roll) and mouthwatering pastries such as matcha tea sponge, green tea cream and red beans.
Eat: Served with a choice of over 30 teas (or a glass of champagne), you'll be spoilt for choice. After something a little, well, more traditional? Fear not – TING also serves a classic afternoon tea where you can enjoy the likes of fresh Scottish lobster, lemon and chives in a brioche roll and cappuccino cake with Tahitian vanilla mascarpone cream, coffee bean-infused crème brûlée, espresso coffee sponge and a white chocolate glaze. What's not to love?
How Much: Prices start from £49 for the classic afternoon tea (£57 with a glass of champagne) or £54 for the Asian afternoon tea (£63 with champagne).
Where: 31 St Thomas St, London SE1 9QU
2. For the River Thames View: Oxo Tower
What: Just a little down the river in Southbank's happening neighbourhood is the famed Oxo Tower. Known as the original of  Southbank landmarks, few can fail to recognise its light up red letters glow across the Thames. Just in time for Afternoon Tea Week, the clever lot there are hosting a 'summer not afternoon tea,' their self proclaimed 'delicious alternative to soggy sandwich and stale scones.'
Eat: Offering not one, not two but FOUR different options, lucky diners can choose between the Summertime Blooms – think delicious rose cake with the surprisingly tasty charcoal ice-cream, Very Berry, which includes blueberry bakewell and basil strawberry cheesecake or the herbalicious Penny's Herb Garden, where you can snack on curious bay leaf parfait served with sea buckthorn jelly. Chocoholics – do not fear; you have not been forgotten – order yourself a Chocolate Classic STAT and feast on the chocolate orange pave and salted caramel macaroons.
How Much: Each paired with an appropriate cocktail, prices start at £24.50 with one cocktail or £34.50 for two.
To book a table, call 020 7803 3888 or email oxo.reservations@harveynichols.com
Where:
Oxo Tower Wharf, Bargehouse Street, South Bank, London SE1 9PH
3. For the Tower Bridge View: Skylounge
What: Even further along the Thames (starting to see the theme here?) Skylounge atop the DoubleTree Hilton is celebrating all things royal with their Crown Jewels afternoon tea.
Eat: Paying homage to its location next to the Tower of London, Skylounge is serving quintessential sandwiches such as coronation chicken (puntastic), as well as the Sovereign's Orb chocolate pop cake, the Sceptre Cross lemon and poppy seed macaroon and even the chocolate and orange Anointing Spoon. Oo-eer. Enjoy your regal treats with a view overlooking Tower Bridge, The Gherkin and the Cheesegrater; you'll soon be calling for your (non existent) royal servants to roll you home.
How Much: Prices start from £30, extra if you enjoy with a glass of champagne.
For bookings, call 0207 709 1000 or book here
Where: 7 Pepys St, London EC3N 4AF
What:
Fancy an afternoon tea on a luxury super yacht without having to hang out with ageing billionaires? The unique Sunborn London hotel offers just that, permanently moored in the fancy Royal Victoria Docks.
Eat: Spread across five decks, the glorious 128m cruiser offers a classic selection of scones, traditional finger sandwiches (the hens egg mayonnaise, mustard cress and chives gets our vote) and cakes with a pretty impressive view. Served on a porthole-shaped stand in the hotel's acclaimed Land's End restaurant with Pawel Motzek at the helm, this afternoon tea offering will really float your boat (sorry). Only the glorious views towards Canary Wharf will remind you that you're not in Cannes, dahling.
How Much: Prices start from a reasonable £22.00 per person, with an extra £10 for a glass of house Champagne (Lansons, since you're asking)
To book, call 0203 714 8111 or email reservations: reservations@sunbornlondon.com.
Where: Royal Victoria Dock, ExCeL London, Western Gateway, London E16 1AL\
5. For the Big Ben View: National Portrait Gallery
What: Afternoon tea with a side of culture? Don't mind if we do. Enjoy a leisurely morning perusing the Audrey Hepburn 'Portrait of an Icon' exhibition before nipping upstairs to enjoy the delicious offering at the National Portrait Gallery. Channel your inner Audrey and enjoy a pastry with a view – perhaps one even better than Tiffany's shop window (though that depends on how much you like diamonds…).
Eat: Overlooking Big Ben, the Houses of Parliament, Whitehall and the London Eye, you can daintily nibble on a pistachio éclair with praline grains or even the uber-exotic mandarine and kumquat amandine. Savoury fans will delight in the contemporary Tuscan tuna and anchovy crostini and salt beef, cornichon and sweet mustard finger sandwiches, too, and you can even take advantage of the unlimited hot beverages.
How Much: Prices start from £24.50 per person, or you can add a Portrait seasonal bellini (£29.50) or glass of R de Ruinart champagne (£34.50)
For bookings, call 020 7312 2490 or book here
Where: St. Martin's Place, London WC2H OHE