It's about time you tried drinking in the sunshine… Do I really have to tell you twice, London?
1. For Champagne Cocktails: Vista at The Trafalgar
What: Vista at The Trafalgar, Charring Cross
Why Choose It: Exceptional in style, iconic by nature, The Trafalgar's sky bar boasts an unrivalled backdrop of the London landscape, capturing the sheer splendour of the capital, perfect for cocktails or sipping on champagne with indulgent views. The height of sophistication, so they say.
Drink: Guyana Old Fashioned – a twist on a classic old fashioned using South American Ron Zacapa rum with a hint of Velvet Falernum from the Caribbean together with orange and mandarin bitters stirred and served on the rocks.
2. For Atmosphere: The Churchill Bar & Terrace
What: The Churchill at Hyatt Regency London, Marble Arch
Why Choose It: Because we all like a side of political history with our martini. The Churchill is a beautiful bar with a glam private terrace outside. Designed with a young Winston Churchill and his beloved wife Clemetine in mind, the design references to Churchill's life in photography and art, including a specially commissioned life-size bronze statue of Churchill by Lawrence Holofcener. The bar offers outstanding signature cocktails, bar snacks and cigars – think hot water bottles and warm woollen throws offered on cooler nights.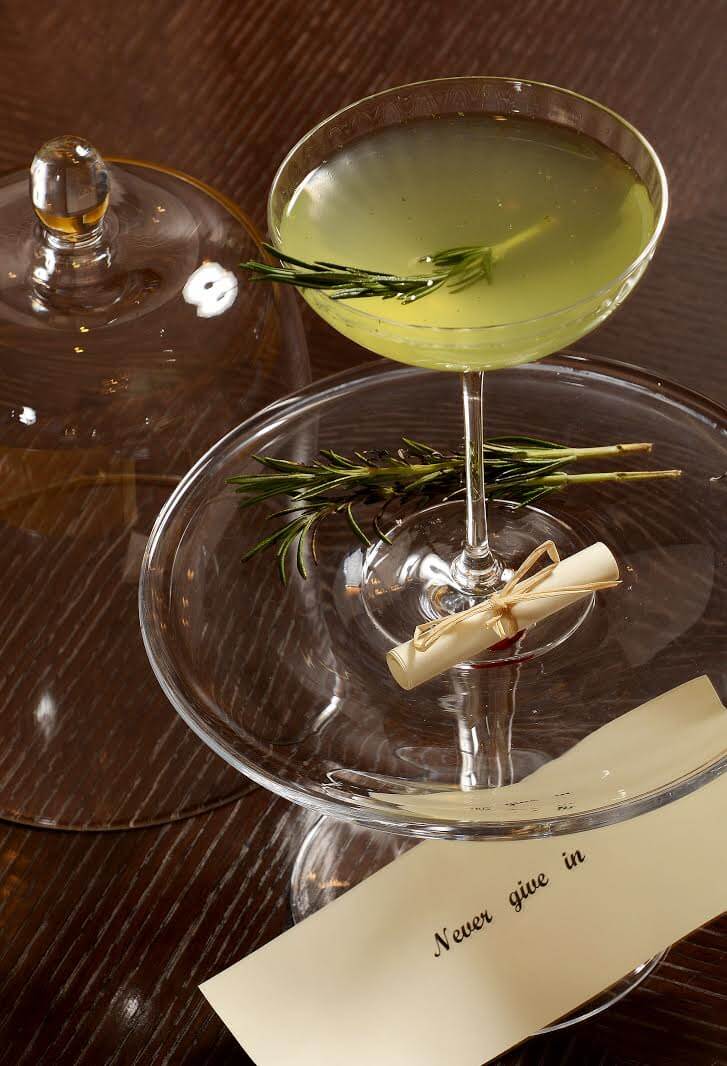 Drink: Never Give In – Sacred gin, green Chartreuse, absinthe and rosemary. Churchill-inspired brilliance. 
3. For Posh Martinis: The Rib Room Terrace
What: The Rib Room, Knightsbridge
Why Choose It: Located just off Sloane Street, The Rib Room's Terrace is a hidden hideaway, situated just paces from London's best boutiques and is a superbly sophisticated spot for sublime cocktails. Rest those shopping-weary feet on the secluded private terrace and indulge in a glass of bubbly, a G&T or a refreshing cocktail made by The Rib Room's renowned mixologists.
Drink: Refreshing cocktails including its signature martini 'Sloane Street Vesper' and 'The Rib Room Blazer' which is set alight in a stunning display of liquid fire. There's also 450 wines to choose from and over 200 gin & tonic combinations.
4. For a Shopping Break: Cha Cha Moon
What: Cha Cha Moon, Oxford Circus
Why Choose It: Cha Cha Moon is a Chinese noodle bar that goes beyond noodle pop culture and in to the soul of regional Chinese cooking. It delves further across Asia to give you both authentic and classic dishes as well Regional dishes. They've also got a lovely terrace in buzzy Kingly Court, so you can eat your noodles and drink Asian cocktails in the sunshine whilst on a Carnaby Street spree. Win.
Drink: The Sun Salutation – Vodka, lychee, lemon juice, mint, sparkling water.
5. For Lychee Martinis: Aqua Kyoto
What: Aqua Kyoto, Oxford Circus
Why Choose It: An innovative and contemporary Japanese restaurant with a stunning roof top terrace in the heart of the west end, the food here is top notch. They've got a great outdoor bar which serves up incredible cocktails, with great city views. Be warned: the sushi is amazing, so prepare to lay some cash down. Don't leave without trying the matcha chocolate dessert, if you can.
Drink: Ginger Collins with fresh ginger, lemon juice, gomme syrup, finished with lemonade. Their Lychee Martinis are also to die-for.
What: Radio Bar, Covent Garden
Why Choose It: The Radio Rooftop Bar has a great choice of tapas as well as spectacular views of the London Eye, Trafalgar Square, London Bridge, Covent Garden. It's a pretty swanky affair – wear something white, something sparkly or a something fur. Located on the tenth floor and accessible from an exclusive express lift, it is the only rooftop bar, lounge and terrace in The Strand and Aldwych area. Think: no trainers and a minimum spend for tables. London, eh.
Drink: Moët & Chandon, Brut Imperial (£9) of course.
7. For Rockstar Vibes: Sanctum Soho Hotel
What: Sanctum Soho Hotel, Soho
Why Choose It: They've got an intimate Roof Terrace with three inter-connecting areas. The inside bar, covered lounge with fireplace and adjacent resident's area provides a unique hangout and escape from the bustling streets of Soho. In house guests benefit from 24-hour bar service and access to the hot tub. The hotel is owned by Iron Maiden, that's reason enough for me.
Drink: Prosecco Stelle d'Italia (£7.95) in the sunshine.
8. For Exclusivity: The Roof Gardens
What: The Roof Gardens, Kensington
Why Choose It: A world away from the hustle and bustle of London, whether you're looking to enjoy a delicious meal or dance your socks off in The Club, you're in the right place… The Roof Gardens, high up on the 7th floor with amazing views over London's skyline, serves amazing food at Babylon.
Drink: Melon Breeze – Ketel one vodka and raspberry liquor shaken with passionfruit juice, fresh cantaloupe melon and a touch of lime and sugar. Served tall and dandy.
What: Skylounge, London
Why Choose It: Showcasing spectacular views, SkyLounge has beautiful terrace seating on the 12th floor of the hotel. Perfectly for admiring Tower Bridge from the South Terrace. And men in suits, too. The menu includes imaginative cocktails, whiskies, fine wines, bottled beers, bar bites and plates to share, as well as sweets. Be warned: SkyLounge can reach its maximum capacity very quickly, we recommend arriving early or you'll spend your life in a queue.
Drink: Peach & Almond Bellini Peach Puree, Amaretto and Crème de Peche, topped up with Prosecco (£12.50)
10. For Great Food: Coq d'Argent
What: Coq d'Argent, the City
Why Choose It: Whatever the weather, you can enjoy the relaxing atmosphere and panoramic views at Coq d'Argent with a great selection of spirits and tasty bar food. The Grill menu is served on the bar terrace during lunchtime with some Coq d'Argent classics, like Three Bird Roast and Rib-Eye on the bone.
Drink: Smoked salmon and caraway martini (£12.50) just for the story in the office the next day.