Eat Here: Le Pur' at Park Hyatt Paris VendomeBy Cat Byers
Every year, around 20 Japanese tourists suffer from a psychological condition known as 'Paris Syndrome'. Coined by a French psychology journal in 2004, victims suffer from symptoms including depersonalisation, anxiety and dizziness as a result of the conflict between the dream they held of Paris, and the reality they experience.
Paris, more than any other great city, is an idea. Mythologised by every cultural medium, it's held up as a promised land of creativity, culinary genius and sartorial chic, where Hemingway, Fitzgerald and Mme Chanel haunt the elegant streets. The boats twinkle on the river, the baguettes are always freshly baked, and someone, somewhere is playing the Amelie theme tune on a harmonica.
That's not to say these versions don't exist, but alongside them are many other less glittering forms of the City of Light. The Paris of queuing in the rain, overpriced Diet Coke and tacky souvenirs sold by Senegalese men who haven't seen their families in three years; lacking in lustre and unwelcoming at best.
But here at Le Pur, a Michelin-starred restaurant flanked by the diamond shops of the Rue de la Paix, it's possible to spend an evening enjoying the myth of Paris – even if it can only last a night.
Le Pur': The Vibe
Le Pur' is located in the heart of the 2eme arrondissement at the Park Hyatt Paris Vendome on Rue de la Paix. Nestled between Opera Garnier and Place Vendome, this is Paris at it's finest – aristocratic, elegant and discreet. The restaurant itself is refined and luxurious, while the use of plush fabrics, warm tones and a large central rotunda give it a welcoming atmosphere rarely found in exclusive French restaurants.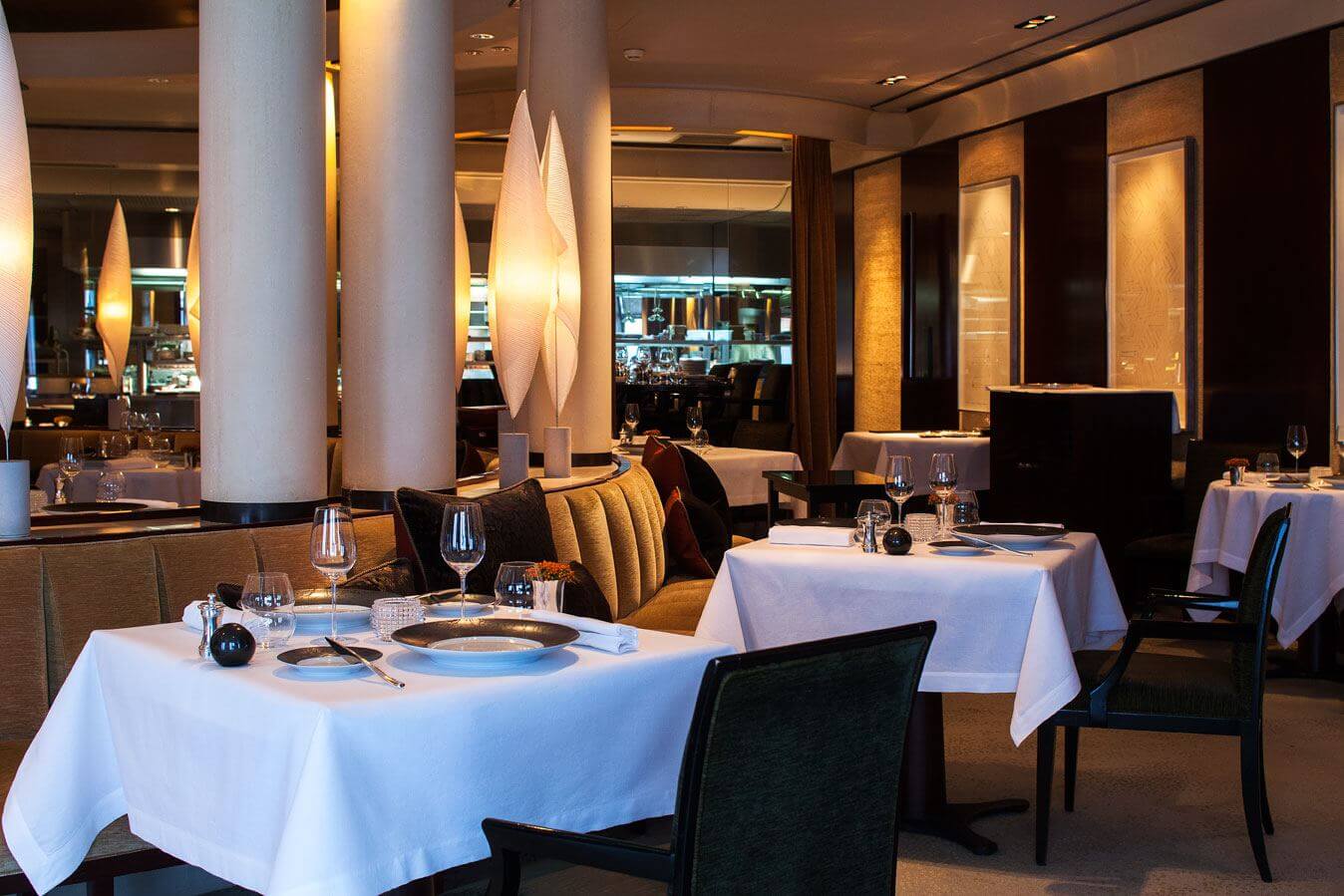 It's possible to enter Le Pur' directly on Rue Volney rather than go through the hotel, but the Rue de La Paix entrance gives much more of a sense of occasion – especially in December, when the whole street is decked out with Christmas lights and immaculate fir trees.
Le Pur': The Food
Chef Jean-Francois Roquette has already won a Michelin star for Le Pur and rumour has it a second star is on the way, so we knew the food would be very good – but we didn't expect it to be exquisite.
After an unusual amuse buche selection including a foie gras 'lollipop' and a miniature steak tartar, we tucked into course one, which will henceforth be known as The Best Thing I've Ever Eaten. A stew of foie gras, duck jus and black truffle, it sounds like a panicked creation borne out of more money than sense, but under the eye of a talented chef and served in a small bowl with just enough for a few mouthfuls, it was delicate, aromatic and incredibly decadent. If they'd let me bathe in the stuff, I would have.
After the empty bowl had been prised out of my hands ('I'm sure I can get another drop out!! Just watch me!!'), we moved onto haddock served with the world's most julienne'd seasonal vegetables, followed by a creamy piece of turbot served with seaweed butter, swollen 'mariniere', and a celeriac variation with Vadouvan spices, then a dreamy venison medallion seasoned with pepper and saffron-cardamom.
During winter it seems near-impossible to eat out without a chunk of Bambi appearing on the plate at some point – I must have eaten at least two deer to myself since mid-November. This medallion was utterly stellar though, perfectly rare in the middle and served with a more-ish side dish of preserved quince.
Top button undone, we quickly inhaled the nutty 6 month old comte with beetroot variation and wild blackberries and prepared our second stomaches for dessert. This began with a passion fruit iced meringue vacherin, accompanied by banana flambéed with rum and orange peel, which curiously resembled a tiny, fluffy, fruity sheep.
Even the table butter was in a different league – a mix of Fontainebleau cream and crushed hazelnuts, giving it a hint of goats cheese and a slightly sweet finish. At this point my companion was almost comatose on the plush banquette, drunk on foie gras, fortified grapes and sexy French accents, but we gave it one final push for the big finale: an ambrosian grand cru croc' chocolate with crunchy caramel pieces and dark chocolate sorbet.
Le Pur': The Drinks
Being Paris, beverage expectations were high, and we weren't disappointed – the wines they chose for us to accompany our tasting menu were phenomenal. We started with a glass of crisp Ruinart champagne, from the oldest Champagne house in France, followed by a selection of white, red and rose wines including a pale and intense 2011 Le Clans Rose, a rare 2013 Ajaccio Corsican white wine, and a bold 2010 St-Joseph red.
We intended to finish the evening with a cocktail at the award-winning hotel bar, as I was keen on experiencing the excellently named 'Missionary's Downfall', but after three hours of solid feasting we reluctantly admitted defeat and stumbled home.
Le Pur': The Verdict
Leaving Le Pur' at midnight, stuffed with exquisite food and wine and grinning ear-to-ear, we turned right out of the hotel and found ourselves in Place Vendome. The square was illuminated by perfectly uniform christmas trees and old-fashioned lamps, and not a single person was there. The dream of Paris was alive and well after all.
The six-course tasting menu costs 125€ per person (180€ with paired drinks).