Lifts in London are always good news.
Whenever you take a lift to a restaurant in this city, you know good things await. Think about it: the best places always have to be assessed by lift. The Shard, Duck and Waffle, Sushi Samba, Galvin Windows, Boundary, Skylounge.
It's because something about that lift journey disconnects you from the world below; from the stresses, worries and mundanities of every day life, and into a world of glamour. You can go to Duck and Waffle and eat your way through 'Elvis' waffles with chocolate and peanut butter, 80 floors up and forget all about the invoices you haven't sent and the birthdays you've forgotten, looking down on the glistening city below. There is beauty in distance. London, for me, has never been more perfect than from far, far away.
Aqua Kyoto has that power. The Japanese restaurant, tucked away moments from Carnaby Street, is almost hidden to the nakedeye. The door leading up is inconspicuous; the only thing to mark the spot is a carpet emblazoned with 'AK'. But take the lift up, sink yourself into a lychee martini and forget all about the world below as you take in the view from their outdoor rooftop bar. If you're looking for somewhere extra special, here's what you need to know:
Aqua Kyoto: The Vibe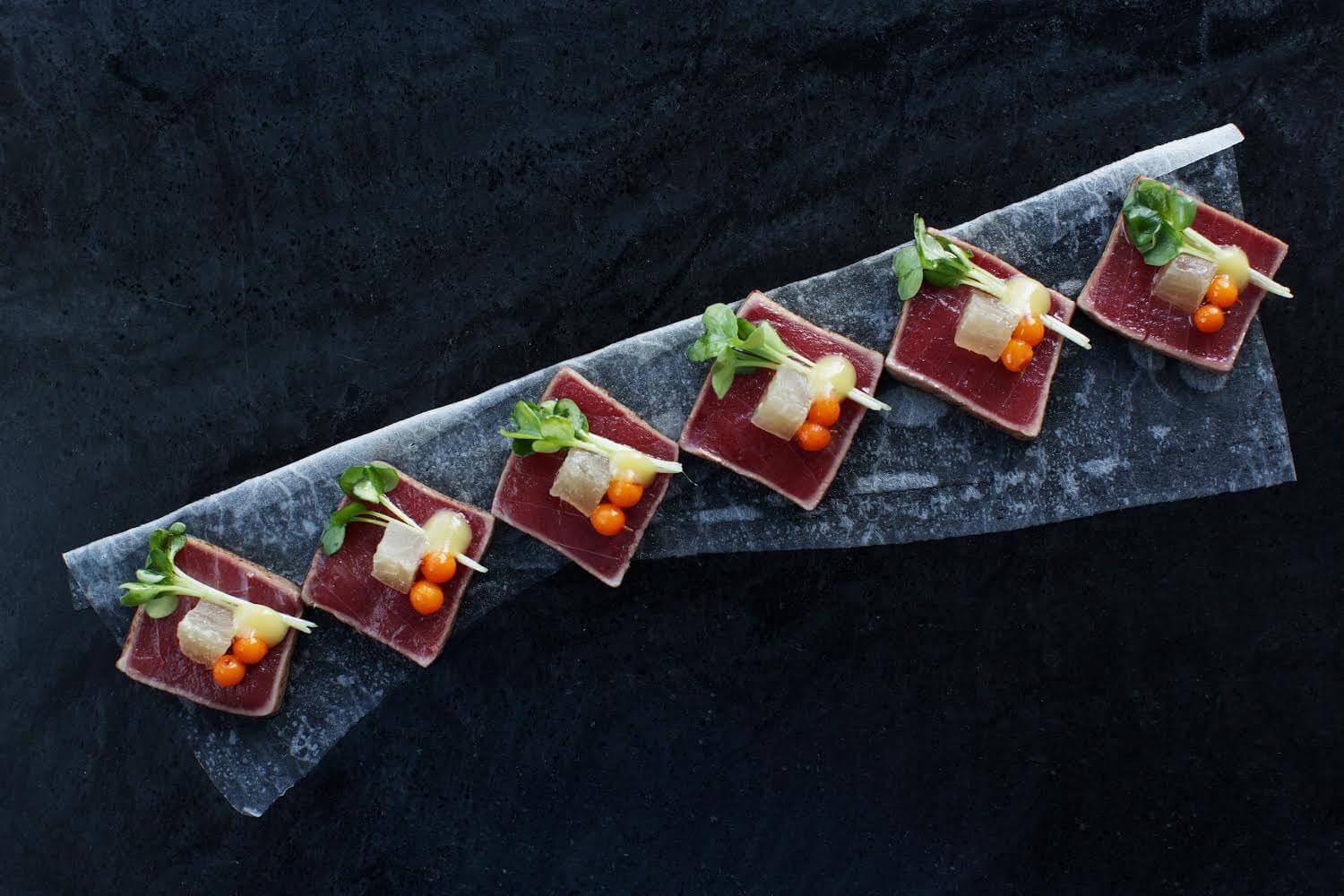 Dark and mysterious, Aqua Kyoto attracts a mix of after-work types looking for a strong martini to wash away the day, and the celebration crowd – birthdays, anniversaries, special dinners. My colleague and I fall into both categories; celebrating the 6-month birthday of About Tine Magazine, and in desperate need of a Wednesday cold libation. The restaurant is split between main bar, outdoor area, Japanese and Spanish restaurants. If you can, try to book a booth in the bar; it's more comfortable than standing, and you can people watch without being noticed, too.
Aqua Kyoto: The Drinks
Cold libation comes in the form of lychee martinis, which they do really, really well. There's a touch of rose syrup in them which distracts dangerously from the vodka, and turns the drink a pretty, girlish pink (to match my colleague's blushing cheeks at such a 'womanly' drink). They also do criminal things with sake; try the Pear Sake cocktail with pear puree and rosemary sprigs. It's very good.
Aqua Kyoto: The Food
The newly-launched Seaweed Menu offers three courses of seaweed-themed dishes, of which the purple seaweed salad is world class. Octopus comes with palm heart, seaweed with purple flowers; we quickly realise that this isn't food; it's food art. The stunning presentation of the dishes is complimented by technical skill; the feather-light tempura rock shrimp comes with a tangy sweet chilli sauce, the batter absolutely perfect.
The star dish is a swordfish belly; beautiful, fatty chunks of fish, which literally melt in the mouth. The black cod and salmon avocado sushi rolls are light, the rice perfectly cooked, the fillings not too overpowering. Robata grill sticks of chicken and duck are perfectly cooked, the meat just right.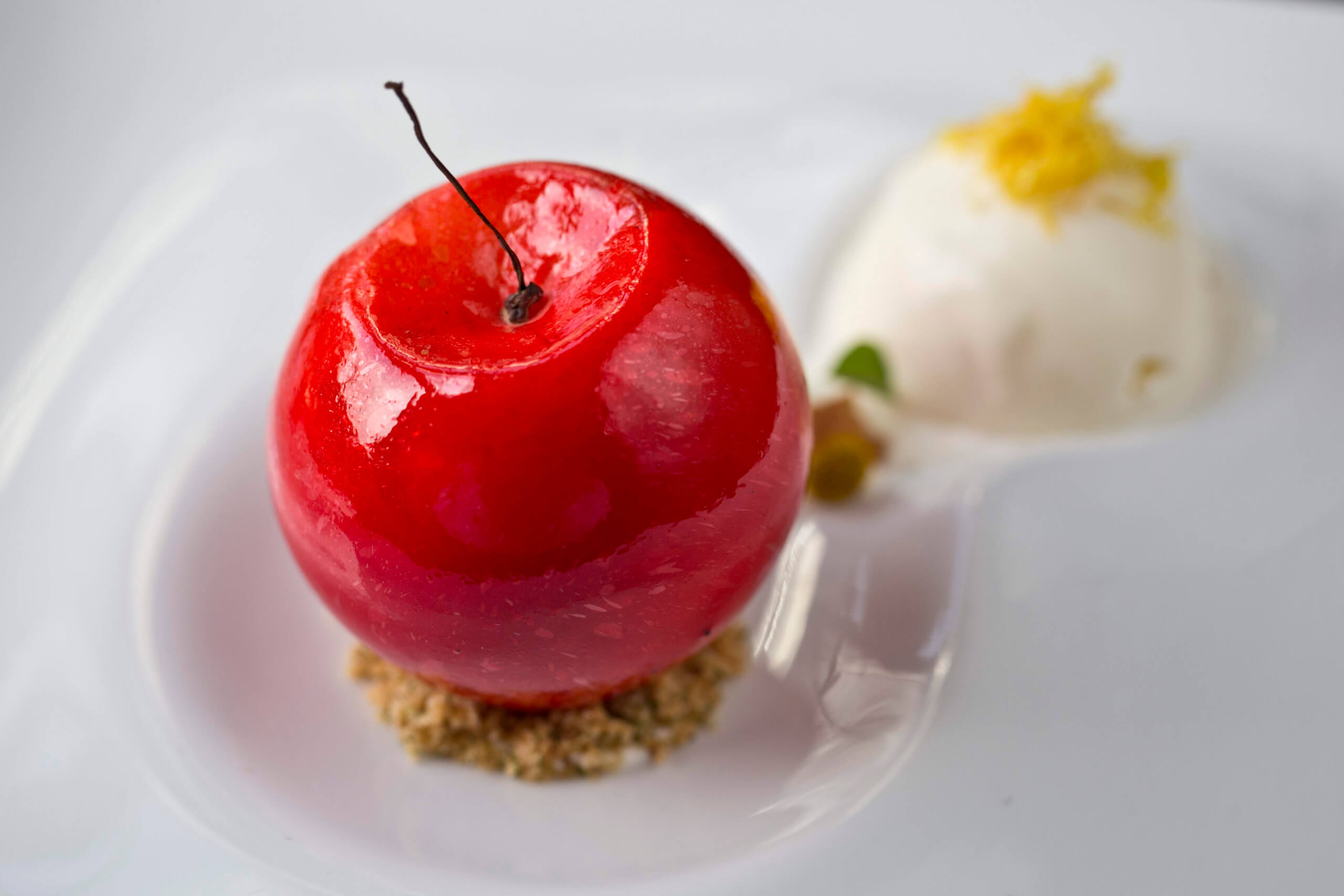 Dessert (which we order a la carte, as we're feeling naughty) is its own interpretation of art; a candy apple, filled with light apple mousse, yuzu and served with creme fraiche ice cream. It's fun, playful, and totally not what I was expecting from a restaurant such as this. It's a final touch that shows, even with all its homage to quality and ingenuity, it's a restaurant that doesn't take itself too seriously. You cannot help but fall in love with the place.
Aqua Kyoto: The Verdict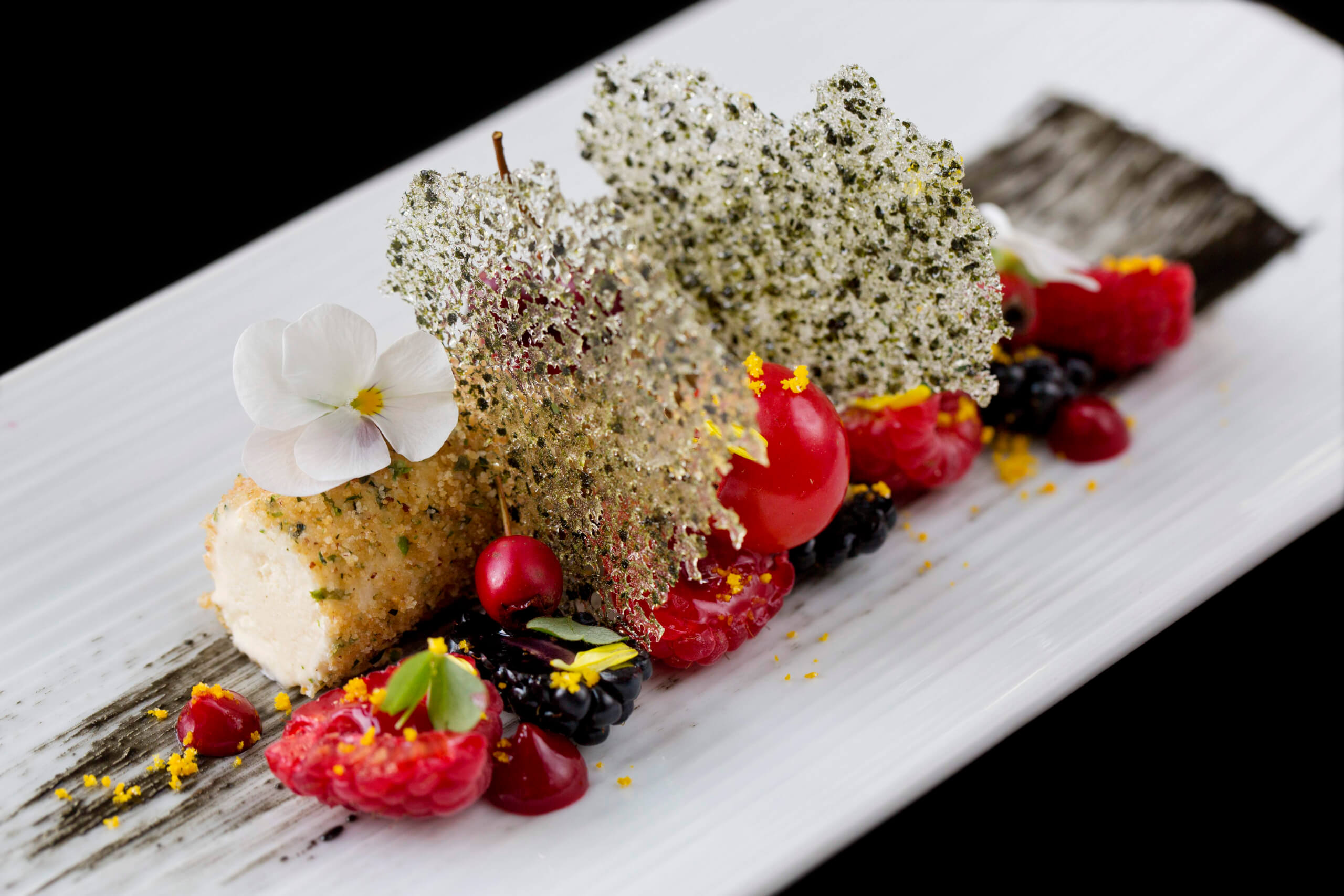 Sometimes, the best things in life are worth waiting for. Aqua Kyoto is a treat; with a high-price point, it's certainly not for the everyday. But if you've got something important – or someone, I might add – then we think that this is the perfect place to take a lift, and for one night only, to lose yourself to the world below.
Aqua Kyoto's Seaweed Menu is £29pp, and includes starter, main, dessert and Umami Cocktail. It's running until the 15th November. See here for more information.