There's nothing a Bloody Mary can't solve. Whether it's a break-up, a hangover or an over-indulgent brunch, they cure every ailment of the head or heart. But Bloody Marys are taking on a new lease of life in London – with an added kick of spice, a smoky touch or a basil infusion, these drinks are nothing short of extraordinary. Get out the Tabasco, here's 5 Bloody Marys you simply have to try:
1. For a Smoky Bloody Mary: The Modern Pantry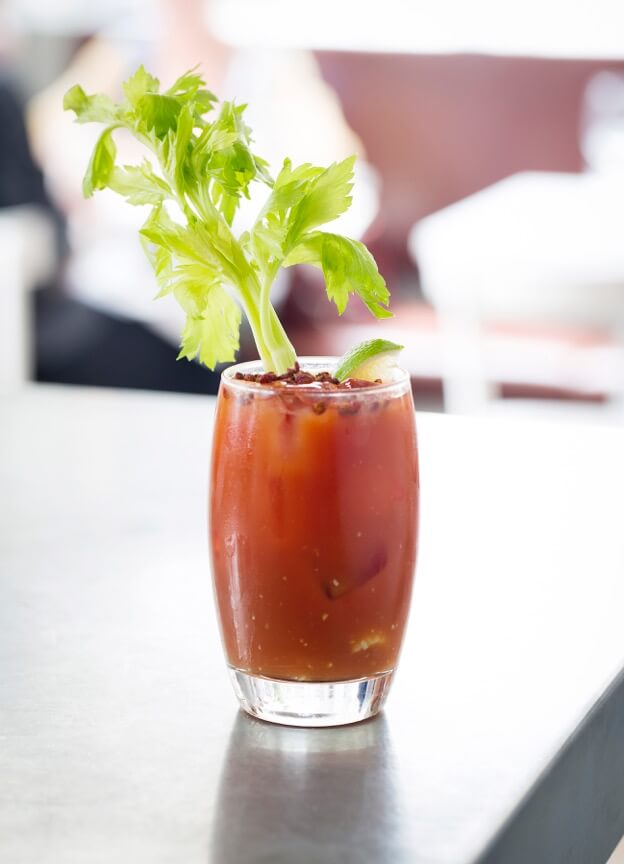 The Drink: Smoakey Doakey (£8.50) – Chase smoked vodka, Aalborg Akvavit, lime juice, celery salt, black pepper, aleppo chilli flakes, olive brine and tomato
The Story: Modern Pantry have collaborated with vodka enthusiasts at Chase Distillery to bring a new Bloody Mary to their weekend brunch menu, using their limited edition English Oak Smoked Vodka. The drink is a walking condiment cupboard using celery salt, aleppo chilli flakes and olive brine – there's a lot of flavours in this drink, but trust us, it tastes delicious.
Where: 47-48 Saint John's Square, Clerkenwell, London EC1V 4JJ
2. For a Classic Bloody Mary: Tibits
The Drink: Classic Bloody Mary (£8.50) – Stolichnaya vodka, tomato juice, lemon juice, Tabasco, celery salt, black pepper and Worcestershire sauce
The Story: Tibits may be known for their outrageously good veggie dishes (if you haven't tried their coconut and sweet potato curry, you really need to), but their cocktail list is also killer. Their Bloody Mary uses all the classic ingredients (no unwanted spices or herbs in here), it's fuss-free and it tastes so good. Drop by at lunch time for a well-needed pit stop.
Where: 12-14 Heddon Street, London W1B 4DA
3. For a Spicy Bloody Mary: No. 32
The Drink: Bloody Mary (£9) – Ketel One Citron vodka and fresh tomato served long with a side of house spice mix (£9)
The Blend: Classic cocktails are the order of the day at No. 32, the traditional drinks are given a makeover using spirit infusions, house made syrups and sherbets. Their Bloody Mary contains three ingredients, it's not fussy, doesn't contain half of the alcohol cabinet and you can buy it by the jug – total win. There's a right amount of spice mix for a fiery kick, we approve. Try the Pineapple and Sage Mojito next, fresh pineapple, sage muddles with house syrup and white rum. These cocktails were made for drinking on their roof terrace.
Where: 32 The Pavement, London SW4 0JE
4. For a Beetroot Bloody Mary: The Folly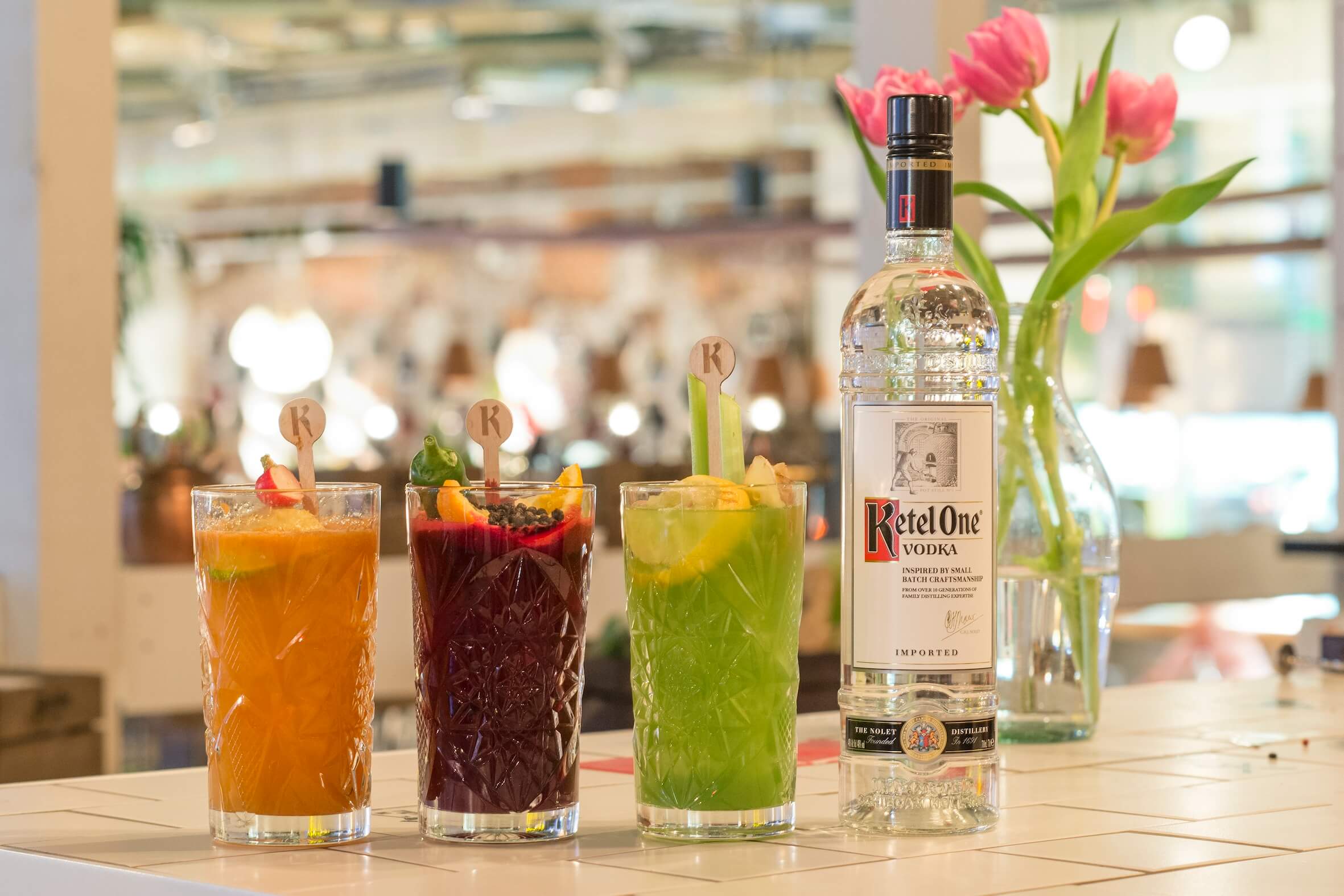 What: Ketel One, beetroot juice and spices (£9.50)
The Blend: The Folly and Ketel One Vodka have joined forces to set up Ketel One Vodka Kitchen, a series of masterclasses and cocktail making sessions running throughout summer. If you're not into making cocktails yourself, don't worry, Ketel One's expert mixologists are on hand and have created a range of different Bloody Marys. The aim of the bar is to dispel the common myths surrounding Bloody Marys, such as only using tomato juice. They've curated a number of weird and wonderful Bloody Marys using celery and even beetroot juice. It's so wrong, yet so right.
Where: 41 Gracechurch Street, London EC3V OBT
5. For a Basil Bloody Mary: The Redchurch Bar 
What: Bartenders Breakfast (£9.50) – Absolut Peppar Vodka mixed with their infamous Bloody Mary mix and a handful of basil
The Blend: When it comes to Bloody Marys, the folk at The Redchurch Bar know a thing or two about the popular tipple. They have six versions of the classic drink on their menu including their Bloody Bunny containing Eristoff Vodka, mixed together with carrot juice and the Red Snapper a remake on the classic bloody Mary using Bombay Sapphire Gin instead of Eristoff vodka. If you're struggling with the choice, pick the bartenders breakfast, a well balanced bloody Mary with just the right amount of spice and the rogue choice of basil, it's herby – but we like it.
Where: 107 Redchurch Street, London E2 7DL