Things to Do in Amsterdam: One Perfect WeekendBy Iona Goulder
Let's face it, weekends can be boring. You spend all week thinking about them, most of Friday talking about them, and pretty much all of Sunday being disappointed by them. Well, it doesn't have to be like that. For pretty much the same price as a return ticket to Newcastle (no offence Newcastle) you can get yourself to Amsterdam.
Things to do in Amsterdam: Why Visit
We teamed up with Autographer + LUXE City Guides on a 48-hour mission to find out the best things to do in the city, and boy did we come back with some treats:
Video by Unicorn Content
Only forty-five minutes on a plane and you are transported to a City that combines the canals of Venice, the cafes of Paris and throws it in with the effortlessly cool architecture that Amsterdam is known for. If you've only got two days, we've put together a guide on how to get the most of your trip – it's a pretty packed itinerary but it's very possible.
Things to do in Amsterdam: Friday Night
Take the late flight in (8pm) which means you don't have to take anytime off work, or even tell anyone at work that you're off for a sneaky trip. The flight is only 45 minutes so you can be in your hotel around 10.30pm.
Where to stay: NH Barbizon Palace
Why: This hotel is in an ideal location, right opposite the Central Station. It's also pretty reasonable and has everything you need in terms of wifi, gyms, bars etc. The rooms are really spacious and have an almost Dutch Barn feel with high ceilings and exposed wooden beams. You'll be spending little time in the hotel so it's great to come back to somewhere with friendly, helpful staff and always within walking distance.
What Now: Dump your stuff and go exploring. It's all about getting lost, there's a real buzz in Amsterdam at night and there are so many different bars, from tiny local spots with classic paintings on the walls to big brash pubs filled with Brits. Here's two bars to try:
Friday Night Drinks
Int Aepjen: This bar is housed in one of the oldest buildings in the city dating from 1475, and it looks as if it hasn't changed since then. Full of character it's a great place to get into the Dutch spirit.
Haven Van Texel: This is a pretty standard bar but it happens to have a brilliant location on a corner by the canal. You could sit here all night and don't worry about getting back, both these bars are within 5 minutes of the hotel.
Things to do in Amsterdam: Saturday
The hotel above does a great antioxidant breakfast, get that out the way then get on with crossing off some of the cultural must-dos in Amsterdam. I can't recommend enough purchasing an IAmsterdam card . Not only will it give you free unlimited trips on the very reliable trams but it allows you to skip queues at museums and saves you a ton of money.
Saturday Culture Fix: Rijksmuseum
What: Built in 1876 Amsterdam's Rijksmuseum is the largest museum in Holland. Be sure to arrive reasonably early as the queue for tickets can get pretty long. Better still book Rijksmuseum ahead, if only to please your parents. It's probably big enough to spend all day in, but if you're anything like us you'll sweep through, making sure to stop off at some of the famous collection of works by Rembrandt ("The Night Watch"), Vermeer and Frans Hals (thank you google). Be sure to arrive reasonably early as the queue for tickets can get pretty long. Better still book ahead, if only to please your parents.
What: This is right next to the Rijks so don't worry about having to schlep around the City from one museum to the next. If you don't like Van Gogh then this probably isn't for you (it is four floors of Van Gogh after all) but if like me you know very little then this is a really good gallery in terms of showing you the progression of his work. What's more they have giant versions of his most famous works so you can get that all important sunflower selfie.
Things to Do in Amsterdam: Saturday 

Lunch
Where: Ree7
What: Ree7 is a really cosy, comfortable gastro bar that has recently opened in the 'Nine Streets' area. The area is great for shopping with tons of boutiques etc, so if you don't feel like eating there's plenty to do. Ree7 has an eclectic mix of salads and amazing looking cakes. Take a table outside and spend the time watching the shoppers and vintage cyclists wonder by.
You've done a lot of walking, and by now a fair amount of eating. Time to take put your feet up, well not quite. Canal Bike has been running in Amsterdam for fifteen years now and there's no better way to see the City then on your own engine-less rudderless pedalo. I'd say just stick with an hour as it does get pretty tiring but there are four or five points in the city where you can drop them off, if you ever manage to get there.
Time for a Break
So far this trip has been pretty hard work. Probably best if it's raining, The Dylan Hotel, runs 'High Wine' between 3 and 6. This involves four individually selected wines that are paired with four equally delicious small dishes. The highlight was poppadum with smoked salmon, avocado, radish and anchovy mayonnaise. The hotel itself is set in a very traditional townhouse but is stylish and modern inside, the High Wine takes a couple of hours and is very reasonable at €39.50 each.
If you've got time to kill the Jordaan area of Amsterdam is a great place to explore. It's been popular for many years as a place for people to live, work, shop and go out. If you want to experience the old loof and feel of Amsterdam then this is the area to visit.
Saturday Afternoon: Ann Frank Museum
The Ann Frank Museum is one of the most popular museums in Amsterdam. Probably no thanks to Justin Bieber it seems to have a long snaking queue pretty much all day. During the summer however it closes later so I would recommend trying to get there as late as possible. It's a bit of a shame that the house is unfurnished which makes it a little more hard to imagine, but the trip is worth it if only to see the original bookcase (which swung open to reveal the secret annex) and the markings on the walls where the children measured their heights.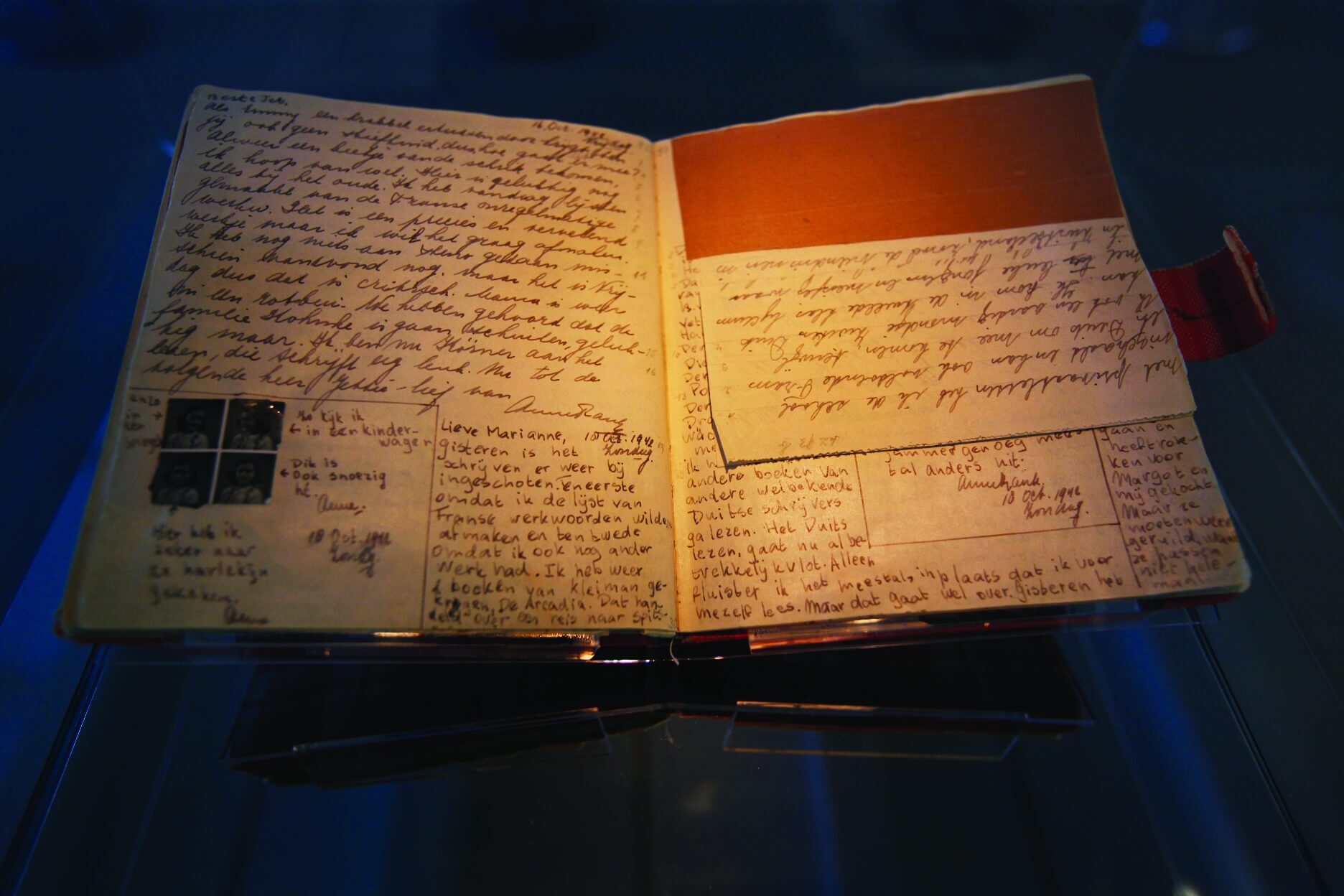 Saturday Night Dinner: Restaurant Anna
What: Precariously close to the red light district, Restaurant Anna offers a very high level of dining for an extremely reasonable price in a relaxed, informal atmosphere. For just under fifty Euros you can get a five-course menu that just get's better and better. Picture below is the starter; thinly sliced scallops with lukewarm vinaigrette of asparagus, spring salad and mini croutons. If you're only staying a couple of nights you want to eat somewhere special and Restaurant Anna is certainly that.
If you've got any energy left, we all know Amsterdam is crammed full of bars, clubs and whatever else. Take your pick, about 10 minutes away is Club Canvas is housed in a former newspaper office and boasts incredible views over Amsterdam from the spacious roof terrace.
Things to do in Amsterdam: Sunday
After a quick recovery breakfast stroll down to the Flower Market it's the only floating flower market in the world, with all the flower stalls standing on individual houseboats. There's a whole lot of tulips, bulbs and flowers, most of which you probably won't buy, but it's worth a look.
Sunday Lunch
For the rest of the morning I would recommend going down to Vondelpark which is the largest park in Amsterdam. The park has quite a 'hippy' feel to it, with various people in various states of consciousness wondering around or lying, passed out, on the grass. Personally we picked up some delicious salads from one of the cafes (there are four) and ate them over looking the ponds and the various trippy sculptures. There's also a tulip island where you can pick tulips (free when we were there but I think around €7 normally). It's the perfect place to spend the afternoon.
Sunday Night Dinner
Be sure to book a late flight so you can have a quick final dinner at Hugo's, for me it was the best meal I had in Amsterdam. It's a small, intimate dining room with an open kitchen that serves really special modern dishes that are inspired by French cuisine. The Chef's menu is a very reasonable €32 and included one of the best fish dishes I have ever eaten- pictured below (bare in mind the menu changes regularly). Be sure to start off the meal with an Alpine Cocktail as well. For me this restaurant summed up Amsterdam, it was stylish, friendly and I really can't wait to go back.
Walk back to the hotel along the river. Hugo's is in another great area of Amsterdam, a city that has surprised me on almost every level. Amsterdam is so much more then what it might be most known for, obviously this guide only scratches the surface, but you'd be hard pressed to have a bad weekend here, and did I mention you can get a flight for about £60, what are you waiting for? Follow @casshorowitz