With all the hype around Lovebox, a musical celebration of the best British bands in London's East End (where you can have a shower at the end of the day, what's not to love), I started thinking. About boxes. There's something quite exciting about the box; the mystery, the suspense, what's inside, who sent it? In recent years, increasingly brands have been using boxes as ways of engaging with their consumer; as we lose interest in traditional forms of advertising, perhaps this form of direct marketing and sales is the future. It all started with Graze and now there are so many treats you can get in boxes. Forget Lovebox for a second, here's 9 of the best boxes in London that money can buy:
#1 Beauty in a Box: Birchbox
What: A monthly subscription service of 5 of the best beauty and lifestyle products straight to your door. Each month is a special 'edit' of seasonal trends – July's box includes a Vita Coco Lemonade – and you can peruse the box before purchasing.
How Much: £10 per month on a rolling basis with no contract, £50 for 6 months in advance, £90 for a yearly subscription.
The Appeal: Although you might have *quite* a few mini shampoos lying around by the end of the year, it allows you to test out seasonal beauty trends without too much financial commitment. Find out more.
#2 Lunch in a Box: Lunch Box London
What: This is where it's at. Lunch Box London is a lunch delivery service for Central London offices started by two chefs; each week they devise new menus, using their professional training to create healthy lunches and snacks. Think marmite popcorn, seedy agave bars and pitta crisps.
How Much: £8.50 for lunch, £2.5o for snacks delivered by 12pm. They also do tailored packages for office partnerships ordering weekly, see more here.
The Appeal: The service is a real project of love; the team used their savings to purchase kitchen equipment and took items from Free Cycle to kit out their office. All deliveries are currently done on foot, bike or car by the girls and can cater for whole offices!
#3 Website in a Box: MrSite
What: Whether you're totally new to computers or a techie, this makes a great present for anyone wanting a fuss-free way of building their own website.
MrSite's Website in a Box guides you in building a website; simply select from an abundance of designs, drop in text, images and videos and customise it with unique features and functions.
How Much: The beginner's pack starts at £2.50 a month – get it from www.amazon.com, www.mrsite.com and PC World.
The Appeal: Makes building a website super easy. That said, you could also learn to use WordPress.
What: They call it snacking re-invented, we call it 'how do they make raisins taste that good'. Healthy snacks by post could be the most genius idea ever; you choose from over 100 snacks online and they deliver 4 inspired treats in a box by post. The idea is to recreated classic treats such as Bakewell Tart and Apple Crumble in a healthy, nutritious form; they've also got new breakfast variety boxes and ones for kids too. Our favourites are the mini versions of dessert that you pop in the microwave; sticky toffee pudding is clearly an office favourite.
How Much: It's often half price for your first box – breakfast boxes from £3.99.
The Appeal: You can also rate the snacks so that you only get the ones you like; no more citrusy things for me. Win.
#5 Organic Goodness in a Box: Riverford's New Recipes Boxes
What: Riverford Organic is launching recipe boxes in London this month. The latest chapter in the Riverford story, the recipes are seasonal, organic and come from some of the best cooks they've worked with for the last 25 years. There are three boxes to choose from – original, quick or vegetarian. Our favourite is the veggie, with great recipes like Greek-style spinach pie and Quinoa salad.
How Much: £39.95 for three meals for two people or £33 for vegetarian.
The Appeal: They provide everything you need to make three organic home-cooked meals with step-by-step instructions and organic ingredients in the exact quantities you need. Good fun and no wasted veggies: the dream.
Currently available in London, Riverford will be delivering nationwide by October 2014. No delivery charge. To order or find out more, visit www.riverford.co.uk/shop/recipeboxes.
#6 Steak in a Box: Abasto's BBQ Boxes
What: You can't get much better than an Argentinean steak. And you can get a taste of that in London with Abasto's BBQ boxes – introduced just for the summer months. The box includes everything you need for al fresco dining: a charcuterie selection, two rib eye steaks, four homemade chorizo sausages, fresh chimichurri sauce, fresh baguettes and a tub of dulce de leche ice cream.
How Much: £60 for 4 people. No need to book, just ask for it in the shop!
The Appeal: A BBQ box would not be complete without booze – customers can choose between two bottles of specially selected Argentine wines or six bottles of Abasto's own beer.
#7 Canapies in a Box: Square Pie Company
What: Our favourite pie peeps have just brought out two-bite snack square pies – designed for a small lunch or even better with friends and family and a glass of something nice. They come in Steak & Guinness, Chicken & Mushroom, Chili Beef and Spinach, sweet potato & goats cheese flavours. The company also do a Full English in a box, for your sins, and you can have whole office pie delivery days – see here for more information.
Where: Canapies are available to purchase in all the Square Pie outlets, including Old Spitalfields Market and Westfield.
The Appeal: It's a tiny pie, as little as 183 calories per bite. Come on people.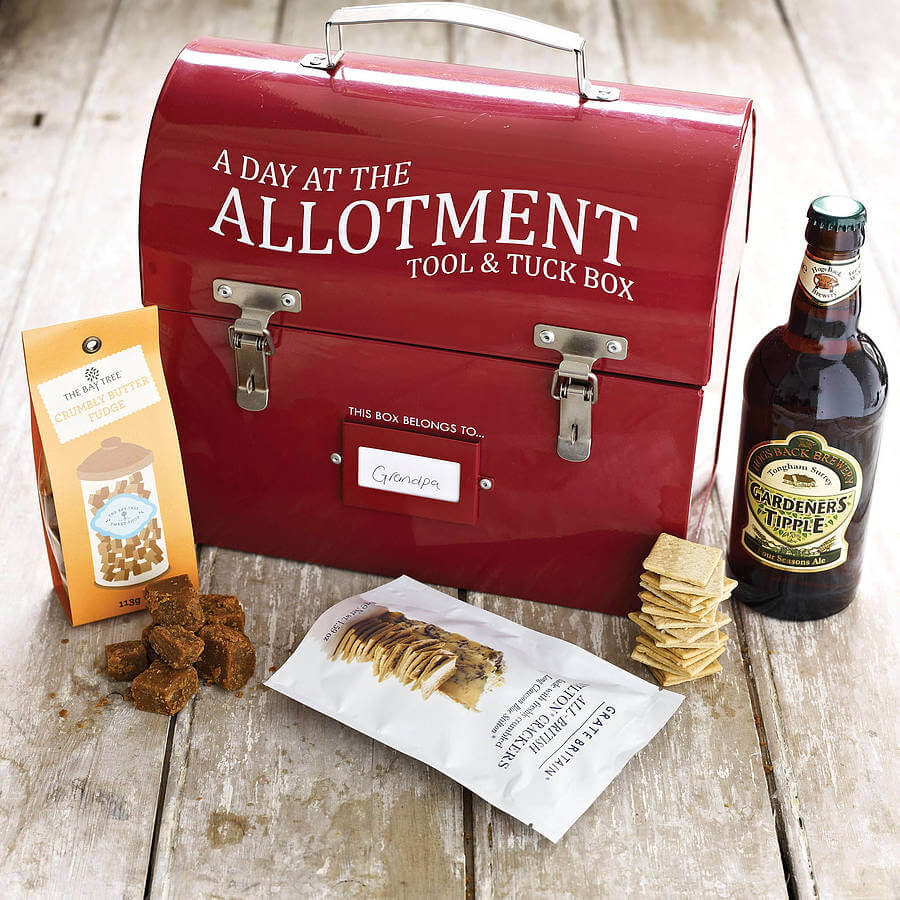 What: A terrific tuck tin; it comes with burgon & ball tool, gardener's tipple, long clawson stilton biscuits and crumbly butter fudge. 
How Much: £38
Why: The perfect gift for anyone who loves spending time down at the allotment or in the garden; the nifty tin holds both the gardening tools and the vital gardener's sustenance. We also love this Grow Your Own Cocktail Garden box from NOTHS.
#9 Gourmet Spain in a Box: The Flavour Club
What: Designed to help you discover the real Spain, its products, flavours, and all the history and culture behind them, The Flavour Club is a food and wine club, where wine are sourced and paired for you.With free membership and free delivery on your monthly box there's no catch, just great wines and food, and a story behind each one.
How Much: Membership costs £48 per month and delivery is free on your monthly box, with additional discounts on purchases of wine by the case.
The Appeal: Each monthly boxes includes a premium bottle of wine from an exclusive cellar in Spain and an a varied assortment of foods, tailored specifically to go well with that month's wine. Yummy.