Perfect Weekend: 48-Hours in CopenhagenBy Eva Caiden
Contemporary, stylish, and achingly chic: Copenhagen is a forward-thinking city packed with excellent restaurants and enchanting design. Read on for our pick of the places you'd be mad to miss:
For eco-friendly luxury sleeping: Axel Guldsmeden
Luxury accommodation in Copenhagen is surprisingly hard to find but the Axel Guldsmeden won't disappoint. The 129 rooms are all unique and decorated with Balinese-inspired style and modern four-poster beds. Some have bathtubs in the bedroom or balconies. All furnishings, products and services are organic or fair-trade while the serene spa, with sauna, cold and hot tubs and steam rooms is perfect for restoring your inner zen.
We particularly liked the complementary face masks and bowls of fruit and nuts. It's handily located for the main train station – although this does happen to be in a seedy (but harmless) part of town. Rooms start from 995DKK.
For date night: Nimb Bar 'n' Grill 
Nimb Bar 'n' Grill is made for days when only a slap up steak supper will do. Set in the seriously stylish Nimb Hotel, overlooking Tivoli Gardens – one of the world's oldest amusement parks – the below-street-level restaurant is a dressy affair.  With decor that's part playboy (blue lit bar, moody interior tones of grey and black), part New-York-drinking-den (white subway tiles and a swanky bar), its dimly lit corners add to the ambience. You'll work up an appetite watching the chefs through the windows of the open kitchen. Order the tender rib-eye steak with pan-fried cauliflower and black truffles (295DKK + 95DKK). Afterwards, head to the historic hotel bar. Located in a vast ballroom with imposing chandeliers, this rather splendid space is the perfect spot to sleep off dinner and sip on an expertly crafted cocktail or two.
For Danish fashion: Bruuns Bazaar 
Founded in 1994 by brothers Teis and Bjorn Bruun, the beloved Bruuns Bazaar is often credited with creating the clean-cut Scandi-chic look. As the first Danish label to show at Paris Fashion Week, Bruuns Bazaar is synonymous with understated, laidback style. You'll find the complete collection of menswear and womenswear in their flagship store on Kronprinsensgade 8-9.
For whisky buffs: Lidkoeb 
Don't miss the third floor whisky bar of this former pharmacy lab – open on Fridays, Saturdays and the occasional Thursday. Housed within a beautiful listed building, off an innocuous alleyway, it's worth the two flights of steep steps to discover this gem. The vintage chemist shelves at the third-floor entrance pay homage to the building's past, while the slanted roof space adds a cosy feel – it seats just 28, with no standing allowed.
You can order anything here as long as it's whisky. (No really – only whisky drinkers allowed). Not a whisky fan? The other two floors, open all week, will keep you happy with spot-on Scandinavian design and excellent cocktails. The ground floor features an old-fashioned long wooden bar with pendant lamps, a cosy fireplace and huge arched windows.
For vintage glamour: Union Bar 
You'll feel like Alice falling down the rabbit hall as you walk up and down a distinguished residential street looking for an unmarked door with a gold doorbell. Upon pressing said doorbell, you'll be buzzed into an eerily empty corridor from which the sound of faint music floats up the hallway. Follow the music down some steps and you'll be transported into a lively Prohibition-era speakeasy, with bare brick walls, well-executed cocktails and smooth jazz tunes. The atmosphere is lively – it gets busy at weekends – and the staff somewhat cocky – but the drinks are divine. Expect to pay around 125DKK for a cocktail. Try the Says You: a gin, cucumber, coriander and fresh lemon creation.
For Scandinavian design: Illums Bolighus
Forget Ikea, this Danish design store has been around since 1925, when it was founded by entrepreneur Kaj Dessau. He wanted to create a concept interiors store where the textiles and furniture interacted with art and in doing so, he put Danish design on the map. Today it features three sprawling floors of carefully curated homeware and fashion.
For craft beer and modern smorgasbord: Øl & Brød 
The Mikkeller gang are well-known in Copenhagen for brewing quality beer which is distributed via a handful of cool bars across the city and the rest of the world. So it makes sense that in their first restaurant offering, the beer is given equal footing to the food, with each menu item paired with a beer. The modern smorgasbord concept is well executed – as it should be, with chefs from the Michellin-starred Soelleroed in the kitchen. Matched with a compact, pared back interior, all subdued greens and greys alongside industrial lampshades, it makes for a sophisticated dining experience.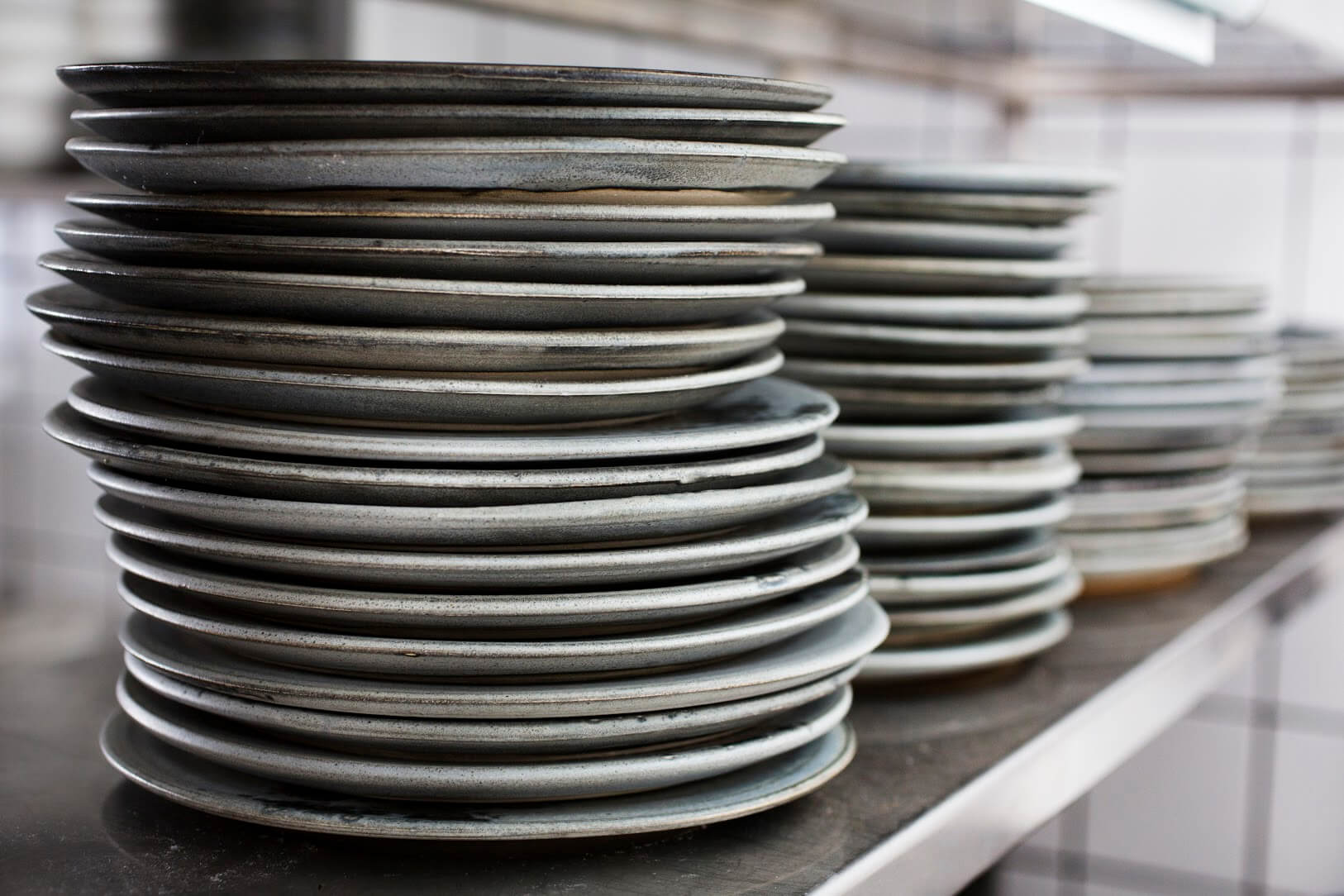 The menu is local and seasonal, with a small but decent selection of traditional Danish open faced rye bread sandwiches.Try the smoked Greenland halibut with cabbage and dill (130DKK) which is paired with Mikkeller Vesterbro Wit, a Belgian style wheat beer with American hops. If you want to switch to spirits, they also have an impressive selection of Aquavit, a traditional Scandinavian spirit that will put some fire in your belly (it's roughly 40%ABV). One thing's for sure: if you're not swaying slightly on your way out, you've done it wrong.
For cityscape views: Bella Sky Bar
On first thoughts, an ostentatious skyscraper built by an oil sheikh on former wasteland doesn't sound like it's the most obvious spot for a stylish lunch. But Bella Sky Bar, located 23 floors up, is a pleasant surprise. The clean space seats an array of stylish furniture, from comfy Chesterfields to textured circular pouffes to some fun hanging egg-shaped pods which are perfect for pics. The floor-to-ceiling windows offer views of the golf course on one side and the city on the other. The lunch menu is all smorgasbord. Try the smoked salmon with hay, horseradish cream, cress and fennel (105DKK). It's pink, plump and a breed apart from the stuff you get over here. The rye bread is made in house every morning, while the meat is all organic.
For gourmet hot dogs with the hipsters: Foderbraettet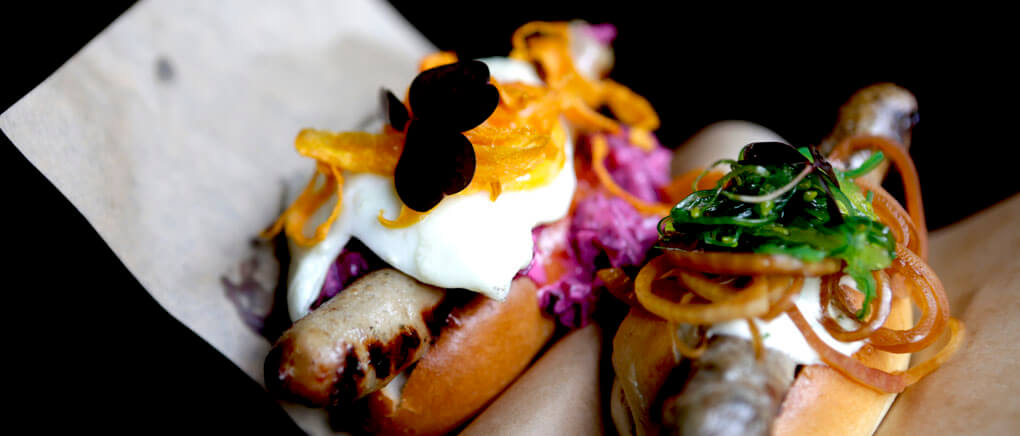 Hot dogs are having a moment; in fact, it turns out they're a Danish favourite and you'll spot sausage stands all over the city. This one, located in a dishevelled part of the Vesterbro area is also a champagne and cocktail bar. What's not to like? Voted Best New Restaurant by the Danish AOK guide, Copenhagen's first ever hot dog joint is a hit with the locals. The interior wouldn't be out of place in Hackney: there are stacks of skulls in the window and tattooed barmen everywhere. Hell, the space even hosts events for Vice magazine. The small menu is reasonably priced, a rarity in Copenhagen: hot dogs in soft brioche buns come in at 56DKK. The waiter told us to order three. We suspect he is a feeder; we ordered one, which was enough with chips and onion rings on the side. The lamb sausage with spices, harissa and onion was a favourite – it came topped with slaw and pickled onion. Champagne starts at 65DKK a glass.
For a slice of history: Cap Horn 
The tourist spot of Nyhavn isn't a natural place for stylish hangouts but the 16th century building of Cap Horn provides a perfect people-watching spot on the water's edge. Its colourful history shines through: in the 16th century the restaurant served beer with rooms 'by the hour'. Nudge nudge. During World War 2, the owners hid freedom fighters in the basement, before later turning it into a jazz bar. Today it offers up a largely organic, seasonal menu of smorgasbord and more European options including burgers. Expect to pay around 150DKK. The charming, mismatched flea market crockery fits in with the antique feel of the place.
For inventive dining and award-winning design: Höst 
If you only pick one place to eat from this feature, let this be it. Part of the Cofoco group – known for their quality food and reasonable prices – Höst has won two Restaurant & Bar Design Awards in London for its distinctive Nordic design. The stripped-back style has been created by mixing raw materials including recycled wood, granite, concrete and zinc, which are offset with cosy plaids and lambskin on chairs and benches.
Our menu included a shot of mushroom soup served in a tiny glass bottle with a straw as well as a delicious baked hake broth. With three courses from 295DKK it's also surprisingly affordable.