A wise woman once said: "the sooner the tea's out of the way, the sooner we can get out the gin"
Often when the clock strikes six there is nothing that hits the spot like a good Gin and Tonic. Gin is something that is profoundly English; London by label and by virtue. If you haven't already, take note: you can catch yourself having some extremely profound thoughts, with a G&T in the bath.
For a while now gin has been on-trend. This means that there are oodles of fantastic gins available, with an array of botanicals that revolve like planets around the juniper sun. Here are our top 10 Ways to Drink G&Ts in London:
#1 The Classic Gin and Tonic
Gin and Tonic are like Ant and Dec: inseparable in talents and a little underwhelming without each other's company. Make sure that whatever you do this World Gin Day, you don't have a tepid G&T that is more like a flat paint stripper than a chilled sipper.
Fill: A tall glass with ice – the more you have, the slower it melts and you will be left with a ice cold, undiluted drink.
Gin: We suggest a generous slug of something that you never had before. Treat yourself, don't buy what is on offer in the supermarket and head to an Independent Wine & Spirits shop. If you can't decide, stuff your pockets with a few miniatures and hold your own mini tasting.
Tonic: If you are going to buy good gin, don't insult it by mixing with three-for-a-pound-pop tonic water! Your safest bet is to spend the extra few pence to buy Fever Tree.
Garnish: Add a slice of lime, a little orange peel, or a wedge of cucumber, sit back and feel smug.
#2 Get Your Garnish On
If you like nothing more than a classic G&T, garnish it with something a little different. We suggest getting some tooth picks and skewering chunks of stem ginger, with a little orange peel and dropping it into your G&T.
Another idea: head to Callooh Callay and sip The Curious Gincident with the Grog and the High Top.  Martin Miller's Gin (40%abv) served with a Rosehip cordial, fresh grapefruit juice and topped with prosecco. This snazzy drink is garnished with a peacock feather and a cucumber wheel.
Callooh Callay is at 65 Rivington Street, London, EC2A 3AY
#3 The New Kid on the Block
D.J. Limbrey Distilling Co.'s have just launched their D1 London Gin (40% abv), which blends traditional craft with contemporary art. If you want to get hold of this unique nettle infused Gin you will have to head to Harvey Nichols. The Gin is emblazoned with designer Jacky Tsai's Skull, made famous by the late Alexander McQueen. This is the perfect dinner party gift for a friend that likes design and a touch of glamour.
#4 Infuse your Own Gin
Celebrate Gin Day by getting creative. Buy yourself a high strength bottle of Gin, decant into a large (sterilised) jar or container. Pour in 400grams of fresh raspberries, leave on a sunny window sill for a couple of weeks and then strain through a sieve. The result is an infusion: one to be sipped on the rocks, or topped up with a splash of soda.
#5 Have an Eco-Friendly Gin and Tonic
Dodd's Gin (49.9% abv) is a pretty heady Gin, with some of the most endearing packaging out there. Distilled by the part crowd funded London Distillery Company in Battersea, who add just a touch of honey to the copper pot. The honey makes the Gin thick and utterly lucious. With impeccable green credentials, (all energy used in distillation is recovered and reused) Dodd's provide a truly guilt free experience.
#6 Drink with a Story
Warner Edwards Gin (44%abv) is made by best friend team Tom Warner and Sion Edwards, in a 200 year old barn on Tom's family farm in Northamptonshire. By using the sweetest of the farm's natural springs, in the mix with 11 botanicals (+1 secret botanical), the guys have created a bit of an all rounder. Packed with cardamom and with just a hint of elderflower, this gin works as an aperitif, or alongside food with a bit of spice- we like it on the rocks.
#7 Gin and Tonic Martini 
Boisdales 'The Gin & It' is about as good as it gets in the World of Martinis. This is the most delectable way of having the audacity to skip the mixer all together. Tanqueray Ten is shaken with Gancia Rosso Vermouth and polished off with just a sliver of orange zest.
Boisdales is at Cabot Place, Canary Wharf, E14
#8 Spanish Gin and Tonic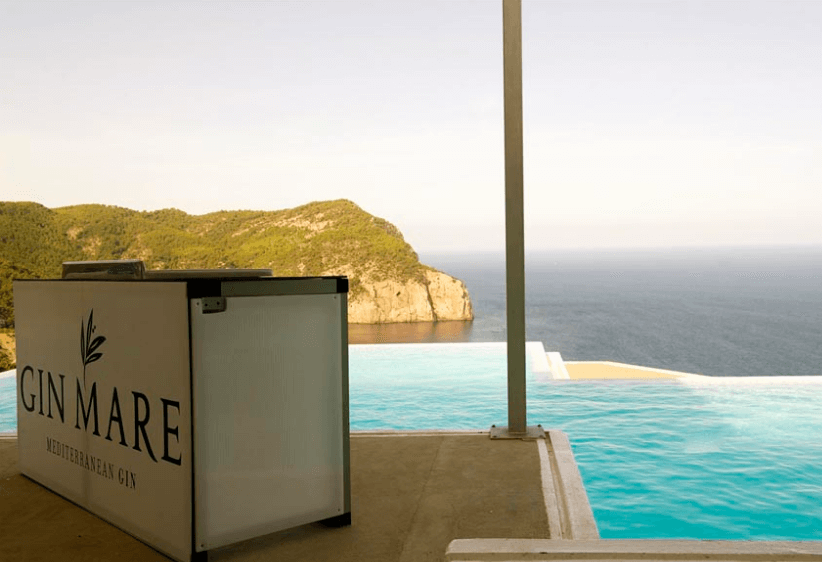 If you like your Gin and Tonic to resemble a fish bowl as large as your head. Head to a charity shop and pick up some wacky glasses and invest in a bottle of Gin Mare (42.7%). This Gin is truly a Mediterranean summer in a cup, with the subtle flavours of olive, rosemary, thyme and basil. Sip slowly, with plenty of ice and a sprig of thyme.
#Take a Gin and Tonic Flight
If you want a proper guide to Gin head to the basement of Antico otherwise known as 214 Bermondsey Gin & Cocktail Bar. Here you can try to decipher 3 Gins blind. Afterwards, if you are not falling off your bar stool, tuck into the bar's fantastic selection of 80 Gins. Please don't worry you are not going mad, your G&T is brown! 214 make their own tonic water, which is dyed golden brown by the natural quinine.  If you are with World Cup lovers, don't despair, keep them busy with a 'Little Lady Grey'. Inspired by the England footie team, this is the finest mix of Little Bird Gin, peach liqueur, infused with Earl Grey.
214 Bermondsey Street is at London, SE1 3TJ
#10 Gin and Tonic No More
If you hate Gin and you are bored to death with the hype, but want to get involved this weekend… buy whatever is on offer and drown it. Pour yourself a small measure of Gin and generously top it up with Bottle Green Elderflower and a hefty splash of Ginger Ale.
So get involved in World Gin day! If you are one of the livid Londoner's, fighting to get out of the big smoke for the weekend, head to your nearest M&S. Here G&T refreshment comes in can form. The most convenient way to spice up your journey.
With Many Thanks to all of the Gin Foundry Team for putting on the marvel that was Junipalooza 2014.