Las Vegas has long been considered the mecca of gambling. Home to some of the world's most lavish resorts along the notorious Strip, Las Vegas is seen as a once-in-a-lifetime destination for many European gamblers. For those elsewhere in the world, it remains a constant draw, with millions of visitors passing through the city's casinos every year.
But with online gambling now becoming significantly more mainstream, the reasons to visit Las Vegas are – for some – dwindling. While it might seem like a stretch, Vegas proprietors are becoming increasingly concerned about the threat posed by online gaming to their business.
So how does playing online compare with the real thing, and is it worth saving on the cost of flights and accommodation, and just playing at home instead?
The Experience
For gambling purists, Las Vegas has appeal in the real, live action element. People want to visit famous casino resorts like the Bellagio or the MGM Grand, and to play there for themselves. In this respect, you're not going to find much comfort online – or at least, for the time being. But casino developers are in hot pursuit, and in the not too distant future, it might well be possible to play at these famous casinos, through VR headsets, from the comfort of your own home…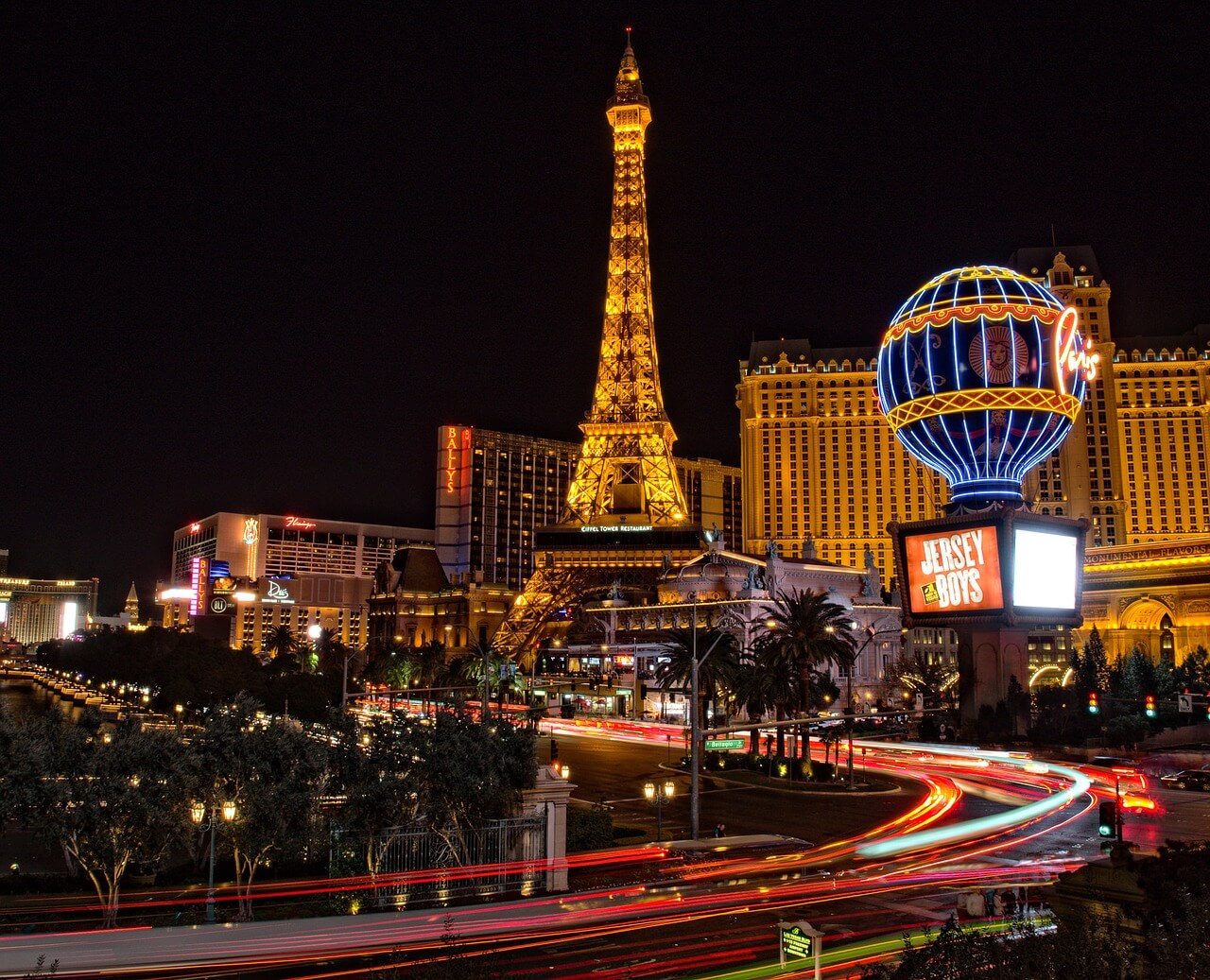 In the meantime, travelling to Vegas definitely has the edge, in terms of a life experience. However, if you're simply going for the gambling, it's certainly worth considering just staying at home instead. Now, thanks to developments in technology, it's possible to gamble at online casinos or on mobile on the move, any time of the night or day. In most cases, you don't even need to download anything – just head to the website on any device, login to your account, and you're good to go.
There's also the option for live dealer gaming if you're more interested in realistic gaming, versus video table games and slots. These games hook up players from across the world with a human dealer and a live game via video link, so you're as close to the action as you would be if you were there in person. No long haul flight required.
Most of what you'll find on a typical Las Vegas casino floor is available at a plethora of online casinos. In fact, some of the games you'll find online are better than their real-world counterparts, in terms of house edge, side bets, or game rule variations. If you're serious about gambling, there's plenty to keep you engaged online, without needing to fish out your passport.
The Jackpots
"But what about the jackpots?", I hear you cry. It's a common misconception that you have to go to Vegas to win life-changing amounts of money. That simply isn't the case, and there are plenty of jackpot and high stakes games to be found online.
Look at progressive slots. You'll find these machines in Vegas, linked to other machines and in some cases, even to a wider network of machines across a much wider geographical area. Those who play the slots in Vegas often do so in the hope of landing one of these mammoth wins – but you can achieve the same results playing at home.
A good example of this was a lucky winner from South America who recently netted himself over $900,000 with just a $2 spin from an online slot at partycasino. Another example is that of Jon Heywood, a former British soldier who one day decided to chance his luck at the slot 'Mega Moolah' online. His 25p spin netted him over £13 million, as he landed the jackpot. And these two are not alone – there are regular winners of progressive jackpots running into the millions, all online, so the idea that you need to travel if you want the big wins is another non-starter.

The same applies to high stakes games – if you're a high roller, there are plenty of places online ready to accept your business. There's no strict need to gamble at a land-based casino in Vegas, Macau, or anywhere else, when you've got it all and more a couple of clicks away online and on mobile.
Visit Vegas As A Tourist, But Gamble Online
Las Vegas has a lot to offer as a tourist destination, whether you're travelling for the casinos, or just to explore on holiday. There are way more reasons to visit Vegas than simply having a spin at a world-famous casino – although I definitely recommend you do so, if you're ever in that neck of the woods. But when it comes down to the pure gambling, there isn't really much advantage to be gained from being there in person.
Instead, it's possible to play at the world's leading online casinos without setting foot over the door. You enjoy the same range of games, if not more, than you'd find at a Vegas resort, plus there's still ample room to win life-changing jackpots if that's your thing. By all means visit Las Vegas as a tourist – it's just no longer essential, given the high quality and convenience of online casinos.