"We travel, some of us forever, to seek other places, other lives, other souls." – Anais Nin
Looking for an incredible luxury holiday in 2016? From island retreats to eco lodges, lakeside hotels to back-to-nature beauty, here's 10 stunning resorts that *need* to be on your bucket list this year:
1. For Barefoot Luxury: Mirihi Island, Maldives
Perfect for: Total relaxation
The Lowdown: If you're looking for boutique island luxury in the Maldives, this place is for you. Mirihi Island has just 37 rooms, including 30 stunning overwater villas with private decks and expansive views of the Indian Ocean. The bedrooms are simply stunning; rooms are designed to emphasise the island's natural environment, serving as havens of peace and tranquillity. The Beach Villas have outdoor bathrooms with freshwater showers, perfect for cooling down after a day at the beach. With sand covered floors throughout much of the island, including the two restaurants, you are encouraged to abandon their shoes at check-in and go barefoot with the powder-soft sand between your toes. The actual dream.
Why Visit: The hotel offers a host of activities that encourage families to enjoy their gorgeous natural surroundings, away from technology, from sailing, fishing, pampering spa treatments for parents, Maldivian cookery lessons, a weekly beach cinema under the stars (showing everything from Finding Nemo to Love Actually), and barefoot beach barbecues. Don't forget to bring one of your trusty fishing rods from Total Fishing Tackle! Kids and parents will especially love looking through the hotel's telescope, it is one of the strongest in The Maldives and through it you can see the rings of Saturn and moon of Jupiter! Oh baby.
2. For Island Magic: Four Seasons Langkawi, Malaysia
Perfect for: A sunshine-filled island retreat
The Lowdown: You can't get more beautiful than Malaysia. Four Seasons Resort Langkawi is a tranquil retreat set on one of the island's best beaches on the north-eastern cape of Tanjung Rhu on the Andaman Sea, where UNESCO-protected mangroves showcase labyrinthine adventures between land and sea. It has 91 villas and pavilions flanked by cliffs and rainforest, which combined with the pristine beaches makes this destination a nature-lover's dream. This is one place you don't want to miss.
Why Visit: The resort offers a number of adventurous activities which aim to showcase the best of what Langkawi has to offer, such as its Mangrove & Eagles Safari, a venture by boat into the Geoforest Park to visit exotic animals and Malaysia's most ancient geological formations with a Four Seasons naturalist leading the way, as well as its latest X-Jetblades offering. The resort has some exciting new initiatives taking place including a newly-launched spa menu at the Geo Spa, with natural and holistic treatments and retreats exclusively created by ila. Pamper time.
3. For Natural Beauty: Andaz Peninsula Papagayo Resort, Costa Rica
Perfect for: An exotic break
The Lowdown: Nestled the most stunning location, where the Gulf of Papagayo meets the sapphire blue waters of Culebra Bay, Andaz Peninsula Papagayo Resort captures the native spirit of Costa Rica with its distinctive "Pura Vida" philosophy. The breathtaking setting – a relaxing ocean with a mountainous background- will make you feel like you belong in this lush natural setting.
Featuring 153 deluxe rooms, this Costa Rica resort is designed to poetically integrate your favorite necessities with charming indigenous culture. Vibrant yet stylish, the Andaz Resort in Costa Rica welcomes guests to relish in their personal style and ignite their inner creativity through our specially designed amenities and accommodations.
Why Visit: They make each guest of the Costa Rica resort feel like a local, sharing an authentic, local experience with all. Spend the afternoon on their two secluded gold sand beaches, or schedule some tee time on a championship golf course. Exciting destinations like Rincón de la Vieja National Park, Marina Papagayo, and Palo Verde National Park await – not to mention live Latin music, tennis courts, and lush natural trails through the coastal mountains. Uncover the beauty and vibrancy of Guanacaste, Costa Rica, and make a holiday to remember.
4. For a Beautiful Escape: Spice Island Beach Resort, Grenada
The Lowdown: Just 12 degrees north of the equator, bathed in the cooling Trade Winds, Grenada lies sleepily shrouded in a canopy of greenery. Here you will discover a place where the scent of spices, fruit and flowers intermingle to awaken your senses even before you raise your head from your pillow each morning. This sprawling eight acre property is located just 10 minutes from the airport on world-famous Grand Anse Beach. Owned and operated by Sir Royston Hopkin, K.C.M.G. and family, Spice Island Beach Resort is a year-round resort with a AAA Five-Diamond Rating.
Why Visit: Sprinkle a generous helping of life's greatest pleasures onto your book of fondest memories. Every visit to this family-run boutique resort is a vacation to be treasured. Stroll just a few yards from the luxury of your suite and you are walking along the golden sands of world-famous Grand Anse Beach. Beyond are lemon, almond and sea-grape trees. Then the lush natural beauty of the Isle of Spice – Grenada.
5. For Chocolate Lovers: Boucan by Hotel Chocolat, St. Lucia
Perfect for: A foodie holiday
The Lowdown: For a unique hotel set high amongst the rainforest and sun-dappled cocoa groves of Saint Lucia's oldest plantation, Rabot Estate, head to St. Lucia. Boucan is a truly special place where luxury and style come together with the drama of big nature and, of course, cocoa and chocolate – where you can relax and unwind, treat yourself to a soothing Cocoa Juvenate spa treatment, explore your beautiful surroundings, take a tour, walk the cocoa trails and so much more.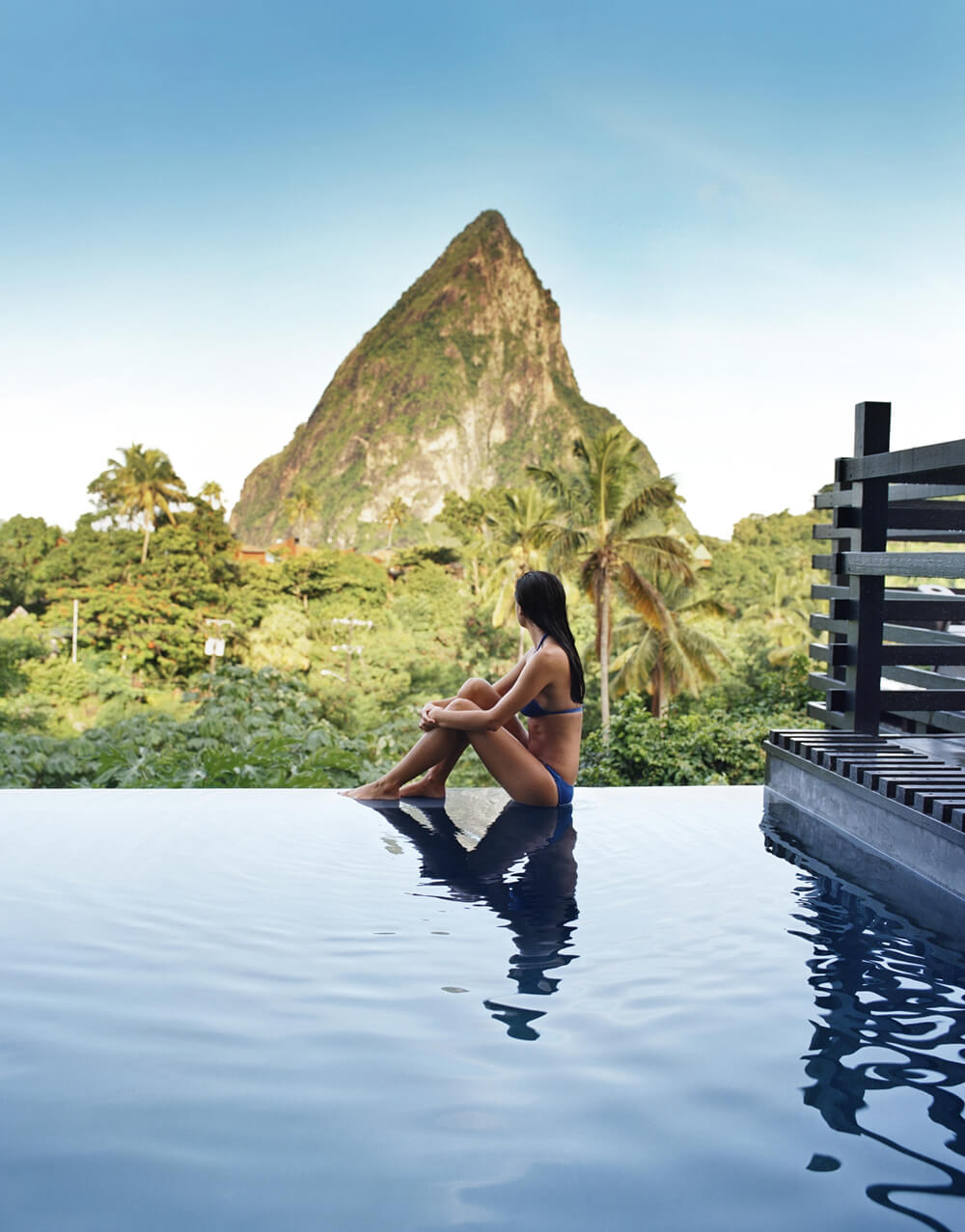 Why Visit: For the food. Their exclusive cacao cuisine and spectacular setting has made Boucan one of Saint Lucia's most popular foodie destinations. As a guest at the hotel you'll be in prime position to enjoy it all, whether you're sipping a fresh Cacao Bellini at sundown in the stylish bar, or delving into our pioneering cacao cuisine menu. Inspired by the rare cocoa growing on Rabot Estate, this exclusive menu uses cocoa sometimes as a light and subtle spice, sometimes as a delicate infusion, but always in a natural, healthy and exciting harmony. The rooms are also amazing; created to sit perfectly in the stunning natural beauty of their rainforest surroundings, the Lodges at Boucan are a unique blend of Saint Lucian charm and sleek contemporary style. All rooms feature king size four poster beds, open-sky rainforest showers and daily chocolate treats – heavenly.
6. For Italian Luxury: Grand Hotel Tremezzo, Lake Como
Perfect for: Swimmers, foodies and sun-seekers
The Lowdown: With over 100 years of history, the iconic Grand Hotel Tremezzo is located in the heart of Lake Como, with unparalleled views of Bellagio and the stunning Grigne mountains. This art nouveau landmark, which sits adjacent to Villa Carlotta's famed gardens, is an authentic Art Nouveau palace that offers a warm inviting welcome and the delights of a true 5-star vacation.
Why Visit: It's a foodie's dream. The Grand Hotel Tremezzo has worked with the biggest name in modern Italian cuisine: Gualtiero Marchesi, who will seduce you with menus that are light and full of character – a tribute to the flavours of the local area. You'll be inspired by the romantic setting of "La Terrazza" restaurant, without a shadow of a doubt the most beautiful on Lake Como. Besides the natural beauty of the place, the hotel has three stunning swimming pools.  Indoor and outdoor, for guests to swim all year round, amidst the flowers or on the lake itself. Glorious.
7. For Secluded Luxury: Song Saa Private Island, Cambodia
Perfect for: A digital detox
The Lowdown: In the warm sapphire waters of the Gulf of Thailand, Cambodia's islands nestle like dazzling natural jewels. Song Saa Private Island lies secluded in this magnificent seascape, just 35 minutes by boat from the port of Sihanoukville. Most of the islands remain undeveloped – deserted oases of virgin rainforests, tropical reefs and glistening white beaches. Song Saa Private Island is as seductive as the name implies; the resort spans the islands of Koh Ouen and Koh Bong, connected by a footbridge over a marine reserve, with turtles, seahorses and exotic species of tropical fish. The resort features luxury Over-Water, Jungle and Ocean-View villas – a short stroll on the boardwalk will leave you perfectly positioned to take in dramatic sunsets, seascapes and starry nights.
Why Visit: As a guest, you'll be among a handful of lucky adventurers to experience this beautiful, untouched paradise. Walk among old-growth rainforest, watch dazzling reef fish swim under your villa or see rare hornbills land on your balcony. In this private intimate setting, you will lose yourself in the natural world. As Cambodia's first luxury private island resort, they are committed to maintaining the natural assets that make this location so unique. If you are in search of a truly private tropical island experience, where you can forget the bustling world, few places rival Cambodia's islands. The resort also features a large infinity edge swimming pool, spa and wellness sanctuaries positioned in the rainforest and along the shore, yoga and meditation centre on the shoreline, ideal for yoga at sunrise and water-sports such as scuba diving, kayaking, snorkelling, and boating. Dreams.
8. For Eco Luxury: Butterfly House Bahia, Brazil
Perfect for: Untouched natural beauty
The Lowdown: Butterfly House is a luxury eco-resort in Bahia, Brazil, 250km south of Salvador. Located on the Maraú Peninsula, Butterfly House benefits from pristine white-sand beaches, multi-coloured coral reefs and a gentle ever-present ocean breeze. Freshwater lakes, World Heritage-listed rainforests and local indigenous tribes are just a few of the other local attractions. The whole area is part of a protected conservation area, which means zero development, no high-rise buildings – just mile upon mile of untouched natural beauty.
Why Visit: Boasting eight beautifully appointed villas, a palm-enshrouded swimming pool, gastronomic restaurant, family playroom and acres of tropical gardens sprinkled with hammocks and bamboo recliners, it is the ultimate refuge for travelers seeking luxury and adventure. Fifteen kilometres from the nearest village, Butterfly House benefits from being splendidly remote. From the moment you arrive, you are completely immersed in nature. Everything from the grass-thatched roofs down to the ethically-sourced bathroom products is designed with the environment in mind – and with virtually no carbon footprint, Butterfly House is a shining example of eco-luxury in South America. You must visit.
9. For Mauritian Magic: Shangri-La's Le Touessrok Resort & Spa, Mauritius
The Lowdown: After an extensive six-month renovation, Shangri-La's Le Touessrok Resort & Spa, Mauritius, has reopened on 1 November 2015. Drawing inspiration from Le Touessrok's rich history and the chic style found throughout Mauritius, the hotel welcomes guests with Shangri-La's renowned Asian hospitality. Nestled along the untouched eastern coast of the verdant island nation, Trou d'Eau Douce Bay's tranquil, uncrowded world-class beaches are found.

Why Visit: The resort offers an unrivalled standard of privacy and personalisation in an atmosphere of refined island luxury. Every room and suite incorporates indigenous island touches, set against the backdrop of a dramatic tropical landscape. Though the resort is an ideal destination for lounging on idyllic beaches and succumbing to pampering spa days, it also provides everything needed to keep the more active world traveller entertained as well. Just off the resort's pristine shore, there are two paradisiacal islands – Ilot Mangénie, which is open exclusively to Shangri-La's guests and features a trendy beach club and on-island butlers, and Ile aux Cerfs, which holds a spectacular 18-hole championship golf course. 
And if you're looking for a city break…
10. For Modern Luxury: Canopy By Hilton Reykjavik, Iceland
Perfect for: An easy weekend break
The Lowdown: Set across six connected houses, Canopy Reykjavik is a brand new hotel that's going to make waves in 2016, and joins a neighbourhood rich with history, colour and life. Hilton Worldwide's new hotel brand redefines the lifestyle hotel category; Canopy Reykjavik is the first hotel globally to open in the brand's portfolio, which launched in October 2014. There's plenty to discover at this Reykjavik hotel such as local art, a lush courtyard and evening tastings of local beverages and spirits. Dining is an experience here, with a menu of Icelandic fish, dry-aged meats and local, organic dishes prepared by award-winning chefs. Yes, please.
Why Visit: Committed to an amazing stay, Canopy focuses on five essential aspects of the guest experience. These include an energising and comfortable stay with open and friendly staff, more included value with complimentary breakfast delivered to the room or to go, and a thoughtfully themed welcome gift from the neighbourhood, to make guests feel instantly at home. Rooms and suites are styled in shades of ocean and volcanic rock and have all the comforts you crave. The Just-Right Rooms have a 48-inch TV, mini-refrigerator, bedding designed exclusively for Canopy for comfier, better sleep – and the WiFi is on the house. Suites offer even more space to stretch out in a living room; have a Canopy Breakfast Bag delivered to your room featuring fresh fruit, yogurt and juice. Perfection.